A
History of

Angmering
by
RW Standing
"A Virtual Book"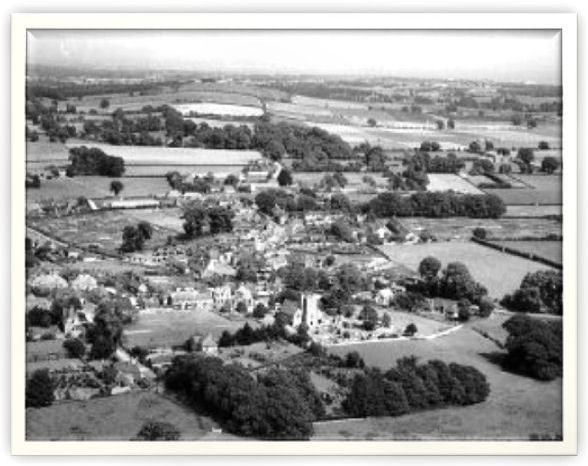 Aerial view of Angmering Church and Village
from the North West
---
Preface and Introduction
Preface
This history is centred on the houses and other buildings and places that form the core of any village, and not least Angmering. It attempts to draw together that large and disparate collection of historical notes by the authors that have accumulated over several years of research.
The history of a house (such as Ecclesden Manor) is made up of several threads. Firstly the history of the building itself. Secondly its history as a farmstead with its farm. and other commercial activity. Thirdly as a home for generations of people who were the inhabitants of the village. Fourthly its history as a court for the manor as a whole, and for manorial business. Finally as the principal property of the lords of the manor.
Other village houses had similar threads. The history of the building. The history of its industry, commerce, and farming. The history of its occupiers and owners.
Then there are the institutional buildings, such as the parish church. Its history as a building. Its history as the place around which the religious and cultural parish functioned. Its history as the institution around which the civil parish functioned.
Finally the countryside and general topography of the parish. Its geological history Its natural history Its relationship with village history.
As far as this Virtual History is concerned, these threads have been placed in the opposite order (as shown in the Index below) which reflect their social significance.
RW Standing
December 2008

Introduction: Local History Sources
General
Every village has its unique history, but it can only be known from surviving and accessible sources. Uncatalogued documents in a private archive are as good as dead, which was the situation fifty years ago, in great measure. Today, the West Sussex Record Office has a wealth of catalogued material, with an increasing volume transcribed or in abstract, with some of it accessible on the web. The Public Record Office also has its web site with an increasing store of documents abstracted, or ready to download.
Publication of histories for Angmering did not begin until a century ago. Previous to that there were only general Sussex histories, with sections for Angmering, such as Dallaway and Cartwright. In the early 20th century Edwin Harris, a resident of the village, produced his three polemical essays on the village. The main objection to them is not that, but an all too common lack of references. Therefore perfectly correct statements cannot be checked, and the source may even be lost. Francis Skeet, in 1921, produced a more academic history, based on sources then available and with much more adequate references.
The village rested on its laurels until after WW2. Since when, a changing country has acquired a growing interest in its regional and local history and traditions, and the first of a new form of pictorial history, for the village, arrived with the Old Angmering booklets by Leslie Baker. He was already well known for his numerous articles in the parish magazine. With the foundation of the Angmering Society in 1973, and its offshoot groups, concerned with building and general history, and now a quite independent Angmering Village Life history web site, the opportunities for intensive research and publication has expanded beyond anything imaginable by Francis Skeet.
Victoria County History
In December 2009, after years of anticipation, the Victoria County History (VCH) volume for the Littlehampton and Angmering area was published.
The full title is:
The Victoria History of the Counties of England
A History of the County of Sussex
Edited by C. P. Lewis
Volume V, Part 2.
Littlehampton and District (Arundel Rape south-eastern part comprising Poling Hundred)
Published for the Institute of Historical Research at the University of London by Boydell & Brewer, 2009
The parishes covered from north to south and west to east in the Hundred:
North Stoke, Burpham, Warningcamp, Lyminster, Poling, Angmering, Littlehampton, Rustington, East Preston, Kingston, Ferring, Goring.
The book has 315 illustrations and maps, and 323 pages of text.
But, for parish research, the vast and detailed references to original and secondary sources, is a great asset - some dozen pages at the beginning of the book, and numbers of individual references on each page of text.
This book will provide historians with the principal and most authoritative reference book, for the history of the area and its settlements that is likely to be available for many years into the future - until perhaps a revised VCH is published a hundred years hence.
VCH - History
The Victoria County History (or the VCH), is a project begun in 1899 in honour of Queen Victoria with the aim of creating an encyclopaedic history of each of the historic counties of England. The project is coordinated by the Institute of Historical Research at the University of London.
From the outset, responsibility for writing the volumes was delegated to the individual counties. The first VCH volume was published in 1901, and publication continued slowly throughout the twentieth century, although in some counties it ground to a halt, especially during the 1970s. However, some inactive counties have been reactivated, most recently Nottinghamshire in 2009.
In February 2005, the Heritage Lottery Fund awarded the VCH £3,374,000 to fund the "England's Past for Everyone" project.
In general, the histories begin with one or more volumes of general studies for the County as a whole, followed by detailed historical surveys of each Hundred, parish by parish.
VCH - Sussex
At the time the project was revived, Sussex already had two introductory volumes published, in 1905, and 1907 dealing with geology, flora and fauna, social and economic history and religious houses. Then in 1935. Vol 3 for Roman Sussex and Chichester; In 1937, Vol 9, Hastings Rape; 1940, Vol 7, Lewes Rape. Finally in 1953, Vol 4 was published covering the whole of Chichester Rape.
From 1971 onwards a different plan emerged. Each rape was divided into parts, and much more extensive parish histories provided, using a greater range of sources. Bramber Rape divided into three parts with three parts published 1980 to 1987.
Arundel Rape is now being dealt with, and so far there are two volumes or parts for Arundel and west of the Arun, Vol 5, Part 1 in 1997, and now Poling Hundred Vol 5, Part 2, in 2009.
Much of the Littlehampton area, or Poling Hundred, research was conducted by Dr T.P. Hudson, as county editor, based at West Sussex Record Office, until he retired in 2002. Dr C.P. Lewis took over from him.
VCH - The Histories

Dr Lewis made the following modest admission early in 2009:
"In any case, a VCH motto that I learned at a very early stage is that VCH isn't supposed to be the last word on anything!"
Perhaps! But only now do mere amateur historians know what is known, and what is theory awaiting confirmation, and new research.
One of the features of research for this volume is that the editors distributed drafts to various local historians for their comments. Some of this feedback has been incorporated in the final edition. However, most of the research and drafting was completed several years ago, and is therefore based on material available up to that point in time. The Angmering Village Life website, for instance, has recently been publishing items that could not be taken account of by VCH.
An invaluable feature of the volume is that it begins with a 27 page Introduction, providing an overview of the historical development of the area from the earliest days to the present. Local historians, dealing with their own small parishes, will be able to relate their bedrock accounts of village people, houses, farms, and industry, to the wider picture.
The development of Saxon Minsters and their relationship with landed estates, is still a subject for discussion. In particular is the extent of Nunminster or Nonnneminstre and Lyminster in those capacities. Much surer ground is reached after Domesday, and here the histories of medieval landed ownership, lords of the manors and other estates, is indeed authoritative, and parish historians may be content with expanding accounts of particular families and their properties.
The parish and manorial histories that follow go forward from the medieval into modern period. It is here that village historians can contribute most. It would have been impossible for the VCH writers to utilise more than a selection of that vast and increasing accession of local records at the West Sussex Record Office. Transcription and analysis of parochial and manorial documents is continuing, and will expand our knowledge of the modern period at the grass roots, with some revision of old ideas and assumptions.
For Angmering, articles published on the Angmering Village Life website, make considerable use of Accession 4149 and Accession 9163, relating to a manor survey of 1679 and to rentals and deeds over a long period. West Sussex Record Office may well reference the documents from these collections individually. This should be borne in mind should anyone wish to follow up references in future.
RWS 2009
Sussex Histories with Angmering sections
Dallaway and Cartwright, History of West Sussex, 1815 - 1832
Angmering Essays by Edwin Albert Harris
Angmering - 1910
Angmering - A Study … Written expressly for Working Men. 1912
Angmering - A short Treatise, showing its descent from Congregated Wealth to Congregated Poverty, 1914
Angmering Histories
A History of the Parish of Angmering - Major Francis Skeet 1921
A Walk around Angmering - The Angmering Society c1994
Angmering - Reminiscences of bygone days - Neil Rogers-Davis 2003
Angmering Histories, Pictorial
Old Angmering Leslie Baker 1988
Angmering in old picture postcards - Leslie Baker 2002
Parish Council
Angmering Parish Council - The First 100 Years - Bryan Hazell 1994
Church History
St. Margaret's Angmering, Rev.T.W.D. Wright, 1940
A History and Guide to St Margaret's Church, Angmering - Neil Hare 1995
The Story of Angmering Baptist Church - The First 100 Years (1847 - 1997) - R W T Thorns 1997
Place and Field Names
Field-Names of Angmering, Ferring, Rustington, East Preston and Kingston - R W Standing 1984
Angmering Place Names - Nicholas Gould c1990
Angmering Village Life Web Site – General History
www.angmeringvillage.co.uk - Neil Rogers-Davis / R W Standing, 2005 onwards
RW Standing
December 2009
---
Index to "A History of Angmering"
(Note: only the items with hyperlinks are currently available. Clicking on a blue link will take you to the article)
Preface and Introduction
Part 1 The Village
1 - Natural History
various parts

2 - Village Development
2.1 - Archaeology
2.1.1 - Overview
2.1.2 - Barpham and Thornwick
Barpham Church
Harrow Hill Fort & Flint Mines
Miscellaneous
2.1.3 - Angmering Park and Swillage
Miscellaneous
2.1.4 - West Angmering
Roman Villa
Miscellaneous
2.1.5 - East Angmering
St Nicholas Church
Bramley Green
Miscellaneous
2.1.6 - Ecclesden and Hangleton
Roman Bath House
Angmering by-pass
Miscellaneous
2.1.7 - Ham
Miscellaneous
2.2 - Domesday
All Manors
2.3 – 1321 Custumal Ham and Barpham
2.4 – Glebe Terriers 17th century
2.4.1 - Angmering Glebe Terriers
2.4.2 - Poling Parish in Angmering
2.5 – Rentals 17th century
2.6 – 1679 Manor Survey
2.7 – Rentals 18th century
2.8 – 1814 Bishopp Estate Map
2.9 – 1839 Tithe Map
2.9.1 - Introduction (Tithes & Commutation)
2.9.2 - Bargham & Ham (Apportionments)
2.9.3 - Angmering Key Maps
2.9.4 - Angmering (Apportionments)
2.10 – Rates and Land Tax
2.11 – Census Returns

3 - Events and Themes

[not confined to a period]
Part 2 The Parish
1 - Church History
1.1 - The Medieval Churches
1.2 - 19th Century Church
1.3 - Modern Church
1.4 - Nonconformist and Catholic

2 - The Parishes and Priests
2.1 - Rectors, Vicars, and Curates
2.2 - The Rectory and Vicarage
2.3 - Glebe Farms
2.4 The Vestry

3 - Civil Parish
3.1 - Poverty and Overseers
3.2 - The Poorhouses - Longback Cottages 1728
3.3 - The Parish and Union Workhouse
3.4 - Highways …….
3.5 - The RDC
3.6 - Parish Council

Part 3 The Manors and Manor Houses
1 - Ecclesden Manor and Village
1.1 - The Manor and Village
1.2 - Ecclesden Manor House
The House
The Baker family and House
Tenants and Servants
Later Owners and Tenants
Walter Butcher
The Farm
Farm Stocks and Crops
Farm Buildings and Houses
Manorial Mills

2 - West Angmering Manor and Village
2.1 – The Manor and Village
2.2 – New Place and Old Place

3 - East Angmering Manor and Village
3.1 – The Manor and Village
3.2 – The Manor House

4 - Ham Manor and Village
4.1 – The Manor and Village
4.2 – The Manor House

5 - Barpham Manor and Village
5.1 – The Manor and Village
5.2 – The Manor House
5.3 – Thornwick

6 - Lower Barpham or Barphamwick Manor and Village
5.1 – The Manor and Village
5.2 – The Manor House

7 - Angmering Park and House
7.1 – Park and House

8 - Owners or Lords of Angmering
Part 4 Village Houses
1. Farm Houses in 1839 [Their History]
[For general notes on the Tithe Map, and the Estates refer to section1-2-5]

1.1 - Ecclesden
1.1.1 - Upper Ecclesden
1.1.2 - Hangleton
1.2 - West Angmering
1.2.1 - Church Farm
1.2.2 - Woodhouse
1.2.3 - Decoy
1.2.4 - Priors Lease
1.2.5 - Charlow
1.3 - East Angmering
1.3.1 - Pound House
1.3.2 - Pigeon House
1.3.3 - Bakers Row - Conyers
1.3.4 - Church House
1.3.5 - The Rosery
1.3.6 - Olders
1.3.7 - Aberdeen House

2. Other Notable Houses and Properies

2.1 - Elmgrove
2.2 - Ann's Cottage
2.3 - Angmering Cottage
2.4 - Vine Cottage
2.5 - Barrack Yard and a Barn
2.6 - Thorpe and Ivy Cottages
2.7 - Kinnoul
2.8 - Salters and Bow Cottages
2.9 - Chants Cottage
2.10 - Old Well Cottage
2.11 - The Old House [and Bennington House]
2.12 - Weavers [High Street]
2.13 - Littleworth
2.14 - Thatches & Bay Tree Cottage
2.15 - Wayside Cottage
2.16 - Rose Cottage
2.17 - Yew Tree Cottage
2.18 - The Bunnes
2.19 - Eachways
2.20 - Brocketts
2.21 - Roundstone House
2.22 - Flint Cottage
2.23 - White Lodge
2.24 - Waterton House
2.25 - Elmhurst
2.26 - Pear Tree Cottage
2.27 - Cressingham Cottage
2.28 - Weavers Cottage [Weavers Hill/Water Lane]
2.29 - Woolvins
2.37 - Poling Outlier Cottages
Part 5 Society, Education, Commerce
1 - Commerce & Retail - Buildings and Houses

1.1 - Fairs, Inns and Public Houses
1.1.1 - Introduction
1.1.2 - Fairs, Markets, and the Rose & Crown
1.1.3 - The Red Lion
1.1.4 - The Lamb Inn


2 - Education - Schools - Charities

2.1 - Ancient Charities
2.2 - Older's Charities
2.3 - Older's Charity School
2.3.1 - School House
2.3.2 - Trustees
2.3.3 - Education
2.4 - Later Charities

3 - Clubs and Sports

3.1 -Cricket

                                            
Page last updated:29 December 2009