(Part 1, Chapter 2, Section 2) ( Bk. Index )
Domesday Survey - Angmering
---
Domesday of 1086 has the earliest comprehensive coverage of places in this area, unfortunately it is concerned only with manors and does not break these down into their constituent village settlements. This at a time when manors, inherited from Saxon estates, covered widely dispersed tracts of land. In this locality settlements largely, and probably entirely, originated before Domesday.
On the surface Sussex is divided into rapes, then into hundreds, and finally manors. Poling, or Risberg, hundred was indeed once largely a royal estate based on Lyminster, only gradually being broken down. Domesday itself is quite clear that Clapham had recently been part of Lyminster, which still left that estate with 20 hides and well over 100 families. it can be deduced as probable that Wick and Kingston later broke away from Lyminster. Nunminster was another large manor and it has been shown that this covered West Preston, Rustington, and Poling. The third large set of four manors came under the general name of Goring, clearly more than the settlement of that name.
Therefore under Risberg hundred, later renamed Poling, there are many manors making up this administrative area. In due order appears Angemare or Angmering, already in two parts, suggesting the future East and West Angmering manors.
Warin holds [Angemare] Angmering from the Earl. Earl Godwin held it.
Then it answered for 5 hides; now 1 of these hides is in the Rape of William of Braose.
Land for 2 ploughs. In lordship 1
6 [villeins] villagers and 4 cottagers with 1 plough.
Value before 1066, later and now 40s.

Geoffrey holds [Angemare] Angmering from the Earl. 3 free men held it before 1066.
Then it answered for 5 hides; now 1 of these hides is in the Rape of William of Braose.
Land for 2 ploughs. In lordship 1;
6 villagers and 2 cottagers with 2 ploughs.
Meadow 3 acres; woodland at 3 pigs.
Value before 1066 and later 50s, now 60s.
In the light of observations about Ecclesden, which will be found below, an entry under Steyning is interesting. This refers to a small pasture "in Angmering" and this may account for some of the two hides that had belonged to Angmering, but were now in the rape of William de Broase. These outliers may have become attached to some place in Steyning hundred, even that borough itself.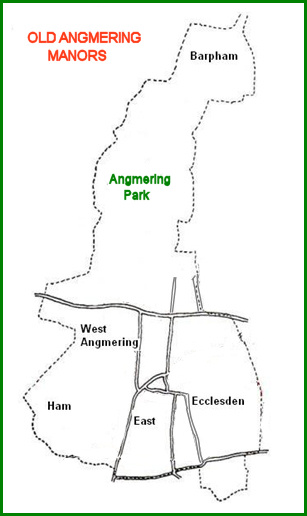 It is tempting to conclude that West Angmering can be identified with Geoffrey's manor, with its woodland. This assumes the wooded area, below Angmering Park, was largely in West Angmering, Later surveys are ambiguous about parish and manor boundaries in the park.
Land in lordship, signifies demesne, or manor house farms, had been established, directly owned by Warin and Geoffrey. The three free men of the latter manor had been dispossessed, and perhaps one of their farms taken over as a demesne farm.
It is of particular note that the two manors together, only had eight hides. This represented less than half the area that might be expected for present day Angmering, south of Angmering Park. That is assuming a 120 acre hide, and skating over intractable problems such as the local acre, and waste that may not have been included in an assessment for revenue rather than as a land survey. Nevertheless there would seem to be missing lands, accountable only by being in other manors attached to modern Angmering.
North of the Park is Barpham, a former parish and manor, included in Angmering parish in the 16th century, but continuing to be a manor distinct from Angmering. Where it appears in Domesday has been something of a mystery. It is relevant that after Domesday and by about 1120 the owner of Barpham gave a church named 'Bercham' to Lewes priory. Therefore a manor named in Domesday as Bercheham, may well be identifiable with Barpham rather than Burpham, as previously imagined. This also accounts for Ham, on the east side of Angmering village, which was a manor attached to Barpham.
Roger holds [Bercheham] Barpham from the Earl, and Alfward from him. Leofwin held it from King Edward.
Then and now it answered for 5 hides. Land for 4 plough. In lordship 3 ploughs.
8 villagers and 12 cottagers with 3 ploughs.
A church, 10 slaves, meadow 8 acres, woodland 3 pigs.
Value before 1066, later and now £8, however it pays £10.
Notably a church is mentioned, and Barpham church has been excavated and dated to the Saxon period. It may seem odd that neither of the Angmering manors had churches listed, but it is well established that Domesday did not record all those that existed, and at least east Angmering church was of Saxon origin..
There is one more omission that can be rectified. Ecclesden and West Angmering belonged to Sion abbey in the later medieval period, but had previously belonged to Fecamp. West Angmering, one of the earl of Arundel manors already mentioned, was given to Fecamp before 1200. But Ecclesden is on the opposite side of East Angmering, and in its early days a manor distinct from West Angmering. It is a reasonable assumption that it was included in estates that King Edward had given to Fecamp about 1047, which Domesday includes anonymously under Steyning.
The Abbot [of Fecamp] holds Staninges [Steyning] himself. Harold held it at the end of King Edward's life. Then it answered for 81 hides …… 33 ½ hides are in the rape of Arundel, the others in the rape of William of Braose, but the abbot holds them now.
It is impossible to extract Ecclesden from this, but does now account for all the major parts of modern Angmering. Not every acre, for several manors and parishes held land within Angmering until the end of the 19th century. Poling, Rustington, East Preston. Then several more obscure manors had outliers in the parish, although not as parochial outliers. Some of these may be identified elsewhere in this history.
Sources are very vague about Angmering Park, including the boundary description of West Angmering. It was later attached to Michelgrove House, in a part of Patching that was originally an outlier of Clapham. But evidently it was not a part of Clapham. It can only be affirmed that the park was divided between Barpham, the Angmering manors, Rustington, and Patching.
<>
Notes
Domesday quotes as translated in, Domesday Book, Sussex. John Morris, 1976
Hadrian Allcroft puts forward a strong argument why Barpham (earlier name Bargham) could well have been confused with Burpham by earlier historians interpreting Domesday and suggests the Burpham interpretation could be incorrect. [source: "Waters of Arun" 1930, 46 & 47]. Alec Barr-Hamilton is of the same opinion when reporting on the excavation of Barpham church. [source: SAC Vol. 99, 39].
The argument about Barpham and Burpham originated by Adrian Allcroft and developed by Barr-Hamilton can be summarised. Wepham is named in Domesday, a village directly attached to Burpham, and this manor may have included Burpham. It is particularly significant that most riverine manors had fisheries, seven between Bury and Arundel, but Bercheham did not, or even a water mill. Naturally hilltop Barpham would have had neither. That Bercheham had a church as did Barpham is perhaps less significant, not all early churches were noted in Domesday, and it is unlikely that Burpham church will be excavated to find its Saxon remains.
Glossary
Rapes - Sussex was divided into areas based on castles for defensive and oppressive domination of the areas.
Chichester and Arundel held by Earl Roger
Bramber held by William de Broase
Lewes - Pevensey - Hastings - by other Norman magnates
Each rape was divided into Hundreds of Saxon origin, with its law court. Angmering being in what became renamed as Poling Hundred.
Hides - were traditional areas of land, usually given as 120 acres, but this varied considerably about the country and over time.
Plough - a team of oxen with a plough and a ploughland or a hide was the traditional area it could plow. Therefore in the two Angmering manors one might imagine half the land assessed was arable.
Lordship – property including the manor farm, or demesne, owned by the owner or lord of the manor
Villagers – Villein the common occupant of the vill, in the full flowering of medieval law he was an unfree tenant above the level of a slave, who worked on the manor farm as part of his rent for a smallholding.
Cottager - or Cottar, with minimal land and commensurate duties to the owner of the manor
Woodland at 3 pigs - an uncertain area of woodland swine pasture, but not large at such a small payment, perhaps it represented woodland feeding 30 pigs.
Outlier – It is only in modern times that parishes became nucleated areas. Until the end of the 19th century both parishes and manors had their main centres, but also distant areas of land as outliers. These date back to the Saxon estates, and some of the outliers were woodland pastures for the coastal settlements.
NRD 7/12/08 RWS
Last updated 8 December 2008