Angmering Village Life
News Archive
June 2007

.
Angmering Planning Applications (List 25)
A/77/07 - Enlargement of existing pedestrian access to improve safety at St Margarets C of E Primary School, Arundel Road. For St Margarets C of E Primary School.
A/86/07 - Extension to provide kitchen and family room, present kitchen to be adapted as wet room for disabled person at 152 Palmer Road. For Nigel & Jean Nunn.
A/87/07/A - One externally illuminated fascia sign at Blaber House, The Square. For Miss D Shah.
A/88/07 - Extension to form conservatory at rear of premises and extension to front to form meeting room at Angmering Manor High Street. For Chapman Group Ltd. (Resubmission following A/18/07)
A/89/07 - Loft conversion at 10 Mill Road. For Mr & Mrs Whitcombe.
Observations on this/these Application(s) must be received by The Head of Planning Services, Arun District Council, The Arun Civic Centre, Maltravers Road, Littlehampton, West Sussex BN17 5LF by 19 July 2007.
(26 June 2007)
---
West Sussex Hospitals' Consultation
The following email has been sent from Peter Bradbury (County Councillor for Cuckfield & Lucastes) to Deborah Urquhart (County Councillor for Angmering & Findon), and is published here at the request of District Councillor for Angmering, Julie Hazlehurst, as the current discussion on the future of our hospitals will be of interest to most households in our parish:
Next Monday (25 June), the PCT is holding the meeting (that has already been publicised by others) at the Charmandean Centre Worthing at 9.30 to approve the three consultation options. In an unseemly effort to duck under the radar of public opinion, the Strategic Health Authority is meeting the same morning at 11.30 in Clair Hall Haywards Heath to approve the options and consultation process which will then begin next Tuesday 26th for 18 weeks.

The timetabling means the SHA meeting will not be publicised in the local press; they hope to avoid Councillors and members of the public. I would urge you to attend one or both of these meetings and publicise them as vigorously as you can to as many people as possible.

The consultation 'options' - Hobsons choice as Nicholas Soames has dubbed them - are a clear attempt to drive a wedge between the different campaign groups. It is important that we jointly fight the Government and the administrators - not each other - to save our hospitals. The demonstration next Wednesday in London will be under one banner in support of all our hospitals. I will be there and I hope you will too.

You can get the agenda for the Clair Hall meeting from the SHA website: www.southeastcoast.nhs.uk and information on the Worthing campaign at www.egovmonitor.com/node/12126. 
(22 June 2007)
---
Very Close Encounters!
There will be Animal Encounters of an extra ordinary kind in Angmering this Sunday (1st July)! Weird and wonderful creatures will be at the St Wilfrid's Catholic School Grand Summer Fayre in Arundel Road, Angmering from 2-4pm. People can get up close with these exciting creatures and they will be exhibited in a fun, educational and entertaining way! For more information check www.animalencountersltd.co.uk
Spaces are limited so come early and enjoy a great afternoon. Many other attractions include a licensed bar, Pimms Tent, pony rides, bouncy castles, Irish Dancing, dog display, sumo suits, tombolas, plants, books and toys, a Grand Raffle and many more stalls. Something for everyone - so go along and have fun!
(22 June 2007)
---
News in Brief
* Elderly Woman Robbed - Last Wednesday afternoon, an 89-year-old woman was robbed of cash at her house in Station Road by a young man in his 20's.
* Stoolball - Playing for West Division, Melissa Mantle, captain of Angmering Stoolball Club scored a magnificent 231 not out against East Division. The team went on to score 482-5 before dismissing East Division for 235.
* Award - Professor James Lynch of Angmering was awarded the OBE in the Queen's Birthday honours list for his work in biological resource management.
* Greater in-depth information on this news item can be found in this week's Littlehampton Gazette.
(21 June 2007)
---
New History Pages
It's not quite clear what has led to a surge in the research of St Margaret's Church. Perhaps it's the coming re-ordering that has sparked renewed interest. Anyway, in recent weeks the following pages have been added to our History Centre:
Research is continuing and hopefully, before too long, we will be able to publish a page on the changes in the church between the mid-19thC through to the end of the 20thC.
Of course, for those interested in the Church's history, there are many other pages that are available including: St Margaret's Church (Overview), Memorials in St Margaret's Church, Incumbents of Parish, Churchwardens, and Churchwarden's Presentments.
(21 June 2007)
---
Angmering Planning Applications (List 24)
A/82/07 - Erection of a building for the garaging and maintenance of applicant's vintage/historic military vehicles at White Lodge, Hangleton Lane (Ferring). For Mr I Harper
A/83/07 - Single storey extension to rear of residential/domestic property at 1 Arundel Road. For Mr J Bartlett.
A/84/07 - Erection of 4 no. detached dwellings & garages on land adjoining Apple Trees, Darlington Close. For JW Stratton Ltd.
A/85/07 - Proposed extension/alteration following approval A/13/07 at 12 Mill Road. For Mr P Burrows & Mrs A Watt.
Observations on this/these Application(s) must be received by The Head of Planning Services, Arun District Council, The Arun Civic Centre, Maltravers Road, Littlehampton, West Sussex BN17 5LF by 12 July 2007.
(20 June 2007)
---
Snippets from Parish Council Minutes of Meeting on 11 June
Committee/Working Party Appointments - Youth Activities Working Party Councillors Pat Turner, Mark Edwards, Neil Austine, Tim Mayhead. Junior Councillor Tom Burton. Devolution of Services Working Party Councillors Nigel Nunn, Paul Bicknell, Paul Hankinson. It was agreed to co-opt John King. Community Centre Working Party Councillors Nigel Nunn, Paul Bicknell, Mark Edwards, Christine Stepney, Junior Councillor Tom Burton. It was agreed to co-opt John King. Policy and Resources Committee This will be formed by the Chairs of all Committees plus one Councillor to be appointed at the July meeting.
Prospective Co-opted Councillors - Councillor Pat Turner suggested that those people who have offered to be considered as co-opted Councillors be asked to attend a series of committee meetings for 2 months before final decisions are made. The Chairman, Councillor Turner and the Clerk will get together to agree a scheme. The Council agreed to this procedure.
WSCC Community Grants - County Councillor Deborah Urquhart advised that the Community grants awarded to organisations in Angmering were £675.00 to the Parish Council towards the post box project, £350.00 to ACA for the film project, £485.00 to the Bowls Club, £600.00 to the Cricket Club and £1000.00 to the Village Hall.
Arun District Council Report - District Councillor Julie Hazlehurst is consulting Richard Bartram about parking on grass verges and is asking ADC to review the litter picking in the village. The Police Forum meetings have shown a need for a youth meeting place.
Parking - This issue of residents parking in gardens has been referred to Council by the Planning Committee. Arun District Council has written to their tenants advising that it is illegal to park in gardens where a dropped kerb has not been installed. It was proposed by Councillor Sue Smith and agreed that site meeting (walkabout) involving Arun District Council, The Police, WSCC and members of the Parish Council should be arranged.
Proposed Community Centre - Before the meeting was declared open, the Chairman advised members of the public that contrary to the information contained in a leaflet delivered to homes around the site of the proposed Community Centre this evenings meeting would not be discussing and deciding upon the Community Centre. During the public question time, Mr. S. Glew asked how the Management Committee had been formed as he had originally put his name forward but had not been contacted. The Chairman said he would investigate Mr. Glew's remarks. Councillor Sue Smith suggested that the meeting between the Working Party and the Management Committee be held in the same format as a Council meeting in the library with the public meeting following immediately afterwards. This will be put to the next working party meeting to discuss. Mr. N. Rogers-Davis asked what would be the purpose of the proposed public meeting. The Chairman replied that it is the final chance to have a say in the Centre, and to look at the results of the recent public consultation.
Street Art Board - The Street Art Board will be sited at Palmer Road Recreation Ground with support from ASRA. The projected cost is £500.00. This will be put to the P & R Committee for consideration. The Chairman thought that there may be grant aid sources that could be explored.
Click here to see full Minutes
(20 June 2007)
---
Strawberry Tea
There will a Strawberry Tea held in the garden of Angmering Rectory [to be found in Rectory Lane, Angmering] this Saturday 23 June, from 3 to 5pm. There will be a bouncy castle and games for the children, and drinks and cakes for all, and (of course) strawberries, thanks to Roundstone Farm 'PYO'.
All members of the village, and their families, are very welcome, and there is no charge for admission. This is becoming a very popular village event and the Rector, Mark Standen, looks forward to seeing you all there.
(18 June 2007)
---
Angmering Planning Applications (List 23)
A/75/07 - Extension/alteration to listed building following Listed Building Consent A/24/07/L at Malt Barn Cottage, Weavers Hill. For Mr C Fogg & Ms M Leech.
Observations on this/these Application(s) must be received by The Head of Planning Services, Arun District Council, The Arun Civic Centre, Maltravers Road, Littlehampton, West Sussex BN17 5LF by 5 July 2007.
(13 June 2007)
---
Snippets from Parish Council Highways Committee Minutes of Meeting on 6 June
Honey Lane - The Committee noted the email from Melanie Whitchurch and the letter from Clement Somerset regarding the upkeep of the Honey Lane right of way. Councillor Tim Mayhead requested that we contact WSCC and obtain a copy of the specification, quotes could then be obtained and we could then look at the possibility of applying for Grants.
Parking Issues - The Square - The new traffic orders were expected within the next few weeks, then an orange notice would go up for 21 days to see if there were any objections. If there were no objections the work would be carried out 30 days after that. The committee discussed the possibility of have all the bays restricted to 1 hour and 2 disabled bays. 20MPH Speed Limit - A letter has been received from WSCC proposing to set up a mobile Speed Indicating Device scheme and were looking for 3-4 Parishes to sign up for the pilot. The Committee agreed this would be a good idea and requested that the Clerk should send a letter confirming that we wanted to be part of the scheme. Greenwood Drive - A letter and email had been sent to Mr Brixey (Head of The Angmering School) regarding the poor parking but so far no response had been received. An email from WSCC was circulated stating that it was not possible to put a double yellow line in Greenwood Drive. High Street - The committee asked that WSCC look at the possibility of putting double yellow lines on one side of the hill from the Square to the Cottrells as visibility was difficult due to the parking.
Pinch Points - The committee noted the letter from Mr Brinkworth but agreed that at this time WSCC would not make any alterations to the pinch points.
Water Lane/By-Pass - An email had been received from WSCC stating that this junction did not meet the criteria for a 'Stop' sign.
Street Lighting - WSCC had looked at the proposed site for a light on the north side of the A259 near the footbridge but were concerned that the light would shine directly in the faces of the people using the footbridge. They will now look at the possibility of extending the current column by 1 metre to give additional light. Councillor Bicknell was concerned that this would still not solve the problem and requested a site meeting with WSCC.
Post Box (corner of High Street & Roundstone Lane) - A £650 grant had been received from WSCC for the renovation of the Victorian post box. Another £600 is required for the materials, originally Mr & Mrs Holland had agreed to donate this money, they will now be contacted to confirm this arrangement.
Click here to see full Minutes
(13 June 2007)
---
Waste Re-Cycling Plant Decision
There was good news for both Angmering and Poling parishes today regarding the proposed buildings to house an in-vessel composting unit for green and kitchen waste including maturation area, bio-filters, administration/canteen building (Dual Parish Planning Application PO/1/05 and A/191/06). At a West Sussex County Council planning meeting this morning, the Planning Application by Vinery Management was refused by nine votes against and one abstention. This application had concerns for villagers, not only due to possible smells emitting from the plant and traffic likely to be generated in the area, but also on the height of the building itself and pollutants that might be emitted in the proximity of the Chestnut Tree House Children's Hospice.
(12 June 2007)
---
Angmering Planning Applications (List 22)
A/72/07/CLE - Application for certificate of lawfulness for an existing use for the siting of a mobile home at Foschini's Nursery, Hangleton Lane (Ferring). For Mr F Foschini. (Resubmission following A/3/07/CLE)
Observations on this/these Application(s) must be received by The Head of Planning Services, Arun District Council, The Arun Civic Centre, Maltravers Road, Littlehampton, West Sussex BN17 5LF by 28 June 2007.
(6 June 2007)
---
Crash closes High Street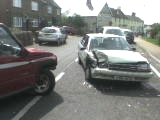 A car crash at about 3.30 this afternoon closed the High Street for about three-quarters of an hour. A small red jeep-type vehicle proceeding west with a male driver, clipped the mirror of a car coming in the opposite direction. The jeep then ran into the side of a second moving vehicle (silver), before hitting a third moving vehicle (light green) driven by a lady who had two young children in the rear of the car. The silver car was damaged along the whole of its offside, and major front and side damage was sustained by the light green vehicle.
Police were called to the scene as was an ambulance. The lady driver, who was in a distressed condition and who appeared to have a minor neck injury, was attended to by the ambulance crew. Passers-by held the driver who had walked away from the scene and a kind house owner provided tea for the distressed driver of the green vehicle.
(4 June 2007)
---
Snippets from Parish Council Environment & Leisure Committee Minutes of Meeting on 23 May
Election of Officers - Councillor Mark Edwards was duly elected as Chairman of the Environment and Leisure Committee and Councillor Pat Turner as Vice-Chairman.
ASRA - Councillor Nunn reported that he has contacted solicitors regarding the request from ASRA for a sub lease for the Social Club. The solicitors confirmed that under the current agreement there could be not be a sub-lease, they will continue to look at the issue and see if they can come back with any suggestions. The Circus at the beginning of May went well and the money from the site rental went to ASRA.
Proposed Community Centre - Councillor Mark Edwards reported that the plans were now on display in the Library and the Parish Council Office, so far only four comment forms have been filled in. Councillor Nigel Nunn said that when the Public Consultation was complete, there would be a meeting between the Council Working Party and The Community Centre Management Team, after that there will be a meeting where the general public can be advised of the outcome.
Noticeboards - The Senior Assistant Clerk advised that the new noticeboards were with the sign writer and that we should take delivery of them shortly. One will replace the old board in Downs Way and one will go on the Community Centre site.
Road Closures - The Committee agreed to £500 from the village enhancement budget to fund the road closure for the Traders Evening. The balance will be funded by the Highway Committee.
Transfer of Bramley Green Open Spaces - Councillor Nigel Nunn said there was nothing further to report, there were still various issues which were being dealt with by the solicitors and it was hoped they would not take too long to resolve.
People's Millions Lottery Bid - The bid for the Skateboard/BMX park had been submitted and acknowledged. Successful bids will be notified by mid August.
Click here to see full Minutes
(4 June 2007)
---
Angmering Garden Awards
Angmering Parish Council is going to make some awards for attractive gardens in the village this Summer. One award is being made for each of the following classes, namely:
General Garden Award
Hanging Baskets and/or Tubs/Containers Award
The only stipulation for these awards is that everything must be visible from the road. Back gardens that cannot be seen from the road are ineligible. Judging will take place towards the end of July. You do not have to enter for these awards - all you have to do is to keep your garden looking attractive and hope it catches the judges' eyes.
(2 June 2007)
---