Angmering Library
---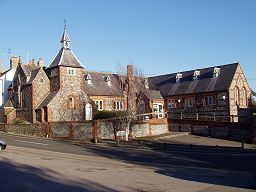 The WSCC Library in Angmering may be found on Church Hill, Arundel Road, opposite St Margaret's Church in the centre of the village. This attractive building was originally the village school and was constructed in 1844, reconstructed in 1853, and a new eastern wing added in 1884. (see Schools history). In 1966 the school moved to a new location in Arundel Road and, after 8 years of uncertainty, the building was purchased by West Sussex County Council in 1974 for conversion into a library. The Children and Family Centre operates from the same building. On Saturday afternoons, the Library is open and is run by the Angmering Parish Council Community Library.
COVID-19 LOCKDOWN - 5 NOVEMBER TO 2 DECEMBER 2020
West Sussex libraries are currently closed for browsing and only open for returns and collections. Limited computer sessions are only available when pre-booked in advance.
However, click here to see details of the Library's Select & Collect service and their Item Reservation service.
Opening Times
(from 2 November 2020):
Tuesday
1.00pm to 5.00pm
Thursday
9.00am to 1.00pm
Saturday
9.00am to 1.00pm
Facilities include:
- Borrowing Section for books (incl. large print), spoken word disks, & DVDs.
- Reference Section (including local studies)
- Internet access via 2 PCs (walk-in or bookable)
- fax facilities
- Photocopying (B/W: A4 = 10p per sheet, A3 = 15p per sheet. Colour:: A4 = 50p per sheet, A3 = £1 per sheet )
- National and local newspapers
- Local information and events pamphlets