Schools
---
Early Education
The first indication we have of education in Angmering is an entry in the 1332 Lay Subsidy Roll for the hamlet of Ecclesden which was located less than a mile from the centre of Angmering village. The Rolls were effectively a list of taxpayers which also indicated the amount each was required to pay. The entry in question was for one Alic' le Scoulmaystr' whose tax liability was 8d, an average amount then. We should not read too much into having a schoolmaster in the village at that time as he may well have been just a tutor to the children of the lord of the manor. In medieval times, education of the poor was practically non-existent and, what there was, was little more than some informal classes in the parish church.
We know nothing about education in Angmering for the next 250 years but we learn from the Angmering Churchwardens' Presentment of 1579 that "Our scolemaster is of sound religion and hath licens to teach from the bishop but not under his hand and seall". Whether the schoolmaster had many pupils is uncertain because the same Presentment stated "He hath no scollers that lerne gramer"! If there were pupils, then perhaps they learned simple reading and writing and basic arithmetic.
First School (Older's Charity School)
The first actual school in Angmering came about as a result of benefactor William Older (died 26 March 1680), a yeoman farmer who, in his Will, left £100 to purchase land on which to build a school and, after his wife's death, the rents from all his lands to pay for a schoolmaster. His Will records:
I give the summe of One hundred pounds to Thomas Olliver of East Angmering aforesaid yeoman to bee by him laid out & disposed of so soon after my decease as conveniently can bee uppon Trusts & for the uses herein after menconed. That is to say That the said Thomas Olliver doe purchase an howse & garden in East Angmering aforesaid or West Angmering in the County aforesaid or a small parcell of Land & build an howse thereon to Humphrey Gratwicke of Hamm in the parrish of Angmering aforesaid Gent the said Thomas Olliver & Hugh Penfold of East Angmering aforesaid yeoman & to their heires for ever. To the intent & purpose that the said Humphrey Gratwicke, Thomas Olliver and Hugh Penfold & the Churchwardens of the parrish of Angmering & their heyres & successors for ever shall from time to time at their discretions place in the said Messuage or howse so. to bee bought purchased or built a convenient Schoolmaster for the teaching & instructing poore Children within the said parrishes of West & East Angmering or either of them. Which said Schoolmaster shall from time to time have the use & benefitt of the said howse & garden.

And for the better mayntenance of the said Schoolmaster I doe by this my will give & devise unto the said Humphrey Gratwicke, Thomas Olliver and Hugh Penfold & the Churchwardens of the parrish of Angmering & their heires & successors for ever All my Messuage Lands Tenements & herediments whatsoever situate lying & being in the parrish of East Angmering aforesaid. Uppon trust & confidence that they the said Humphrey Gratwicke, Thomas Olliver and Hugh Penfold & the Churchwardens aforesaid & their heires & successors shall from time to time & at all times p'mitt & suffer Sarah Older my loveing wife to receive & take upp the Rents & profitts of the last menc'oned Messuage lands & Tenements during her naturall life. And after her decease for ever hereafter shall permitt & suffer such Schoolmaster aforesaid to receive & take the Rents Issues & profitts of the said messuages, lands & tenements for his paines in teaching the poore Children of the pishes of East & West Angmering aforesaid ...............

And I doe hereby desire direct & appoynt the said Humphrey Gratwicke, Thomas Olliver and Hugh Penfold & the Churchwardens aforesaid & their heires & successors for ever to take care that the Schoolmaster bee carefull & diligent in teaching & instructing such poore children of the said pishes as the said Humphrey Gratwicke, Thomas Olliver and Hugh Penfold & the Churchwardens aforesaid & their heires & successors shall think fitt . And that the said Schoolmaster doe sufficiently keepe repayred & mayntaymed All the said Buildings soe devised as aforesaid. And I doe hereby direct & appoynt the said Humphrey Gratwicke, Thomas Olliver and Hugh Penfold & the Churchwardens as aforesaid & their heires & successors at their pleasure to remove & displace the said Schoolmaster & to elect nominate & place in another Schoolmaster as they from time to time shall thinke meete & convenient desireing them not to lett the said Schoole bee neglected for want of a Schoolmaster nor the Premises bee misimployed but to see the same bee imployed according to the true meaning of this my Will .............
The first school opened in 1682 and was situated just a few yards to the south-east of where Angmering Public Library stands today (see plan below). Repairs appear to have been undertaken in the 1780s and some enlargement took place about 1818 as a result of £80 left to the school by William Olliver in his Will .
The school stood there until 1844 when another benefactor, William Gratwicke Kinleside Gratwicke, arranged for the old dilapidated building to be demolished and for a new one to be built approximately 30-40 feet to the north using some of the materials from the old school. [Ref: WSRO HC 525, 526 & 529]
However, when St Margaret's Church, Vestry Cottage, and the then Church Hall (now Vestry Hall) were re-built by Samuel Teulon in 1852/3, William Gratwicke agreed to extend and enhance the appearance of the school that had only been built about 8 years' earlier, to no doubt provide a compatible street scene. A new west end extension of approximately 3 metres long was added plus a bell tower and a new porch on the east side. While the earlier school was built using cobbles, the new constructions were faced at a higher level with pleasing knapped and dressed square flintwork. The existing chimney may also have been enhanced with the knapped flintwork at that time. This reconstructed building was opened in 1853.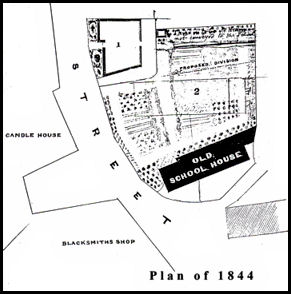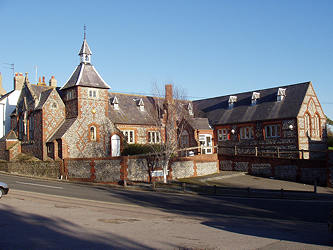 The inscription on the scroll reads: "Endowed by Mr William Older AD 1682 - rebuilt by WGK Gratwicke, Esq AD 1853"
In 1872, the building was divided with a wooden and glass screen to create an Infants Room at the west end. However, with increasing numbers, in 1883 the trustees "resolved to consult an architect as to enlarging the school premises". Later that year, a very detail specification was written for a new wing to form a new Infants School. [WSRO Par 6/25/1 & 7]. The eastern wing, suitable for 70 pupils, was built and opened in 1884.
A document discovered under the floorboards dated 22 August 1899 reveasl that Mr Edwin Harris, the builder and carpenter, together with others, relaid the floor. A second document found underneath the floorboards, dated 17 August 1933 records that the floor was again relaid at that time by Mr Harry Bentley.
With the expansion of the population of Angmering and the demand for improved facilities, William Older's Charity School finally closed its doors in 1966 and moved to a new building, St Margaret's C of E Primary School, at the top of Arundel Road. However, half of the pupils moved at the start of the Autumn Term 1965.
The old building remained empty for 6 years and there were fears that it might be demolished to make way for new housing. However, West Sussex County Council decided to take over the building as a public library, and this opened in 1974. The attractive brick, pebble and flint building opposite St Margaret's Church is what you see today.
School Attendance
We have no record of the number of pupils in its earliest days, but from 1724 we learn that the school was intended for 25 poor children, but whether that number actually attended is another matter. By 1818, we know that the master was teaching 60 to 70 children. That number remained unchanged by 1830 and we know that at that time it was both a free day and a Sunday school so the total may be of both schools. By the middle of the 19th century, the number of pupils had risen to between 112 and 122. With education being made virtually compulsory by the Elementary Education Act 1870 for children between 5 and 13, school attendance grew rapidly as did expanding Angmering. The average school attendance had grown to 156 in 1893 and to 228 in 1900. Thereafter, the numbers fell when secondary education was introduced which meant children over 11 had to go to school in Littlehampton. Some 'bright' children won scholarships to Worthing High School. By the time the school finally closed in 1965/6, the average attendance was about 160. Picture the two rooms in the Library today to imagine how overcrowded the school must have been.
Where parents could afford it, some of the children attending the school paid a few pence each week towards the cost of their education but the vast majority paid nothing at all and school costs were generally paid for by trustees from endowments.
Headmasters
The Headmasters of Older's Charity School were as follows but caution needs to exercised for those marked with an (*) as the dates are conjectural:
Adrian Nicols

1682 -1717*

Henry Walmsley

1717 -1749*

Richard Cunningham

1749 -1767*

John Pilborough

1767 -1771*

B. Ferrier

1771 -1774*

John Peddle

1774 -1777*

Samuel Akerman

1777 -1813

Richard Chance

1813 -1826

Henry Ragless

1826 -1846

George Simpson

1846 -1853

John Gregory

1853 -1867

Charles Challen

1867 -1890

Alfred Child

1890 -1905

William Shepherdson

1905 -1920

Alfred Russell

1920 -1935

Leslie Cunnington

1935 -1955

Leslie Baker

1955 -1966
Teaching
In the first 130 years of the school's being, there was probably only a single school master who would be responsible not only for the administration of the school but teaching children of all ages and abilities. Education must have been fairly basic and largely limited to the teaching of simple reading, writing and arithmetic. By 1819, William Older's Charity School had adopted the Madras system of teaching, a system promoted by Dr Andrew Bell (1753-1832). This system was one whereby one master using pupil teachers or monitors (usually between 11 and 14) and more junior 'tutors' (aged from 7 to 11) taught children younger than themselves and therefore considerably more pupils could be taught basics. This could therefore free up the school master to be more selective in his teaching and to improve discipline. These monitors were paid a small sum each week by the trustees. Variations on the system endured for nearly another 100 years in schools before educational standards required teachers to be certificated.
In Angmering, by 1889, an assistant teacher had been appointed which had increased to two assistant teachers by 1906. These were supported by some educated villagers on what seems to be a rather haphazard basis of attendance. In 1867, for example, the school log book records numerous occasions when the rector, the Rev J B Orme, assisted with teaching arithmetic at the school. Even in 1905, the school used "student" teachers from the village to support the school master and his assistant. In 1933, the school had 4 teaching staff, which included the headmaster, Mr Russell.
School Memories
Below are some school memories of people attending William Older's Charity School between 1915 and 1940:
"The long school building was divided into three classrooms and the infants' class was attached to the side of it. This housed a lovely big open fire and in the winter, on Friday afternoons, we would sit around the fire and Miss Peters, our lovely teacher, would read us stories. The main building was heated by a large fuel boiler that was in the senior classroom and was stoked by the older boys and the head master, Mr Cunnington, who also taught in this classroom. He was an excellent teacher and head master, with very good discipline and a great sense of humour. Friday afternoons we had English, which included poetry, reciting to the class." Rose Longhurst (née Palmer)

"Mr Shepherdson, must have been a military man at some time as the children were given a lot of military drill. Weather permitting, they were lined up according to class and had about ten minutes' drill. Number off from the right, spacing out, form fours, quick march into the school to the tune of a Sousa march and then marking time until all were in and "shun" given - no fooling allowed." Grace O'Neill (née Hammond)

"We went to Older's School - the day always commenced with prayers, hymns and the Catechism - this instruction was given by the Rev. James Orme, a very nice old gentleman. We girls wore white pinafores over our dresses to school - these had a bib and shoulder strap. My mother had to wash, starch and iron thirty of those a week for us. Children aged from five years and upwards walked to, and from school, as far away as the Toll House in the Long Furlong, The Swillage, Lee Farm, Selden and most outlying farms and cottages. They came in all weathers with dinner bags made from sackcloth slung over their shoulders, usually containing bread and cheese for the mid-day meal." Margaret Smith

"Mr "Daddy" Russell was the head master of Older's Charity School who went on to become head master at the first modern Comprehensive School in Sussex. Mrs Waghorn taught all of us. She always inspected the back of our needlework as she said it should look as neat at the back as the front. In the late 1920s the children at Older's School had a cup of Horlicks each day, made with water. Mrs Waghorn made this for them and it cost a ha'penny a cup." Marion Brown (née Wadey)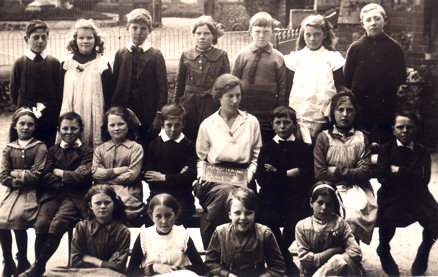 Miss Waghorn and a class in 1920.
(Miss Waghorn was still teaching at the school in 1955)
Other early 19th Century Schools
In 1818 there were three small day schools in Angmering, probably fee paying, in addition to William Olders's Charity School. By 1835, this had decreased to two other fee paying schools teaching 64 children but, by 1850, only Older's existed.
St Wilfrid's RC School
At the Duke of Norfolk's expense, St Wilfrid's Roman Catholic School was built in Arundel Road in 1872 adjoining the Catholic church also built in that year.It consisted of two classrooms and within 4 years had an average attendance of 40 pupils, all girls at that stage. The attendance figures dwindled to 34 pupils by 1938, sixteen of them being non-Catholics. It was later renamed St Wilfrid's RC Primary School and by 1989 some 60 children attended the school. In 2007, that number had increased to 107. In 2022, the number had increased to 191
When the church closed in the 1990s, the space was taken up by the school. A new school hall was built in 2004.
St Margaret's C of E Primary School
When William Older's Charity School closed in 1966, pupils were transferred to the new St Margaret's Church of England Primary School at the top of Arundel Road. Its first head teacher was Mr Leslie Baker. When it opened it, some 248 children attended the school. In 2007, that number had increased to 501. In 2021, the number had fallen to 421.
The Angmering School
With the population of Angmering mushrooming in the 1970s, West Sussex County Council took the decision to build a comprehensive secondary school in Angmering for pupils aged between 11 and 18 which would also draw pupils from close-by villages. The Angmering School opened for its first intake in 1975, its first headteacher being Mr Ron Moores. The school has already seen many expansions and, in 2007, attendance of the school's students had risen to approx 1450. In 2022, the number was 1320
Neil Rogers-Davis
October 2007
(My thanks to Leslie Baker and Richard Standing for providing information/resources used in this article. Also to David Francis (architect) and Susan Francis who provided considerable help in unravelling the re-building of Older's School in the 19thC).
(Page last updated: 19 January 2022)