War Memorial
- inscriptions from WW1 & WW2 and other information
---
"They shall grow not old, as we that are left grow old:
Age shall not weary them, nor the years condemn.
At the going down of the sun and in the morning
We will remember them."

Laurence Binyon (1869-1943)
---
The Angmering War Memorial was designed and produced by Sussex stonemasons and unveiled on 27 May 1920. It is 14 feet high and is built of Portland stone. Standing on two octagonal steps, the Memorial comprises a cross and shaft combined on a tall chamfered plinth on which the names of the Fallen of both World Wars have been inscribed. It was produced at the Mr Francis Tate's Carrara Marble Works of 22 North Street, Worthing. Francis Tate's invoice for the production and errection of the cross was £194 6s 0d. The Angmering firm Z. Peskett & Sons prepared the foundations for the Memorial at a cost of £10 5s 0d.

In 1929, the ownership of the Memorial was taken over by Angmering Parish Council but the Royal British Legion was asked to care for the monument and its surrounds, a situation that exists to this day. The monument is maintained in very good condition and the Women's Section of the Royal British Legion place fresh flowers weekly on the memorial between April and November.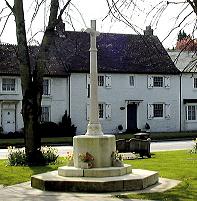 The Angmering war memorial committee set up in 1919 was more representative than in most other villages, particularly in Sussex. It comprised the two overseers of the poor, three representatives from the churches (C of E, RC, and Baptist), three representatives of friendly societies (Forester's Court, Equitable Society, and St Wilfrid's Slate Club), and two female relatives and one male relative of the Fallen.

The renowned architect and antiquarian, P M Johnson F.S.A., F.R.I.B.A., had attended a committee meeting and recommended a simple rough stone cross on the boundary wall of St Margaret's Church with the yew tree as a background and suggested that The Green was an unsuitable site. However, the memorial committee was very much against this advice and convened a public meeting on 1 April 1919 which firmly resolved that the original local design be adopted and the memorial erected on The Green in The Square

On the 24 June 2002, the Secretary of State, Department for Culture, Media and Sport, scheduled the Memorial as a Grade II structure under the "Planning (Listed Buildings and Conservation Areas) Act 1990 - Buildings of Special Architectural or Historic Interest".

The lettering on the war memorial has been attributed to the renowned designer and sculptor, Eric Gill. Gill was amongst the greatest designers and practitioners of letter cutting of his generation which makes Angmering's war memorial of historical importance.

The following surnames, initials, and decorations are inscribed on the War Memorial but not first names, regiments or ranks which have been added where known:
1914 - 1918 War
"In Remembrance of these who served and died in the war"




L/Cpl Fred Ansell
2nd Royal Sussex





P/O John Henry Arnell
H.M.S. Begonia
L/Cpl Alfred Lewis Ashmore
1st Worcester Regt.
Pte Frank Bentinck
61st Machine Gun Corps.
Pte Alfred John Berry
1st/5th Royal Sussex
Pte Frederick Brown
2nd Royal Sussex
A/S Samuel N Burchfield
Royal Naval Volunteer Reserve
Sgt William Burns
13th Royal Sussex
Sgt John Chalk
75th Canadian Infantry (Central Ontario Regt.)
Pte Harry Chant
8th Royal Sussex
L/Cpl Harry Cheeseman
9th Royal Sussex
Nurse Janet Clare-Ball
V.A.D.
Cpl Herbert Clevett
2nd Royal Sussex
Pte James Denyer
13th Royal Sussex
Dvr Archibald Field
256th Royal Field Artillery.
Pte Frederick Finch
Royal Army Vet. Corps.
Pte Alfred Gates
12th Royal Sussex
Sgt William Gilbert
4th Worcester Regt.
Pte (Boy) James Hammond
Royal Marines Artillery
2nd Lieut Maurice Hillier
6th K.O.S.B.
L/Sgt George Horn
4th King's Royal Rifles
Pte George Horton
13th Royal Sussex
Pte Joseph Linfield
1st Royal Sussex
Pte William Denn Linfield
7th Royal Sussex
Rflm Robin Luck
New Zealand Rifle Brigade.
Pte John McKenzie-Slater
8th Royal Sussex
Pte Stanley Messenger
10th Royal Fusiliers
Sgt Fred Mitchell
7th Royal Sussex
Pte Arthur Parsons
8th Royal Sussex
Pte Harry Pearson
1st Royal West Kent Regt.
Pte William Pelling
Royal Sussex
Pte Henry Pocock
13th Royal Sussex
Pte Harry Pulman
1st/4th Royal Sussex
Pte Lionel Rolfe
13th Royal Sussex
Pte William Smart
2nd K.O.Y.L.I.
Pte Albert Edward Terry
46th Canadian Infantry (Saskatchewan Regt.)
Pte Frank Terry
4th Royal Sussex
Cpl Harry Wadey
10th Hampshire, Labour Corps
Lieut Albert Walsha
9th Norfolk Regt.
Pte Alfred Weller
6th Sherwood Foresters
Pte George Weller
1st East Surrey Regt.
L/S Ernest Whitfield DSM, MM(Fr.)
HMS Alert
The Roll of Honour website at www.roll-of-honour.com provides information on those men and women who fell fighting for their country. Click here to see the Angmering WW1 entries.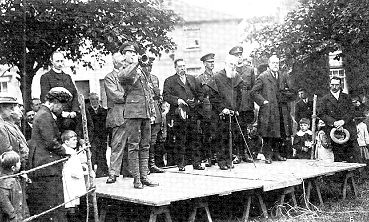 The unveiling of the War Memorial on the Village Green 27 May 1920.
Among those present on the platform are Rev. T L Pearson (Rector of Angmering),
and Rev. J B Orme (Rector emeritus). Also present on the platform is in uniform is
Colonel Walter Campion, who commanded a territorial battalion of the Royal Sussex Regiment.
He was MP for Mid-Sussex in the years 1910-1924.
Also in attendance was the Colonel's Adjutant, Captain Middleton.
Pte Jack H Bentley
10th Bn., Royal Berkshire Regiment
Major George W Chaplin MC
5th Bn., Grenadier Guards
Pte Charles W Espin
Royal Army Veterinary Corps.
Pte Charles Greenough
The Queen's Royal Regt (West Surrey)
Gunner Alan Hilton
6 Maritime Regt., Royal Artillery
Lt.Cdr.(RN) Gerald H E Molson
H.M.S. Rawalpindi
Cpl Alfred John Reene
Royal Army Ordnance Corps
A/C George Reeves
Royal Air Force
Dkm Albert C Smitherham
S.S. Fintra (Leith)
W/O Lawrence Swain MM
7th Queen's Own Hussars, R.A.C
Boatswain Robert G Yates
HMS Hood
---
Photos of Incriptions on War Memorial
| | |
| --- | --- |
| | |
| | |
| | These two names inscribed on War Memorial on 6 March 2015 |
---
British Legion Memorial Plaque in Village Hall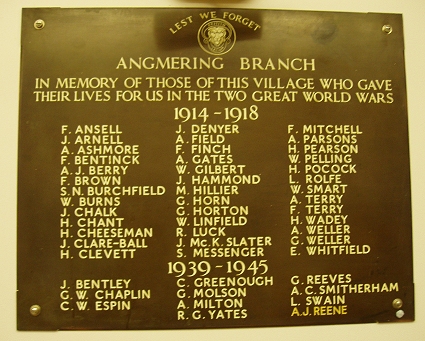 ---
Major George Woodthorpe Chaplin - Military Cross Citation
(London Gazette - 15 April 1944)
"On 4 Feb. 1944 at CARROCETO, No. 2 Coy which had been heavily attacked by infantry and tanks throughout the night, was completely cut off from the Bn and all communications had broken down. It was not possible to reach the company without going over about 200 yards of open ground in full view of the enemy whose machine guns invariably opened up on any observed movement. The Commanding Officer ordered Lt. Chaplin to go forward to see if it was possible to reach the Company. Disregarding the enemy fire, Lt. Chaplin made his way through heavy MG fire to the company, and personally visited all three platoons, encouraging the men and giving them information about the battle as a whole. This action greatly raised the morale of this company. Lt. Chaplin returned through enemy fire having obtained for the Commanding Officer detailed information about the night's action and the names and numbers of casualties.
On the night of 7/8 Feb., BNHQs was in a gully - to which the enemy penetrated in strength having overrun three coys. The enemy took up positions on the top of the cliff which overlooked the HQ, and started firing at short range with machine-pistols, LMGs and hand-grenades into the Command Post. Lieut. Chaplin went out alone on his own initiative, climbed round the entrance to the gully and by throwing hand-grenages at the enemy kept them from the edge of the cliff for long enough for the Command Post to be moved. But for this gallant and spontaneous action the enemy would have been able from the cliff-top to drop grenades right into the Command Post and would have destroyed Bn.HQ."
---
Other Wartime Casulties
Not mentioned on the War Memorial is Harry Linfield (born c1881), son of Edwin and Caroline Linfield. On his parents gravestone in St Margaret's churchyard is an inscription which states that Harry (37) died in November 1918 while on duty with the Hong Kong Police.
---
Burials in Angmering
The Commonwealth War Graves Commission records indicate that an unknown WW2 Royal Navy sailor was buried in St Wilfrid's RC cemetary in Arundel Road. Additionally, the following five casulties are recorded as having been buried in St Margaret's churchyard (not all of these are listed on the War Memorial):
| | | | |
| --- | --- | --- | --- |
| | Sgt John Grenville Anderson | 6th Sussex (Arundel) Home Guard | DoD 1/8/1941 |
| | L/Cpl Harry Cheeseman | 9th Royal Sussex | DoD 26/2/1917 |
| | Pte Frederick Finch | Royal Army Vet. Corps. | DoD 24/1/1917 |
| | Cpl Alfred John Reene | Royal Army Ordnance Corps | DoD 17/9/1947 |
| | 2nd Lieut Moran Geoffrey White | Royal Artillery | DoD 8/9/1940 |
---
Memorial Seat
There is also an intriguing stone memorial seat in the Square, near to the War Memorial, which is inscribed:


REST AND REMEMBER
1914 - 1918
In memory of
CAPTAIN FRANCIS CAMPBELL NORBURY
K.R.R.C., Housmaster at Oundle
who left this village in August 1914
to serve his country & was
killed near Bethune on
8th January 1915.

It is unclear why Francis Norbury's name was not included on the War Memorial if he came from Angmering or what his connection was with Angmering. What is known is that he was a captain in the 6th Bn. King's Royal Rifle Corps attached to the 1st Bn. He was the son of Mrs. E. T. Norbury, of The Lench House, Stratford-on-Avon, and the late Mr. T. W. Norbury. Educated at Oundle and St. John's College, Cambridge, he was a house-master at Oundle at outbreak of war. He was 32 at the time of his death.
---
Related Links

1914-1918 Centenary - Angmering's Fallen
1914-1918 Centenary - Angmering's Survivors
1914-1918 Centenary - A View from Home
Stanley Messenger Correspondence
---
Source Information:
(1) The Local Historian, February 2000 (article by Keith Grieves)
(2) West Sussex Record Office PAR 6/7/7: Angmering war memorial minutes of public meetings 1919/1920
(3) West Sussex Record Office PAR 6/7/8: W Campion to war memorial committee 17 May 1920
(4) Scribble (1916-1919) - published by W Hollis and transcribed in 2002 by R W Standing (incl. photos of Fallen soldiers)
(5) Commonwealth War Graves Commission
(6) Records of St Margaret's Church, Angmering
(7) A History of the Parish of Angmering: Major Francis Skeet
(8) Old Angmering: Leslie Baker
(9) Memorial Scheduling Letter dated 24.6.2002 from Secretary of State
(10) "Eric Gill: The Inscriptions" David Pearce 1994
(11) Roll of Honour Website ( www.roll-of-honour.com )
(12) Major GW Chaplin's photo and MC citation kindly provided by his daughter, Jenny Chaplin
I would welcome any additions/amendments/photos to the foregoing list. See Contact page.
Neil Rogers-Davis
Last updated: 8 March 2015