Introduction
The past ownership of the Manor of Ham is an exceptionally complex affair and, to my knowledge, no complete or accurate account has been written although many excellent partial accounts exists. The research for this account uses certain documents (Wills, Inventories, Subsidy Rolls, Inquisition Post-Mortems, Deeds, Parish Registers, Tithe Maps & Schedules) in tracing ownership. This can only be an abbreviated story. It is unlikely that a 100% accurate record could ever be produced but the following account hopefully provides a reasonable picture of events.
Beginnings
Ham is not separately identified in the Domesday Survey (1086) and may have been part of the village of Bercheham (later known as Bargham and today Barpham). It was certainly separate from the manors East and West Angmering. However, by the early12th century, it appears to have been held by the de Dunstanville family who held both Barpham and Ham. Ham's origins may have been much earlier as, when Ham Manor Golf Course was being laid down in the 1930s, the remains of roman buildings were uncovered. By 1270, Bargham and Ham were held by the de Montford family. Title to the manors changed many times during the 13th and 14th centuries and was disputed for much of that time. In 1386, title passed to de Tregoz family and then to the Lewkenor family in 1404.
By the Middle Ages, five manors existed in today's parish of Angmering, one of which was Ham; a hamlet also existed there. By the 15th Century, the land was held for the monarch by the Earls of Arundel as tenants-in-chief. By the 16th Century, possibly as an action to solve Henry VIII's financial problems, land was sold off to the more wealthy farmers who in turn sub-let much of the land to copyhold tenants. Ham was no exception. The Lewkenor family of Kingston Buci had held Ham until the 1540s but possibly as a result of Sir Edward Lewkenor's part in the conspiracy and failed attempt to put Lady Jane Grey on the throne and, his death in jail, Ham was sold off. Sir Edward was at one stage Groom Porter to Edward VI.

16th Century changes
The contents of Wills tell us that in the 1540s and 1550's parts of Ham were purchased by John Woulryge (c1490-1551), a wealthy Findon farmer. The bulk of the remaining parts were purchased by Thomas Older (or Wolder), also from Findon. By the late 1540s, Thomas had married John Woulryge's daughter, Alys. On John's death in 1551 he willed his land in Ham to Alys, and thus the majority of Ham's was effectively controlled by Thomas Older although quitclaims suggest that a small portion could still have been in the hands of the Lewkenor family until sold to Francis Kellaway in 1566.

These Wills, however, do not give the complete picture because the Older (or Wolder) family were farming land at Ham some 20 years earlier. The Sussex Subsidy Rolls of 1524 indicate that Robert and William Wolder were tenants at Ham (probably copyholders). Thomas Older (or Wolder) was therefore probably closely related to them and no doubt purchased parts of Ham from the Lewkenor family when the opportunity presented itself. He may even have inherited the copyhold tenancy on the deaths of Robert and William Wolder. A Quitclaim suggests that Thomas Older may have been in possession of land at Ham as early as 1538.

When Thomas died in 1560, two-thirds of Ham was willed equally to his three daughters (Joanne, Alys, and Sybell), his wife, Alys, holding the one-third which she had inherited from her father, John Woulryge. After Thomas's death his widow married Ambrose Strong of Poling but she died within months leaving this one-third in the ownership of Strong.

The start of Gratwicke ownership
Joanne Older married Henry Gratwicke of West Grinstead, Alys Older married Thomas Stempe, and Sybell Older married a Roger Gratwicke of Tortington (probably Henry's 2nd or 3rd cousin). It is not entirely clear what exactly happened to the two-thirds of Ham, but Henry and his heirs aggressively wrestled the Ham lands out the hands of Alys & Thomas Stempe and Sybell & Roger Gratwicke by law suits that lasted 50 years. Thus two-thirds of Ham came to Henry Gratwicke and his son and heir, Thomas Gratwicke (1572-1635). An Inquisition Post-Mortem of 1602 confirms this:
Henry Gratwicke, Vol 259, No. 83
E.G., 28 July 44 Eliz.
Died 30 May 44 Eliz. Heir, son Thomas, aged 30.
Lands - Two-thirds of the manor of Hame formerly belonging to Thomas Older and before that to Margaret Lewknor, widow, and Edward Lewknor of Kingston Bowcy, esq., deceased, also land in Hame and West Angmering, which lately was John Palmer's, esq.
In the meantime, the one-third of Ham owned by Ambrose Strong was purchased by another Roger Gratwicke (possibly via Francis Kellaway) in 1566. This Roger Gratwicke from Sullington (d.1570), a wealthy Ironmaster (and son of James Gratwicke of Cowfold), by his Will left part of Ham to his son John, with remnants to sons Thomas and Philip. The other portion he left to Philip direct. John and Thomas dying without children, the whole portion came to Philip Gratwicke. Philip died in 1598 and left the one-third portion to his three daughters and co-heirs Anne, Mary and Elizabeth of whom Mary died as a minor.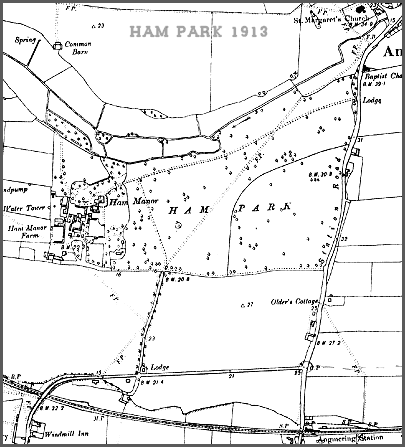 Elizabeth brought her share to her husband and second cousin Roger Gratwicke of Seaford at her marriage in 1612/3. Roger Gratwicke sold it, by fine, to Thomas Gratwicke of Ham in 1625/6.

Anne, the other co-heiress, married Hugh Keate and her share was sold to Humphrey (son of Thomas) Gratwicke of Ham, by fine, in 1676.

As indicated above, in 1626 Thomas Gratwicke of Ham (son of Henry) purchased the majority of the remaining third of Ham from his kinsman Roger Gratwicke of Seaford. Thomas thus possessed virtually all of Ham by 1626 which passed first to his son Thomas, and on his death, to his next oldest son Humphrey. However, it was not until 1676 that Humphrey purchased the small remnant that Anne Keate (née Gratwicke) (grand-daughter of Roger Gratwicke of Sullington) had inherited although she herself had died in 1667. Thus Humphrey Gratwicke by 1676 owned 100% of the Manor of Ham. This Gratwicke line was to hold Ham Manor and its lands until the 1860s. Following the death of William Gratwicke Kinleside Gratwicke in 1862, the manor house was inherited by William's sister, Mrs Jemima Archdall-Gratwicke, wife of Dr George Archdall, Master of Emmanuel College, Cambridge.

Gratwicke ownership line
The Gratwicke ownership line from Humphrey Gratwicke for the whole estate was therefore as follows:

Humphrey Gratwicke (1620-1686) - estate inherited by his son:
Thomas Gratwicke (1650-1711) - estate inherited his son:
William Gratwicke (1678-1740) (no issue) - estate inherited by his brother:
Thomas Gratwicke (1687-1744) - estate inherited by his son:
Humphfrey Gratwicke (c1735-1757 unmarried) - estate inherited by his brother:
William Gratwicke (1740-1821) - estate inherited by his grandson:
William Gratwicke Kinleside Gratwicke (1794-1862) - estate inherited by his sister:
Jemima Archdall-Gratwicke (nee Kinleside) (1793-1867)


After the Gratwickes
Folowing the death of Mrs Archdall Gratwicke in 1867 and a legal wrangle by distant relatives, the estate was put on the market. In 1869 the estate (or the major part of it) was purchased by Sir Henry Fletcher, Bart who, with his wife, Lady Agnes, were great supporters of the village and St Margaret's Church. Sir Henry died in 1910 and Lady Agnes in 1915. Following her death, the estate was sold to Frederick James Savill (from the steamship owning family). He resided there until 1935 when it was sold to Goring Golf Club and, for a short period thereafter retained that name. However, within a couple of years it was re-named the Ham Manor Golf Club, a situation that exists to this day.

The Golf Course was designed by the renowned international golf course designer Harry Colt (1869-1951). An inaugeration match was played on 10 April 1937 by Henry Cotton, Alf Padgham, Jimmy Adams and Reg Whitcombe, all major golf stars of the time.

A housing development known as the Ham Manor Estate (which also incorporated The Thatchway) started at this time, but WW2 interupted the building. Notwithstanding this, many "superior" houses (4 - 6 bedrooms) were build pre-war at prices ranging from £1950 to £4500, but the average price was probably less than £2500. Hesketh Estates Ltd of London were responsible for developing the housing on Ham Manor and used Duncan B. Gray & Partners of Goring Road, Worthing, as the sole selling agents.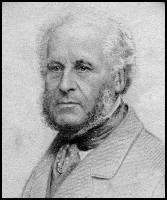 Great plans were drawn up for developing the estate all the way down to New Road (A259), but most of these never came to fruition.

The Manor House
The current manor house was built in the mid 1830s for William Gratwicke Kinleside Gratwicke (see right) although it was substatially enlarged on the west side in 1929 for Frederick Savill. The 1830s work was to designs by Henry Harrison which included a neoclassical stuccoed east front of five bays and two storeys.

The earlier manor house was believed to have been built around the 1570 by Roger Gratwicke, the wealthy Ironmaster. Some re-modelling of the upper storey was carried out by William Gratwicke (1740-1821) but the building appears to have been demolished (or partly demolished) by WGK Gratwicke after he inherited the estate in 1821, the work probably being carried out in the 1830s as previously suggested. A 1791 drawing by Samuel Grimm of the earlier house generally fits the description given the 1890 family genealogy booklet by Mrs Eliza Cunningham who describes it as follows:
"It was a square house, facing north, with twenty windows looking in that direction. It had a square, handsomely carved oak hall of twenty feet, dining and drawing-rooms opening out of it. They were panelled with beautiful carved oak, and had polished oak floors, as well as the hall. The drawing-room was on the right and dining-room on the left. The hall had large folding doors at either end. Beyond was a second hall, where there was a splendid oak staircase, wide, with low steps."
In 2010, an estate map of Ham dated 1724 (the earliest known map of Angmeirng land) was discovered and was jointly purchased by NA Rogers-Davis and RW Standing. From this, we know considerably more about the structure of the estate and some of its properties (see article on Ham Village in 1724). The map also contains a drawing of the manor house as it was in 1724 - the only known drawing from this period. This broadly fits Mrs Cunningham's description although some changes appear to have been made later in the 18th century. This 1724 drawing of the house is shown below: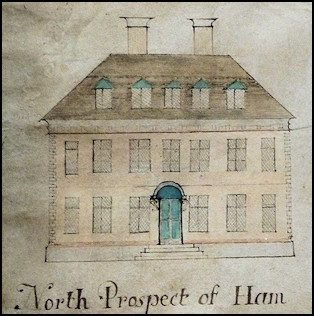 Mrs Cunningham describes the house as having twenty windows on its north aspect but it will be noted that the drawing on the map had only eighteen. Grimm's drawing of 1791 showed only sixteen windows, the dormers having been reduced from five to three.
Final Notes
Various 16th and 17th Century Quitclaims are slightly at odds with some of the foregoing in way of people involved and dates. However, some may have been referring to copyhold property and land as opposed to its actual ownership.

Wills and Inquisition Post-Mortem documents tell us most about the ownership of Ham but only one Gratwicke Inventory has been traced, and that is of little use.

Neil Rogers-Davis
Sept 2005 (updated May 2007, Oct 2008, & July 2010)



Sources of Information
1. J Comber [Sussex Archaeological Collection Records SAC60]
2. Sussex Inquisitions [Sussex Record Society SRS Vol.33]
3. Donald Simpson of Swanage [Gratwicke family history research]
4. RW Standing of East Preston [" The Great Tithe of 1836 - Angmering, Ferring, Kingston, East Preston, Rustington: 2001"]
5. Major F Skeet [History of Angmering]
6. NA Rogers-Davis [Angmering Parish Registers]
7. Historical Notes of the Rev. J B Orme (Rector of Angmering 1866-1913)
8. Mrs Eliza Cunningham's "Genealogy of the Gratwicke, Dawtrey, Spencer, Cooke and Jupp families, 1890" [Worthing Library].
9. The Times (12 April 1937)
10. Hesketh Estates Sales Brochure c1937
11. Drawing of Ham Manor by Samuel Heronymus Grimm, 1791 [held by the British Museum]
12. The Victoria History of Sussex, Vol. V, Part 2 (2009)
13. "A Survey and Map of Ham Mannor In the Parish of Angmering in Sussex belonging to Willm. Gratwick Esqr By Sam. Jenner, 1724" [NA Rogers-Davis & RW Standing, 2010]