Ham Village in 1724
- Ham House, a Mill, and Dove House
by RW Standing
---
Introduction
If there is one thing that can transform local history it is a map of the village, parish, or manor, dating from the early 18th century. A time by which surveying and cartography had achieved a level of perfection comparable to anything possible prior to aerial photography. But also a time when many villages and their farms were still in transition from medieval open fields to full enclosure.
Until recently the only 18th century maps for Angmering were of New and Old Place in 1773 [WSRO PM62 - 63], with nothing for the village and parish generally until the 19th century. An early map for Angmering would be a stepping stone back to the 1679 survey, which is in written form and very difficult to interpret, and to many early property deeds.
By great good fortune one more important map has now been discovered and acquired - that of Ham Manor in the year 1724 - this being when the whole of Ham was finally secured as a single estate, safe from sale and dismemberment as might have been the case when Thomas Gratwicke died in 1711, leaving much of the manor in trust for sale and division of proceeds amongst his many children. Almost all of Ham had come into the hands of his father, Humphrey, in 1666, and it took over ten years from 1711 to 1724 for Thomas's eldest son William to settle family claims. Thereby William was at last able to employ the services of Samuel Jenner of Frant, to survey the whole of his estate in Sussex, and prepare what were presumably the first definitive maps of Ham. There is at least one other map by Jenner of that date, for the 71 acre Gratwicke farm near Ashington, still today named East Wolves. [WSRO Add Mss 2033]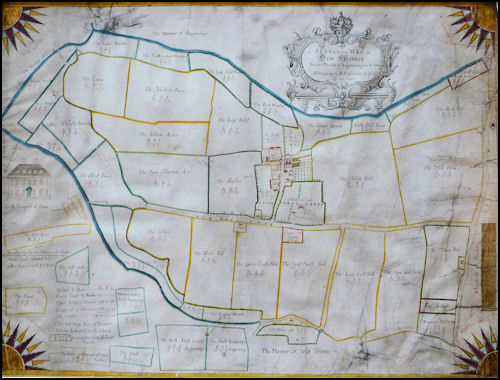 Ham Manor Estate Map, 1724
But, there may be few people today who realise the full extent of the ancient village settlement and manor of Ham. The present residential estate of that name is well known, established in the late 1930s, with a golf club based at the former manor house. Beyond it, to the west, there is a much more recent golf club, which is quite confusingly named as if in Rustington, but is solidly within Ham. Around both of these, to the north, west and south are remnants of the brook pastures and streams that have always surrounded the manor. Station Road forms the east boundary, and the extreme south-east corner of Ham is immediately north of Angmering station railway crossing. The former south boundary runs more or less along the railway, but circles the supermarket to the north, and then runs south of the other large stores there, before continuing north-west to Black Ditch (or Dike as it used to be known). In all, an area reckoned by Jenner at just about 400 acres, and quite comparable to some entire parishes, such as nearby Kingston or East Preston.
Ham House
Now, as to the map, probably the most interesting features are the buildings, and particularly Ham House itself. In the old fashioned way Jenner drew buildings, not in plan, but as tiny elevations or front views, although with the Gratwicke mansion also drawn to a larger scale and in fine detail. This is the earliest known illustration of the house and, after 1724, there is a gap of seventy years until 1791 when Hieronymus Grimm drew the same north prospect of the house as it had changed by that date. [BL Add Mss 5699]. Then, in the next century, an entirely new mansion was built, designed about 1835 by Henry Harrison, which is now the core of a larger building used as the present golf club quarters.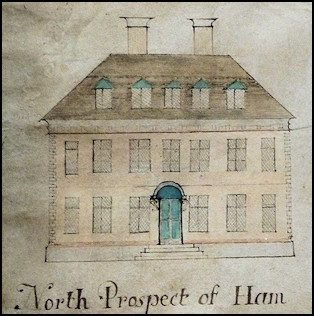 Ham House 1724
(drawing by Samuel Jenner)
Although photographic exactness cannot be expected, Jenner did draw the house for a client who was living there and unlikely to countenance anything clearly erroneous. As may be seen, the building was distinctly post-medieval, with a classical frontage facing north on two storeys. Five dormers in a steeply pitched hipped roof, above a cornice with dentils clearly detailed.It may have had a brick frontage but was probably rendered, with the quoins or corners at each end detailed with either brick or stone bonding. Seven windows on the top floor, the end windows narrow, have something of the proportions of sash windows, but they all have leaded lights in diamond pattern. Similar windows on the ground floor flank a central entrance with double doors, over which is a shell canopy on brackets. The door approached up four steps which rise to the height of a plinth along the base of the wall. There is the narrow line of a string course between the upper and lower widows, which is more pronounced in the 1791 drawing.
Sash windows were not introduced and fashionable until the end of the 17th century, and the Ham windows were almost certainly casement, with heavy central mullions and transoms, or what is called cross-windows. A shell door canopy is an early 18th century feature, and in 1791 the Grimm drawing had no canopy or fanlight, suggesting the north front had been returned to its original appearance. There are no dimensions, but an approximation from all the features suggest a house around 50 feet long, which would certainly have allowed for large reception rooms each side of the entrance hall. In the absence of all documentary evidence, it could be suggested that William's father would have built Ham House in the late 17th century.
In 1890 Mrs Eliza Cunningham [née Jupp] related a Gratwicke family tradition that: "The house at Ham Place was built by Roger Gratwicke in 1570. It was a square house, facing north, with twenty windows looking in that direction."
Roger Gratwicke died in 1570, and may have had time to rebuild a few houses and cottages on his part of Ham Manor. Which part he did own is obscure. But no documentary evidence is quoted or survives to say when anything was built. The likelihood is that when the Gratwicke family moved to Ham, they occupied the old manor house, improved as may be, and it was not until after 1666 that the fine new mansion illustrated was built.
There is one slight reason to suppose the mansion occupied the medieval house site. In 1321 a survey states, about what is obviously the manor house, "Also in Hamme there is one messuage …" but later goes on to say, "The dike around the messuage and below the vill is worth 6d". This suggests a site in the village, and that it had been moated. Ham House had the Great Brook immediately north, and in 1724 a peculiar projecting arm of this field projected towards the mansion, as if it may once have enclosed it.
Mill House
At this point it is demonstrable how maps can surprise. The map provides a snapshot of farm buildings, cottages and houses that existed in 1724, and included with these is a house on the Ham side of Station Road, opposite the Jerusalem mill. Jenner has the name "Mill House" attached to this quite distinctly.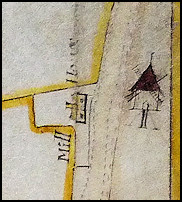 East Angmering had a mill as early as 1341 [VCH V, 2] which may be identifiable with Jerusalem Mill, but the millers cottage of the 19th century was directly to its south, and is still known as such.
The mill is illustrated no doubt correctly as a post mill, which would have stood on a mill ball or mound, and indeed the area north of the cottage is at high level above the road and cottages.
The first of two explanations is that the mill was slightly misplaced and should have been shown further to the north, with the road later realigned to the west side of the Jenner house – which would then be identifiable with the existing Mill Cottage. The way the road is shown at this point in 1724, as compared with the tithe map of 1838, tends to support this improbable event. However the mill ball immediately against the cottage suggests otherwise, with no low lying route where the former road could have run.
A much more probable event is the decay and demolition of the house, with cottages on the Angmering side of the road taking over as the miller's dwelling.
Tumble Down
Less surprising, considering how Ham village certainly had reduced in size with cottages allowed to decay, is the cottage called 'Tumble Down House' in Ham Lane [Station Road] no doubt a description more than a name. The site appears to be the same as still exists south of Olders, where the tithe map has two cottages, either the old house rebuilt or entirely new buildings.
Dower House
One other house existed in 1724 south of the manor house, and still does today, under the name Dower House. It is known to be an early timber framed farmstead, most probably 16th century. Mrs Eliza Cunningham in 1890 said of it: "Uncle William Gratwicke built the cottage called "Croker Hall" [Dower House] close to Ham Manor, for his sister, Mrs Jupp, nee Philadelphia Gratwicke and Mrs Croker, widow of the vicar of Angmering."
In 1724 it was almost certainly the only substantial farmstead remaining in the village, the other few being labourers cottages. Therefore it is a reasonable assumption that Thomas Ford of Ham, described as a yeoman, whose probate inventory indicates he occupied a large farm, lived there. Since Gratwicke owned all of Ham, Ford must have been his tenant. Almost all inventories list rooms in a deceased person's house, but frustratingly not in this case. What would have amounted to a description of the accommodation is lost to us.
Cottages
Other than those previously mentioned, the only cottages remaining in the whole of Ham, were two shown either side of what is today East Drive, as it continues west of the turning up to the golf club, or Ham House. It is only an assumption they were labourers' dwellings, since tenants names attached to them are so obscure they cannot be traced, and they are shown set in gardens with no other buildings around them, as would be the case with most farmsteads.
Dove Cote
To the east side of Ham House is a formal garden and a large orchard. To its west and south three barn yards. One of these sets of barns, immediately to the north west, is referred to in a deed drawn up in 1724, one of them called the 'New Barn'. These barns can be seen in the Grimm drawing of 1791 but, in the next hectic generation, practically the whole village area seems to have been rebuilt, Ham House included.
In the midst of the 1724 barnyards, there is another quaint little drawing. It is a conical roofed building, with a flock of birds flying away from it. No need to write the words Dove Cote or Dove House against it. The lord of the manor could keep pigeons, however much they vexed nearby farmers.
Chantry Land
Although Gratwicke now owned the whole of Ham manor, that was really with the exception of land owned by the Prebendary of Wyndham [belonging to Chichester cathedral] since the Reformation. On the Ham map these plots are bordered in red and occupied by Richard Penfold, whose family had been almost perpetual lessees of the land, mostly in Ham but also a few acres in Angmering nearby. In Ham only two plots of an acre and just over two acres are named, but there is an additional observation written under the map, "Note that Tenn Acres of Tenantry Measure Belongeth to the Church Or Seven Acres & Halfe Land Measure". As several leasing documents make clear this must also have been chantry land, although its location was no longer set out on the ground.
This all changed in 1812 with the inclosure act, the main purpose of which was to apportion into private enclosures all remaining land in the Angmering open fields. As a secondary task it also brought together a large number of glebe plots, and in this case chantry land. Wyndham land thereafter was entirely integrated into a 15 acre block of two fields in Angmering, east of Station Road, the Nine Acres and Munmare, and another small piece of meadow in the Poling outlier south of Angmering church, where the village hall is today. The tithe map confuses the issue slightly by making it appear these belonged to Gratwicke of Ham, whereas he was the leaseholder. But such long leases were not distinguished from freeholds by the tithe maps and apportionments.
The earliest reference to this land in Ham is in the 1321 survey. "William Bulmere for land which he holds at Hamme for the Chantry of Blessed Mary at Westangmaryng renders 4d on St Thomas Day 2d and at Midsummer 2d."
It should be noted that there had also been St Mary's chantry land in East Angmering, mainly situated in the Chantry Fields north of East Angmering church. This would seem to have been sold off at the Reformation, rather than taken into Wyndham.
The interesting question is whether, with all the West Angmering chantry land concentrated in Ham, it was one of the early owners of that manor who founded the chantry - to pray for his soul - maybe in a chantry chapel attached to St Margaret's.
The Brooks
Needless to say, Ham has always been surrounded, and delineated by the brooks which finger out eastwards from Black Dike. This grassland was split into pasture and hay meadow, as major parts of the Ham economy. In 1321 each tenant had to make hay each year, and carry two cartloads to the head manor of Bargham, with the tenants there also assisting in this work. Ham may have had cattle and sheep of its own, but far less than the downland part of the combined manor. Hay meadow accounted for 36 acres, and there would have been a vastly greater extent of permanent brookland pasture, mostly liable to flooding, as much of it still was in 1724, calculated at 60 acres.
According to Jenner, the brooks occupied over 81 acres, with the uplands being largely arable. Soon afterwards this had been reduced to 52 acres, as part of the large brook fields to the south of the village were taken into adjoining arable fields. A very faded note to this effect is written on the map: "This Brook is laid to Cotfield."
The Uplands
Ham is on the coastal plain, and the upland area set within the surrounding brooks has always been good arable. The medieval tenant worked his own and his lord's land, with wheat the primary crop, barley, oats and vetch. Those few inventories of the 17th and 18th centuries, directly attributable to Ham, all have these three main crops in equal areas in what had become a three course rotation with only short fallow seasons between the crops.
About three fields next to the village and Ham House were outlined in green to mark them as meadow in 1724, while one other enclosure was almost certainly grass ley or temporary sown pasture. Otherwise there was nothing of the grass parkland that characterised Ham in the late 19th century, when WGK Gratwicke had his riding stables and a quite different lifestyle to his yeoman ancestors.
Some of these upland fields had been newly laid out in 1724, with a deed of a few months earlier that year, scheduling fields of a much more ancient character. It is probable that almost all of the arable had been in common open fields, split into furlongs with their narrow strips or selions distributed amongst the villagers. There is not enough detailed data in the 1321 survey to reconstruct the medieval field layout but, in later documents including the 1724 map, various former open fields are evident. The East Field, with Mill Field north of it, and possibly North Field, all east of the village. South, West and Cotfield, below the village. While to the wes,t the Lains recollect another former open field.
The Village
In 1724 there were barely four or five houses or cottages other than Ham House. The former village had been allowed to decay away as Ham became a single farm employing a large reservoir of labour in adjoining Angmering.
There is one 17th century source that provides an approximate idea of the number of houses in the village, at the very juncture at which Gratwicke took over complete or almost all ownership of Ham, i.e. the hearth tax of 1670. This does have the problem of also including Barpham in its list of houses. A few tentative deductions may be made about the people named, the most obvious of which is that Humphrey Gratwicke lived in Ham and was taxed on six hearths which is feasible for Ham House as illustrated in 1724. He also had two other houses. Then follows seven more names of people who probably lived in the village, with the end of the list for Barpham residents. So that in 1670 Ham probably had around ten houses and cottages, which is quite believable.
Earlier sources, such as the medieval Subsidies [taxes], are problematical, but do not suggest any larger a village. It is only back before the Black Death in the 1321 survey, that the same circumstance is found with Ham as in other places such as East Preston. Local villages had very large populations for the land available to support them. At Ham, the best part of thirty houses and cottages are scheduled. Subsequent famine and plague brought a rude awakening, and Ham together with other local villages reduced to more manageable proportions until quite recent times.
RW Standing
29 July 2010
---
Page first uploaded:29 July 2010