(Part 4, Chapter 2, Section 37) ( Bk. Index )
[ Some Other Notable Houses and Properties ]
37. Poling Outlier Cottages
A Poling enclave in the centre of Angmering
---
Prehistory
Almost certainly the history of this small plot of land points to a close relationship between Poling and West Angmering in the Saxon-Norman period.
If parishes had not been tidied up over a hundred years ago, villagers shopping at the Square or Green in the centre of Angmering, would have had a choice of doing so in their own parish or in Poling. Even more extraordinary, events at the Village Hall would have taken place in Poling.
For centuries, and probably a thousand years, a strip of land that began at the church car park, and continued in a curve through where the shops are south of that, ending to the west of the village hall site, was an outlier of Poling parish. There were other such outliers, to the north of the village, but these were much larger areas. There was one peculiarity about these 'outliers' they were owned by the lord or other freeholders of East Angmering manor rather than Poling manor. So the situation existed of the tenants owing their rents and services to Angmering, but farm tithes and rates to Poling.
The reason for this particular outlier existing where it did, has always defied explanation. Adjoining it is the church and churchyard, but less well known is that land surrounding the old churchyard, and including what has now added to the burial ground, also belonged to the church, or the rector. An area of five acres of glebe, as reckoned in 1679, named the Hempshires. Another plot of land that extended beyond where the village hall is today, was partly in Ham and Angmering manors, but also included an acre in Poling.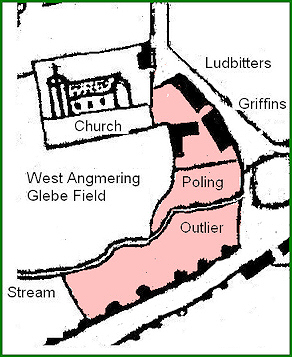 Map 1679
General layout of churcyard, glebe, and Poling outlier
as deduced from the 1679 Survey
All of this nearby land was church owned in one way or another. But then, when the Poling glebe terriers of 1615 and 1635 are referred to, the outlier itself is found to have been listed as if it were glebe belonging to Poling church, or its vicar.
If all of these areas of glebe, churchyard, and Poling parish, are put together, they make one sensible looking block of land. This was conceivably, in the mists of time, a single field belonging to Poling and eventually divided up to provide a site for Angmering church and its glebe, with the remainder Poling glebe. This Poling outlier was marginal pasture by the Ecclesden stream, which was quite liable to flood until the Great Pond was drained in modern days. The upper part of this, near the church lychgate, was sufficiently safe to build the two cottages that are known to have been there.
Supporting this conclusion. Various references to the cottages in 1665 and later have a very odd estimate for the area of the outlier, which was in fact rather over an acre in extent. "One Cottage and garden … in a field called Nine Acres in Poleing." The explanation might be that it was confused wording, really meaning that the half acre was in a quite separate field called Nine Acres, if such a field existed, and nothing of that description or area is has been found. Or else this name reflected back an extraordinary length of time, to the complete Poling outlier, which would indeed have amounted to about nine acres in traditional measure. Some field names do date back to medieval times, in the surviving records, and almost certainly originate in the Saxon era.
This prehistory is as near to unverifiable as it is possible to be.
Parham Deeds 1665 Ecclesden
"Widdow Bunn holdeth.. during lives of Richard Penfold and George Penfold .. One Cottage and garden and half acres of land in a field called Nine Acres in Poleing rent 3s 4d heriot 6d"
The Cottages
South Cottage – Griffin's
The two cottages, belonged to East Angmering manor, but with nothing remaining of them, and very few photographs of remnants existing a hundred years ago, there is a limited amount that can be said about the kind of buildings they were. Only that a long term lease for the Griffin cottage, sited just south of the present car park, was agreed in 1614. A lease of ten thousand years amounted to a virtual freehold, but with a quit rent, in this instance of four shillings a year, and other levies. Quite likely this related to an existing cottage, hitherto copyhold, and Sir Thomas Palmer would have charged a substantial sum for this change to a more secure form of tenancy. The ten thousand years transforms to one thousand in later records. One thousand or ten is much of a muchness.
"Lease from Sir Thomas Palmer to Solomon Griffin of a tenement gates backside and orchard
one rood of land in Poling for Ten thousand years 13 Sept [1614] Rent 4s"
The unlikely name of Griffin is found extensively in Angmering. Whether the family had been living there previous to 1614 cannot be determined, but Solomon was somewhere in the vicinity when he married Mary Frogbrooke in 1609. Twenty seven years later in 1636 church registers record her burial. "Mary Griffen ye wife of Solomon Griffen of Polinge" It was not usual for a parish to take burials from a near neighbour, and so the reference to Poling suggests a person who had been living in the Poling outlier.
Griffin is referred to by a first name Salomon in 1615 and 1635, when glebe terriers referred to his house next to the church. "Item more Five acres of errable lande called by the name of the Hempsheares … att the east it buts upon a backside beelonging unto the house of Salomon Gryffyns."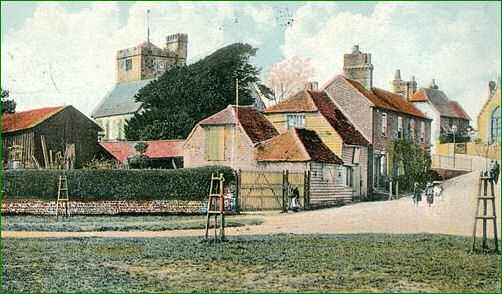 South Cottage - Griffins
The old cottage had been replaced by a later brick house (seen in this c1905 photo).
However, the timber wing to its south was probably the remaining part of the original house.
The site is today occupied by shops.
But even more significantly the two glebe terriers for Poling, 1615 and 1635, include this outlier. Both of them describe it as; "Itm twoe tenements neere Angmering Church in the tenure of Solomon Grifffin and Widow Stokes."
A rental of 1627 perhaps gets confused with the mythical salamander and gives Griffin the first name Salomander. Six years later a neighbour, John Read, dies 'forgiving' numerous people their debts to him, including 6s by Griffin - a good week's wage. By this time matters are confused by a relative also being baptised as Solomon, but it may be assumed to be Solomon senior who died at Rustington in 1658.
The year 1658 fits in well enough with a change in tenancy to William Chambers. He is named as the leaseholder in a 1665 rental. "One messuage [and] backside of 1 rood of land in Poleing." Then in the 1679 Survey his widow can be placed at this house, paying the same 4s rent to the lord of the manor. "Vicarage land of West Ang called Hempshires west: Richard Lidbitter backside north: Land of Joan Penfold south: Highway east."
William had died in 1674, the registers including the useful note that he had been "of Poling householder." This is crucial, because other references to him might well be found in that parish rather than Angmering, and by great good fortune the inventory of his goods made for probate purposes, survives. The great surprise is in the opening words which describe him as an "Innkeeper". The location of public houses in Angmering village are well known, with this exception. At present it can only be assumed a transient inn, not very successful, that certainly did not survive into the 19th century. The two gentlemen who made the inventory, were amongst the more notable inhabitants of the village. Hugh Penfold yeoman, and Thomas Baker - not one of the Conyers owners, but Thomas Baker of Ecclesden Manor.
The appraisers moved through the house from room to room, listing the furniture and goods in them, thereby giving us a good idea of what kind of place it was. The room names providing an instant picture of a traditional three bay building with a central dining hall, a kitchen at one end and parlour the other end, with bed chambers over all three. A buttery, for the beer buts or barrels, and a washhouse, perhaps in an outshut behind. Nothing suggests a working public house, and bedrooms for lodgers were obviously scarce. The way in which so many of the goods have the epithet, 'old' attached, suggests an establishment gone to seed. "old table and frame … old coberd one old chaire … old skilletts and one old iron pott … old fether bed". For that matter his clothes and ready money together was worth only one pound.
Out of a total valuation of £74, a large sum of £40 was given as the value of his remaining lease. Since William had direct occupation from the lord of the manor, Byshopp of Parham, and his yearly rent was 4s, this is a conundrum. But what we do not know is the fine or levy he paid on taking the property some few years earlier. A fine of £40 is quite believable, apart from which another levy had now to be paid on his decease, the customary heriot. Yearly rent for a property, was only the tip of an iceberg.
Six years later his wife died, "The wido Chambers of Poling." The condition of her life at this time is not known, but prosperous is not a term that springs to mind.
With no definitive records at hand between 1680 and the early 18th century, it can only be assumed that John Grant took over the house from widow Chambers. A list of leases in 1732 includes that of Griffin in 1614, but also has the note: "now John Grant's." Good enough, especially on finding the church register entries made when a John Grant died in 1720 and another in 1748. The presumed son "from Poling". This does not mean John senior lived at 'Griffins' but it would be a reasonable assumption. A probate inventory for John senior, 1720, portrays a larger house than that occupied by Chambers, however people at that period were as prone to improve and modernise as much as anyone today. The fact that his appraisers Thomas Ludgater and William Olliver were the names of Angmering residents at this time, adds weight to the assumption that this was where he was living.
The house included rooms identifiable with those in 1674, but it must also have had another bay, with a fourth bedroom, "chamber onfer [over] the seller." In a total valuation of £219 the house lease, with a small amount of land attached, was worth £80. All the usual furnishings and kitchen tools, were supplemented by a few outdoor items some of which cannot easily be explained. The cucumber glasses and watering pot in the garden would have been found in almost any cottage, but there was also a hay rick and wood in a coppice, not readily identifiable with 'Griffins' house. The question may be answered when some avid local historian has researched Poling village intensively.
By 1795 the property passed to Mr Adams. His 4s rent, and lease term of 10,000 years from 1614 pretty well identifies 'Griffins'. The family had long lived in Angmering, but at this late date nobody can be found to fit, as yet. As a further complication he is given as the owner but with some other person living there.
So it was in the 19th century, and the tithe map of 1839 has George Amoore in ownership of what is now described as a cottage and wheelwrights shop. One of the Ragless family, of Older's schoolmaster fame, lived there, and in the Poling census Jane Ragless is the only member of the family that fits.
With these Poling cottages demolished during the 19th century, and eventually a shopping parade built there, this later history may be left to another chapter.
North Cottage – Ludbitter's (or Lidbitter's)
There is nothing in Angmering records relating of the cottage sited on the car park, in the early 17th century. The glebe terrriers do not assist in this, as the cottage was too far north to abut Hemphshires glebe field. But, as already mentioned the Poling terriers provide the names of the tenants, with Widow Stokes in 1615 and Hugh Penfold in 1635.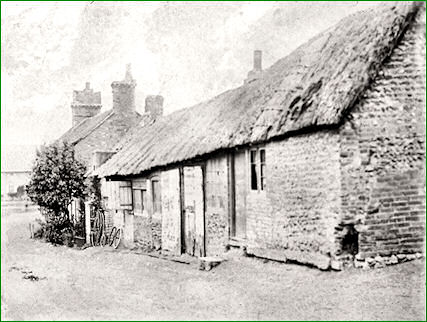 North Cottage - Ludbitters
The cottage as it was about 1895, shortly before demolition.
The site is today a car park for the church.
The Stokes family appear briefly in the village, beginning with an entry in the registers of a baptism in 1603, "Elizabeth Stokes daughter of John Stokes of the parish of Poling." Hugh Penfold, on the other hand, would not have lived there himself, as one of the great farm tenants in the parish.
When the cottage does come into clearer view, in 1665, it resolves itself into a copyhold property, which also included tenancy of the small plot of land to the south where the village hall and buildings near it are today. A pasture with the Ecclesden stream running through it. In the usual way it was held during the lives of several named people, although what family connection Widow Bunn had with the Penfolds is unclear.
Parham Deeds 1665 Ecclesden
"Widdow Bunn holdeth.. during lives of Richard Penfold and George Penfold .. One Cottage and garden and half acres of land in a field called Nine Acres in Poleing" rent 3s 4d heriot 6d
Three years previously James Bun of Poling, a blacksmith, had died at Angmering but with his inventory recorded under Poling.
An Inventory taken the 21st day of March Anno Dni 1661[1662 modern calendar]
of all the goods and Chattells which were of late
James Buns blacksmith deceased in the parish
of Polling in the County of Sussex and
praised by Tho Martin and Oliver Penfold

Inprimis his waring apparrell and money in his purse £2
Itm A bed and stedle and all things thereto belonging £3
beding
Itm one flock bed two stedles and what belongs to one bed £1 – 10s
Linen
Itm Five paire of sheets and two pelicotes
Itm two table clothes and three small Linen £1 – 15s – 6d
Itm ten peeces of pewter one bed pot
pewter spoones and other small peeces £1
brass
Itm one furnace two skilletts three iron pots
one frying pan and warmeing pan
and two kittles £1 – 17s
Itm one spit pothookes pot hangers fire prong
brandirons and other implements about the fire £0 – 5s
Itm one cuberd three Chests two boxes £1 – 6s – 8d
Itm one table with forme and bench £0 – 5s
Itm fower tubs two keelers fouer firkins £0 – 18s
Itm one linen and wollen torne and 10 naile of hemp £1 – 10s
bacon
Itm one hogg and certaine Fliches of bacon £2 – 13s – 4d
Itm for Iron and tooles in the shop and a chalder of coles £8 – 4s
Itm for debts oweing uppon the shop booke £6 – 15s – 10d
sum totalis £32 – 15s – 4d
It to Mr Albery for Iron £3 – 17s
It to John Chaundler for Maulte £2 – 11s
Sum £6 – 8s-
The two most striking things about this, is that it is very brief and of little monetary value, and there are no rooms listed. Out of a total less than £33, half at £15 was smithy goods. It can be supposed, or at least hoped, that the living quarters contained at least a kitchen and bedroom. This would fit with a three bay single storey cottage, the end bay being the shop. The photograph of the blacksmith cottage, about 1895, is exactly of that form. This is an illustration of how wealth and poverty lived cheek by jowl in the past, when the contrast with 'Griffins' next door is considered.
With the decease of Widow Bunn, and perhaps the giving up of the property by the lifeholders, the cottage passed into the hands of Richard Ludbitter in 1669. Copyhold records tend to include dates of such transfers, unlike freeholds. The 1679 Survey also has the half acre pasture to the south included in the tenancy, as it was in 1665.
Allso Richard Ludbitter and Elizabeth his wife and John their sonn hold of the Lord of this Mannor
for the Terme of their naturall lives by Coppy of Court Roll bearing date the 6th Sep 1669
One Tenement being a Cottage and Garden and half an acre of Land with thappurtenances bounded as followeth (viz) The Cottage and Garden bounded by the Highway there on the North and East by the Garden of Joan Chambers Widdow on the South and by West Angmering Church yard on the West"

"One half acre lyeth in a feild in Poling called the nine acres but is not known whereunto the said Richard Elizabeth and John Ludbittter were admitted at a Court holden for the said Mannor the day and yeare abovesaid [inserted note - on the ... of Rich and John Penfold] To have and to hold by the yearly rent of three shillings and four pence [3s 4d] herriot after every death or alienation six pence, Fine at the will of the Lord, and other accustomed services And they paid for a fine on their said Admittance £4 "
The obscure note about Penfold would have been their relinquishing the lifehold. For this poor little dwelling they had to pay a fine of £4, or twenty four times the annual rent. That was a small fee compared with fines for the normal good sized farmstead.
There are several blacksmith inventories for Angmering, but most of these portray far superior houses to Ludbetter's humble abode. His family probably continued there until early in the 18th century, when a Richard Crossingham senior, was liable to a 6d heriot for a house in Poling. This matches an entry in the church register for Mary Crossingham, who died in 1723, and in the usual ambiguous way she was described as "from Poling." This family continued as inhabitants of the parish until the 1750s at least, but some of these were quite wealthy, and obviously living elsewhere. There are a number of people 'from Poling' who are good candidates for their undertenants.
* * * * * * *
This history can be closed at the date of the tithe map, 1839. Although the building continued in use until the end of the century, considerable changes were underway in the whole area of the Poling outlier. The north cottage, 'Ludbitter's' was now in the tenancy and occupation of Thomas Green, as a cottage and blacksmith shop. It occupied a small plot directly south of the lychgate, more or less the present car par, and 17 perches in area.
The south cottage was where the first block of shops are today. Owned by George Amoore and occupied by two families, his own and Ragless. But it is reasonable to suggest that he had the wheelwrights shop, while Ragless had the cottage. This was larger plot of land at 63 perches, or getting on for half an acre.
The meadow to the south had now been separated off, but whether as a copyhold is not clear. Owned by Gratwicke of Ham, and occupied by George French and well over half an acre at 2 roods 31 perches.

Just one interesting item may be quoted in full, in 1879 James Green took over the north cottage, with a new lease for the lives of himself, and Benjamin Green, on the death of their father Thomas in 1877. These were the last of the family to hold the property.
West Angmering otherwise Ecclesden Manor
At a General Court Baron holden for this Manor at the Lamb Inn Angmering on Tuesday the sixteenth day of December One Thousand eight hundred and seventy nine before George French Mant, Steward of the Court of the said Manor.
It is thus enrolled
The Homage present the death since the last Court of Thomas Green who held to him and his heirs for the lives of James Green and Benjamin Green All that messuage and garden with appurtenances adjoining to the East end of Angmering Church Yard and holden by the yearly rent of Three shillings and four pence whereupon happened to the Lady for a relief Three shillings and four pence.
And on the first proclamation being made for any to claim came the said James Green as youngest son and customary heir according to the custom of the said Manor and claimed to be admitted to the said premises as his right and inheritance To whom the Lady by her said Steward granted seizin thereof by the rod To hold the said messuage and garden with the appurtenances unto the said James Green for the lives of him and of the said Benjamin Green and the life of the longest liver of them by Copy of Court Roll at the Will of the Lady according to the custom of the said Manor by the yearly rent of Three shillings and four pence heriot on death or on the death of either of the said lives Three shillings and four pence And the said James Green was admitted Tenant of the said premises in form aforesaid paid to the Lady for a fine Seven pounds ten shillings and his fealty is respited.
Examined with the Court Rolls - Geo French Mant
The Outlier
Obervations made so far about the outlier have been inconclusive, and do not mention one point of importance. The Poling glebe terrier lists the outliers as if they were glebe belonging to the Vicar of Poling, but clearly this could not have been so, there being Angmering freeholders none of whom were priests. The in 1724 the Church Inspection book states firmly that Poling had only 2 ½ acres of glebe. There was nothing special about the outliers, other than their being parts of the parish, and the vicar having right to all the tithe payments made by farmers and others.
There is one explanation for them that appears logical, but which cannot be confirmed. When the great Saxon estates were split up, and the Norman manors created, Poling church retained its rights in parts of the old estate that became West Angmering. One of these 'outliers' was then, as already suggested, divided so as to provide a site for West Angmering church and part of its glebe. What these 'rights' were must be considered in another part of the history of Angmering.
RWS June 2009
References
Poling glebe terriers WSRO EpI/25/4 – Dunkin Collection transcripts
1724 Church Inspection SRS Vol. 78
Poling Probate Inventories WSRO MF 848