(Part 4, Chapter 2, Section 29) ( Bk. Index )
[ Some Other Notable Houses and Properties ]
29. Woolvins
[now Woodlands]
---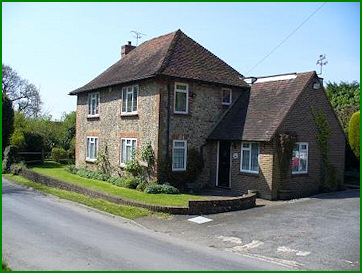 Woodlands, Dappers Lane
Site Plan from the 1839 Tithe Map
The house is in Plot No 215 on the west side of Dappers Lane
1839 Tithe Apportionment
Plot 215, cottage and garden, owned and occupied by John Woolven, area 32 rods.
Plot 188, inclosed from waste, area 1 rood 28 rods or perches
Woolvins
There is no real evidence, as yet, that this house existed before the 19th century. It would appear to be the only old house in Dappers Lane, on the west side about half way along. Its recent name is Woodlands, and considerable rebuilding and fashioning is evident, but with a lack of old photos to show how. There is an entry for Edward Mormon in the 1679 Survey which it is tempting to relate to this site, but the description of roads on three sides suggests almost an island site somewhere.
Nor does the 1814 Bishopp Map throw any light on the subject, If the house existed it presumably did not belong to the manor. Nevertheless the most probable event is that land was taken in from the waste, owned by the manor, by John Woolvin or Woolven, the first known owner and occupier. A nominal rent for the site would be usual. He was already an Angmering resident when he married in 1804, but it may not have been until after that when he built his house.
As a carpenter, John Woolvin could well have been affluent enough to build his own house. He died in 1844, aged 63, and five years earlier was named as the owner of a 'cottage and garden' which is identifiable as Woodlands. The only other land he owned was another strip of 'waste' directly north of the house of almost half an acre. Useful for grazing or cultivation. His widow afterwards had the cottage, and finally George Woolven until 1874. Francis Holloway of Ivy Cottage, in the Street, then took over the property as with several others in the village.
Although the appearance of Woodlands today, is of one dwelling, this was not originally the case. In the 1841 census there were two occupants, with William Olliver in the second cottage. Not one of the great family of that name but an agricultural labourer. Then in 1851 the name 'Woolvens Cottages' first appears when Charles Woolven a bootmaker had one, and George Puttick the other. The fact of a pair of cottages in origin, rather than a larger dwelling being divided, is itself enough to suggest a 19th century foundation. It is remotely possible that the first cottage was rebuilt as a pair before 1841.
However, on the passing of the Woolven family, the building does appear to have become one habitation. In 1881 George Rapley, a woodcutter, is the only tenant recorded. More pointedly in 1891, the two cottages were given as being together, and with over four rooms, this is virtually certain. The carpenter, Henry Baker, had the combined dwelling and, with his wife Ann and young son Cecil, the house was plentifully large, but if the wife's sister and three children were living there and not merely visiting, it was a different story.
In 1910, although rated as two houses, at £3 each, they were used as one. So far as parish rates were concerned, a building could be used as one or many dwellings; rates stuck to tradition. [WSRO IR14]
RWS 2009 NRD