(Part 4, Chapter 2, Section 2) ( Bk. Index )
[ Some Other Notable Houses and Properties ]
2. Ann's Cottage
[now Dormouse Cottage]
---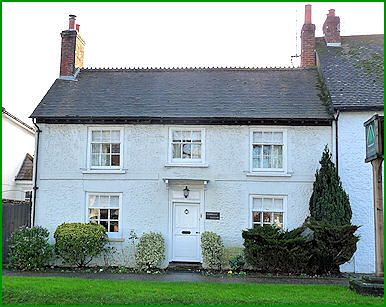 Ann's (now Dormouse) Cottage, The Square
Listed Buildings Register Entry
C18. Two storeys. Faced with painted flints. [three windows on upper storey] glazing bars intact. Tiled roof. Doorway with flat roof over.
Site Plan from the 1839 Tithe Map
The house is in Plot No 406 on the east side of the Village Square with Elmgrove adjoining the south end and the Rosery farm originally to the north.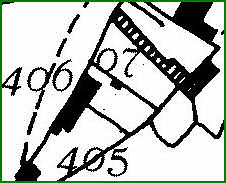 1839 Tithe Apportionment
House and garden, area10 rods, owned by Henry Ragless, occupied by Reuben Reading.
Ann's Cottage in the 18th Century
It is likely that the undercliff area on the east side of the Green or Square, was all originally waste of the manor, taken up as the site for the Rosery Farmstead at an early date, such as the 16th century. Other scraps of this waste were later leased out as cottage sites.
A rare deed does survive from May 1734, when Thomas Henty husbandman of Angmering, acquired a 99 year lease to a ten rod or perch 'parcel of waste ground' bordering on the highway from Angmering Street to Preston, and next to a plot called Old Garden, belonging to John Edmunds the owner of the Rosery at that time. At present the exact identity of any building erected at that date is not known. There is still a house called Elmgrove, having the date 1734 over its door. Ann's Cottage, next to it, is also believed to be of that period, although documentary evidence for this is lacking at present, [Acc 8503]
It is far from conclusive, but the Tithe Map of 1839 has the area of the plot, on which Ann's Cottage was built, as ten rods. Elmcroft houses adjoining, occupied a similar area, and further evidence is required to identify the first cottage on the waste.
Only in the early 19th century can owners of Ann's Cottage be confirmed, as the Ragless family. There is a deed of 1777, in which Sir Cecil Bishopp leases a 'cottage in Angmering Street' to Thomas Ragless for the term of the lives of his children, Richard, John, and Rebecca. The cottage had belonged to 'Pannett' and latterly John Guile, a name that appears close by as owner of the Red Lion, until his decease. A £30 premium had to be paid by Thomas Ragless and then a 2s yearly rent. Frustratingly, nothing identifies the location of this cottage, but no other property is known to have been owned by Messrs Ragless, and so Ann's Cottage may be assumed. A later quit rent has the property in West Angmering, which does not tie in happily with Ann's. [Acc 8503]
Thomas Ragless had married Mary Fibbens in 1770, at Angmering, and was already in the responsible position of Parish or Vestry Clerk, a post held for some twenty years from 1764. It would seem he married Anne before coming to the village, and had seven children by her, but after her death in 1766, married once again to the widow Mary Fibbens. There were no subsequent children prior to his decease in 1791 and hers eight years later.
Richard must have been the oldest surviving child in 1777, when the cottage was leased. Two years later he married Mary Penfold, and they had the usual large family of at least five. The well known headmaster of Older's school and subsequent owner of the cottage, Thomas, first born in 1783.
Ann's Cottage in the 19th Century
For much of Victoria's reign and beyond this was the home of the Ragless family, and most notably the retired headmaster Henry Ragless. Before 1846, the house had been let to Reuban Reading an excise officer.
Henry had a younger brother, John, born in 1789 and it was clearly enough he who moved away from home, in the way of younger sons, emigrating to Australia and the newly opened up lands there. Empire building was the ancient and normal activity of powerful nations, and it is useless criticising it from the modern perspective.
An article in a Parish Magazine of forty years ago recounts the story.
"In addition to finding us a very interesting schoolmaster from 1826 to 1846 the Ragless family of Angmering gave also a fine example of Empire building. John Ragless, almost certain to be the brother of Henry our headmaster, owned a sawpit industry in Angmering woods and his eldest son, also John, completed his apprenticeship as a miller. Led by John senior, ten of the family left these shores in 1838. John senior was 47 and his son 23. They sailed in the 450 ton barque Eden and with 225 other settlers landed at Holdfast Bay, near what is now Adelaide.
"After a few months looking round, an 80 acre section of pine forest some five miles north of their landing point was purchased, but there was no track to it. The trail had to be blazed and was. After many weeks of tough work a settlement was established near the Torrens River and the family unpacked their saws which they had brought from Angmering and started wood cutting. First came a house for themselves then a low trolley the wheels of which were discs cut from the circular trunk of a large tree. With the trolley and a bullock brought by young John, they hauled sawn timber into the town and water in a barrel from the Torrens River. This latter was laborious so a well was dug and at 70 feet good water was found and the shaft lined with timber from their saw pit.
"The soil so cleared was extremely fertile and lime was also found. With this building material they built what became the rambling Ragless home and the picture we have shows white limewashed walls and thatched roofs over a number of wings to a combined and very solid looking structure. The title is Angmering House and the picture is from the Courtesy Archives, South Australia. Other settlers joined the area and established a village which is now known as Enfield and the rough track which the Ragless family cut through the forest is now the Main North Road from Adelaide." [c1976 by SC Tomlin]
Henry Ragless had a varied career, as the landlord of the Lamb Inn for over ten years until he became headmaster of the Older's school in 1826, continuing until 1846, shortly after one of its rebuilding episodes . It was then he retired to Ann's Cottage, being described as a House Agent, for selling and letting houses, only a few years before he died in 1870 at the fair old age of 87. His assistance could still be called on for help in parochial business, as in his supervision of the WGK Gratwicke annual soup kitchen for poor people, in the 1860s, and at the Union workhouse when calculations were required for parish rate quotas in 1835.
Census and rate returns provide a reliable picture of residency and ownership from 1841 onwards. Reuben Reading and relatives, left the cottage and village soon afterwards, at 50 years of age he is unlikely to have died. The retired headmaster moved in and by 1851, his wife having died in 1823, he was left with three unmarried daughters, Jane, Ann, and Fanny or Frances, and eighteen year son Alfred. Whether through marriage or moving away from the village, ten years later only Jane aged 49, and her sister Mary Ann aged 41, remained. Throughout their lives they called themselves dressmakers.
After their father died, the sisters owned the house, and could even afford a young girl as their servant. Jane was the first to pass away in 1886, leaving Mary Ann on her own. Although her sister Eliza owned and lived at Saddlers in the Street, having married the village tradesman, William Battcock. but on becoming widowed in 1887 she moved in with Mary Ann for her final ten years. But at last, in 1907, the Ragless family in the village were no more, and only the large memorial south of the church records their passing. After Mary Ann, the house was still owned by a relative until 1923, but it had a new occupant in 'Stumpy' James Cheeseman erstwhile gatekeeper at Roundstone Crossing.
RWS 2009 NRD