(Part 4, Chapter 2, Section 14) ( Bk. Index )
[ Some Other Notable Houses and Properties ]
14. Thatches and Bay Tree Cottage
---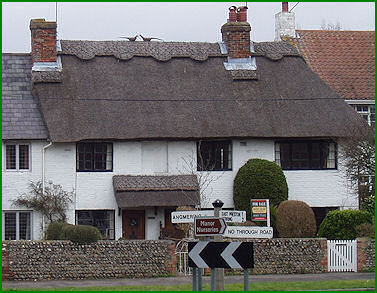 Thatches and Bay Tree Cottage, High Street
Listed Buildings Register Entry
One building. C18 or earlier. Two storeys. Four windows. Painted brick. Hipped thatched roof. Casement windows.
Site Plan from the 1839 Tithe Map
Thatches and Bay Tree Cottage are in Plot No 348, north of the Roundstone Lane junction in the Street.
Adjoining Thatches on its west side is the later White House Cottage (C19) and White House.