(Part 4, Chapter 2, Section 1) ( Bk. Index )
[ Some Other Notable Houses and Properties ]
1. Elmgrove [cottage and row]
---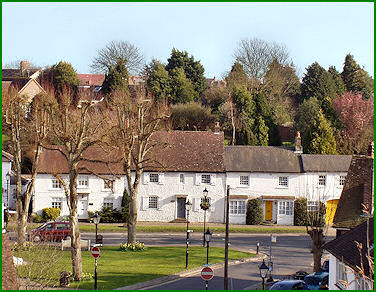 Elmgrove, The Square
Listed Buildings Register Entry (for Ann's Cottage, Elm Grove and Dolphin Cottage)
Formerly five cottages, now three. C18, Elm Grove dated 1734. Two storeys. Ten windows in all. Anns' Cottage and Elm Grove faced with flints, painted. Tiled roof. Doorways with flat hoods over. Dolphin Cottage is faced with painted brick. Slate roof. Two bays on ground floor. Cariageway archway to the west with two windows over. Glazing bars intact in all three cottages.
Site Plan from the 1839 Tithe Map
The house (Elmgrove) is in Plot No 405 on the east side of the Village Square with Ann's Cottage adjoining to the north Other houses to the south are also included in this history, Plots 402 to 404.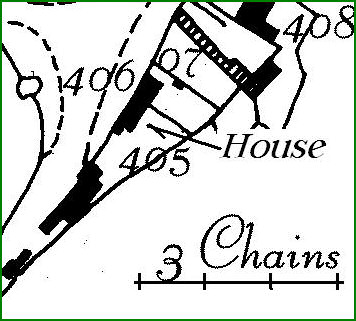 1839 Tithe Apportionment
Plot 405, tenements and gardens owned by Mrs Deborah Boyce, with various tenants, area 14 rods.
Plots 403 to 404, tenements owned by William Best, with various tenants, area 8 rods.
Plot 402, wooden hut owned and tenanted by William Best, area 2 rods.
This brief history relates to that former assorted range of cottages collectively known as Elmgrove, south of Ann's Cottage. Today, the site is occupied by the house Elmgrove with its 1723 datestone, Dolphin Cottage, and south of that a modern terrace of houses with their backs facing the cliff on the east side of the Square.
Elmgrove and Dolphin Cottage
Elmgrove itself was once known as Sturt's, presumably from the name of the person who built it, hence the datestone initials. Soon after Henry Woolvin purchased it in 1863, the garden extending south became the site for three smaller cottages, which after the 1939-45 war were converted to one dwelling called Dolphin Cottage. In the meantime an 18th century cottage to the south, owned by William Best and later William Jarrett, had its surrounding garden developed as Elmgrove Cottages, some five or so in number.
As mentioned for Ann's Cottage, a deed survives for May 1734, when Thomas Henty husbandman of Angmering, acquired a 99 year lease to a ten rod or perch 'parcel of waste ground' bordering on the highway from Angmering Street to Preston, and next to a plot called Old Garden, which belonged to the Rosery farmstead. It would seem likely that this transaction was one of several of that date, resulting in the building of Elmgrove itself in 1734, as its datestone manifests, and also probably Ann's Cottage, together with a third house amongst those that were demolished, on a site that was indeed ten rods in area. [WSRO Acc 8503]
There is a very distinct datestone above the entrance door of Elmgrove, S over R . A over the year 1734. As convention has it, the S would be the surname, R the male name and A his wife's name. Richard and Ann Sturt may be suggested in view of the fact that 'Sturt' was the earliest owner's name recorded in 19th century deeds. Snelling is a later name for the house, but this family lived in Angmering throughout the 18th century well into the 19th but John Snelling is the last known occupier in about 1800 although not then the owner.. [Anon]
The earliest, presently known of the property, is from the Land Tax which shows George Markwick to have been the owner in the earliest return of 1780, through to 1812 when his will was proved. He is more notable as the owner of Pigeon House and farm in the High Street. After his decease the 'messuage and garden' called 'Snellings' and previously 'Sturts' was to go to his wife Catherine, from her to his son Charles, and finally to his daughter Deborah Smart. Catherine died in 1820, and Charles in 1839, so as it transpired Deborah was the last of the family in ownership, on being widowed she had married Henry Boyce. But it was her son Henry Smart who inherited in 1844, selling the house now split into two cottages to Henry Woolven in 1863 for £165. This family continued in ownership until 1943. During the later 19th century Henry, a carpenter and builder, constructed three more cottages in the garden, and when sold these were integrated into what is now known as Dolphins
Elmgrove as two cottages, was occupied by a stream of tenants through the 19th century. Fibbens and Hills about 1810. But Henry Woolven, already a tenant by 1851, had one cottage with James Grevatt in the other about 1863. Henry evidently moved into one of his new cottages, and then to Worthing after 1901 when he was all of 86 years old. The other cottagers were a mixture of trades, from gardener to wheelwright, house painter, and shoemakers.
The 1891 Census gives some idea of the size of properties, up to four rooms and indeed all five cottages, the two at Elmgrove, and three at later Dolphin Cottage, were all of four rooms. As a single dwelling Elmgrove would have been what once it had been, a good sized house of eight rooms.
A description of the surroundings in 1863, expresses the rural nature of the village at that time. "Old Gardens to the south, Rickyard east, Great Pond in Angmering Street north and Ham Lane west." Slightly archaic even then, for it makes no mention of other cottages adjoining.
Elmgrove South
1839 Tithe Apportionment
Plot 402, detached Wooden Hut, owned and tenanted by William Best, area 2 rods.
Plot 403, 404, tenements owned by William Best, with various tenants, area 8 rods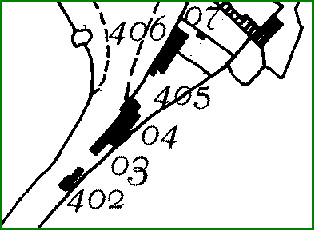 Tithe map has 402 as a small detached building, with 403-4 north of that as an irregular row
These are the cottages that have gone, replaced by a modern terrace. They were still intact about 1932, but thereafter were demolished in at least two batches, with their final removal soon after the war.
Since William Best was a house painter, it can be assumed the hut was a workshop. The houses or cottages north of that are difficult to resolve, in numbers of dwellings, or in status. There is one clue in their being in two plots, and their appearance in photos suggests small cottages at each end, with three larger houses in the middle, possibly the original house split into two cottages, and another built on. But the number overall varied according to how they were divided at the time, with as many as six tenements. It may be assumed the original house was built about 1734, along with Ann's and Elmgrove.
These dwellings are the only ones in the Ann's – Elmgrove medley of buildings, indicated as belonging to Bishopp, the lord of the manor, in 1814. At that date on lease to Mary Butt, and described as a cottage and garden, which suggests only the original dwelling existed. Therefore a rental of the late 18th century, which mentions a cottage built in 1734 and leased for 99 years, at 2s annual rent, would fit as this property. A Mr Shepherd owned the lease. An Edward Shepherd appears in the burial register for 1797.
A deed of 1836 which relates to a larger estate belonging to William Best, includes Elmgrove. A mortgage in fact, to secure £320 from Robert French of Littlehampton. Best was described as a painter, and he was associated with James Burden a carpenter, in the transaction. Frances Best aged 24, Isabell aged 19, and Thomas Best aged 13, were named as the lifeholders of the copyhold.
"All That piece of Ground in the Parish and Manor of East Angmering situate in Angmering aforesaid containing Ten Rods be the same more or less abutting to the highway leading from Angmering Street to Preston on the North and to the land formerly of John Edmunds called the Old Gardens on the East and South as the same is now inclosed with fences together with the buildings erected thereon now consisting of Four Tenements late in the several occupations of Robert Evans Thomas Anderson John King and Richard Sturt and now of Six Tenements in the occupation of William Best George Payne Henry Riddles John Steer William Field and John Olliver with the appurtenances to the same belonging."
It is almost impossible to make out, from later OS Maps, exactly how many dwellings there were at any time, but around six as described in 1836, would be correct, or down to four at times. Although properties were not named, or neatly addressed, rate books can be used to reconstruct change in ownership during the century. From Mary Butt to William Best, then William Jarrett by 1871 and Thomas Jarrett at the turn of the century.
In 1841 William Best the owner, then aged over 50, occupied one of the cottages. The others were labourers dwellings, and perhaps two were empty. As might be expected, in 1851 William had the largest house, with the others occupied by William Short a thatcher, Charles Fibbens a sawyer, and George Payne aged 80 and a labourer when young and fit, was now a mere pauper, looking to the overseer for a weekly pittance. William Jarrett was a person of much greater substance, and he did not live at Elmgrove in 1871. The name Elm Grove appears for the first time in census returns, in 1881, with its four cottagers. William Jarrett in his High Street house is given as a farmer, but much of his income must have been from house rents.
To illustrate the variety, in minimal accommodation, of Elmgrove. In 1891 one cottage had only 2 rooms, two others four or the typical 'two up and two down' and only one had over four rooms, occupied by Thomas Parsons the plumber, rather more affluent than farm labourers.
RWS 2009 NRD