(Part 4, Chapter 1, Section 3, Sub-Section 2) ( Bk. Index )
[ Farm Houses in 1839 - their histories]
3.2 Pigeon House
---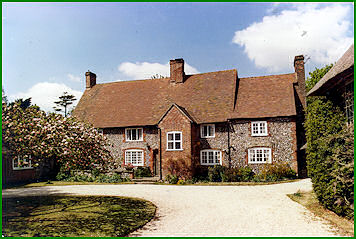 Pigeon House, High Street
Listed Buildings Register Entry
HOUSE - C17 or earlier timber-framed building, refaced with cobbles or flints with red brick dressings and quoins. Small gabled red brick projection in centre of east front. Tiled roof. Casement windows. Two storeys. Four windows.
BARN - Restored C18 building faced with modern weather-boarding on flint base. Hipped thatched roof.
OUTBUILDINGS - Formerly a stable. Small C18 building faced with flint with a tiled roof.
Site Plan from the 1839 Tithe Map.
The house is in Plot No 356 at the corner of Weavers Hill and the High Street