(Part 2, Chapter 3, Section 2) ( Bk. Index )
[ Civil Parish ]
2. The Poorhouses – Longback Cottages, 1728
---
It is thanks to the efforts of Leslie Baker that several essential documents were acquired and made use of in his illustrated Angmering booklets.
The 1728 deed in particular, and the Sale Particulars of 1870. A history of the cottages would be totally inadequate without them.
Introduction
Longback Cottages are a well known sight on the west side of what is today called Arundel Road, as a row of small houses built in the early 18th century when such terraces were unusual in villages.
The almost total loss of 18th century and earlier vestry records, means the motives and circumstances that brought these cottages into being early in the century are lost beyond recall. Such fragmentary vestry accounts as do survive, together with later reports on the poor law in Angmering, must be pieced together in the hope that some general idea may be obtained of poor law administration at the time.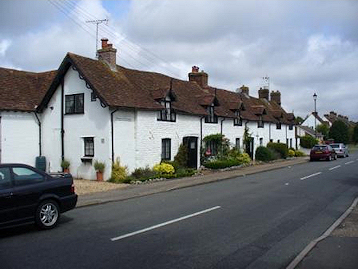 The first point to be made is that there was no local problem with overpopulation in that period. Indeed, the 17th century had seen a decline due to constant epidemics and it was only from about 1720 that population began to move upwards in the modern population surge. A church survey of 1724 gives us an accurate figure for the number of families or households, with Angmering the largest local village at 64, as compared to 188 households at Arundel. This represented well under 400 people, of which less than a hundred may have been working male adults, and should have made labour a scarce and valuable commodity in such a large farming parish.
In that same year, 1724, John Manning's Will provided a fairly substantial sum of £20 to be invested, with the annual proceeds distributed to 'poor Widows'. This, in conjunction with later scanty overseer's accounts, suggests that parish assistance was slanted towards old and poor women, on the assumption that most men would be found work and be employed until they became incapable or died. In 1910 the village historian, Edwin Harris, refers to the old charities board in the church, on which the 'Widows Charity' was listed and in some way connected with the Longback Cottages. Again, a mere suggestion that elderly women may have had first call on accommodation there.
The principal impetus towards building the cottages no doubt came from legislation of 1722. This encouraged the provision of parish workhouses, allowing their supervision to be contracted out. It cannot be pure coincidence that parish cottages were established at both Angmering and Rustington, and possibly elsewhere locally, about this time, although they may not all have been places where inmates were set task work.
In 1777 a summarised Parliamentary Report lists 'workhouses' and the number of people they could house. This includes several nearby parishes, each with one 'house', Arundel for 40 inmates, Littlehampton for 20, Poling 12, Rustington 10, and Angmering for 20 people. It can only be assumed the abstract was being economical in its terminology, with 'workhouse' including any form of poorhouse or parish cottages. It can also be taken for granted that whole families were accommodated and not simply individuals.
The Site
There is very little prehistory to the site on the west side of Arundel Road, since it was nothing more than wayside waste. All such waste belonged to the manor, and the owner of the manor often sold or leased this for building cottages, there being no loss of valuable farmland and profit from a disregarded trifle. The only loss was perhaps to villagers who may have grazed animals or gathered furze from such grassy verges. It also meant that carts and horsemen had to keep to a narrowed track of road, and depended on the parish waywarden keeping the lane paved and usable.
The Cottages
The 'house' deeds for Longback are dated 26th March 1728, although such deeds do not relate directly to the building but to its land, and it is often the case that buildings do not arrive until much later, or may even exist already. Such is the case with Longback, the indenture quite plainly stating:
'whereon an almshouse hath been lately erected by the Inhabitants of the said parish.'
Now, with the old calendar being in force, this means the house must have been erected in 1727 by old reckoning, but may have been built shortly before March and in 1728 by modern calendars.
As the owner of the manor, the waste belonged to Cecil Bishopp, who sold a lease to the churchwardens and overseers of the parish for a nominal five shillings and yearly rent of a peppercorn. Since the 'lease' was for a thousand years it was virtually a freehold. The vestry officials are named as, Richard Penfold and John Parham the wardens, with George Palmer and Richard Knowles overseers, all well known names from the propertied class.
It is of more than passing interest that the site was reckoned at about 3 rods, for in 1840 the site was measured at 5 rods – a sixteenth of an acre. Not inaccurate estimates but extra land obtained at a date unknown. The reason for this can be readily ascertained from the most superficial survey of the Cottages today, with six cottages in all, but the northern two built later and probably at slightly different dates. Therefore only four cottages had been constructed in 1728.
The 1728 indenture uses the term almshouse, but since the property would be owned by the vestry with overseers in charge, that term was a polite fiction. It was a poorhouse or parish cottages. Almshouses were charitable foundations, often dating from medieval times. What this leaves undecided is whether four cottages for separate families, or a single poorhouse for destitute people living together, was erected. A very thorough survey of the interior of Longback would be needed to provide adequate evidence either way. it is at least possible that it was in two sections for old widows and widowers.
So far only a few tantalising notes have been obtained from vestry books that have survived. In 1779 [Par6/31/5] there is the obscure item:
'Paid for Cleaning the Barrel & Tubs for the Poorhouse 6d.'
This is suggestive of some use and management of the building as one establishment rather than cottages. Set against that is the undated receipt of rent from David Cunningham, of 6d a week over three months, presumably for a cottage, and in that case one owned by the parish, which can only mean at Longback.
The 1776 to 1779 disbursements have payments to families and individuals in distress, as will be found in any overseers records. But it also has extraordinarily long lists relating largely to women and girls, with the overseer paying for their shoes in one account, and in another paying various women for knitting and spinning. Not spinning wool as we might assume, but hemp. What articles were being made is not mentioned, but hemp could be used for anything from rope to sacking and coarse clothes. It can be imagined that they may have knitted garments in their own homes, but for each of them to have hemp spinning wheels is improbable. It is likely therefore that Longback was a literal workhouse with spinning and other facilities. However, in the course of time, one or two cottages may have occupied part of the block, for a weekly rent of 6d .
David Cunningham left a widow by 1779/80, and she may well have had a family, since her weekly dole was 6s a week, three times that usual to single widows. Longback may therefore have included a family cottage. It is conceivable that widows lived communally in the other part of the building, but there is no way of confirming this. Men make little appearance in disbursements because they would have been found work, unless ill, and in some instances lived as part of their employers household.
The next great event in the history of poverty in Angmering, is in 1806 when the parish joined East Preston Union. A Union of Parishes, for which a central workhouse had been built in 1792, under the Gilbert Act of 1782. By this date, in the age of Malthus (the political economist), population was a much debated problem, with Angmering now having around 80 households and over 700 inhabitants, representing a doubling of population in eighty years.
Longback could now change in character, since East Preston workhouse was designed specifically to take in only the old and infirm, together with destitute children. Unfortunately Longback it is not the kind of property that can be found in Angmering ratebooks dating from 1780. It was below the threshold for rates, and later in the 19th century, when a couple of complete ratebooks were made, the more interesting period in its history was long past.
Very substantial work on 'Long Back Houses' took place in 1850 costing nearly £58, mainly Linfield for brickwork at £38, but also Jarrett for carpentry and Best for plumbing or leadwork. [Par6/31/4] No breakdown of this work is given, but it looks very like the expense needed when the terrace had an extension built to the south cottage and the roof of the whole given its present appearance, tiled with scalloped bargeboards. The interior perhaps made more suitable for its six dwellings. It is not likely the two north cottages were built this late - the tithe map of 1840 does not support this - and in the 1840s there were already six families in occupation.
The terrace was by now much as it is today, but without the modern extensions and facilities. Several houses have scalloped bargeboards similar to Longback as a trademark of the Linfield and Jarrett partnership. Nearby, the Catholic Manse has similar bargeboards, as does Syon House and Eagle Cottage. Upper floor windows project above eaves level, but were no doubt small openings below the eaves before 1850. Although flint-built, the street front is now painted white, as so often with old cottages. That the two north houses were built later is evidenced by the brick quoins that still show as vertical features between each of them and the old cottages, and in any case these two are larger. The old cottages are in two pairs, with large arched door openings for pairs of doors with separating posts, behind which are the party walls, with staircases on each side originally. At only 4 metres by 4.6m long approximately, they presumably consisted of two small living rooms, with two bedrooms above.
Only three useful censuses took place before the cottagers were sold in 1870, with 1851 and 1861 using the name 'Long Back'. Surprisingly not all the cottagers were paupers or elderly.
The 1851 occupants of 'Long Back Houses' included:
John Smith aged 55 and wife Mary, a miller with five children two of them working.
(But the other five occupants were more in keeping with parish cottage)
Robert Evans aged 73 and wife Emma, a carpenter.
Louisa Field aged 47 a charwoman, with three children.
William Mitchell aged 44 a pauper, with two children.
Henry Fibbens aged 73 and wife Lucy, an agricultural labourer
Jeremiah Pocock aged 71 and wife Maria, a pauper
Then in 1861 the 'Long Back Lane' occupants had changed slightly:
The first cottage was empty
Robert Evans aged 85 now a widower with a daughter as housekeeper
Whittington Graysmark aged 77 and wife Charlotte, agricultural labourer with one working son aged 40
George Rose aged 80 and wife Mary, a tailor with a postman son aged 47
Mary Smith aged 52 no doubt the widow of John , a charwoman, with three children two of them working
Jeremiah Pocock now aged 81 and wife Maria, described ambiguously as Independent
It can be taken for granted that the 1850 building work included the small extension south of the first cottage. This made it more suitable for a large family, such as John Smith with his five children, although the north cottage of the six would have been fairly suitable.
Various ideas have been entertained for the origin of the name Long Back. The simplest explanation tenable is that it was the Long Back Lane, and long it is, with these the cottages in that lane. Long-Back-Lane cottages.
The Sales of 1870
With the reconstitution of the Union, so that it was no longer a Gilbert foundation, and building of a vast new workhouse in East Preston, all the old ways were abandoned. Not only that but bonds had to be paid off in funding this new institution – the old Union sold its property to the new and there was share out of this windfall amongst the parishes, but not enough to pay for the new House. The new Union had made parish cottages redundant, and their sale helped pay the difference.
In 1870 the Vestry agreed: " to sell the Longbacked Houses belonging to the Parish, and to apply the Money to the paying off the Preston House Bonds that this Parish is accountable for." [Par6/12/2] In October of the same year the Union approved sale of these parish properties, including Arundel Poor House, Angmering Long Backed Cottages, Rustington's three cottages, and Climping.
Sale Particulars provide more details:
Sale of Parish Properties East Preston Union ... Poorhouses situate in the several parishes of Angmering, Arundel and Rustington which will be sold by auction at the Norfolk Arms Arundel by Messrs Sparks and Sons on Monday the 7th say of November 1870 ... in the parish of Angmering Six Leasehold Cottages ... substantially built and are estimated to be worth 1s 6d each per week and are held for a term of 1000 years of which upwards of 900 years are unexpired at a peppercorn rent. [Leslie Baker SP].
William Jarrett purchased Longback for £185, the deed dated 3rd January 1871.
There is no knowledge of any substantial alterations at this stage but, by the end of the century, small outbuildings indicate earthclosets as an initial modern amenity. In the 1891census, a question was asked about the number of rooms in houses, indicating growing concern about housing standards, and each of the Longback cottages was credited with four rooms. This only begs the question of usable space, since the old cottages were decidedly small. The rateable value at the time was a better indicator of quality with two at £4 and the others at £2 10s.
If Harris is correct, the cottagers had a useful amenity in the use of a croft of land across the other side of the lane as allotment gardens, assuming the residents were fit. Not for long though with Harris and others rapidly building houses in the village one hundred years ago. [Harris 1910]
RWS 9/8/09 RWS