Angmering (Jerusalem) Mill & Old Mill House
by RW Standing
---
In the glorious past of this country, the lord, or owner of a manor, held a position of power which he knew how to exploit. A feudal monopoly found almost everywhere was ownership of a corn mill, whether water or wind powered, and requirement that all tenants should take their corn to it for grinding into flour. With Angmering having several manors, sorting out one from the other is not a simple task. However, Ecclesden had its mill, so did Barpham on the downs, and Angmering was tithed for a mill in 1341, and had at least one in the 15th century, worth £2 [VCH 5,2 sources quoted]. Nothing is mentioned of a mill at Ham, but then in early days it was attached to Barpham.
The Palmer family of New Place took over ownership of Angmering in the 16th century and it may be expected this included the mill, or mills. In 1615 this estate was sold to Bishopp of Parham, but it is significant that various properties had already been sold, and in fact the family continued as owners of a residue of freeholds. The principal of these attached to the Rosary farmstead that a very few people may recall, on the east side of The Square or Angmering Green. Its lands included the Mill Field in what is today Station Road – then more likely Ham Lane – which surrounds the site of Jerusalem mill and Mill House to its south. A fact which at least suggests ownership of the mill, inherited as a perk of the old manor of East Angmering.
As yet there is nothing resembling a continuous descent of ownership and occupancy of the mill, from the 16th century onwards, and almost certainly never will be. As with many aspects of history some small leaps of faith in circumstantial evidence must take place.
Various hints are provided of possible early occupants, or tenants, can be found but the first substantial record is from the 18th century. The Snelling family can be found in all walks of life locally, but the widow Ann Snelling in 1727, and her former husband in 1722 and his brother in 1716, quite clearly died in possession of the Thomas Palmer windmill and lands, although those who made their probate inventories had no need to provide exact locations for things that everyone knew.
Ann Snelling left, "A Dwelling house and ab't One Acre of Land called the Mill house Croft held by Lease under One Thomas Palmer Esq lying in Angmering" - £100 [rental value]
"A Windmill and app'tenances and a peeice of ground lying in Angemering aforesaid held by Lease under One Thos Palmer Esq" - £60 [rental value]
Exactly what date it was that Palmer sold his estate, is unclear, as he did not live in Angmering. But the Amoore family, with widespread interests in the parish and no doubt beyond, were in possession by the second half of the century. In 1772 Richard Amoore yeoman, made his will and requested "my beloved wife Sarah do carry on the Three branches of business that is Malting, Milliering, and Farming, during the term of her natural life" and afterwards left his property to be divided with his "Son John Amoore my Windmill, House and Garden late Snellings".
In the 1780 Land Tax Sarah Amoore was still in ownership of the Mill House, with John Gearing in occupation presumably as the miller. She died in 1795 and subsequently it was William who took possession and occupation. At the time of the 1838 Tithe Apportionment, a William Amoore, whether the same one is not yet decided, was still in owner and at least nominally the miller. But the mill had seen its day, and as related by a general history of mills in Angmering.
The Brighton Gazette of 5 October 1848 contains a fascinating account of the mill's removal from Angmering to Rustington:
"A windmill belonging to Mr Graves Bailey was last week successfully removed, in an erect position, from near the residence of Mr Gratwicke, at Angmering, to the sea-side at Rustington, a distance of two miles; and, as may be supposed, so extraordinary an object on the turnpike road, especially while on the viaduct over the railway, attracted crowds of spectators. The removal was accomplished by the following means:- A very strong frame work, or "undercarriage", of timber, upon four extremely broad solid wheels, was introduced beneath the horizontal timbers supporting the main-post and the spurs of the mill, and between the brickwork pier upon which the whole rested; the weight was then, by the aid of wedges and powerful screws, transmitted from the piers to the carriage, to which horses, varying along the way in number from nineteen to twenty-four, were attached, and after this manner the removal was accomplished with comparatively little difficulty. Extensive lopping of the trees had to be made along the greater part of the route".
Graves Bailey had come into ownership by 1846, and may have done so with a view to making use of the mill at Rustington.
Mill House and Cottage
About 1970 a nice story was recorded that this used to be the bakery for St Nicholas Priory. Was this a very faint recollection of the mill and house having belonged to East Angmering? It is also affirmed that there are deeds dating from 1702, in which case many of the questions raised by this history might be answered.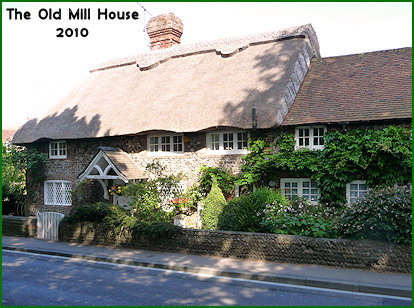 Not by coincidence it may be trusted, there is a probate of the will of Thomas Palmer of Harting that year [or 1706] , in which his lands were to go to his daughter Dorothy, and then her son Thomas. [SAS-K/209] Mary had to fortune to marry a cousin and so did not change her surname.
Although a Listed Building, the description is typically vague and inadequate. Described as "One building, of the 18th century, Old Mill House thatched and Old Cottage tiled roof". There should be a much more detailed survey in the house and garden.
At least there is firm ground in the tithe map and apportionment of 1839. In this William Amoore owned the mill in just under a quarter acre of land, largely garden and mill ball. South of this he also had a Mill Croft which extended down the road and occupied over an acre. But the cottages including gardens on their north side, another quarter acre, were simply described as tenements occupied by Compton and others. A narrow strip along the roadside by the croft, is ignored by the tithe map, but almost certainly occurs in the Ham schedule, as one of several copse of trees named Jerusalem.
It can only be surmised that there were three dwellings. This can be fairly well confirmed from the 1841 census, which was not good at placing or addressing houses, which has John Goldring, Edward Compton, and William Green as occupants. Thereafter, what is today obviously two parts to the building, were occupied as two cottages, and by the time RA Warren of Preston Place took them over in 1857 a William Hills and Stephen Smart were tenants. His estate remained intact until after the Great War, when his sons gradually sold it off.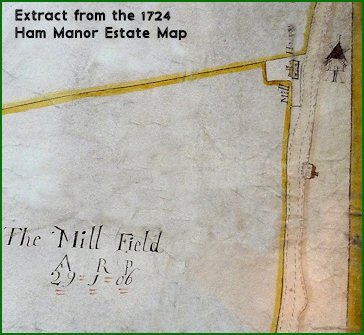 At this juncture it is necessary to consider once again the thorny question of what the Ham Manor map of 1724 signifies for the mill and house. As another article observes, and may be seen on a copy of this map, Jerusalem mill is nicely pictured as a post mill, on the east side of Ham Lane. Well to the south a cottage is indicated, but directly opposite the mill, on the Ham side, is a building plainly named the Mill House.
If the Ann Snelling inventory is remotely correct, not only the mill but the house also can be identified, as might be expected, with known buildings on the east side of the road. However, the Palmer family certainly had owned property in Ham and some residue of this in 1724 is arguable. A brook pasture near the church, is shown as belonging to Bishopp of Parham, and is more than likely to have descended from the Palmer family. So properties, on the wrong side of the road, may have belonged to East Angmering or West Angmering.
The first oddity about the Mill House as illustrated in 1724, is that its garden was not outlined in colour, as other houses belonging to Ham, such as nearby Tumble Down House. It was also set out into the road as if built on former waste. On the other hand the pecked boundary line of Ham Manor was along the east side of Ham Lane entirely enclosing the house.
The second point to note, relating to a map surveyed and drawn to almost modern accuracy, is that the road curves east around the house. In itself this is of no significance, but when compared to the even more accurate tithe map of 1839, it is odd that the road at that date curved westwards on the other face of the house, as it does today. The tithe map also betrays, at least arguably, in its layout of gardens and road, that a way could formerly have gone through on the east side. In which case this redundant way, north of the cottage, would seem to have been made up higher well above the present road.
In 1724 William Gratwicke was busy setting out his fields and brooks to anew, and a little road realignment may have seemed of little consequence. This could explain how one or two wooded threads of land were left on the east side of Ham Way - the Jerusalem plots.
An alternative is for the old house to have been demolished, and a new Mill House built more conveniently next to its mill. Since property deeds are mainly concerned with title to land, this may not even have been recorded, although loss of the site ought to have been observed.
It is evident that only the one house existed about that date. Barring contrary evidence from archaeological surveys, it can be assumed the south cottage of the present building was of later 18th century date.
As so often, neither several wills, nor the Snelling inventories, have any useful details of rooms or furniture in the Mill House.
RW Standing
1 August 2010
---
Page first uploaded:11 August 2010