Interested in playing "social" table tennis? Angmering Table Tennis Club, formed in 2009, runs a session each week for adults (say 18 to 80 years old!). The session takes place on Mondays between 1.00pm and 3.00pm at Angmering Community Centre, Foxwood Avenue, Bramley Green, Angmering, West Sussex.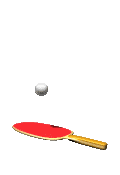 This activity would NOT be suitable for regular league players or anyone who is looking for really competitive games. This is for players of lesser to medium ability who would be quite happy to come along to the Centre for some doubles games and have a bit of fun, burn off a few calories, and have a chat with old or new friends. There may also be the opportunity for some singles games although the sessions are primarily aimed at doubles.
If you have not played since your youth or for a number of years, this activity may be for you. You may also be a complete beginner. Three tables are available plus bats and balls, so there would be no need to buy any equipment unless you would like to have your own.
Games are played under the old rules, i.e. five serves each and scoring up to 21. This is done deliberately to give everybody a chance of a decent length game. There is no rota system, or anything that makes playing or organising an arduous affair. This is just a couple of hours of relaxation and fun!
The cost for the session is £2 per person. If you wish to arrive a bit later or leave a bit earlier, this is no problem. Just come when it suits you during the two hour session. There is no joining fee. Any surplus made by the Club will be given back to members in the form of a subsidy of a Club activity (e.g. Annual lunch). We try to hold two such social activities each year.
Membership is limited to ensure that everybody gets a good number of games during a session. So, if anyone is interested in this activity, please ring the coordinators in the first instance:
Stephen & Gabrielle Tappin on (01903) 787816
(The Club is normally fully subscribed and there may be a waiting list. However, priority will be given to Angmering residents.
If you are still interested in joining, please do contact the coordinators to ascertain the latest position.)
Please Note: If members have not attended a session for 8 weeks, their membership of the Club will automatically terminate unless a reason has been given to the coordinators. Such reasons may include illness, injuries, or holidays.