Angmering Village Life
News Archive
January 2021

Vehicle crime in Angmering
Sussex Police have today issued the following statement:
"We have received numerous reports of theft from vehicles in the Angmering area overnight between the 26 and 27 January.

We are appealing for local residents to check any CCTV / RING doorbell / Dashcams for evidence of suspicious behaviour during the course of the night from 10pm to 6am. Please be assured that we are continuing with increased patrols in the area and our team will be conducting house to house enquiries in due course.

Remember: Don't leave anything in your car - if it's not there, then it can't be stolen. Thieves aren't picky, so don't leave even low-value items in your car including loose change. Always ensure your vehicle is locked when you leave it. Often thieves will smash and grab first and look later to see if what they've stolen is valuable. Former car thieves say it takes less than 20 seconds to search your vehicle. Don't hide it - if you hide items under the seat or in the glove box, chances are someone will have watched you. If you have something of value, don't leave it in the car, take it with you.

We would urge members of the public who witness any suspicious activity to contact us straight away. If you have any information that could assist us with our enquiries then please contact us on 101 or online.

If you saw or heard anything, or have any information about these vehicle crimes please contact us online, email us at 101@sussex.pnn.police.uk or call 101, quoting the reference number provided. Alternatively you can contact the independent charity Crimestoppers, anonymously, on 0800 555 111, or online at www.crimestoppers-uk.org "
28 January 2021
---
Medical Centre receives Vaccine Recognition Certificate
Yesterday morning (Saturday 23rd), our Member of Parliament, Andrew Griffith presented a Community Champion certificate to Angmering Medical Centre in recognition of going above and beyond for our community during the Coronavirus crisis. Mr Griffith said: "It was great to see the team from Angmering Medical Centre and so many volunteers at work delivering the vaccine at the brilliant Angmering Community Centre this morning. On behalf of grateful residents I was pleased to present them with a Covid Community Champion's award."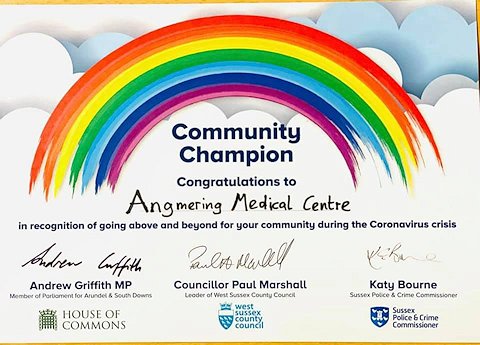 ....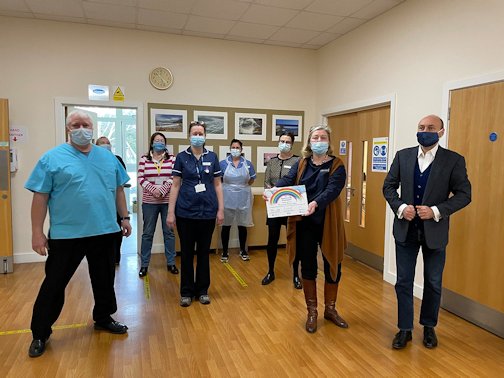 Lead by Dr Jeremy Mayhew, the clinical director of the Angmering Medical Centre (AMC) / Coppice / Fitzalan primary care network, the network became one of the first GP hubs to commence vaccinations - on 14 December - and has already performed many thousand jabs. In the photo above, Dr Mayhew is seen on the left, Mr Griffith on the right, and Dr Martina Houska (senior partner of the AMC/Coppice practice) is seen next to Mr Griffith holding the certificate.
The network has received countless compliments in the way it has been performing the vaccinations at the Angmering Medical Centre and now at the Angmering Community Centre. Moving to the Community Centre for the next few months allows the network to substantialy increase the number of vaccinations it is able to provide.
24 January 2021
---
Planning Applications
A/193/20/PL: Erection of a 1 No. 3 bedroom chalet bungalow & detached garage. This site is in CiL Zone 3 and is CIL Liable as dwelling. Ham Manor Cottage, Ham Manor Way.
A/3/21/PL: Erection of a 74-bed care home (C2 residential institution) with car parking, landscaped gardens & accessfrom Roundstone Lane. (resubmission following A/9/19/PL). This site is in CIL Zone 2 (Zero Rated) as other development. Pound Place, Roundstone Lane.
Observations on this/these Application(s) must be received by The Head of Planning Services, Arun District Council, The Arun Civic Centre, Maltravers Road, Littlehampton, West Sussex BN17 5LF by 18 February 2021.
To see applications, plans, design statements, etc, type the Application Reference Number (such as those above) into Arun District Council's "Application Search Facility ", click on the Search button, and click on the hyperlink reference when selected application is returned - then select "Documents".
24 January 2021
---
Snippets from the draft minutes of Angmering Parish Council's Zoom meeting of 11 January 2021
Parish Precept 2021/2022 - Cllr. N Hamilton-Street explained that the precept for 2021/2022 needed to be discussed and formally agreed at tonight's meeting and asked if there were any questions – none were asked. RESOLUTION: Cllr. Jones PROPOSED that the precept be set at 0% for 2021/2022, Cllr. Marsh SECONDED, and ALL AGREED.
The full Minutes can be read here
24 January 2021
---
A cold and frosty morning!
Thanks to Bill Barwell for these photos of Fletcher's Field this morning (Saturday) and robin.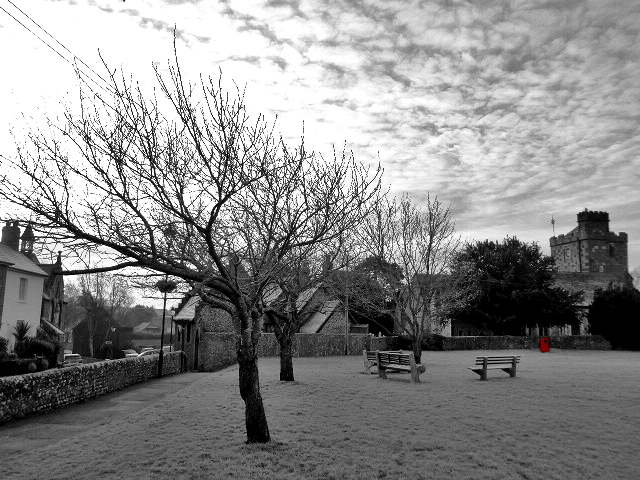 ....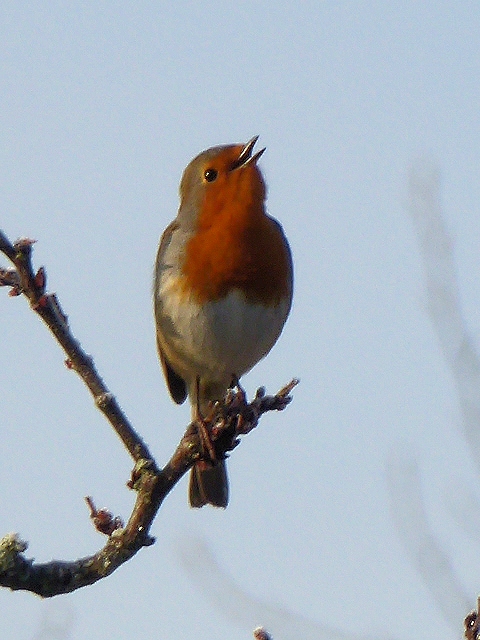 09 January 2021
---
Vaccinations' update
The Littlehampton Gazette has today reported that in the week commencing 14 December, 970 vaccines were administered at the Angmering Medical Centre on patients (over 80s) and some health and care staff, as well as 300 jabs in care homes. Those given the vaccine were within the Centre's primary care network, consisting of the Angmering Medical Centre itself, the Coppice Surgery, and the Fitzalan Medical Group.
In a move to accelerate vaccination implementation, Dr Jeremy Mayhew, the clinical director of the primary care network, said that plans are being finalised to move the vaccination centre to the spacious Angmering Community Centre which is being little used due to the Covid-19 crisis. He said this would allow staff to double the number of vaccines taking place each week to 2,000. He is hopeful they will be able to see the group's network of around 10,000 vulnerable people in the next couple of months.
Patients are again being asked not call their surgery but wait to be contacted when it is their turn which follows the Government's published priority list.
Angmering Community Centre has subsequently intimated to hirers that, as a result of the spread of the disease and the Centre being used as a local vaccination point, its Trustees have decided to close the Centre's doors to normal activities until further notice. It is envisaged that the Centre may well be used during the mass vaccination programme for up to 10 hours a day and possibly 7 days per week.
5 January 2021
---
Shutdown Latest
Big Fry in The Square has announced that after this evening's (Tuesday) service, it will be temporarily closing down to ensure the safety of their staff and their families. They will reopen when it is safe to do so.
5 January 2021
---