Angmering Village Life
News Archive
November 2020

The Angmering section runs from the Station Road (Blue Star) roundabout i to the A280 roundabout, including the Roundstone roundabout. This will feature a new cycling and pedestrian route to the south, separated from the main carriageway by a verge, and a new pedestrian footpath to the north. The existing controlled crossing connecting Angmering School and Downs Way will be upgraded to a Toucan crossing. New Toucan crossings will be provided adjacent to the Station Road Footbridge and also near to Haskins, linking to a new westbound bus stop. Right turns across the carriageway, such as at Haskins, will be closed. Here's an artist's impression of the proposed roadway as viewed looking east from above the Station Road roundabout: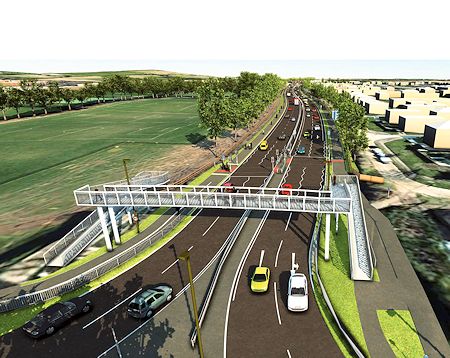 19 November 2020
---
Angmering Station Improvements
Govia Thameslink Railway (GTR) has recently completed a number of improvements at Angmering Station including a waiting shelter extension on Platform 2 (south side) (see photo below), seating, stair "nosing", toilet improvements, and a water butt.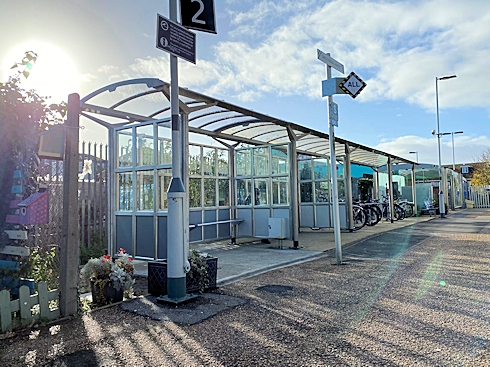 These improvements are part of the Passenger Benefit Fund. The fund is supporting a range of work across the network including waiting shelters, refurbished toilets, more seats, information screens, automatic doors, more cycle parking, refurbished waiting rooms, station planters and LED lighting.
17 November 2020
---
Snippets from the draft minutes of Angmering Parish Council's CLEW Committee remote Zoom meeting of 28 October 2020
Angmering In Bloom Report - Regarding the Information Board at St Nicolas Garden to show the work that was done during the archaeological dig. The grant requested from Angmering Heritage Trust for the cost of the board and installation had been approved.
Volunteer Litter Picking - The Committee Clerk updated the committee on the Volunteer Litter Picking and all items had now been received i.e. litter pickers, Hi-Vis tabards etc. APC have 17 volunteers and were starting the process to contract them to ask them to come into the office and collect their kits.

Play Parks - Cllr. Reigate commented that footfall in general in all three parks was not very good and it might be time to ask the public by way of a questionnaire what they felt was needed. She also felt that the next project should be Russet Play Park as this, out of all of them, had the most use and footfall. Cllr. N Hamilton-Street commented that the questionnaire used for Blenheim Play Park could be adapted for the houses around Pippin and Braeburn. After discussion it was agreed by all that a questionnaire be compiled and sent to all residents in these two areas.
Christmas Trees and memory tags - After discussion Cllr. N Hamilton-Street wished to propose that APC supply the monies needed for the 18 trees at £30 each (total £540) to help promote a happy Christmas in Angmering, everyone was in agreement. Trees will be located in the Village Square and 2 at the shops in Downs Way. Memory tags in the shape of Christmas Baubles were then discussed. Once the discussion had taken place it was agreed that a laminated Bauble tag would be inserted into the All About Angmering magazine. Cllr. N Hamilton-Street asked if an extra maximum amount of £150 could be allocated to print a message from APC on the bauble tag, all agreed.
The full Minutes can be read here
11 November 2020
---
Planning Applications
A/176/20/HH: Single storey rear extension and new patio at 8 Lansdowne Road.
Observations on this/these Application(s) must be received by The Head of Planning Services, Arun District Council, The Arun Civic Centre, Maltravers Road, Littlehampton, West Sussex BN17 5LF by 3 December 2020.
To see applications, plans, design statements, etc, type the Application Reference Number (such as those above) into Arun District Council's "Application Search Facility ", click on the Search button, and click on the hyperlink reference when selected application is returned - then select "Documents".
11 November 2020
---
Cannabis cultivation site found by police
Sussex Police entered an industrial unit off the west side of Roundstone Lane late on Monday morning (9 November) and discovered a cannabis cultivation site and seized a large quantity of Class B drugs estimated to have a street value of around £500,000. Several men were arrested on suspicion of being concerned in the production of cannabis and remain in custody for questioning.
For photos of the cannabis plants under cultivation, click here.
10 November 2020
---