Angmering Village Life
News Archive
March 2020

Persimmon plans more homes in Angmering
Persimmon Homes is consulting the public on plans for 84 homes west of Dappers Lane in Angmering with a range of 2, 3 and 4 bedroom homes. Persimmon state that the proposals will help towards tackling "the acute local need for affordable housing" with 25 of the homes (30%) being a mixture of shared ownership and below market rent. This will enable local young adults and key workers on modest salaries the opportunity of getting a home of their own without having to leave the community within which they have grown up.
The site is located in Dappers Lane on the opposite side of the road to Culberry Nursery, with Woodlands Close and Garden Close to its south (see diagram right).
Persimmon has been in detailed discussions with District Council Officers, elected members and the Parish Council over the last 18 months. Persimmon is keen to hear the views of local residents prior to submitting their planning application and will be sending out a newsletter shortly. A spokesperson from Persimmon Homes said that: "While the land has been formally earmarked for 100 homes, the proposal being put forward is for 84 homes, 30% of which will be affordable housing". "Approximately 6.5 acres is proposed for the new housing, set in nearly 3 acres of green spaces. This includes an area of natural habitat that will be retained for dormice along the northern and western boundaries and informal public open space, including a Village Green and pond."
The scheme, according to Persimmon, will deliver numerous benefits to the local community and Arun District Council: through the Government's New Homes Bonus scheme, a comprehensive package of education, healthcare, greenspace, public transport contributions and local highway improvements.
The proposed access strategy for the 84 dwellings involves a new junction onto Dappers Lane and West Sussex County Council support the arrangement – including the off-site works which will be required. These works involve widening Dappers Lane along a section of approximately 50 metres, heading southwards from the junction. That will allow for a continuous pedestrian reservation along the length of Dappers Lane.
As part of the public consultation, Persimmon Homes has launched a dedicated website where residents can give their views on the proposals. To find out more visit: https://www.newhomesindapperslaneangmering.co.uk/
Persimmon have very recently hand-delivered leaflets to residents in the vicinity. As a result of this, a number of residents have contended, on social media, that responding with negative comments at this consultation stage will only assist Persimmon in framing their eventual planning application to negate objections to achieve permission to build.
31 March 2020
---
Coronavirus - Update (9)
Meat in The Square write: "It is with great sadness that we have taken the decision to close temporarily. We have really struggled with this decision as we are letting our loyal customers and community down, but we have been totally overwhelmed with orders, and can't keep our staff safe. Over the past 2 weeks we have had close contact with over 1000 customers (more than double our normal rate) in the confines of a small shop despite the distancing measures we put in place – over 1000 risks of infection to ourselves, and passing it on to you and your households. We have been working almost 80 hours a week and our own health – physical, mental and emotional has been battered. This is just not sustainable or safe, and we cannot continue to put Louis and his family at risk. We have had many a sleepless night trying to work out a way forward but cannot find a workable solution. We simply cannot scale up to do over 400 home deliveries a week. To scale it down to something manageable would mean choosing which customers to serve and not – how would we choose between you? We promise you we have been through every possible way of continuing, but we are just too small an operation to cope. We will try this week to fulfil all the outstanding orders and to contact those that are affected. We will review the situation weekly and return as soon as its is safe and practical to do so. We totally understand if you choose to shop somewhere else in future, but we really hope that you will all keep safe and well, and that we see you all again when this nightmare is over."
Arun District Council - Re-cycling - "We have been working hard to keep refuse and recycling collections as close to normal as possible, however today, Monday 30 March, we won't be able to collect kerbside recycling in East Preston, Angmering, Clapham and Patching and parts of Rustington, as we are now working with a reduced task force. We are sorry for any impact this has and ask you to bear with us. You will need to put your recycling bins out for their next scheduled collection in two weeks. We will keep you updated on further collections."
30 March 2020
---
Coronavirus - Update (8)
Meat in The Square write today (Friday): We are unable to take any more orders for this week as we are at total capacity. Orders already placed we are aiming to complete for collection this afternoon (Fri) or tomorrow Sat), and we are trying to let you know when to come as fast as we possibly can. When collecting we are going to try a 1 in at a time, but want to avoid queue's outside, so please be careful and stay 2 metres apart if waiting to collect an order.
27 March 2020
---
Coronavirus - Update (7)
St Margaret's Church has had to suspend all public services until further notice. However, on Sundays and Wednesdays the church will live stream services at 10.00am on the church website - www.stmargaretsangmering.church - and also on the church Facebook page. They invite you to join them for these virtual services.
26 March 2020
---
Coronavirus - Update (6)
Meat in The Square write: "Due to overwhelming orders, requests for home delivery and unpredictable stock we cannot continue to offer a counter service at the moment. Please leave your order on the answerphone, email us or drop a note through the door and we will contact you to arrange collection or delivery in the next few days. To reduce risks to all, only 2 customers to be in the shop at any time." Tel: 01903 771771 - Email: info@meatinthesquare.co.uk
Angmering Sports & Social Club in Decoy Drive has closed until further notice.
Charity Shops - Please do NOT take any items to charity shops and leave them outside their doors as they are closed for the duration and cannot handle them. Hold any such item(s) until the shops re-open again.
Green Waste Club has circulated the following: "Our priority has always been to keep our team safe and well, while ensuring that we provide the best possible service to our customers. In line with current government advice, most of our Call Centre staff are now working from home whilst our Operational team are currently working as normal to collect your waste on the scheduled collection day. However, due to this crisis, you may see some delays which are outside of our control. Please be assured that we are taking steps to minimise the effect of any potential delays."
The Skatepark and BMX track plus the exercise equipment at Mayflower Park are now closed and not to be used until further notice
25 March 2020
---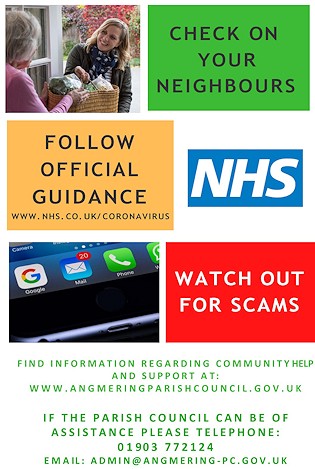 25 March 2020
---
Planning Applications
A/32/20/PL: Erection of 1 No. detached low-profile bungalow with attached garage. This application is a Departure from the Development Plan & may affect a Public Right of Way. White Lodge, Hangleton Lane, Ferring.
Observations on this/these Application(s) must be received by The Head of Planning Services, Arun District Council, The Arun Civic Centre, Maltravers Road, Littlehampton, West Sussex BN17 5LF by 18 April 2020.
To see applications, plans, design statements, etc, type the Application Reference Number (such as those above) into Arun District Council's "Application Search Facility ", click on the Search button, and click on the hyperlink reference when selected application is returned - then select "Documents".
25 March 2020
---
Coronavirus - Update (5)
Following the Government's tightening of restrictions from today, Angmering Framing & Stitches and Juna Home & Garden both announced that they are now closed until further notice. The Barbers Lounge has also closed
If you need assistance with such things as collecting supplies/picking up prescriptions/friendly chat on the phone/posting a letter please contact the Angmering Parish Council office on 01903 772124 or email admin@angmering-pc.gov.uk and they can help or put you in touch with a volunteer from the village. If you are able to volunteer please also contact the office and they can hold your details for when help is needed.
Haskins Garden Centre is now closed until future notice.
Big Fry has now closed until further notice.
24 March 2020
---
Coronavirus - Update (4)
All Household Waste Recycling Sites (HWRS) across West Sussex are now closed until further notice due to the current Covid-19 situation. This is to reinforce the need for social distancing, protecting staff and highway safety. At the present time, household recycling and waste collections continue as normal across West Sussex.
The Government has issued advice about disposing of rubbish should you have a confirmed or suspected case of Covid-19 in your household. Used tissues and disposable cleaning cloths should be put into a rubbish bag. The bag should then be put into a second bag and tied securely. You should then wait 72 hours before putting it in your outside bin. You are able to dispose of other household waste as normal.
Jeffrey's Hairstylists & The Beauty Room has closed from today (Monday 23rd) until further notice.
Meat in the Square - "The shop will be open from 9.30 - 2.30 Tuesday to Friday (stock allowing). The first hour we would like to reserve for the most vulnerable customers so if you can come later please do. 2.30pm - 430pm collections by those self- isolating but able to collect their orders and as many home deliveries as we can manage. Saturday 8.30am - 2.00pm - normal service (no deliveries). To reduce risks to all, only 4 customers to be in the shop at any time. Please help us to help you! NHS Frontline Staff and Key workers who cannot make these times please contact us by email to organise how we can help you"
Maverick Hair Studio closed this evening (Monday 23rd) until further notice.
23 March 2020
---
Supermarket priority opening times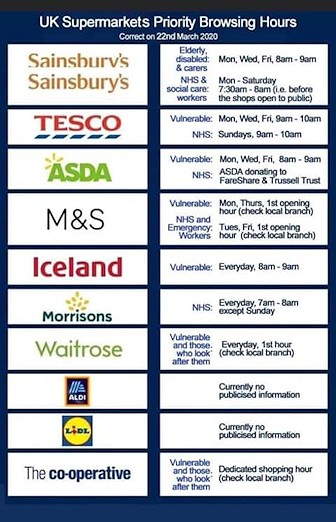 Co-op Angmering : dedicated daily shopping hour - between 9.30am and 10.30am - for the elderly and vulnerable
23 March 2020
---
Coronavirus - Update (3)
Buses - From now, and for the duration of the outbreak, residents can use their passes prior to 9.30am on weekdays. There is no time limit anyway at weekends. All bus pass holders are urged to follow Government guidance on social distancing when travelling on public transport.
Public Houses in Angmering - All are now closed.
Tea in the Square - has now closed.
Bengal Tandoori (Downs Way) - restaurant closed but they are now doing a free delivery service. (see our Traders Directory for contact details or check their Facebook page for menu)
Roundstone Farm Shop are only taking orders for fresh fruit and veg. By all means ask for eggs, milk, bread, pasta and tin foods and if they have it they will include it. All orders will be made up and ready for collection the following day. Please let them know what you require and the amounts. Tel: 01903 366696 - Email: roundstonefarmshop@hotmail.com
Lloyds Pharmacy - Revised opening hours: Mon - Fri: 9.30pm to 5.00pm; Sat: 9.00pm to 4pm. Within these times pharmacy will be closed between 1.00pm and 2.00pm (Mon - Sat). They have introduced a waiting zone 2 meters from the counter for patients to wait behind to be served.
22 March 2020
---
Coronavirus - Update (2)
The Angmering Community Centre has today issued the following statement:
In the light of Government advice and consideration for our staff and clients, The Board of Trustees for the Centre have taken the difficult decision to close the Community Centre after the last class Friday 20th of March 2020. Most of the current classes have been cancelled already by those organising them so we hope the impact of the closure is minimal on everyone. The closure will remain in force until April 30th 2020, when the Trustee's will review the situation after taking into consideration the current Government advice at that time. We recognise that the Centre is an important hub for our Community, and we regret any inconvenience that this may cause. If you have need to make contact with regards to the Centre for whatever reason, please email as we will be monitoring the emails and post. If at all possible, please can you pay any invoices by Bacs. We look forward to welcoming you all back to the Centre as soon as possible.
The Co-op store in the village now has a dedicated daily shopping hour - between 9.30am and 10.30am - for the elderly and vulnerable in the community to enable them to "complete their regular shop". The shop will now shut at 8pm every night until further notice. Wherever possible, they are encouraging people to make contactless card payments (cash will still be accepted)
Tea in the Square has posted:
Just to let customers know that we are making all efforts to remain open during the Covid-19 pandemic and will remain open as long as we are permitted to. We have freshly baked Victoria sandwich, coffee & walnut and lemon drizzle cake plus homemade viennese whirls and bread pudding. Tomorrow (Saturday 21 March), due to popular demand, we will be baking cheesy marmite scones and taking orders tonight. Please let us know if you would like to collect some tomorrow (Saturday) from 11am onwards. Tel: 07958 109106
Big Fry is open as usual but requests contactless card payment if possible to avoid the handling of money.
The Spotted Cow has closed its restaurant but is continuing to serve drinks.
Meat in the Square are offering some daily delivery options. Shafiques delivers daily between 5pm and 10pm. (see our Traders Directory for contact details)
Angmering Framing and Stitches, Juna, and Cloudberry Boutique are all offering a free local delivery service. As indicated in an earlier update, Cloudberry have shut their shop but their internet business is still operational. (see our Traders Directory for contact details)
Roundstone Farm Shop is still open but their tea shop has closed.
Maverick Hair Studio is offering a 20% discount to students and NHS workers.
20 March 2020
---
Coronavirus - Waste Disposal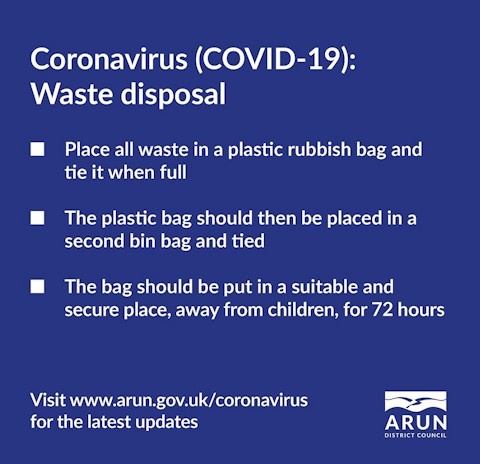 20 March 2020
---
More houses approved
At Arun's Development Control Committee meeting last week, a further 160 homes were approved for construction in Angmering. These will be built by Gladman Developments Ltd on land on the west side of Arundel Road which would also include the present New Place Nursery commercial site. The development would provide 1,393 square metres of commercial floorspace and land for new sports pitches and include planned improvements to the Palmer Road sports hub. The existing business units would be demolished as part of the scheme.
18 March 2020
---
Coronavirus - Update (1)
There are changes at Angmering Medical Centre. In view of the developing circumstances surrounding the spread of Covid-19 and in line with NHS England policy, you will not be able to book routine or face to face appointments for the foreseeable future. All health concerns will be dealt with using their telephone triage system and they may offer video consultation. Face to face appointments will only be offered after speaking to a clinician. If you have a fever or new cough please self-isolate for 14 days and use 111 online for further information. Please download the NHS app to order prescriptions online or post the request in Centre's letter box.
Here are some businesses or organisations that will not be open or meet until further notice:
West Sussex Libraries (including Angmering) - Libaries are automatically renewing everything from 17 March and will continue to do so for all the time that libraries are closed. This will include 7 day loans and books that have been requested by other customers. You do not need to phone the renewals line to stop your books and other items from going overdue and you will not incur any late charges or fines for the period that we are closed.
Arun U3A activities
Cloudberry Boutique - Shop in village has temporarily closed but online business is still operational at www.cloudberrybags.co.uk
Angmering Horticultural Club
Angmering Short Mat Bowls Club
Angmering Table Tennis Club
St Margaret's Church - All church services and events are on hold until further notice. However, you will be able to watch an online broadcast "service" at 10am on Sundays via their website at www.stmargaretsangmering.church or their Facebook page.
18 March 2020
---
Coronavirus - Social Distancing
KEEP A MINIMUM DISTANCE OF 2 METRES FROM OTHERS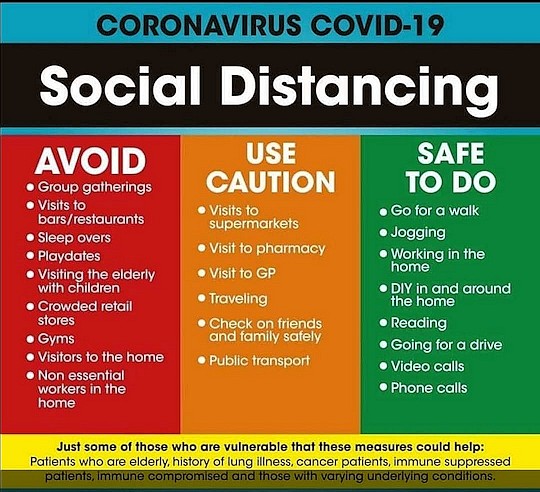 18 March 2020
---
2020 Flower & Produce Show
Time to start planning your entries and planting schedule! The Angmering Flower & Produce Show Committee has advised that the Blake family has again kindly agreed for their gardens at Pigeon House, High Street, to be the venue for this years' show. It will be held on Saturday 25 July between 2pm and 4pm. Schedules with details of how to enter will shortly be available on the Committee's website and at outlets around the village.
5 March 2020
---