Angmering Village Life
News Archive
July 2019

Angmering Events this weekend - 20th/21st July
APC Fun Dog Show
Saturday 20th July - Mayflower Park, Bramley Green (south), 11am to 4pm - Admission: Free
6 classes to enter your Doggies in, numerous children's activities such as a bouncy castle and inflatable assault course, free face painting and balloon modelling,raffle, craft stalls and food/drink stands. Spirit FM's DJ Stuart McGinley will be broadcasting LIVE from Mayflower Park between 11:00 – 15:00
Angmering Garage Sale Trail 2019
Sunday 21st July - All around Angmering - From 10am.
More than 30 sale locations throughout the village. Many residents will offer refreshments, home baked cakes as well as all those unique Trail Sale finds. Ssomething for everyone!
19 July 2019
---
Bees Needs Week 2019 - Angmering Station
County Councillor Deborah Urquhart, Angmering & Findon's County Council representative, and WSCC Cabinet Member for the Environment, this afternoon (Friday) came to Angmering Station to congratulate the Friends of Angmering Station partnership on their wonderful flower displays. This also celebrated Bees Needs Week 2019 which is a week long campaign from 8-14 July by DEFRA to help raise awareness of bees and other pollinators and the highlighting of West Sussex County Council's new Pollinator Action Plan, which encourages residents to help preserve the habitats of pollinators like beetles and butterflies.
The Friends of Angmering Station is a partnership of Govia Thameslink Railway (GTR), station staff, Art for All, Men in Sheds and other local volunteers. Children from Georgian Gardens School, Rustington and one of their teachers and partnership chair, Deidre Carolin, who have been deeply involved with the project, were at the station today to hear Cllr Urquhart praise the children and the partnership for all their efforts. Mrs Carolin also thanked Men in Sheds for providing the substantial wooden flowerbed surround. The children were all given a bag containing WSCC information on recycling and Mini Wildflower Meadow seeds to help bees and other insects carry out the vital process of pollination. Also at the gathering was Samantha Lear, the Environment Manager at GTR and Angmering Station staff.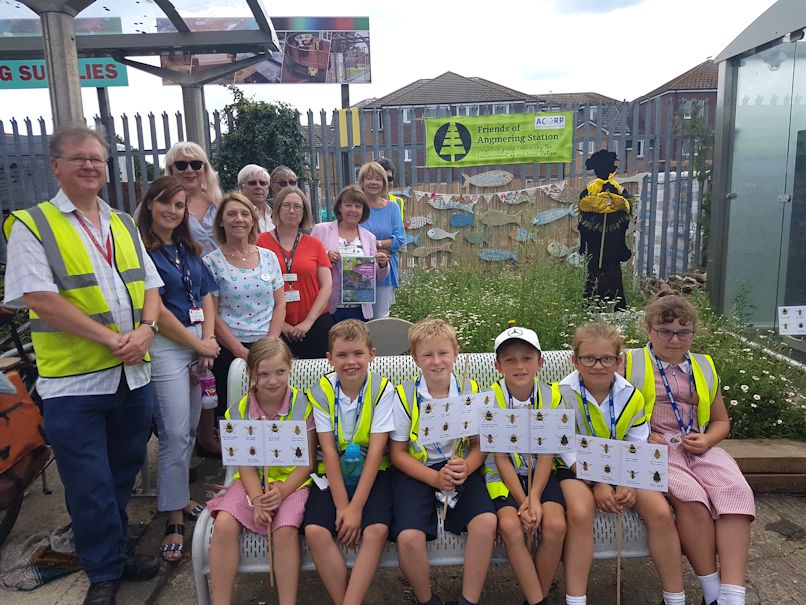 In congratulating the partnership on the success of the project Cllr Urquhart said: "Hopefully this could lead to the replication of gardens on other stations throughout Sussex".
12 July 2019
---
Events this Saturday - 6th July
Garden Party
The Tree House, Honey Lane (off High Street) - 10am - 5pm. Admission: Adults £2; Children free. In aid of Cancer United.
Art Exhibition (a selection of artwork by over 20 artists to view or buy). Tombola, licenced bar, food, drink
Angmering Village Flower and Produce Show
Pigeon House, High Street - 2pm - 4pm. Admission: Adults £1; Children 50p (Teaa/Coffee included in entry price)
View the show entries, various stalls, have a tea and scones, plants for sale, raffle, craft stall, homemade cake stall.
04 July 2019
---
Snippets from the draft minutes of Angmering Parish Council's CLEW Committee Meeting on 26 June 2019
Blenheim Play Area, Bramley Green
Out of the 100 letters that the office sent out to the surrounding houses at the Blenheim Play Area, 22 were returned and a decision is now needed on what to do with the area as there was no common theme. A discussion took place. The option of a wildflower garden was discussed but A.I.B explained that it would be extremely difficult to maintain. Cllr N Hamilton-Street suggested all play equipment and fencing be removed and the area be made into a green area with seating. All present agreed that this was be best option. Tracy Lees advised that a letter would be sent to all 100 houses to make them aware of the decision and should they strongly object to let the office know by a set date..
Parish "Thank You" letters
The letter is to thank members of the public that have gone above and beyond for the Village. A card painted by a local artist and produced by the APC Office will accompany the letter. All present agreed with the wording and that the letter will be signed by the Clerk and the Chairman of Angmering Parish Council.
Volunteers List
The APC Office would like to produce a Volunteers Form for future APC Events which in turn would allow for a database of volunteers to be kept (This will be GDPR compliant). This is to be trialed at the APC Fun Dog Show.
Angmering Library Garden
Angmering In Bloom have met with Angmering Library regarding their garden with the view to create a local Community Project to plant raised borders etc. Hopefully this will raise awareness and increase the footfall to the Library as well.
VE Celebrations - May 2020
This event will commemorate the 75 years of victory in Europe, many ideas of how to celebrate were discussed. Cllr. M Jones suggested a street party on Fletchers Field, Cllr. A Evans suggested a community event that is not commercial. The Twinning Association to be advised we are considering this and to ask for any ideas. Cllr. N Hamilton-Street requested that the APC Office ask for suggestions on Facebook for ideas on what the village would like to see happen.
The full Minutes can be read here
04 July 2019
---
Another massive housing development in Angmering
Arun District Council this week approved a planning application for another 525 new homes in Angmering. The 33-hectare site to the east of Dappers Lane, is to be developed by Rydon Homes and Gleeson Strategic Land Ltd and includes three hectares of employment land as well as play areas and ten hectares of open space. Some 158 of the homes – 30 per cent – are stated to be "affordable".
In addition to the new homes, the work will see a roundabout built at the junction of Water Lane and the A280, improvements to the junction of the A280/Titnore Lane/A27 roundabout, and plenty of footpath and cycleway improvements.
Rydon and Gleeson have also agreed to pay approx. £7.5m in contributions for infrastructure improvements, including policing, transport, health and sport, as well as a substantial amount toward a new primary school in the south of the village.
04 July 2019
---