Angmering Village Life
News Archive
April 2019

Angmering - Really in Bloom!
Many thanks to Bill Barwell for sending me a number of lovely photos of the cherry trees at the Village Hall which he took yesterday (Thursday 25 April). A carpet of pink petals! Here are a couple which we hope you will enjoy: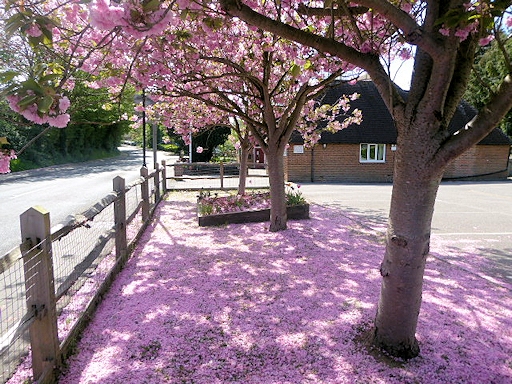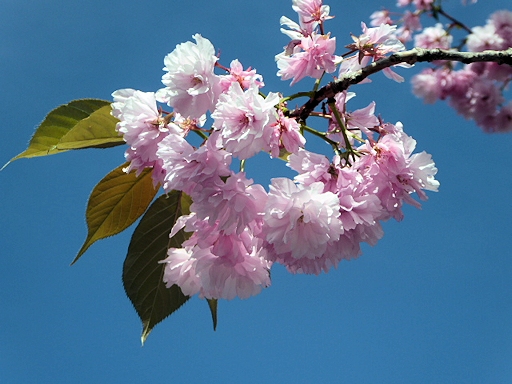 What a contrast to the destruction of trees and the desolation on the A259! (see news article and photo of 2 March 2019)
26 April 2019
---
Snippets from the draft minutes of Angmering Parish Council's Meeting on 8 April 2019
Parking in The Square
Cllr. Marsh raised the question re parking bays outside of the shops within Angmering Village centre, particularly the disabled bay. He asked why there never seems to be traffic wardens in this area. A discussion then took place with reference given to the size and location of the bays as well as the line markings being worn away. Angmering Parish Council Office (Office) will Office check if the disabled bay has been re-marked. Cllr. Cooper promised to take all the points raised back to Arun District Council (ADC) to see if anything could be done. He also stated that he understood parking was at a premium in the Village but if more people could register their concerns re the lack of parking direct with ADC this would highlight the problem to them even more.
Chandler's old site
New plans and drawings have been produced and sent out to all Councillors. Various questions including footpaths, parking, bin collections and the look for the new Parish Council Office were raised. A lengthy discussion then took place.
Fletcher's Field Play Park
It was commented that this Play Park is probably the most used park in the Village, this has been acknowledged by ADC. After the discussion it was PROPOSED by Cllr. N Hamilton-Street SECONDED by Cllr. R Evans and AGREED by ALL to request that ADC replace the play park to our specifications before APC would agree to take this over.
The full Minutes can be read here
24 April 2019
---
Snippets from the draft minutes of Angmering Parish Council's CLEW Committee Meeting on 27 March 2019
BMX Event
The BMX event will take place on Sunday 1 September 2019.
The Parish Assembly
The Parish Assembly is taking place on Thursday 30 May 2019 between 18:00 - 20:00 at St. Margaret's Church Hall. A list of Clubs and Associations is being compiled in order to invite them to attend.
Angmering Fun Dog Show
The Angmering Fun Dog Show will take place on Saturday 20 July 2019 at Mayflower Park. Cllr Jones gave an overview of the event and they type of stalls and Associations that would be attending. A discussion took place regarding the charity money and who should receive it; this will be agreed at the next meeting. A budget of £3,000.00 has been given to this event. A member of the public asked if there would be an entry fee, Cllr Jones explained it was a free day for the public.
WW2 Commemortions
lnformation received from SALC regarding the events being held for the 75th Anniversary of D Day on the Thursday 6 June 2019 and the 80th Anniversary of the outbreak of World War 2 on Tuesday 3 September 2019 were discussed. Cllr Bicknell asked about the dates and was advised the dates remained fluid at present. Cllr R Evans suggested we support the D Day celebrations due to the fact that we are twinned with a liberated town via the Twinning Association. It was proposed that a gathering could take place at the War Memorial on Thursday 6 June 2019. The Office will register our interest to take part. All agreed that the Twinning Association will be invited to attend the celebration.Office.
Blenheim Play Area, Bramley Green
The state of the Play area was discussed. It is at a stage where it either needs to be removed, replaced or consider a change of use. The damage is due to wear and tear and its age. An example survey to be given to local residents was presented to committee, a lengthy discussion then took place. The Chairman advised that a consultation was previously done on all the play areas but had received low feedback and engagement from the community despite different approaches. The Chairman explained that this area was originally meant for pre-school age children and as there aren't any children of this age range in the area, we should consider different options, hence the survey to understand what local residents would like to have. The surveys will be sent out over the next couple of weeks with a return date in time for the Office next meeting at the end of May.
The Angmering Dog Walking Scheme
The possible sites for the trial of 10 Dog Bag Dispensers was discussed. The Office asked members of the public, dog walkers and local residents where they would like to see these located. The proposed sites fit a number of walkways suitable for all. Based on feedback received from other Councils the introduction of Dog Bag Dispensers showed a great reduction of dog fouling. Cllr R Evans suggested a Dog Walker could adopt a Dog Bag Dispenser of their choice and would be responsible for filling it up, this was agreed by all present. A member of the public suggested that we should look less at open spaces and more at walkways. Cllr A Evans suggested that when the bins are full that members of the public contact us. Arun District Council will be contacted to support a Söcial Media campaign on what is and what is not acceptable. The Office is hopeful that the Green Dog Walking Scheme may be able to install the 10 Dog Bag Dispensers them free of charge, the Office to chase this. After a discussion it was PROPOSED by Cllr. Jones, SECONDED by Cllr. Bicknell and AGREED by ALL that the locations for the 10 bins were correct. The 10 dispensers will be on a 6-month trial basis and if successful further bins would be considered.
The full Minutes can be read here
24 April 2019
---
Parish Council Elections - 2 May 2019
District Council and Parish Council Elections are being held of 2 May 2019. As far as the main part of Angmering (i.e. north of the A259) is concerned, there are 13 Candidates standing for 11 seats. The names of the candidates are as follows:
BICKNELL, Paul Andrew
EVANS, Alan Wyn
EVANS, Rhys Mark
HAMILTON-STREET, Lee
HAMILTON-STREET, Nikki
HARRIS, Norma
HILL-SMITH, Mike
JONES, Mike
MARSH, David
MOUNTAIN, Steven Charles
OLDFIELD, John Edward
VERRINDER, Sylvia Gladys, Maude
WOODASON, Sharlan Kerry
I was asked today whether the candidates had published anywhere the reasons for their standing for a position as parish councillor to which I replied that a number had posted their "manifestos" on the Angmeing Village Facebook page. I am aware, however, that many Angmering residents do not have and neither wish to have a Facebook account. Accordingly, I have cut and pasted (without any alterations) all the "manifestos" into a PDF document and this can be viewed here.
22 April 2019
---