Angmering Village Life
News Archive
February 2019

Moped seized
Following several complaints from residents in Angmering about mopeds being driven in an anti-social manner, over the weekend - as a result of calls - police seized a moped under Section 59 of the Police Reform Act. The rider had previously been issued a warning using this legislation but continued to ride anti-socially. All such anti-social driving/driving incidents should be reported to the police under Operation Crackdown. http://www.operationcrackdown.org/
28 February 2019
---
Market this Saturday
Angmering Twinning Association are holding a Craft & French Flea Market in the Village Hall this coming Saturday (16th February) from 10am to 2pm.
A number of local charities and small local craft & other businesses will have stalls and these include:
Hand-knitted goods, plants, greetings cards, fused glass & mosaic crafts, fabric bags & cushions, jewellery, soft toys, bric-a-brac, books, RNLI & Lavinia Norfolk Centre charity stalls, a Cancer United Tombola, and a French Raffle!
Further, there will also be a locally-produced Vegan food stall and light Refreshments.
13 February 2019
---
Village shops create new website
The shops and businesses in the centre of Angmering village have set up their own FaceBook website page which can be viewed at https://www.facebook.com/angmeringvillageshops . This is a great way of telling villagers (and those further afield) what's new in their establishments and if there are any special offers - it's effectively a "one-stop portal" to Angmering's wonderful diverse shops and services.
You do not necessarily need to be signed up to FaceBook to see the page. After clicking the above link, press the "Not now" link when asked whether you want to sign in or create an account will enable you to see and scroll down the whole page. If you do have a FaceBook, be sure to give their page a "Like".
Businesses currently signed up to this initiative include: The Lamb ~ Gastro Pub & Rooms, The Enchanted Florist, The Barbers Lounge, Angmering Framing & Stitches, Graham Butt ~ Estate Agents, Juna Home & Garden ~ Interiors, Bespoke Furniture & Gifts, Mavericks Hair Studio, Cooper Adams ~ Estate Agents, Big Fry ~ Fish & Chips, Tea In The Square ~ Vintage Style Tea Rooms, Jeffreys Hair & Beauty ~ Hairdressers & Beauty Salon, Meat In The Square ~ Butchers, Cloudberry ~ Ladies Fashion, Home Fragrance & Gifts, Fitzalan House Veterinary Practice
9 February 2019
---
Angmering Road Works for week commencing Monday 11 February
Station Road - Remedial measures to the traffic calming scheme in Station Road by the north entrance to North Drive will commence sometime between Monday 11 February and Friday 15 February. Multi-way signals will be in place.
A259 - Readers are reminded that A259 Vegetation Clearance between Station Road and Haskins Garden Centre Roundabout (essential preparation work prior to major improvement scheme) will commence on Wednesday 13 February and is programmed to continue until mid-May. Minimal traffic control should be needed, so it is hoped there will be little impact on traffic flow.
9 February 2019
---
Notes from the draft minutes of Angmering Parish Council's CLEW Committee Meeting on 6 February 2019
Corner of Station Road and A259
Land to be cleared, levelled and tree stumps removed at a cost of £600
Verges at Nursery Road corner of Ashmore Close corner
Clearance and turfing to be undertaken at cost of £540.
Dragons teeth at Community Centre recreation area
84 dragons teeth to be replaced at cost of £2180.
The full Minutes can be read here
9 February 2019
---
Car hits Co-Op wall
A pale blue Honda Jazz automatic using the disabled bay outside the Co-Op in The Square, appears to have shot forward and hit the corner of shop's wall. The accident, which occured early this afternoon (Friday), left oil and petrol leaking from the vehicle. An ambulance, police, and the fire services attended the scene and sand was deployed to soak up the spillage. The ambulance left the scene at 3.15pm but it is unknown whether the lady driver was injured although it is understood she was able to walk with paramedics into the ambulance. The car was eventually loaded onto a recovery vehicle and was taken away at 3.45pm.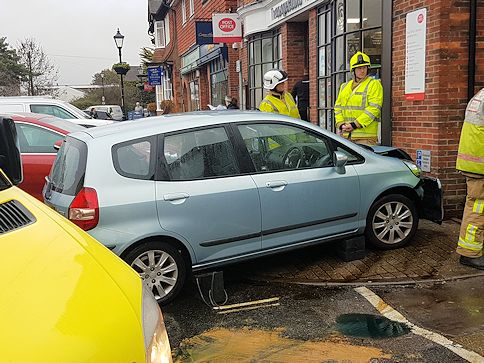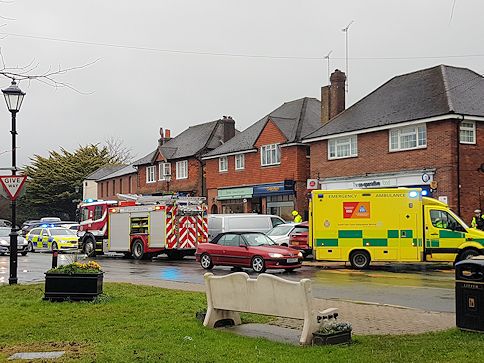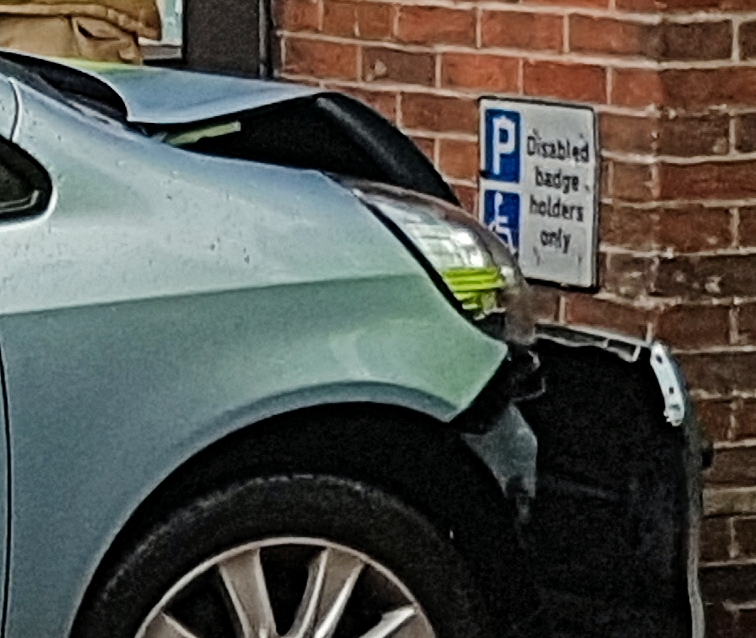 Photos copyright Angmering Village Life, 2019
8 February 2019
---
Angmering Planning Applications
A/8/19/HH - Two storey side extension, loft conversion, enlargement of parking area and crossover at 16 Arundel Road. Applicant: Mr Anthony Perella .
A/9/19/PL - Demolition of existing dwelling & erection of a 62 bedroom care home (C2 Residential Institution) with car park, landscaped gardens & access from Roundstone Lane (resubmission following A/51/18/PL). Pound Place, Roundstone Lane. Applicant: Hallmark Care Homes .
A/12/19/HH - Conversion of detached garage loft space to become studio with rear part pitched roof dormer and external staircase with screening (Resubmission of A/116/18/HH) at 6 Ashmore Avenue. Applicant: Mr & Mrs R McDonald .
Observations on this/these Application(s) must be received by The Head of Planning Services, Arun District Council, The Arun Civic Centre, Maltravers Road, Littlehampton, West Sussex BN17 5LF by 28 February 2019.
To see applications, plans, design statements, etc, type the Application Reference Number (such as those above) into Arun District Council's "Application Search Facility ", click on the Search button, and click on the hyperlink reference when selected application is returned - then select "Documents".
6 February 2019
---
Snow!
About 1cm of snow fell and covered central Angmering last night but, by dawn, the thaw had already started to set in. These photos were kindly sent in by Bill Barwell which illustrate how quickly the snow started to melt.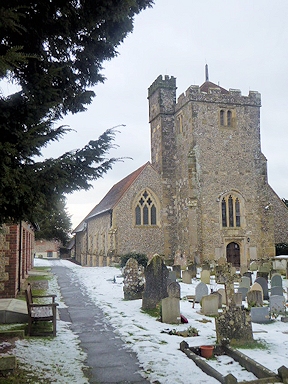 ..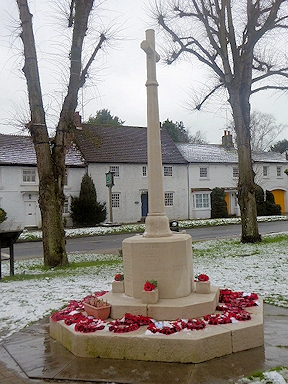 ..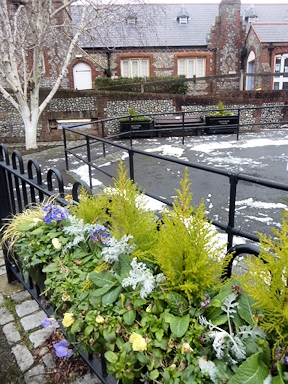 1 February 2019
---