Angmering Village Life
News Archive
November 2018

Charcuterie Evenings return for December
Tea in the Square are resuming their popular Charcuterie Evenings during December and tables are currently available for 6th, 13th, and 20th of the month (7pm -10.30pm). Tables are bookable and the cost is £10 per head for a platter of cured meats, cheese, pate and bread, payable in advance plus wines, prosecco, cider and lager available to purchase on the night. We understand there will a bit of a Christmas twist to the meals! Get a group of friends together for a fun evening.
Their soup this week (available during normal daytime opening hours) is a creamy sweet potato and red pepper soup served either in a bowl with a baguette and butter for £4.50 or a larger portion served inside a cob loaf for £5.50. The soup in cob loaf looked delicious when we saw one this morning (Thursday)!
29 November 2018
---
Village Hall Christmas Market
The annual Village Hall Christmas Market has for many years been one of the principal events at this seasonal time and attended by villagers of all ages. This year, the Market will be held at the Village Hall this coming Saturday - the 1st December - between 10am and 12 noon.
The will be numerous stalls and attractions including a tombola, silent auction, cakes, raffle, craft stalls, good-as-new toys, seasonal gifts, refreshments. The Silent Auction has always been of particular interest but this year it is likely to be even more so because of the quality and diversity of items available for bidding. These include: an Audi R8 Remote Control car, a Cardinal 73RM Match Fishing Reel, Three Free Sessions for Primary School age children with Charlotte Reader Street Dance, a month's free membership at Lanes Health Club, and a game of bowling for two people at Out of Bounds as well as many other items.
26 November 2018
---
Snippets from the draft minutes of Angmering Parish Council's Meeting on 12 November 2018
Honey Lane
Several members of the public spoke on behalf of the residents from Honey Lane. A report was given on the state of the road, pot holes being of great concern and the lane braking up due to bad weather; the risk of flooding was also commented on. A lengthy discussion then took place and questions were asked re the possibility of funding to put the situation right and what the next steps are. The Chairman advised that Angmering Parish Council (APC) were waiting for specialist reports on the value of the allotments to come back and until these reports were received APC could not comment. APC would hope that they can report back at the next Parish Council meeting to be help on 10 December.
Committee Clerk
Claire Fullman has tendered her resignation. Her last working day will be 30 November 2018. The Clerk advised that a report will be presented at the next Governance meeting on 15 November 2018 regarding the plan to replace this role. The Chairman wanted it minuted that the Council would like to thank Claire for her commitment and service over the past 7 years and gave special recognition for her work on the Black Ditch and the many community events over the years.
New Councillor
The Chairman welcomed co-option candidate Alan Evans to the meeting. The Chairman asked Mr Evans to explain why he wanted to become a councillor, which he did and he also confirmed that he is a local resident. He welcomed a chance to participate in local affairs with an aim to improve the village. Mr Evans commented that if co-opted he would like to discuss how the agenda is run and it was discussed that informal meetings could be reinstated. 4 On a proposal by Councillor Harris, seconded by Councillor Marsh: That Alan Evans be co-opted as a Parish Councillor – unanimously AGREED.
Additional camera for Community Centre
The Clerk made reference to supporting papers that had been circulated containing the quote for the additional camera. The Chairman questioned if we have a liability to undertake this work. Cllr. N Hamilton-Street raised the point that we have had a lot of requests over the past few months and asked if we should be looking at a refurbishment plan rather than on an ad hoc basis. A discussion then took place and it was agreed by all that a review should take place on all potential work that may be required over the next 3 years. It was agreed by all that a letter should be written to Angmering Community Centre asking for an overview of all potential works/refurbishment plan needed over the next 3 years.
Bramley Green "dragon's teeth"
The Clerk made reference to the three quotes that had been supplied in the supporting documents. A discussion then followed and it was agreed by all councillors present that we should look at long terms options, possibly 20 to 30 years and review costs to replace all Dragons Teeth at once.
The full Minutes can be read here
24 November 2018
---
Notes from the draft minutes of Angmering Parish Council's CLEW Committee Meeting on 31 October 2018
Chandlers's site
APC would ask Chandlers BMW to clear the overgrown site.
Christmas Lunch
The Committee agreed to donate £150 toward the East Preston organised lunch for elderly/single parishioners.
Twinning Association sign
There was no agreement about this but will remain on the agenda for the next meeting together with the proposed "Village Gates".
Bramley Green verges
It was agreed to engage a contractor to clear the verges and re-turf/seed as necessary.
The full Minutes can be read here
24 November 2018
---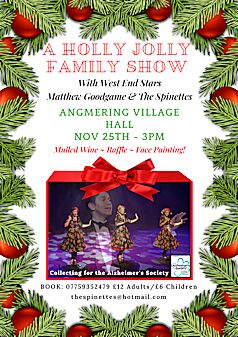 Family Christmas Charity Show
The Spinettes and Matthew Goodgame are returning to Angmering for the 3rd year running, bringing you an afternoon of Song, Dance, Laughter and a whole lot of Christmas Spirit for all the family!
Globe Trotting Retro Trio - The Spinettes - and West End Star Matthew Goodgame, currently performing in The West End Revival of 42nd Street, will bring you all the classic Christmas songs we all know and love in their production "A Holly Jolly Family Show". The Show will take place in Angmering Village Hall on Sunday 25 November commencing at 3.00pm (doors open 2.15pm).
Matthew and the girls will continue to raise money for The Alzheimer's Society and hopefully by the end of the year they will have reached their target of £10,000.
There will be Mulled Wine and other refreshments available as well as Children's Festive Face Painting. There will also be a Raffle during the show and all the money raised will go straight to The Alzheimer's Society.
Tickets cost £12 (adults) and £6 (children) and, from past experience we can guarantee that you will come away with a really warm feeling after the performances of these slick and friendly professional performers.
So, don't delay, book your tickets now to avoid disappointment by phoning 07759 352479 or email thespinettes@hotmail.com
.
.
14 November 2018
---
Hatha Yoga Sessions in Village Hall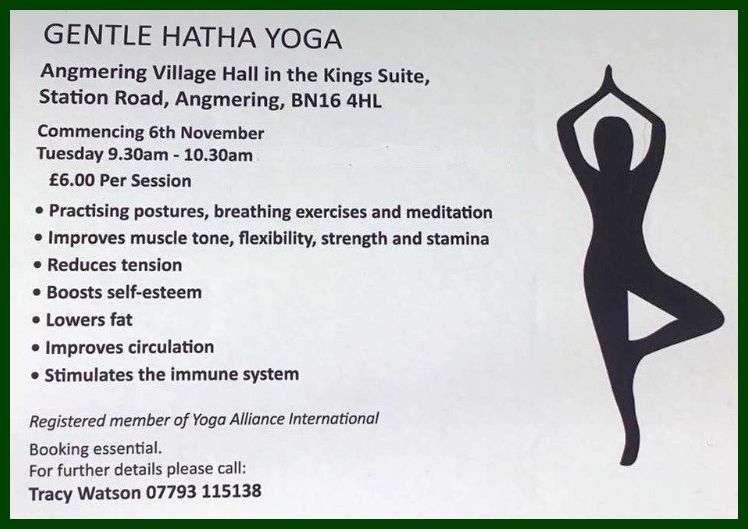 12 November 2018
---
New bespoke travel agent launches business in Angmering
A new kind of travel agent has opened for business in Angmering, one that specialises in a highly personalised service and genuinely cares - that's why the business is always available 24 hours a day, 7 days a week for its customers.
Local woman, Sally-Jo Asser, joined multi award-winning independent travel company Travel Counsellors in October, a business with more than 1,800 personal Travel Counsellors providing first-hand expert travel advice across the globe.
Travel Counsellors has been named as one of the most inspirational companies in Britain according to the London Stock Exchange Group; and listed in The Sunday Times HSBC International Track 200 for the fourth time, ranking Britain's mid-market private companies with the fastest-growing international sales. This is because Travel Counsellors is not like any other travel company - it operates on a unique home-working model, enabling Sally-Jo to speak to customers at the most convenient time for them, even if that's 11pm on a Tuesday or 7am on a Sunday morning when other travel agencies have their shutters firmly closed
Sally-Jo has cutting edge technology at her fingertips, which allows her to search through literally thousands of suppliers and holiday products in a matter of minutes to find the best options for the customer at the most competitive price so she can tailor-make perfect travel experiences each and every time.
Sally-Jo said: "I am delighted be part of Travel Counsellors to bring a totally new kind of service to Angmering and the surrounding area. The in-house technology available to me is incredible - better than anything I have used on the high street - and means I can search through thousands of holiday options for my customers at the best prices. Many people don't have time to talk or even think about their holiday during the working week and that's where I come in! I am available when it suits them and I can take all the hassle out of the booking process…all they have to do is enjoy themselves. I think my customers will really value the personal, caring service and attention to detail I'm offering as a Travel Counsellor - you can't get that online."
For more information or to discuss your forthcoming travel plans contact Sally-Jo Asser on 01903 550031 or e-mail sally-jo.asser@travelcounsellors.com.
12 November 2018
---