Angmering Village Life
News Archive
September 2018

Riders 'tear up the track' at Angmering BMX Fun Day
BMX riders and their families flocked to the BMX Fun Day at Angmering's BMX Track and Skate Park on Sunday, 9 September to 'tear up the track' and to watch international free style BMX rider GT Bicycles' Jay Cowley and a national race team in action.
Riders aged four upwards showed off their riding skills when they competed in the event in Mayflower Way, Angmering, for a chance to win an awesome BMX bike. There were also trophies and medals for everyone taking part.
Parish Council chairman John Oldfield said: "Thank you to everyone who came to the event and to the riders who competed - we saw some amazing talent and it was a fantastic family day out."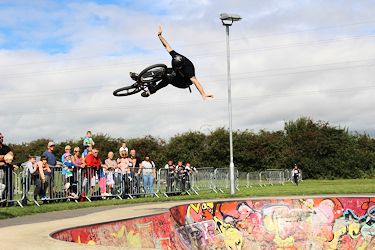 ...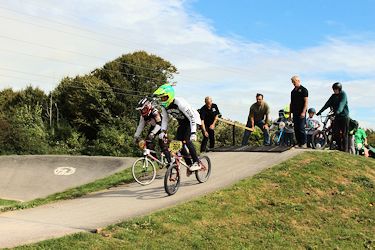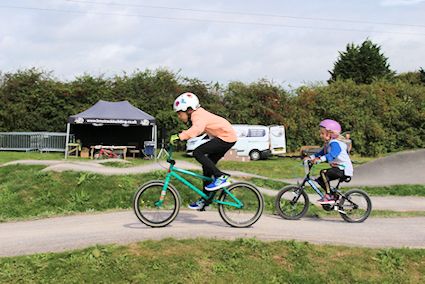 ...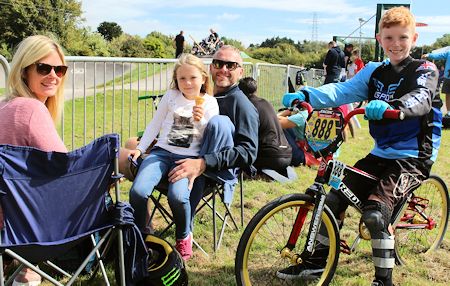 Jay Cowley was joined by Angmering BMX rider Jay Domin, who also rode with him at the last Angmering BMX Promotional Open Day in September 2015. BMX Track Specialist Steve Jenks, who built the BMX Track in Mayflower Park and hosted the 2015 event, was back as event organiser. Sunday's event also featured National Commentator Tony Knot.
The national race team and Jay Cowley (see photo top left) wowed the crowds with their BMX skills at 11.30am before racing kicked off at 1pm, followed by a dirt jumping competition. Judges were Jay Cowley and Dangerous Dave. Trophies or medals were awarded to the top three competitors.
17 September 2018
---
Angmering Heritage Map unveiled
Angmering villagers gathered on the Green on Monday morning (10 September) for the unveiling of a new Angmering Heritage map which has been erected there. The map, an initiative of Angmering in Bloom (AIB), has been some three years in the making and illustrates most of the more historic buildings in the village with a brief description of each.
Angmering in Bloom volunteer Lorraine Wensley, who took most of the photographs on the map, officially unveiled it, expressing her thanks to the WSCC Community Initiative Funding Scheme and to the Angmering Heritage Trust, both of whom had made grants towards the project. She also thanked the artists in Jane Denman's Skyblue Art Group, who had produced paintings of some of the buildings and the many charming small watercolours of local flora and fauna which enhance the map. Lorraine went on to pay tribute to Mandy Armstrong of Arun District Council, the designer of the map, and to AIB volunteer John Goulding, who, with the help of local historian Neil Rogers-Davis, compiled the descriptive captions.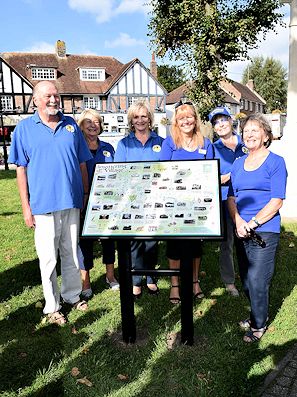 ..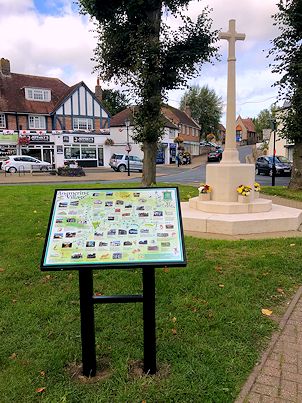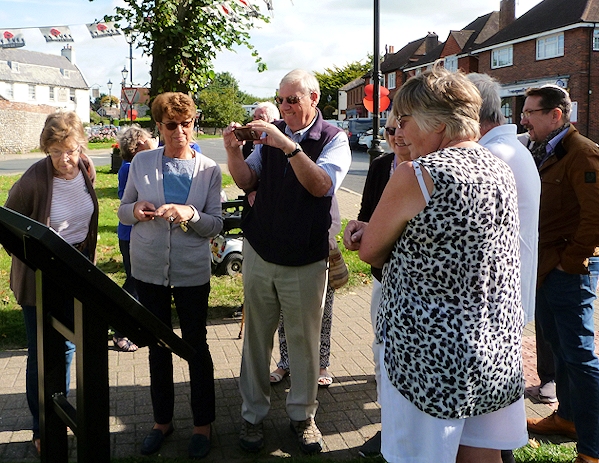 ..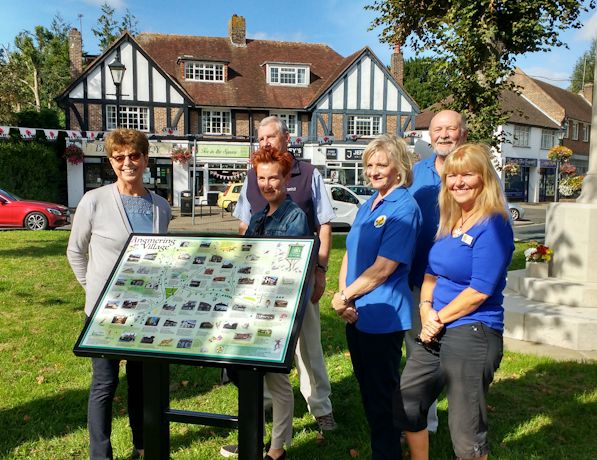 A reproduction of the map in A2 poster form is planned, and details of how to obtain a copy will shortly be available on this website, as well as on AIB's own site at www.angmeringinbloom.co.uk
10 September 2018
---
Notes from the draft minutes of Angmering Parish Council's Meeting on 13 August 2018
Angmering Community Land Trust
The Clerk advised that the Community Land Trust (CLT) is setting up as a completely independent organisation. Finance is needed to take it from the current position of likely to get planning permission to the start of building work is going to take time and require funding, until such time as loan finance can be drawn (sic). There are a number of matters that need to be paid for in that time, but CLT has no funds available. Councillor Lee Hamilton-Street felt that the parish council had a moral obligation to financially support the CLT. The Clerk stated that the parish council had only limited capability to do this and suggested a sum of £5000. Councillor Bicknell seconded this proposal to which all present agreed.
Cedar Trees - St Margaret's Grounds
(Public Consultation) Mr Pearn raised concerns over what species would replace the 45 cedar trees due to be felled in the grounds of St Margaret's church. The arborist report had suggested replacement with English native species, nearly all of which would be deciduous. Such trees would create an annual leaf fall which would build up in the nearby ditch (Black Ditch stream), negating the proposed works to re-profile the ditch and so increase the risk of flooding. Mr Pearn felt that to minimise this problem it would be preferable to replace the evergreen cedars with evergreen species. He suggested spotted laurel, yew, or holly might be suitable.
New Primary School
The Clerk reported that Arun District Council consider the deal to be in place. The developer would pay toward the cost of the BMX park on the preferred site. Cllr Mountain expressed frustration that WSCC seemed not to properly understand who owns and uses the land. We need confirmation that land belonging to WSCC can be transferred to the parish council.
The full Minutes can be read here
10 September 2018
---
Angmering Planning Applications
A/114/18/PL - Demolition & erection of 70 bed care home within Use Class C2 (replacing building 4 approved by A/27/16/PL), access, parking, landscaping and other associated works. Broadlees Dappers Lane. Applicant: Frontier Estates (Mering) Ltd.
A/106/18/PL - Change of use of the Old Bakery to be used as a self contained annexe for family dependents (applicant's parents) & a holiday let, plus the construction of a new vehicle crossover & off-street parking for 2no cars - This application is within the Angmering Conservation Area . Somerset House, High Street. Applicant: Ms J Cleasby.
A/109/18/HH - Proposed boundary fence at 27 Lansdowne Road. Applicant: Mrs J A Rae.
Observations on this/these Application(s) must be received by The Head of Planning Services, Arun District Council, The Arun Civic Centre, Maltravers Road, Littlehampton, West Sussex BN17 5LF by 27 September 2018.
To see applications, plans, design statements, etc, type the Application Reference Number (such as those above) into Arun District Council's "Application Search Facility ", click on the Search button, and click on the hyperlink reference when selected application is returned - then select "Documents".
10 September 2018
---