Angmering Village Life
News Archive
April 2018

Teenager found but one still missing
Sussex Police have reported that the 15-year old Angmering girsl, Chloe Postlethwaite, who went missing the week before last has been found safe and well. However, another 15-year old Angmering girl, Amber Kolliari (right), who went missing at the same time has still not been found. She is 4' 8", of slight build and with very long brown hair. She was last seen wearing a black leather jacket, black top, black leggings and white Nike trainers.Police believe she may be in the London area.
Anyone who has seen Amber is asked to contact police online quoting serial 1258 of 13/04.
20 April 2018
UPDATE 3 MAY: AMBER KOLLARI FOUND SAFE AND WELL
---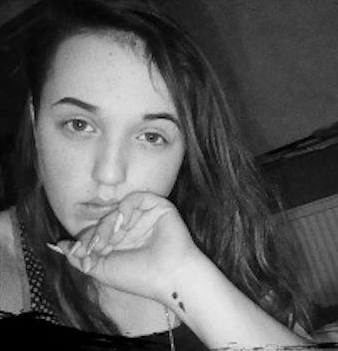 Missing Angmering girl
Sussex Police are appealing for information about a 15-year-old from Angmering who has been missing for the last week. Chloe Postlethwaite (right) was last seen on Friday (April 13) in Angmering but hasn't been seen since and it is believed she may have gone to Brighton, Worthing or still in Angmering. She also has connections in London and uses the rail network to travel.
Chloe is 5' 5" of medium build with dyed blonde hair with brown roots. She was last seen wearing black Adidas leggings, black trainers and a pink top.
Anyone who has seen her is asked to contact police online quoting serial 1258 of 13/04.
20 April 2018
---
Angmering Planning Applications
A/35/18/PL - Car port, flue on west elevation, high level window on east elevation, reduction in width of first floor window on south elevation, full length glazed door with glazed barrier on west elevation & 2 No. smaller rooflights to replace approved large rooflight (amendment to A/210/16/RES). Rood Design Workshops, Roundstone Bypass. Applicant: Mr B Devitt-Spooner.
A/38/18/RES - Approval of reserved matters following outline consent A/51/14/OUT relating to appearance, landscaping, layout & scale for demolition of the existing Manor Nursery Garden Centre & hard standing & redevelopment for 32No. dwellings with associated access, public open space & landscaping. Manor Nursery, High Street. Applicant: Roffey Homes.
A/40/18/OUT - Outline application with some matters reserved for the development of up to 525 residential dwellings (Class C3), 3 ha (gross) of employment land (Class B1), public open space, play areas, access, associated infrastructure and landscaping. Departure from the Development Plan. Land North of Water Lane. Applicant: Rydon Homes & Gleeson Strategic Land.
A/42/18/HH - Demolition of existing conservatory, garage & canopy structure & erection of single storey rear extension at 59 Palmer Road. Applicant: Mr Penn.
Observations on this/these Application(s) must be received by The Head of Planning Services, Arun District Council, The Arun Civic Centre, Maltravers Road, Littlehampton, West Sussex BN17 5LF by 22 February 2018.
To see applications, plans, design statements, etc, type the Application Reference Number (such as those above) into Arun District Council's "Application Search Facility ", click on the Search button, and click on the hyperlink reference when selected application is returned - then select "Documents".
20 April 2018
---
Snippets from Angmering Parish Council's Minutes of Meeting of 9 April 2018
Council's AGM
The date of the Parish Council's AGM had been set for 14 May. No date has yet been set for the Annual Parish Meeting at which members of the public can discuss matters.
A259 Dualling
The commencement date of work on the A259 has been put back to January 2019.
The full Minutes can be read here
20 April 2018
---
Snippets from Angmering Parish Council's CLEW Committee Minutes of Meeting of 28 March 2018
BMX Track Maintenance
The Committee agreed to accept the quotation of £2600 for the maintenance and resurfacing of the track.
BMX Day 2018
The Committee agreed to allocate £5000 to this event to be held on 8 September.
Pippin Play Area Gazebo
It was agreed that the gazebo should be removed.
WW1 Centenery Events
It was confirmed that the Silent Soldier had been ordered. The poppy projection is being looked into.
The full Minutes can be read here
20 April 2018
---