Angmering Village Life
News Archive
January 2018

Snippets from Angmering Parish Council's Minutes of Meeting of 15 January 2018
Angmering Traffic Management Scheme

The Vice-Chairman welcomed Tom Collins of WSCC Highways and his colleagues from Balfour Beatty Living Places to the meeting. Mr Collins gave a brief explanation of the scope of the works, which were due to take place between 12 February 2018 and 4 June 2018. The following matters were confirmed, in response to questions from Councillors, representatives of the Traders' Association, and the public:
• The schedule of works circulated earlier on the date of the meeting was now final.
• Details of the road closure dates and locations would be published on the Parish Council website in the next few days.
• Traffic diversion routes would be clearly signposted.
• Stagecoach had been notified of the forthcoming works and diversions to the No. 9 bus route would be publicised by them in due course.
• Access for pedestrians, occupiers and the emergency services would be maintained at road closure sites at all times; closures would be kept to the minimum possible time needed to carry out works, and would be removed at weekends.
• Vehicular access to Mill Road and Mill Road Avenue in particular would be maintained throughout the planned closure, as the junction with Station Road was the only route for vehicles into and out of these roads.
• Vehicular access to Angmering Medical Centre and the attached pharmacy would be maintained throughout the planned closure, although vehicular traffic might have to use the signposted diversion route to get to the Medical Centre.
• Signs confirming that the village businesses were open as usual throughout planned road closures would be provided by WSCC and Balfour Beatty.
• In the event that particular phases of work were completed ahead of schedule, subsequent phases would be brought forward wherever possible.
• The planned installation of a raised surface at the pelican crossing in the centre of the village was now to be carried out in conjunction with an upgrade to the traffic signals – the dates for this piece of work were not yet finalised.
Old BMW Chandlers' site
Mr Henderson (a member of the public) asked whether there was anything further to report regarding the former Chandlers BMW site. The Clerk noted that discussions were ongoing with the site's owners concerning their intentions for its redevelopment. More would be known on this by the summer.
The full Minutes can be read here
30 January 2018
---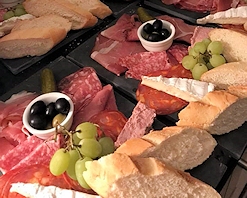 Evening opening proved great success
The trial adults only evening at Tea in the Square last night (Thursday) proved a great success with all seating having been sold and with excellent feedback from those who attended.
Accordingly, the next evening event will be held on Thursday 8 February between 7pm and 10pm. They will again be serving wine, lager and prosecco in a cosy atmosphere - perfect for couples and friends to get together. The charcuterie platters will again be served comprising cold and cured meats and cheeses (available at £5 per person) but these will need to be booked and paid for in advance. If you are interested in attending that evening, please contact Tea in the Square by visiting them or phoning them on 07958 109106 as soon as possible as places will be limited.
It is intended to repeat these evenings once a fortnight (on Thursaday).
.
26 January 2018
---
Classical Guitar Concert in Angmering
Master of classical guitar, Mark Jennings, will be performing the great classic virtuosos at St Margaret's Church this coming Saturday (27 January) at 7.00pm. It promises to be an exhilarating evening of some of the finest music for Spanish and Classical guitar. Mark has performed on Classic FM and on the BBC, His programme will include Tarrega's Receuedos de la Alhambra, Albeniz's Granada, Rodrigo's Adagio, J.S.Bach's great Chaconne, and Cavatina (theme music to the Deer Hunter).
This is a rare opportunity to see one of the best players around today performing in the U.K. Not to be missed.
"Exquisite performance. Bravo." (Classical Guitar Magazine) "Wonderful technique, and captivating musicality." (Yorkshire Post) 'Brilliant Recital.' (Bournemouth Evening Echo)
Mark has been playing classical guitar for most of his life having started lessons from an early age. He attended the London College of Music, studying classical guitar performance with Carlos Bonell. He later had lessons (privately) with Gary Ryan (Royal College of Music), Graham Devine (Trinity College of Music), and Craig Ogden (Royal Northern College). As a student Mark performed in many public international masterclasses, and since leaving music college he has enjoyed performing in many parts of the UK. During the 1990s he combined his enthusiasm for performance with studies at Birkbeck College (University of London) from where he holds a BA (hons) degree in History, Philosophy and Politics. After graduation, his interest in philosophy took him to University College London where he was awarded an M.Phil and Ph.D in philosophy. Mark is based at Christ's Hospital, and continues to have a busy musical life. See also Mark's website at https://markguitarjennings.wordpress.com/
Tickets £12 (£8 for students) are obtainable on the door or by calling 01903-784459. Refreshments will also be available.
22 January 2018
---
Trees in Square to be pollarded
Angmering Parish Council has issued notification that the lime trees on The Green in The Square will be lopped during the week commencing Monday 22 January. No doubt people will comment that the pollarding has been overdone but, based on the previous pruning, they will undoubtedly regain their shape within a couple of years.
19 January 2018
---
Parish Council staff vacancy
Angmering Parish Council, who describe themselves as "a very forward thinking council", have a vacancy for a full time Assistant Clerk on a temporary 6-month contract, with a salary up to £30,000 p.a.
Further details can be found at http://http://www.angmeringparishcouncil.gov.uk/news/entry/job-vacancy-assistant-clerk-6-month-temporary-contract
11 January 2018
---
Consultation on the Main Modifications to the Arun Local Plan (2011-2031)
The Main Modifications to the Arun Local Plan and supporting documents are being made available for representations over a six week period starting on Friday 12 January until 5pm on Friday 23 February. This follows on from the Arun Local Plan Examination hearings held in September 2017.
Representations can only be made on the Main Modifications to the Plan, as opposed to the plan in its entirety. During the period of representation, the following documents can be viewed:
Modified Local Plan - January 2018 Consultation
Amended Policies Maps
Table of Main Modifications
SA Addendum
Appropriate Assessment Addendum
Table of Additional Modifications
Supporting evidence " Representation Form (PDF and Word Format)
Statement of Representation Procedure and Guidance Note
FAQs
Public Notice
The documents, along with details of how to respond are to be found on the Council's website from 12 January 2018, on the following page: www.arun.gov.uk/current-consultations. This includes access to the online portal (http://arun.objective.co.uk/portal) where you are advised to provide comments.
Hard copies of the Modified Local Plan (January 2018), table of Main Modifications and table of Additional Modifications will be available from all local libraries, Bognor Regis Town Hall and the Arun Civic Centre.
All representations must be received by the Council no later than 5pm on Friday 23 February 2018. Only representations received within this period will be considered by the Planning Inspector.
11 January 2018
---
Shop opens for adults only evening
Tea in the Square, in the village centre, will be opening for an adults only evening (7pm-10pm) on Thursday 25 January 2018. They will be serving wine, lager and prosecco in a cosy atmosphere - perfect for couples and friends to get together. There will be charcuterie platters with cold and cured meats and cheeses (available at £5 per person) but these will need to be booked and paid for in advance. If you are interested in attending that evening, please contact Tea in the Square by visiting them or phoning them on 07958 109106 as soon as possible as places will be limited.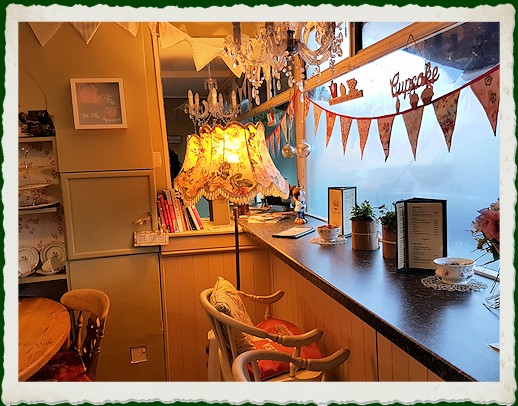 The cosy atmosphere at Tea in the Square
Owners Anne-Marie and Helen hope to make this a regular event, depending on the success of this evening, and say that it will be lovely to see you. The evening also happens to be the second anniversary of the shop's opening although the evening is not intended to be a celebration of that event.
5 January 2018
---
Angmering Traffic Management Scheme - Implementation Dates
The dates of the Angmering Traffic Management Scheme have now been made available and will cause disruption through parts of Angmering from 12 February through to 4 June 2018. Thirteen phases have been identified which will include 2- and 3-way traffic lights and complete road closures. Some road closures such as the 4 day one between the Station Road roundabout and Greenwood Drive/North Drive (southern end) will cause a major disruption to motorists.
A schedule of the works plus maps can be viewed here. A PDF file (13MB) will be opened. Notwithstanding that, below is Schedule without the maps: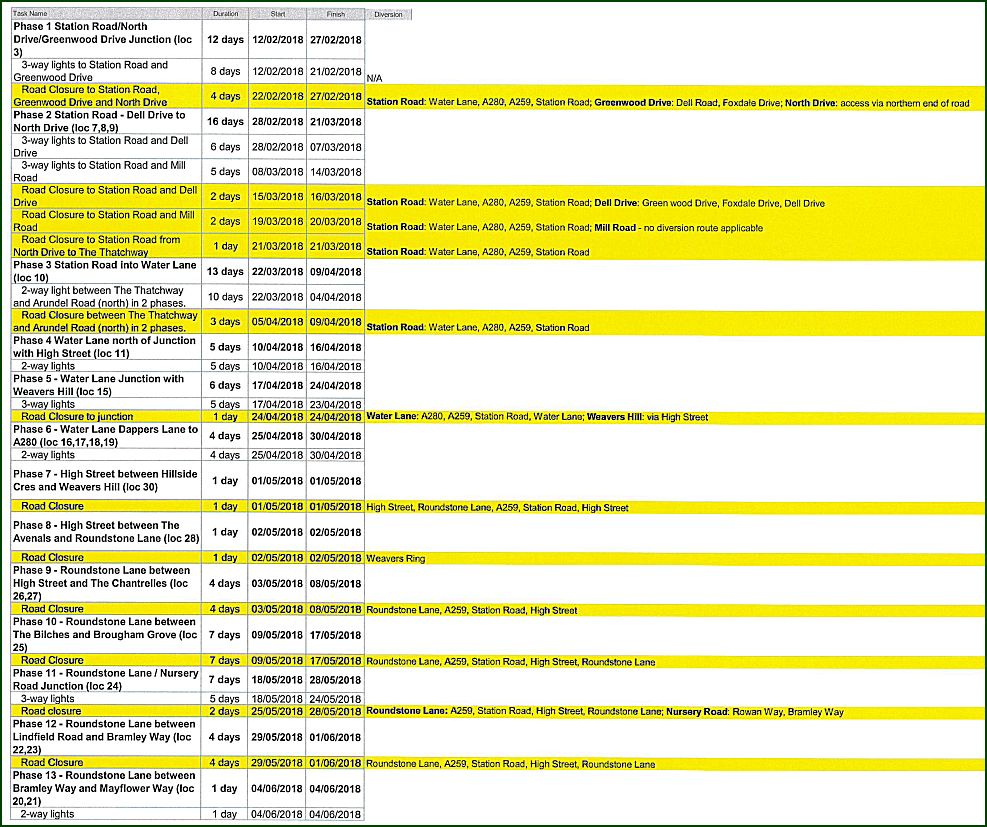 4 January 2018
---