Angmering Village Life
News Archive
August 2017

---
School's A-Level Results
The Angmering School is celebrating a record-breaking set of A-level results by their students this year. The school achieved a 100 per cent pass rate (A to E), with 41 per cent of grades between A* and B, the highest the school has achieved to date.
Tony Kerrison (Head of 6th Form) commented : "We are delighted for our students who have worked so hard to achieve these results. This is the first year of reformed A-levels and I want to congratulate our staff for their professionalism in rising to the challenge and our students for excelling in unknown circumstances."
18 August 2017
---
Arundel By-Pass Consultation
Highways England (HE) has committed to replacing the existing single carriage road around Arundel (A27) with a dual carriageway by-pass, linking together the two existing dual carriageway sections. To this end they will be holding a public consultation between 22 August and 16 October 2017. HE will be holding the following Public Consultation events: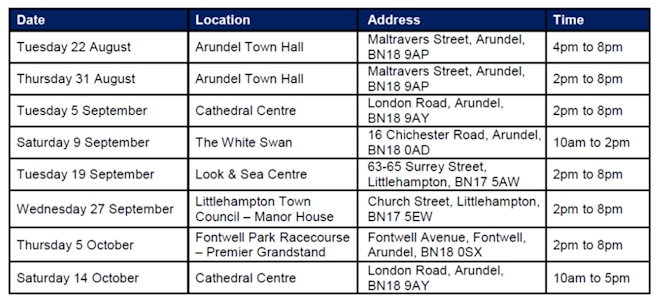 In addition, unstaffed exhibitions (where members of the public can view the exhibition boards and collect copies of the brochure and questionnaire, but with no staff present) will take place as follows:
The options being presented aim to improve traffic flow, journey times, safety and accessibility, boost economic growth, and minimise the impact on the environment. Copies of the brochure and questionnaire will also be available at local and mobile libraries throughout the consultation period
From 22 August, the A27 Arundel by-pass website will have key information about the options, including the brochure, online questionnaire, and various background reports and supporting information. The website is located at www.highways.gov.uk/a27arundel
14 August 2017
---
Snippets from Angmering Parish Council's Minutes of Meeting of 10 July 2017
Notes from recent JEAAC Highways & Transport Working Group meeting
a) WSCC was still doing very little to address the issue of drivers making right turns onto the A259 from the left-hand lane when approaching the golf club roundabout from Windmill Bridge, in contravention of lane markings, signposts and Rule 186 of the Highway Code. It was noted that clearer signage and driver education were required.
b) It had been observed that road markings needed to be improved at the Station Road roundabout.
c) Pedestrian/cycle access to the Manor Retail Park (Next/Tapi Carpets/Aldi) was an issue to be referred to ADC planning compliance. As matters stood, it was difficult (if not impossible) to access the site safely on foot or by bicycle. It was also notable that a layby and bus stop had been provided in the entrance road, despite the fact that none of the local bus services passed within half a mile of the site.
d) A259 route improvement scheme – it had been confirmed that works would commence in May/June 2018 and would be completed in 2020.
Community Land Trust
The Clerk was pleased to report that the various grants applied for by the Angmering Community Land Trust had been approved, and this meant that the Community Land Trust was now in a position to pay the contribution towards the Parish Council's legal costs that had been agreed as part of the land transfer. Further grants from ADC would be available in the future. Due to the way ADC's payments team operated, the money would be paid to the Parish Council in the first instance, and it was unanimously AGREED that this money be transferred to the Community Land Trust upon receipt.
Former Chandlers site
The Clerk noted that since the previous meeting, it had become apparent that the Parish Council-sponsored bid for the former Chandlers site had not (at least initially) been successful, although discussions with the vendors were continuing. It was noted that it might prove necessary to arrange a meeting with the vendors in person in early course.
The full Minutes can be read here
11 August 2017
---
Angmering organisations win CALA burseries
A diverse range of groups carrying out important community work in West and East Sussex have each been recognised and will receive a share of a £10,000 Community Bursary being offered by upmarket homebuilder, CALA Homes. In total, 11 successful causes were selected in this region from over 30 high quality applications, with eight across West and East Sussex. Recipients in West and East Sussex receiving a share of the £10,000 CALA Community Bursary are:
Cancer United, Angmering
Worthing Churches Homeless Project, Worthing
St Wilfrid's RC Primary School, Angmering
Crawley Down Residents Association, Crawley Down
Angmering Traders Association, Angmering
Bognor Regis Rugby Football Club, Bognor Regis
Seaside Hospital Radio, Shoreham
Kennedy St & Co, Brighton
CALA say that the bursary, which was launched in April, reflects their commitment to delivering long term benefits to a wide section of the Sussex community. John Kennedy, Managing Director at CALA Homes South Home Counties, said: "When we first launched the Community Bursary we simply did not expect the number of inspiring applications we received. It confirms the strong sense of community in the region and we are delighted to be able to support that further by creating and distributing funds from our new bursary scheme. "The process of selecting the successful groups was made especially challenging due to both the quantity and quality of applications across the board. I feel we have chosen a selection that really represents our region and its people - and this money will make a tangible difference to the lives of many people. Over the coming months we'll be keeping in touch with each of the recipients to hear about how the funding is benefitting the local community as well as helping to highlight the good work each group is doing."
CALA Homes are currently building some 200 dwellings in phases - a mix of 2, 3, 4 & 5 bedroom houses and 1 & 2 bedroom apartments - at Cresswell Park in Roundstone Lane Angmering.
9 August 2017
---
Parish Council vacancy
Angmering Parish Council has a vacancy for a parish councillor as a result of the resignation of Cllr Peter Thompson. If you are interested in becoming a parish councillor or wish to know more about the process of filling the vacancy, click here.
8 August 2017
---
Nursery wins national food award
Angmering Day Nursery, situated in Station Road, last week achieved the 'Outstanding Food Award' from the Children's Food Trust.
Commenting on the award, Juliet Best, owner of the day nursery, said: " It's a great achievement for us, especially as we are the only West Sussex nursery to get it. All the staff worked really hard during the long process of obtaining it. We have always prided ourselves on trying to give the very best to our children and that includes what we give them to eat, so this just brings together what we have all worked so hard for".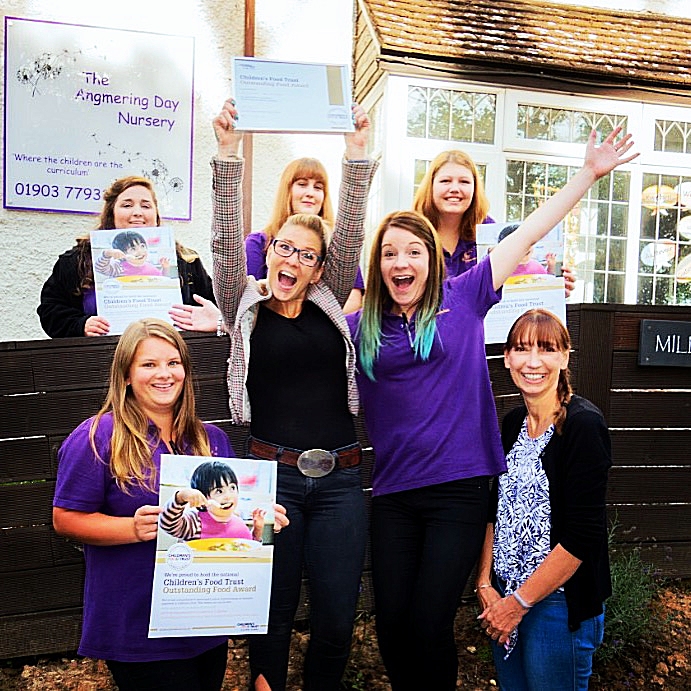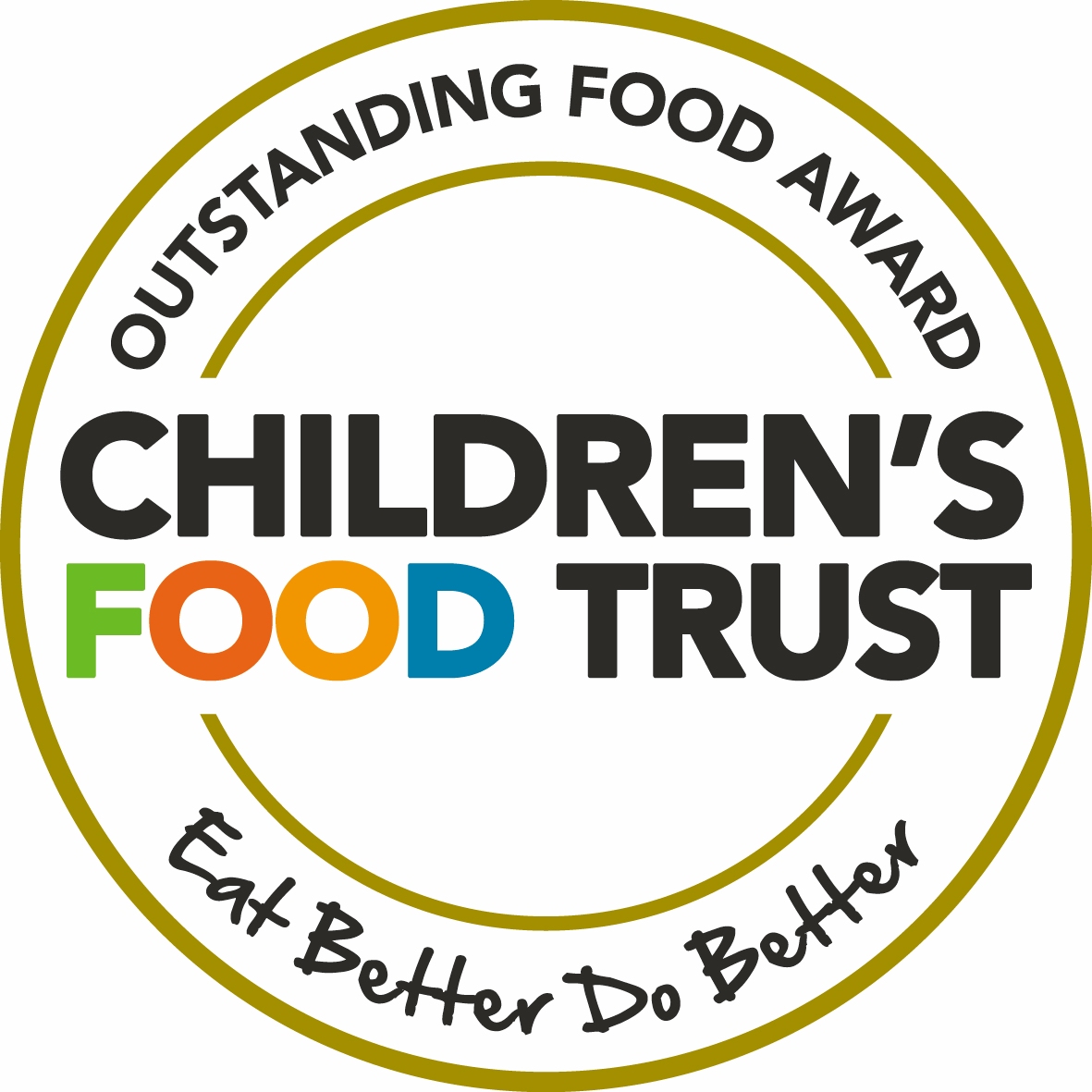 The private day nursery caters for children ages 2-5 yrs, is open 8am- 6pm from Monday to Friday for 51 weeks of the year, and consistently achieves excellent Ofsted inspection ratings. It is also registered to provide government funded places for 2, 3 and 4 year olds, has a highly qualified and dedicated staff team, and a high staff to child ratio. To learn more about Angmering Day Nursery, visit their website at http://angmeringdaynursery.org/ or phone them on 01903 779324.
8 August 2017
---
Angmering Planning Applications
A/132/17/OUT - Outline application with some matters reserved for the demolition of the existing single dwelling & construction of 30 No. dwellings (resubmission following A/39/17/OUT). This appication is a Departure from the Development Plan.Quiet Waters, Roundstone Lane. Applicant: Nova Developments Ltd
Observations on this/these Application(s) must be received by The Head of Planning Services, Arun District Council, The Arun Civic Centre, Maltravers Road, Littlehampton, West Sussex BN17 5LF by 24 August 2017.
To see applications, plans, design statements, etc, type the Application Reference Number (such as those above) into Arun District Council's "Application Search Facility ", click on the Search button, and click on the hyperlink reference when selected application is returned - then select "Documents".
3 August 2017
---
Defence of Neighbourhood Plan - Outcome of Judicial Review
Angmering Parish Council have posted the following news item on their website:
"Further to our previous update on 12 June 2017, our application for judicial review of Arun District Council's decision to grant outline permission for 9 homes on land between New Place Bungalow and Arundel Road (reference A/131/16/OUT) was heard by the High Court's Planning Court on 11 July 2017. We are disappointed to advise that our application was refused on all grounds. On the basis of what the judge in the Planning Court had to say, we have learned that:
1) the Court is not favourably disposed towards attempts by a Parish Council, seeking to defend a made Neighbourhood Plan, to challenge a grant of planning permission made in contravention of policies in that Plan;

2) as the law stood when planning permission was granted, Arun District Council's need – and failure – to have in place a made Local Plan with a 5-year housing land supply was deemed to override any other considerations, including policies in Angmering's made Neighbourhood Plan;

3) in any case, it is not enough for a planning application to contravene a Neighbourhood Plan policy in order for an objection to be made to it; there must in addition be some harm that will result from the development going ahead.

It is apparent that the objectives and aspirations of a community that has engaged fully with the Neighbourhood Planning process, as laid down in law, will be treated as subordinate to the objectives of developers. This is disappointing, but not surprising, given the importance attached to housebuilding by central Government. It is also disappointing that policies in Angmering's made Neighbourhood Plan can be overridden by Arun District Council's failure to produce a robust Local Plan; this has negative implications for other towns and parishes in Arun District with made Neighbourhood Plans. The Parish Council will, however, continue to uphold Angmering's Neighbourhood Plan to the best of its ability, and it will continue to challenge Arun District Council robustly wherever it is apparent that proper procedures have not been followed in dealing with planning applications.

Finally, we are sorry for the delay in letting you know about the result of the judicial review application – this was due to the need to take further legal advice on the implications of the Planning Court's decision when considering future planning applications in the parish. If anyone has any questions regarding this matter, please get in touch with the Parish Office."
2 August 2017
---