Angmering Village Life
News Archive
July 2017

Angmering Village flower and produce show - Saturday 29th July
The flower and produce show committee spent all week looking at the weather forecast, hoping that Saturday would not turn out as predicted. But to no avail, whilst the morning was dry and bright, the afternoon was cloudy and then the rain really set in. But the entrants and visitors to the village show are made of stern stuff and a little rain did not put them off. 2017 entries were up on the previous year, and there were fine displays of vegetables and cut flowers as well as a wonderful flower arranging display and a huge range of entries for our photography, drawing and painting classes. The Children classes were well supported as a result of having a crafting stall at the St Peter & St Paul Fete earlier in July, where the children could make their entries on the day. The result was a colourful and imaginative display of wizards hats, painted stones, decorated jam jars and paper plate dinosaurs that all our visitors were delighted by.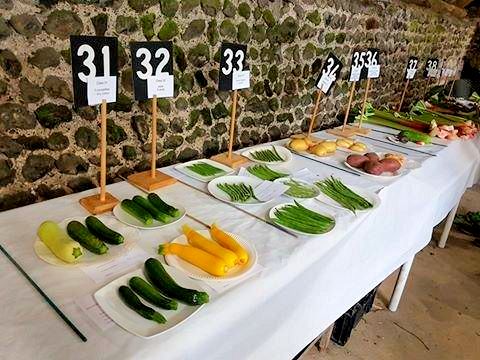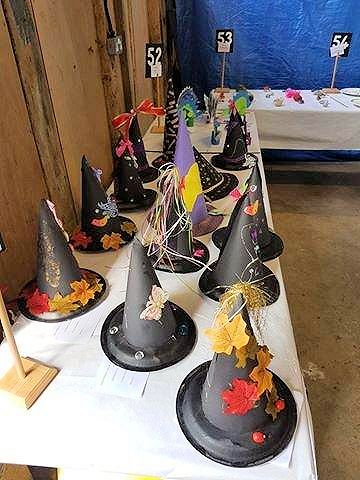 Bridget Kearns from the show organising committee said: "Whilst our visitor numbers were slightly down in the afternoon, it was lovely to see familiar and new faces enjoying the show in the barn and having tea and scones in the garden sheltering under the apple tree! Mr Peter Blake our generous host for the day, presented the cups and trophies as usual and we were delighted that our oldest exhibitor, Mr Stanley Edson (age 97) won the Holmes trophy for most points in the Roses classes, a fine return to form after being out of the awards for a couple of years. Stanley is an inspiration to us all and shows that gardening is good for the body and the soul!"
Despite the weather the show raised more funds than 2016, and the committee will meet soon to decide how they will allocate donations this year to support good causes in the village. In previous years they have made donations to toddler groups, scouts, cubs, brownies & guides along with the Chestnut Tree Hospice fund.
Here is a full list of all of the winners.
Best newcomer - Julie Knight, Most points Roses - Stanley Edson, Best flower exhibit - Les Alchin, Runner up best flower - Peter Mazillius, Most points sweet peas - John Goulding, Most points cut and pot flowers - Peter Mazillius, Best exhibit pot plants - Barry Bezants, Best hanging basket - Mrs Ann Macleod, Best pot fuchsia - Barry Bezants, Most points fruit and veg - Julie Knight, Best vegetable exhibit - Barry Bezants, Most points fruit - Jane Wells/Julie Knight, Best floral Art - Martina Blake, Most points floral art - Martina Blake, Most points children's classes - India Craddock, Runner up children's classes - Serena Blake, Most point cookery - Pamela Andrews, Most points crafts - Lesley Partridge, Most points Art - Mike Hubbard, Most points in the funny section - Anne Hampson.
31 July 2017
---
Newspapers in the village
The Co-op in The Square commenced selling newspapers and some magazine from today (Saturday 22 July). The paper and magazine racks have been set up in the aisle facing the tills (behind the queueing lines).
22 July 2017
---
Newsagents close today
It's a sad day today (Friday 21 July) as we say goodbye to Woodies News shop in the village centre which closes this evening. Alistair and Sarah Woodroffe have been running Woodies for the last 16 years and many of us have got to know them so well and they of us. We will certainly miss them but wish them well for the future.
But we will not be saying goodbye to them entirely as they are continuing Woodies News as a "Newspaper & Magazine Home Deliveries" service from tomorrow and will deliver to your door from 1 ro 7 days a week. For existing or new customers, Alistair and Sarah can be contacted on 07704 680813 or woodiesnews3@aol.com.
For those wishing to walk into the village daily to pick up and purchase their papers, it is understood that the Co-op in The Square will be taking over this service, but we cannot confirm the start date at the present time.
21 July 2017
---
Headteacher retires but continues mission work
At the end of term David Boreham the Headteacher of St Margaret's CE Primary School is retiring having been in post for 23 years. During this time the school has doubled in size but has remained highly effective and retained its village community feel. In its most recent Ofsted inspection (June 2017) the school maintained its 'good' status with the inspector noting that the Headteacher provides, "strong leadership and has given long and devoted service to the school".
In retirement David plans to continue his mission work overseas and next month will be out in Zimbabwe with his family for the third year running, helping to build the next phase of a primary school to accommodate an additional 120 children. He will also be working with a feeding programme for Orphans which the school has given its support to over this time, providing funding this year to produce 7500 hot nutritious meals.
David says, "I have really enjoyed my time as Headteacher of St Margaret's and seen the school flourish. We have a very strong team of staff here who work tirelessly to provide the best education for the 500 or so children who attend the school. Our parents are very supportive of all we do and the children are a delight (most of the time!). I wish my successor, Mike Jee, currently Headteacher in a Hove church Primary school, all the very best as he takes the school forward on the next stage of its journey".
18 July 2017
---
Traffic Scheme given the go-ahead
West Sussex County Council's Joint Eastern Arun Area Committee (JEAAC) yesterday (11 July) gave approval of the £360,000 Angmering Traffic Management Scheme which aims to control and slow traffic coming through the village. The existing "build outs" will be removed and replaced with speed cushions and speed tables which will be extended into Water Lane, Roundstone Lane, and Station Road..
12 July 2017
---
Disabilities group being established
Angmering parish councillor, Mike Hill-Smith, is forming a disability action group in Angmering. Membership is free. The aim of Disability Action Group Angmering (DAGA) is to bring to the public's attention the needs of disabled people especially with regard to access and pavement blocking. Mike says that some shops in the village are excellent - especially the Co-op - but suggests that many people are lazy and will park their cars anywhere close that is convenient to themselves. Mike added: "I had a car reverse into me on Saturday until I shouted, but did not get any apology".
DAGA will organise a stand at the village fayre next year as well as starting a pub quiz team and other events. If anybody is interested in joining DAGA, contact Mike on (01903) 770453 or michaelhillsmith62@gmail.com.
12 July 2017
---
Even more homes proposed - a Consultation!
Rydon Homes wish to build another 525 dwellings on land north of Dappers Lane and, to this end, are holding a so-called "Community Consultation Event" on Tuesday 18 July 2017 between 2.30pm and 8.00pm in Angmering Village Hall in Station Road.
They will be displaying their proposals and say that this is an opportunity for us to comment and to share our views!
8 July 2017
---
Snippets from Angmering Parish Council's Community, Leisure, Environment & Wellbeing Committee Minutes of Meeting of 28 June 2017
Election of Chairman and Vice-Chairman
On a proposal by Cllr. Harris, seconded by Cllr. Jones and agreed by all, Nikki HamiltonStreet was elected as Chairman of the committee for the coming year. On a proposal by Cllr. Jones, seconded by Cllr. Hill-Smith and agreed by all, David Marsh was elected Vice Chairman of the committee for the coming year.
Community Centre Flowerbed
The Committee informed all of Cllr. Harris request to have volunteers to weed the Community Centre Car Park bed. Cllr. Bicknell suggested the payback scheme, Cllr. HamiltonStreet said it would take too long to organise and the weeds would have already reseeded. It was agreed for the office to contact HM Prison Ford to see if they would be able to take the task on. If there wasn't anything forthcoming the office to contact Cllrs. Jones and Evans to let them know.
RFID Fraud (Wireless Identity Fraud), 3D Printer and Flight Simulator
Cllr. Hill-Smith gave an overview of the items to all members present stating that it would be a way to raise funds for the Community fund for grants. The Committee Clerk informed all that there may be a potential VAT implication with receiving money and that as a Parish Council we should not be fundraising as the council tax collected can not be avoided and that the Parish Council are not traders. Discussion were had between members with suggestions of the office contacting the school and making enquiries. Cllr. Hamilton-Street asked members where these items fit in with the Committee with regards to using the office resources. Cllr. Marsh mentioned that the Community Land Trust may consider.
Cllr. Hamilton-Street said that these were all great ideas however they could not be taken forward by the Parish Council due to potential financial implications. It was suggested that Cllr Hill-Smith contact Cllr. Steven Mountain in connection with the flight simulator and the Air Cadets.
BMX/Skatebowl Event
In connection with the BMX/Skatebowl Event for 2017, it was agreed by all members present to not hold an event this year but to hold one in 2018 with arrangements being made after the St Peter & St Paul Fair 2017.
The full Minutes can be read here
7 July 2017
---
Snippets from Angmering Parish Council's Minutes of Meeting of 12 June 2017
Broadlees - Dappers Lane
The Chairman noted with concern that some significant amendments to the proposed Broadlees extra care facility scheme had been approved by ADC, without notice to the Parish Council, under the non-material amendment process. It was noted that the scale of the amendments requested could not in all conscience be described as non-material and appropriate representations would now need to be made to ADC.
Councty Councillor's Report
County Councillor Urquhart noted that WSCC business had only recently reconvened following the recent elections. She had been promoted into the Cabinet as the member responsible for Environment. She noted that the Traffic Management Scheme would hopefully go before JEAAC in July for final approval.
A member of the public asked whether there was an update with regard to the A259 route improvement scheme. County Councillor Urquhart noted that land acquisitions and compulsory purchase requirements were being dealt with at present.
The Chairman asked whether the A284 Lyminster bypass scheme was any further forward. County Councillor Urquhart noted that Persimmon Homes were still in discussions with Southern Water with regard to foul drainage from the North Littlehampton development and as a result matters were no further forward. Councillors were reminded that it was the Section 106 agreement for the North Littlehampton development that was providing a large proportion of the funding for the A284 scheme, and so the scheme could not progress while this remained unresolved.
Judicial Review
The Deputy Clerk reported that the adjourned hearing had now been refixed for 11 July 2017, and that 90 minutes had been allowed for all arguments to be put forward. The recent Supreme Court decision in the Suffolk Coastal DC v Hopkins Homes case was considered to have significant implications both for this matter and for future planning decisions involving the application of Neighbourhood Plan policies.
Grants
On a proposal by Councillor Lee Hamilton-Street, seconded by Councillor Thompson: That the grant be awarded in the requested sum of £300, on condition that a proper explanation of the cost be provided by the applicant before any funds are disbursed – AGREED by 8 votes in favour, one vote against, and one abstention. The 2017/2018 budget for Community Grants was £3,300 and grants allocated to date amounted to £625, leaving a balance available of £2,375 from which to fund grants.
The full Minutes can be read here
7 July 2017
---