Angmering Village Life
News Archive
June 2017

School Prom and fireworks
The Angmering School's Year 11 Leaving Prom will be held this Friday (30 June) between 7pm and 11pm. For residents of Greenwood Drive and the surrounding area, they should be aware that students will start arriving from 6.30pm and that there will be a 5 minute firework display between 10.55pm and 11.00pm.
28 June 2017
---
Newsagents to close
Woodies News in the village centre has announced that it will be closing down on Friday 21 July 2017. Alastair and Sarah have been running their newsagents and confectioners shop since 2002 and have become very much part of village life and will be very much missed. However, they will be continuing to deliver papers and magazines although it is not known at the present time whether any shop will be selling papers and magazines for those who do not have them delivered.
It is understood that Woodies' shop at the bottom of the High Street is unlikely to be opening as a newsagents and confectioners but it will be opening in a different capacity as soon as possible after Woodies has closed. We will keep you updated when we have further information.
28 June 2017
---
Tea Shop awarded certificate of Excellence
Tea in the Square, our lovely tea shop in the centre of the village, today learned that TripAdvisor has awarded them a 2017 Certificate of Excellence based on the "consistently great reviews" that the tea shop had earned on TripAdvisor. Only select businesses receive a Certificate of Excellence. TripAdvisor claims to be the largest travel site in the world, with more than 315 million members and over 500 million reviews and opinions of hotels, restaurants, attractions and other travel-related businesses.
We would like to congratulate Anne-Marie and Helen on this latest achievement. They only opened the tea shop 17 months' ago and since that time they have become very much part of our village and a wonderful asset. If you have not yet tried their excellent cakes, scoones, and other food and drinks, we would recommend that you do so at the earliest opportunity. They are open from Tuesday to Saturday from 9.00am to 5pm.
With all this gorgeous weather we are enjoying at present, Tea in the Square are offering a couple of "Summer Specials" which you may like. So leave the car at home and walk into the village for an afternoon treat! Sit outside in the sunshine with a view of the beautiful village square and watch the world go by!

1. A cream tea for two to share - two warm homemade scones with clotted cream and jam, a pot of tea plus a small (30cl) bottle of prosecco each, £15, perfect for summer.
2. A 1.5 litre jug of Pimms plus a platter of sandwiches for two £18.
21 June 2017
---
Estate Agent's opening day
Further to our news item of 4 May, Cooper Adams will open their new branch at Marsh House in The Square tomorrow (Friday). Mr Chris Stephens has been appointed branch manager and their new telephone number is 01903-859797.
15 June 2017
---
School's Art Exhibition
The Angmering School will be holding an Art and Design & Technology Exhibtion on Wednesday 28 June between 9am and 5pm to which the public are invited along to view.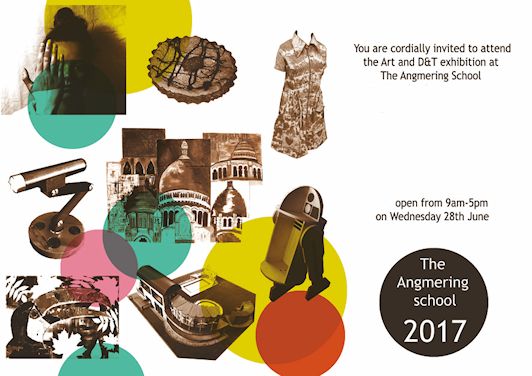 15 June 2017
---
Memorial seat unveiled
Further to our news article of 1 June (see below), some 40 people comprising the family, friends, and acquaintances of the late Leslie and Grace Baker met in a shady corner of St Nicholas' Gardens this morning (Saturday) - a beautiful warm and sunny day - to witness the unveiling of a memorial seat in their memory. The bench is situated in the north-west corner of the gardens close to the Leslie Baker memorial tree.
The children of Leslie and Grace - Chris, Penny, and Robin - travelled down to Angmering from the Isle of Man and Stourbridge area with their own children and grandchildren to attend the simple ceremony - more than 30 of them. Charlie Baker (7), great-grandson of Leslie and Grace, cut the ribbon and their daughter Penny read two delightful poems about benches. On behalf of the family, Robin Baker presented Freda Smith - a family friend who lives in Angmering - with a bottle of champagne to thank her for all the assistance she had given with the installation of the seat.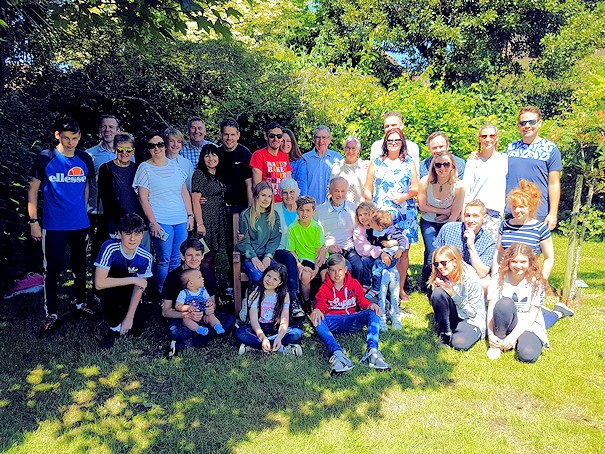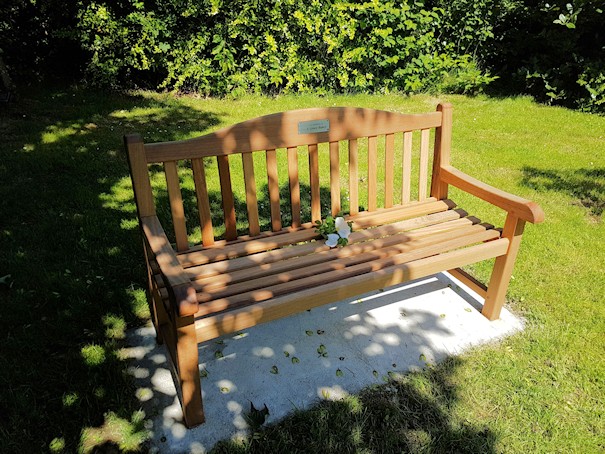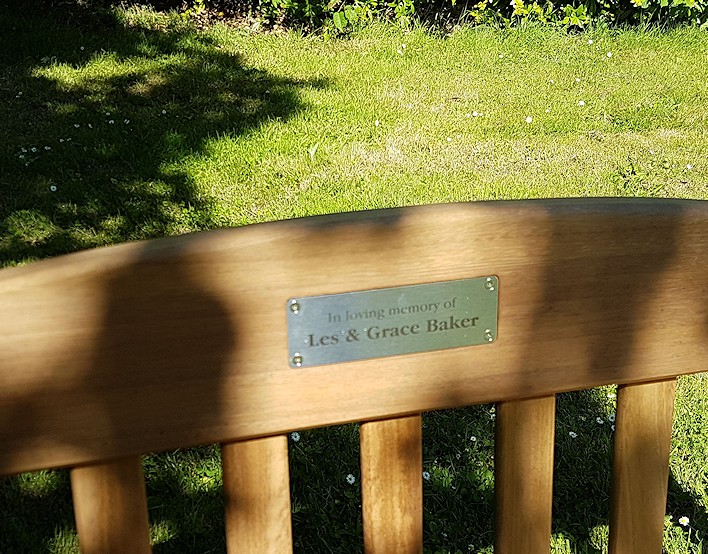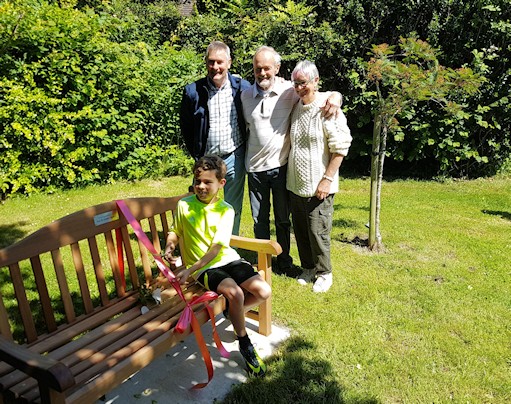 10 June 2017
---
Angmering Planning Applications
A/84/17/PL - New retail unit with mezzanine together with associated car parking & service road Rustington Golf Centre, Golfers Lane. Applicant: Rustington Golf Centre Ltd. This application is a Departure from the Development Plan.
A/87/17/HH - Single storey rear extension under pitched roof at The Old Cottage, Station Road . Applicant: Mr & Mrs John Hinds.
A/88/17/HH - Application for listed building consent for a single storey rear extension under pitched roof at The Old Cottage, Station Road . Applicant: Mr & Mrs John Hinds.
A/99/17/OUT - Outline application with some matters reserved (Access only) for development up to 175No. residential dwellings, public open space, play areas with associated infrastructure including roads, drainage & landscaping. This application affects the character & appearance of Angmering Conservation Area & the setting of Listed Buildings. Land South of Water Lane. Applicant: Rydon Homes Ltd & Gleeson Developments Ltd. This application is a Departure from the Development Plan.
Observations on this/these Application(s) must be received by The Head of Planning Services, Arun District Council, The Arun Civic Centre, Maltravers Road, Littlehampton, West Sussex BN17 5LF by 29 June 2017.
To see applications, plans, design statements, etc, type the Application Reference Number (such as those above) into Arun District Council's "Application Search Facility ", click on the Search button, and click on the hyperlink reference when selected application is returned - then select "Documents".
9 June 2017
---
Cala Homes Bursary Scheme deadline extended
Local causes in East and West Sussex have been given more time to apply for a share of the CALA Homes South Home Counties £10,000 Community Bursary. The Community Bursary has been set up to help fund projects which make a vital difference in and around the local community, with CALA Homes South Home Counties aiming to use the sum to support as many local worthy causes as possible.
The deadline for applications has now been extended to Friday 30th June and CALA is urging local charities, community groups and organisations to get their applications in as the closing date approaches. Application forms can be requested by visiting www.cala.co.uk or emailing south.bursary@cala.co.uk
John Kennedy, Managing Director at CALA Homes South Home Counties, said: "The Community Bursary has already generated a lot of interest from local organisations and charities looking for support to fund everything from new sports equipment to running community events. We wanted to make sure as many groups as possible have the opportunity to apply which is why we have extended the deadline. "This is a great way of giving back to the fantastic communities in East and West Sussex and I'd urge any local causes who haven't yet applied to get in touch."
Applications will be judged by a panel from CALA Homes and all applicants must state the amount they would like to secure and what the money will be used for to be in with a chance of receiving funding.
CALA has launched its new Community Bursary in communities across the country as part of its ongoing commitment to supporting local initiatives. The luxury housebuilder is currently building a number of developments across East and West Sussex including Cresswell Park in Angmering, Charters Gate in Wivelsfield Green and Shopwyke Lakes in Chichester. For more information on CALA Homes and the Community Bursary, visit www.cala.co.uk
4 June 2017
---
Leslie & Grace Baker Memorial Seat
On Saturday 10 June at 11.00am in St Nicholas Gardens (behind the Library), a memorial seat to Leslie and Grace Baker will be unveiled by their family who have purchased it for the use of the community. Leslie and Grace lived in the village for 54 years before moving to Nottinghamshire to be near their family.
Leslie was probably the most well-known member of Angmering's community. He moved to the village in 1955 to become headmaster of William Older's School (now the Library). When the school closed in 1965/6, he became head of St Margaret's C of E School in Arundel Road, retiring in 1982 following which he became a governor of the school. He finally relinquished that rôle in 2005 having had an association with the village schools for some 50 years. He was also a parish councillor for 31 years from 1961 to 1991 being chairman in 1977. When he retired he was made a freeman of the parish, the first person to receive such an honour.
But his interests extended far beyond the school and the parish council. In 1976, he led a delegation from the newly-formed Angmering Twinning Association to France to inaugurate twinning between Angmering and the Normandy town of Ouistreham-Riva-Bella. He was at one time a member of St Margaret's Church PCC, a teacher of conversational French, and had for many years undertaken welfare work for both St Bridget's Cheshire Home and the RAF Benevolent Fund. Until his move to Nottinghamshire, he was president of The Angmering Society (now defunct).
Two of his other loves were local history and amateur dramatics. In 1988 he produced the booklet "Old Angmering" followed by "Angmering in old picture postcards" in 2002. Both these publications are now out of print but copies are available in the Library. He was also a member and sometime director of Rustington Players from the mid-1960s to 2000, and many Angmering residents will have fond memories of his double act with Grace called "Memories of the Music Hall" - Leslie singing the songs and Grace accompanying him on the piano. They gave more than 400 performances to hospitals, nursing homes and clubs throughout Sussex over a 10 year period. Leslie had entertainment in his blood, his father, Chris Baker, performing in the music halls between 1909 and 1924.
Leslie was a major contributor to this village for more than half a century. He will be remembered with affection by all those children who passed through his schools while he was head and by all those who came into contact with him in his many other rôles and activities.
1 June 2017
---