Angmering Village Life
News Archive
April 2017

---
Angmering In Bloom holding a Spring Fayre
This Saturday 29 April, 10am - 12.30pm:
28 April 2017
---
Phone Box to be replaced
A year after the payphone box in The Square was severely damaged, BT has been telling complainers that it will be replaced tomorrow (Wednesday 26 April). The box has been an eyesore since a vehicle hit it while out of control. The Parish Council has been discussing the matter with BT for many months, but it seems that pressure from the public has accelerated the process of replacement. However, it may be a little while before the phone is reconnected.
25 April 2017
---
Annual Parish Meeting
The Annual Parish Council Meeting will be held on Wednesday 26 April at 7.00pm in Angmering Village Hall, Station Road. The Parish Clerk will be giving presentations on (a) Arun Distict Local Plan and its effect on Angmering, and (b) Angmering Community Land Trust.
The Annual Parish Meeting is the annual meeting of the electors of the Parish, and takes place in April or May of each year. This meeting provides an opportunity for the electors of the Parish to discuss matters of interest which do not necessarily relate to the formal business of the Parish Council. The Parish Council may also invite other holders of public office (for example the Police and Crime Commissioner for Sussex) to address community matters.
13 April 2017
---
Bank Holiday Monday Car Crash Derby
Bank Holiday Monday sees the annual return of the Caravan Extravaganza at the newly refurbished Oval Raceway in Water Lane, Angmering. Also, featured in this Bank Holiday Special will be an ever-increasing number of newest formula Micra Stox, as well as other classes including Drift Cars, CB Bangers, Front and Rear Wheel Drive Saloons and Hot Rod A and B classes plus, of course, the ever popular caravan racing. To finish off the day there will be a metal crunching demolition derby.The Oval Raceway offers refreshments throughout the day such as donuts and burgers.Gates open at 8.30am and racing starts at 11.30am - a full day's entertainment for the whole family.
Admission is £12 for adults with students, OAPs, disabled spectators and children paying £6.All children under 10 years old can go in for free.
Read more at: http://www.littlehamptongazette.co.uk/news/caravans-destroyed-at-car-crash-derby-1-7911370
12 April 2017
---
Next announce opening date
The new Next store on the A259 - just west of Chandlers BMW - will be opening on Wednesday 26 April 2017. It's will have womenswear, menswear, and childrenswear departments, plus a small home department. Additionally, it will have a Costa coffee shop.
12 April 2017
---
Beware of thieves in Angmering Park
Many people during this coming Easter weekend will be going up to the woods in Angmering Park to see the bluebells, and I am sure they will be an attractive sight once again. However, please be warned that the area is well-known for thefts from vehicles parked in the car park in Dover Lane and at other car parking spots in the area. As an example, on the afternoon of 7 April, an insecure vehicle was entered and a bag stolen containing house keys, cash and bank cards. Do take your valuables with you when you go in search of the bluebells and do not in any circumstances leave bags or other items on view in the vehicle. And, most importantly, ensure that your vehicle is locked and no windows left open.
11 April 2017
---
No. 9 bus service to be extended to Arundel
From 30 April 2017, Stagecoach will be extending the No.9 bus service to Arundel (via Littlehampton). The journey from the centre of Angmering to Arundel will take approximately 1 hour. Buses arriving and leaving Angmering bus stops will also be amended from that date, but only by a few minutes. Your can see the new full service No. 9 timetables by clicking here and scrolling down to the timetables that commence on 30 April. However, rough and ready timetables for Angmering are shown below :
(From Angmering To Rustington shops, Littlehampton shops, and Arundel):

Angmering Bus Stop
(Route)

Monday - Friday
(excluding Public Holidays)

Saturday
(no Sunday bus service)

Roundstone Lane, Weavers Hill, and Merryfield Crescent

Shortly before Meadowside times

Shortly before Meadowside times

Meadowside

First bus 07.03 then 07.58, 09.03, then 8 minutes past each hour until 18.08,

First bus 08.08 then 8 minutes past each hour until 18.08

Angmering Village Green

First bus 07.08 then 08.03, then 13 minutes past each hour until 18.13

First bus 08.13 then 13 minutes past each hour until 18.13

Station Road

Shortly after Angmering Village Green times

Shortly after Angmering Village Green times

Angmering Railway Station

First bus 07.12 then 08.08, then 18 minutes past each hour until 18.18

First bus 08.18 then 18 minutes past each hour until 18.18

(From Angmering To Goring, Worthing seafront, Worthing Hospital, Lancing, Shoreham, Southlands Hospital, Holmbush Shopping Centre:

Angmering Bus Stop
(Route)

Monday - Friday
(excluding Public Holidays)

Saturday
(no Sunday bus service)

Angmering Railway Station

First bus 07.54 then 08.59, 09.59 then 2 minutes past each hour until 17.02 then 18.10 and 19.10

First bus 08.07 then 2 minutes past each hour until 19.02

Station Road

Shortly before Angmering Village Green times

Shortly before Angmering Village Green times

Angmering Village Green

First bus 07.59 then 09.04, 10.04 then 6 minutes past each hour until 17.06 then 18.14 and 19.14

First bus 8.11 then 6 minutes past each hour until 19.06

Meadowside

First bus 08.04 then 09.09, 10.09 then 10 minutes past each hour until 17.10 then 18.18 and 19.18

First bus 08.15 then 10 minutes past each hour until 19.10

Merryfield Crescent, Weavers Hill and Roundstone Lane

Shortly after Meadowside times

Shortly after Meadowside times
11 April 2017
---
Developers help young gardeners to blossom!
Green fingered pupils at St Wilfrid's Catholic Primary School have been given a helping hand from CALA Homes, the builders who are developing Cresswell Park off Roundstone Lane. CALA provided the school with a donation of gardening equipment and accessories in support of National Gardening Week (10th-16th April). As well as gardening tools including spades, trowels, rakes, watering cans and gloves; the school also received an insect sculpture hotel and wildlife attracting seeds to encourage wildlife into the school gardens.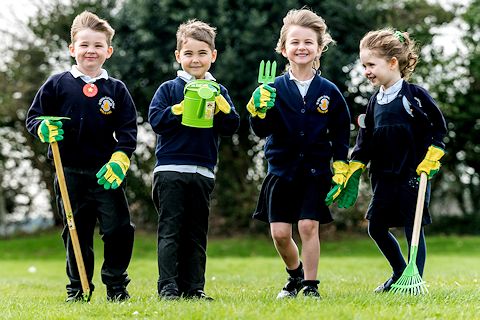 Mrs Reynolds, Head Teacher at St Wilfrid's Catholic Primary School, said: "We are thrilled with this kind donation from CALA Homes, which is a great way to get the children more involved in gardening. Children can learn new skills, have fun and develop self-confidence by spending time in the garden which is something we actively encourage. This new equipment will help get the children engaged with the school gardens as well as create a more attractive environment for everyone to enjoy."
Nicki Dennis, sales and marketing director for CALA Homes (South Home Counties), said: "Creating beautiful places to live is at the heart of what we do and gardens can play an important role in our sense of wellbeing. National Gardening Week is all about encouraging new gardeners so we thought it would be a great opportunity to help encourage younger generations to get involved and develop a passion for gardening. We're delighted to be able to support St Wilfrid's Catholic Primary School and hope the children enjoy using the new equipment."
10 April 2017
---
2017 Village Flower & Produce Show
The Village Flower & Produce Show will take place a month later than normal this year and will be held on Saturday 29 July (2.00 pm) at Pigeon House in the High Street.
Click here (pdf file) for a schedule of all the classes, cups to be won, entry form, and the general regulations for entry. See also www.angmeringflowershow.co.uk for full details
There are 80 classes within the following categories:
Flowers

Vegetables and Fruit

Floral Art

Children's Section

Home-made Cookery

Crafts

Arts

Fun Section
Last year, the Show's Committee donated profits to the four toddler groups in the village who all used the donations to improve facilities for the children. This year they are looking to donate to other organisations for younger community members like the Cubs and Brownies.
9 April 2017
---
CALA Homes launches Community Bursary Scheme
CALA Homes South Home Counties has unveiled a £10,000 Community Bursary to support local causes near to its coastal developments in West and East Sussex, including Cresswell Park in Angmering, as part of its ongoing commitment to supporting local initiatives. The homebuilder is inviting local charities, community groups and organisations to apply for a share of the bursary to help fund a project which makes a vital difference in and around the local community.
A total of £10,000 is available with CALA Homes aiming to use the sum to support as many local worthy causes as possible. Application forms can be requested by emailing south.bursary@cala.co.uk and must be submitted by Friday 9th June. Applicants must state the amount they would like to secure and what the money will be used for to be in with a chance of receiving funding. Applications will be judged by a panel from CALA Homes.
John Kennedy, Managing Director at CALA Homes South Home Counties, said: "We feel it is extremely important to play an active role in the areas in which we build so we've set up the Community Bursary to be able to give back to the fantastic communities in West and East Sussex. We look forward to welcoming applications from groups both large and small and I'd like to urge local organisations or charities looking to fund anything from new equipment, charitable events, workshops or classes that are beneficial to the local area to get in touch."
For more information on CALA Homes and the Community Bursary, visit www.cala.co.uk/bursary
9 April 2017
---
New show homes in Roundstone Lane
CALA Homes, has opened a new show complex at its Cresswell Park development in Angmering, allowing visitors to experience the lifestyle on offer at this popular development. Three, new, two and three bedroom showhomes are now open giving purchasers the chance to see for themselves the imaginative design, quality specification and attention to detail for which CALA say they are renowned.
Perfect for first time buyers, The Danebury features a spacious lounge/ dining room with French doors to the rear patio and separate kitchen. Upstairs, there are two generous bedrooms, one with fitted wardrobes and a family bathroom.
The Gilmore has an open plan kitchen/ dining room to the front of the house and a separate sitting room to the rear with French doors to the garden. There is also a downstairs cloakroom and two storage cupboard. Upstairs the master bedroom has an en suite and fitted wardrobes with two further bedrooms and a family bathroom completing the accommodation.
CALA state that it's characterful stone and brick exterior gives The Henbury instant kerb appeal. Inside, the kitchen/breakfast room offers plenty of space for family mealtimes or entertaining, while French doors and a bay window give the sitting room a light and airy feel. On the first floor is the master bedroom with generous en suite, third bedroom and family bathroom. At the top of the house is a second en suite bedroom with fitted wardrobe and home study.
Nicki Dennis, regional sales and marketing director for CALA Homes (South Home Counties), said: "We're delighted to have opened our new show complex which demonstrates the range of stunning homes on offer at Cresswell Park; with everything from two bedroom starter homes to four bedroom detached family homes. This development offers something very special for families and those seeking the perfect work-life balance. Not only do you benefit from the beautiful location, but Angmering offers everything you need to deal with the demands of family life with good local schools, a pub, shops, cafes and leisure facilities. With incentives such as Help to Buy and our popular Part Exchange service, moving to your dream new home could be easier and more affordable than you think. If you are looking for luxury family home in an idyllic village location, Cresswell Park is the place for you. The first phase of homes in The Promenade are selling fast so if you want to enjoy your new home in time for Summer, you need to act now to avoid missing out on the right home and the right deal for you. Come and have a look around our new show complex and see for yourself what this popular development has to offer."
Cresswell Park, off Roundstone Lane, is a collection of two, three, four and five bedroom homes and one and two bedroom apartments. Each of the homes offers light and spacious interiors and generous surroundings centred around an attractive green, including a safe children's play area and open spaces. Prices range from £325,000 up to £515,000. For further information on the new homes at Cresswell Park, visit the marketing suite and showhome open daily from 10am to 5pm, call 01903 334 860 or visit www.cala.co.uk
9 April 2017
---
Angmering Planning Applications
A/44/17/OUT - Outline application (with all matters reserved) for demolition of existing buildings on site and the erection of a mixed use development comprising up to 90 No. residential units and a care home (Use Class C2 and C3) & ancillary facilities, including railway crossing, together with associated access, car parking & landscaping. This application also falls within the parishes of Littlehampton & Rustington. Land west of Brook Lane and South of A259. Applicant: Store Property Investments Ltd. This application is a Departure from the Development Plan.
A/39/17/OUT - Outline planning application with all matters reserved except access for 32 No. residential units to be built with associated gardens, parking spaces & access road . Quiet Waters, RFoundstone Lane. Applicant: Nova Developments.
Observations on this/these Application(s) must be received by The Head of Planning Services, Arun District Council, The Arun Civic Centre, Maltravers Road, Littlehampton, West Sussex BN17 5LF by 20 April 2017.
To see applications, plans, design statements, etc, type the Application Reference Number (such as those above) into Arun District Council's "Application Search Facility ", click on the Search button, and click on the hyperlink reference when selected application is returned - then select "Documents".
9 April 2017
---