Angmering Village Life
News Archive
February 2017

---
Affordable Homes Exhibition
Angmering Community Land Trust (ACLT) propose to build 12 permanently affordable homes available for rent as a long-term community asset. This project will be a showcase for housing that "prioritises the happiness of residents and offers Angmering an example of attractive new design" according to ACLT.
ACLT will be holding a Public Exhibition on 2nd March 2017 in the King Suite of Angmering Village Hall in Station Road. The purpose of the exhibition is to gather feedback and gain support for the project before the first pre-planning meetings with Arun District Council. The exhibition illustrates the ambition for three distinctive terraces In Mayflower Wat (off Roundstone Lane) that provide a mix of 12 homes: 6 x two-bedroom, 3 x three-bedroom and 3 x one-bedroom. Two terraces enclose a pedestrian lane whilst the third terrace "situates village life on the street". This place-making strategy is complemented by sustainability principles which ensure that the orientation of each home allows south facing photovoltaics, a naturally ventilated laundry room and bedrooms facing east or south.
28 February 2017
---
Forest School sessions in Angmering
Forest School sessions are being held by Sussex Forest Activities for Pre-School children every Friday, starting from the 3rd of March. 10.00am - 11.30am up at Dappers Lane Scout Campsite. They are also running a session at 12.30pm to 3.00pm on the same day for Home Educated children.
Full details of the sessions and how to book can be found on Sussex Forest Activities' FaceBook page. One session costs £7.50 - if you buy five sessions, you get one free.
27 February 2017
---
Cala Homes hold part-exchange event
CALA Homes is holding a Part Exchange Weekend at its new Cresswell Park development in Angmering on Saturday 4th and Sunday 5th March to help prospective buyers make their move into a stunning new home in 2017.
Interested purchasers will have the opportunity to meet the CALA sales team and learn more about the Part Exchange Service, as well as gaining further advice from an Independent Financial Advisor whose services will be on hand throughout the day.
CALA Homes is offering Part Exchange on a selection of stunning two, three, four and five bedroom homes at Cresswell Park. The 100% Part Exchange Service allows CALA to effectively act as a cash buyer, saving time, hassle and money, with no agents fees to pay, and offering the peace of mind of being chain-free.
Nicki Dennis, sales and marketing director for CALA Homes South Home Counties said: "We pride ourselves on our premium Part Exchange Service and this event is the perfect opportunity for potential buyers to take advantage of the expertise on offer and find out how moving to your dream new home could be easier and more affordable than you think. "This popular development really does tick all the boxes – high quality, well designed homes in a great location with good local amenities, schools and convenient transport links. Each of the homes offers light and spacious interiors and generous surroundings centred around an attractive green, including a safe children's play area and open spaces."
Cresswell Park, off Roundstone Lane, is a collection of two, three, four and five bedroom homes and one and two bedroom apartments. Amongst the homes currently released for sale is the four bedroom Nicholson. Perfect for families or downsizers looking for flexible space for family and guests, this detached home is priced from £495,000 and features spacious accommodation spread over three floors. The open plan kitchen/ breakfast/ family room with French doors leading to the rear garden is perfect for entertaining, and there is a separate sitting room with bay window. On the first floor, the luxurious master bedroom has its own dressing room, en suite bathroom and French doors leading onto a private terrace. The Nicholson also has three further bedrooms and two family bathrooms offering plenty of space for growing families.
For further information on the homes at Cresswell Park, come along to the Part Exchange Weekend on the 4th and 5th March, visit the marketing suite and showhomes open daily from 10am to 5pm, call 01903 334 860 or visit www.cala.co.uk
23 February 2017
---
Angmering Traffic Calming Scheme - Consultation Period
West Sussex County Council proposes to make a permanent Traffic Regulation Order, the effect of which will introduce 20 mph speed limits and other traffic calming measures in Angmering as follows:
Extension of 20mph speed limits
To extend the current 20mph speed limit on Station Road southwards for a distance of 105 metres; to extend the current 20mph speed limit on Water Lane eastwards to a point 150 metres east of its junction with Dappers Lane; to extend the 20mph speed limit on High Street eastwards to its junction with Roundstone Lane; to introduce a 20mph speed limit on Weavers Hill throughout its entire length; to introduce a 20mph speed limit on Roundstone Lane from its junction with High Street, southwards to a point 140 metres south of its junction with Bramley Way.
The Order also consolidates other existing speed limits in Angmering for housekeeping purposes. This part of the Order makes no changes to other speed limits in the area.
Installation of raised speed tables and cushions
It is also proposed to install raised 'speed cushion' features comprising of a pair of raised features each a total of 2m long (including ramps), up to 1.7 metres wide and 65mm high constructed in black macadam. The gradient of the ramps on each feature will be 25% and the gap between the cushions will be 1 metre wide. It is proposed to install these features on Station Road outside (1) The Old Baptist Chapel and (2) 46 Station Road, on Water Lane 50m east of its junction with Dappers Lane, and on High Street (1) 10m east of its junction with Honey Lane, (2) 17 metres east of its junction with The Avenals, (3) 85 metres east of its junction with The Avenals; and

To install full width speed table features as follows - Station Road: features will be installed at (1) the southern kerbline of Greenwood Drive, extending northwards for a distance of 65m and extending a distance of 6m into Greenwood Drive and 9m into East Drive; (2) the southern kerbline of Dell Drive, extending northwards for a distance of 29m and extending into Dell Drive for a distance of 11m; (3) the southern kerbline of Mill Road, extending northwards for a distance of 22m and extending into Mill Road for a distance of 7m, (4) a speed hump installed outside 40 Station Road 8m long; (5) a speed hump installed mid-way between the northern and southern junctions of Arundel Road 8m long. Water Lane: a feature will be installed at the southern kerbline of Weavers Hill extending northwards by a distance of 28m and extending into Weavers Hill for a distance of 16m. Roundstone Lane: (1) a feature 42m long will be installed on the bend that forms the junction between the southern part of Roundstone Lane and Nursery Road. This feature will also extend northwards to join up with the current raised feature at the junction of Roundstone Lane with Brougham Grove; (2) a feature 10m south of its junction with Lindfield Close 8m long, (3) a feature 10m south of its junction with Hammond close 8m long.
New residential property developments are presently being built in Angmering and Angmering Parish Council have chosen to use the highway improvement contributions paid by the developers to review the current traffic calming arrangements and speed limits in Angmering village. The proposed new scheme removes the current 'chicane' features and replaces them with the speed cushions and speed tables detailed above.
This consultation period will run from 16 February 2017 to 9 March 2017.
The plans are available to view in Angmering Library and the Parish Council Office throughout the consultation period, and online at https://www.westsussex.gov.uk/roads-and-travel/traffic-regulation-orders/live-consultations-for-traffic-regulation-orders/joint-eastern-arun-live-tro-consultations/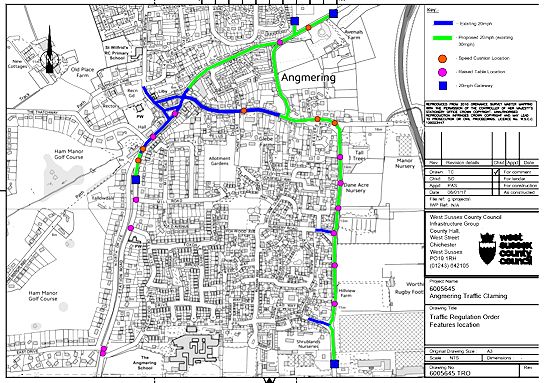 Summary Plan of Traffic Calming Features (larger version available from above link)
This is a key piece of work for the village and all residents are encouraged to have their say. Comments can be submitted online or you can download a consultation response form below. These forms can either be posted to West Sussex County Council at the address given on the form, or handed in at Angmering Library. Responses must be returned by 9 March 2017.
The following documents can be seen and downloaded from the Angmering Parish Council website by clicking here:
Formal consultation documents for the scheme, prepared by West Sussex County Council

Proposed location plan, construction plans and construction details

Frequently-asked questions

Consultation response form

Newsletter being delivered to all households in Angmering from 17 February 2017
16 February 2017
---
Temporary closure of Roundstone Lane
West Sussex County Council has issued notification that Roundstone Lane will be closed at a point just north of the Bramley Way roundabout for installation of a new water main for the Cresswell Park development. The closure will be for five days from 20 to 25 February 2017 (which is half-term week). Pedestrian access will be maintained at all times.
The alternative route for northbound traffic will be via A259 Roundstone Bypass, Station Road and High Street and vice versa for southbound.
For the duration of the closure, the 6'6" width restriction in High Street is suspended.
10 February 2017
---
Snippets from the Draft Minutes of Angmering Parish Council's Meeting on 16 January 2017
County Council Matters
County Councillor Urquhart advised that the WSCC budget for the year commencing 1 April 2017 had now been completed. This would involve a [WSCC] council tax increase of 1.95% and in addition the 2% for social care permitted by central Government, making a total increase of 3.95%.
County Councillor Urquhart noted that consultation on expansion of St Wilfrid's Catholic Primary School was in progress. This expansion, if it went ahead, would involve introduction of mobile classrooms at the school.
County Councillor Urquhart noted that the formal consultation for the Traffic Management Scheme, required under the Highways Act, would be carried out shortly. The Clerk reported that ...... the Parish Council wished to be a part of the formal consultation exercise.
Upholding the Neighbourhood Plan Policies - Judicial Review
The Clerk gave a brief update on discussions with the Parish Council's solicitors and Counsel. It was noted that the pre-action letter (required under the pre-action protocol applicable to this type of legal action) was expected to be sent during the course of the week commencing 16 January 2017. ADC would then have a certain amount of time to respond, and the content of that response would determine the next steps to be taken by the Parish Council. The Clerk noted that the Court had a variety of powers available to it in the event that it found in favour of the Parish Council, and those included orders quashing the decision and requiring it to be reconsidered
2016/2017 Budget & Precept
The Chairman reminded Councillors that the Clerk's recommendation was that an increase was warranted given the continuing uncertainties involved in the legal costs for the potential Judicial Review, the need to be able to fulfil the asset renewal programme already agreed, and to make progress with the new projects that might present themselves for the coming year. The suggestion was that the current annual band D charge of £88.03 should be increased by £10, which would produce an extra £32,000 in budget. It needed to be noted that, averaged over the calendar year, this increase would add 83p per month to Band D Council Tax bills..

On a proposal by Councillor Marsh, seconded by Councillor Harris: That the Parish Council precept be increased in accordance with the Clerk's recommendations as set out in his report – unanimously AGREED.
Telephone Box in The Square
BT had confirmed that this was due to be repaired shortly.
The full minutes of this meeting can be read here
10 February 2017
---
Approval of significant planning applications
The folllowing major planning applications have recently been approved:
A/77/16/PL - The proposal is for full planning permission to further develop the Rustington Golf Centre with additional facilities. The Centre already has a 9 hole golf course, driving range, Virgin Active gym, bowling alley, and children's play 'out of bounds' activity centre . The proposal will be contained within the site boundaries of the existing site where it is proposed to site:
· 63 Bedroom Hotel extending to 2254 sq. m.
· Restaurant / Pub extending to 936 sq. m.
· Indoor Trampoline and Laser Tag Centre extending to 3310 sq. including mezzanine.
· Five Aside football Changing Building extending to 475 sq.m.
· Forest Adventure Area Kiosk extending to 96 sq.m.
· Nursery/Creche extending to 555sq.m

The development will be accessed from the existing site access, the north arm of the Mill Lane roundabout on the A259. This application is a departure from the Development Plan.
A/27/16/PL - Erection of 53 care apartments within Class C2, parking, access, footpath, landscaping & other associated works.
Departure from the Development Plan and Angmering Parish Council have decided to seek a judicial review in the High Court in London resulting from Arun District Council's (ADC) decision to approve this and another planning application that are outwith with the Parish's Neighbourhood Plan.
10 February 2017
---
Delays for 3 weeks on A259
West Sussex County Council (WSCC) is currently preparing designs for the improvement of the A259 Littlehampton Corridor. This will comprise widening the stretches of single carriageway between the proposed Lyminster Bypass/A284 junction and the Body Shop Roundabout as well as between the Angmering Station Road Roundabout and the A280 Roundabout.
As a part of the design process WSCC has commissioned some further surveys of the local highway drainage network. Specialist contractors will be on site for approximately 3 weeks starting on the 13th February. Works will take place out of peak hours (09:30 – 15:30) Monday to Friday. Weekend and evening/night works are not planned.
The works will consist of visual and camera inspection with jetting of ducts where required. It is likely some Traffic management in the form of temporary lights or Stop/Go boards will be used during the works. Localised highway disruption is likely during the works.
9 February 2017
---
Tackling exploitation of elders in Sussex
Katy Bourne, the Police & Crime Commissioner for Sussex, has made tackling elder exploitation one of her top priorities in a bid to protect older people in the county from financial abuse. She says: "We know that fraud against our older and more vulnerable residents is a growing issue as our population ages and criminals see that fraud is more profitable and less risky than other crimes. In Sussex, fraud has robbed some older people of their entire life savings and left others destitute.
"I have been lobbying the Government to take account of demographics when calculating the amount of funding that is allocated to each police force and to acknowledge the rise in crimes against our elderly. "The operational response from Sussex Police has also been excellent. They have developed Operation Signature to help protect and support those most at risk of fraud, and the model has been nationally recognised and is being adopted by other police forces.
"The problem is that many people don't realise that they've been a victim of fraud – they think it's just a scam, or they feel foolish and don't want to tell anyone. But scams are fraud and fraud is a crime so I really would urge anyone who's affected by doorstep crime, postal fraud or nuisance calls to report it."
You can call the police on 101 or report fraud by speaking directly to the advisers at Action Fraud, the national fraud reporting centre, by phoning 0300 123 2040. They will also be able to give you help and advice about fraud and you can remain anonymous if you prefer.
UK-wide charity Action on Elder Abuse operates a confidential helpline on 080 8808 8141 which offers advice and support on all aspects of elder abuse.
Trading Standards also want to know about online fraud or mobile phone scams; any information you share may help them shut down fraudsters before others fall victim to them. You can report incidents, whether you're a victim or have just been targeted, via the Citizen's Advice Consumer Helpline on 0345 404 05 06.
You can sign up for Katy Bourne's weekly newsletter at www.sussex-pcc.gov.uk/spcc-newsletter/ .You can also find out more about the Sussex Police & Crime Commissioner's Office on their website at www.sussex-pcc.gov.uk .
1 February 2017
---
Angmering Planning Applications
A/11/17/OUT - Hybrid Application to include Full planning permission for a retail unit (Class A1) comprising 1,487sqm with associated access, car parking, servicing, landscaping & associated works & Outline planning permission with some matters reserved (scale & appearance) for public house (Class A4) comprising 581sqm (resubmission following A/23/15/OUT). Land south of New Road (A259) & East of Brook Lane. Applicant: SDB Investments Limited Commercial Development Projects Ltd. This application is a Departure from the Development Plan.
A/9/17/HH - Second storey extension over existing ground floor annexe. Mayflower Lodge, Roundstone Lane. Applicant: Mr S Everitt.
Observations on this/these Application(s) must be received by The Head of Planning Services, Arun District Council, The Arun Civic Centre, Maltravers Road, Littlehampton, West Sussex BN17 5LF by 23 February 2017.
To see applications, plans, design statements, etc, type the Application Reference Number (such as those above) into Arun District Council's "Application Search Facility ", click on the Search button, and click on the hyperlink reference when selected application is returned - then select "Documents".
1 February 2017
---