Angmering Village Life
News Archive
June 2015

---
Angmering Planning Applications
A/70/15/PL - Change of use of land to residential curtilage together with tennis court & playroom. This application affects the character & appearance of the Angmering Conservation Area.at Tall Trees, High Street Applicant: Mr M Wiggins.
A/74/15/HH - Two storey side & rear extension at 100 Downs Way. Applicant: Mr & Mrs McNair.
A/77/15/L - Application for listed building consent for the erection of single storey rear extension at Angmering Manor, High Street. Applicant: Chapman Group Ltd.
A/79/15/HH - Single storey extension with pitched roof to east elevation of property to create 1 bedroom annexe & construction of 3 No. dormers in existing pitched roof to south elevation at 47 Mill Road Avenue. Applicant: Mr D Easton.
Observations on this/these Application(s) must be received by The Head of Planning Services, Arun District Council, The Arun Civic Centre, Maltravers Road, Littlehampton, West Sussex BN17 5LF by 9 July 2015.
To see applications, plans, design statements, etc, type the Application Reference Number (such as those above) into Arun District Council's "Application Search Facility ", click on the Search button, and click on the hyperlink reference when selected application is returned - then select "Documents".
18 June 2015
---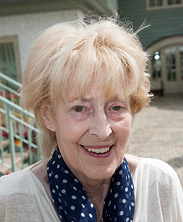 Lady Sarah Clutton (1941-2015)
It is learned with much regret and sadness that Lady Sarah Clutton died peacefully in her sleep early on Sunday morning (14 June) at her home at The Dover House in Dover Lane, Angmering. It is understood that although she had not been in the best of health for some time, her death was unexpected, and she had been gardening the day before.
Lady Sarah was the Patron, President, Vice-President and/or benefactor of very many organisations and charities in Sussex and beyond. Among these were Chestnut Tree House children's hospice and St Barnabas House adult hospice. The former is situated on land in Dover Lane, Angmering, which Lady Sarah donated for the building of the hospice (opened 2003) on a 125 year lease. She was also Patron of The Angmering Society for many years. As a keen gardener herself, she was President of the Arundel Gardeners Association. Further, she was a Deputy-Lieutenant of West Sussex. She also had a great interest in racing and owned several racehorses which were mainly trained by her late sister, Lady Anne Herries, in Angmering Park.
Lady Sarah Margaret Fitzalan-Howard was the daughter of the late Bernard, 16th Duke of Norfolk and the late Hon. Lavinia Fitzalan-Howard (née Strutt). In 1988, she married Nigel Hugh Clutton. We wish to express our sincere condolences to her family.
We will post details of a public memorial service when known.
Photo included by courtesy of St Barnabas House and Chestnut Tree House
17 June 2015
---
Bridge to close for 3 weeks
Windmill Bridge (B2187) will be closed to vehicular traffic for 3 weeks starting from Monday 22 June. This means that Angmering residents wishing to go to Rustington will have to go via the Station or Roundstone crossings during that period. It will, however, be open to pedestrians.
The road is being closed to allow the installation of a new water main in the carriageway and verge, and for multiple utility connections and road improvement work for the development site on the north side of the bridge.
17 June 2015
---
School puts on Bernstein and Sondheim production
Students of The Angmering School will be putting on a production of Bernstein and Sondheim's classic musical "West Side Story". Performances will be held in the school canteen at 7pm on the evenings of Wednesday 8th, Thursday 9th, and Friday 10th July.
Tickets are on sale to the public at £5 for adults and £4 for concessions. Book through sfullman@theangmeringschool.co.uk or call 01903-772351. poster
16 June 2015
---
School Prom Night
The Angmering School has its Prom Night on Friday 26 June 2015 at 7pm. The School has told parents there will be no parking in Greenwood Drive. They hope their neighbours are not disturbed too much and will enjoy watching the students arrive.
There will be a 5 minute firework display from 10.55pm - 11.00pm on Prom Night. They apologise to their neighbours for any inconvenience and hope they will enjoy the display with them.
16 June 2015
---
New Primary School? Conflicting reports!
Two press releases issued last Friday (12 June) appeared to be in conflict with one another or at least require some clarification by West Sussex County Council.
The first was an article published in Bdaily, a business news website. This reported that David Wilson Homes would be giving £1.7 million for new educational facilities and stated that the "generous donation, part of the homebuilders strategic commitment to the village community, will fund a new primary school for the residents of the Sussex village". It also stated that the "investment forms part of the homebuilder's wider commitment to the village which will also see infrastructure improvements benefitting the village and the wider community". (source)
The second is a report in the Chichester Observer which states that West Sussex County Council is set to announce plans to expand eight schools to cope with a rise in pupil numbers. It states that a consultation into the proposals, which include schools in Angmering, Bognor Regis/Felpham, Chichester, Littlehampton and Shoreham, will run from Monday (June 15) until July 17. These proposals include:
East Preston Infant and Junior Schools, in Angmering (sic). The infant school will take an extra 30 pupils from September 2016 while the junior school will take another 30 from September 2018.
Rustington Community Primary School, Littlehampton. The school will increase its intake from 60-90 from September 2016.
Yes, it really does say that the East Preston Infant and Junior Schools are located in Angmering! (source)
Is there really any prospect for WSCC providing a new much needed primary school on the east side of The Angmering School with the £1.7 million promised by David Wilson Homes, or are they planning to use this money to expand the East Preston Schools for pupils from Angmering and elsewhere. If the latter, with traffic on the A259 becoming almost untenable at rush hours, and the prospect of the closure of the Roundstone Crossing end of Roundstone Lane to southbound traffic necessitating a long diversion, this would mean yet another slap in the face for Angmering residents by the local authorities.
15 June 2015
---
Model Railway Show success
The charity model railway show held in St Margaret's Church on 16 May and organised by the West Sussex Area Group N Gauge Society raised £1,523.20 for the charity "Jamie's Wish". The show was well attended with just over 200 visitors and the organisers would like to thank everyone who supported the show.
The club's annual show this year is on November 7th in Lancing Parish Hall South Street Lancing and in 2016 this show will move to The Angmering School on Saturday November 5th 2016. More details can be found on the club's website www. wsng.co.uk
13 June 2015
---
St Nicholas Church excavations commence
Further to our news article of 30 April, the excavations by Worthing Archaeological Society of St Nicholas Church in the village centre are now into their seventh day. Some 30 pupils from St Wilfrid's RC Primary School visited the site on Monday, tried their hand at excavating, and helped with the washing of finds. Pupils from St Margaret's CoE Primary School will have their turn next week.
Selected trenches have already uncovered some foundation walls of the old church and its tower, and it is believed that part of the original Saxon apse has also been uncovered. There have been numerous finds - some medieval but others 19th and 20th century- reflecting the fact St Nicholas Gardens were used by William Older's Charity School as a recreation area in earlier times. This may account for numerous buttons found. However, pottery, floor tiles, bone, and metal artifacts have also been found. One of the more interesting items is an attractive painted piece of floor tile (see photo below). Also uncovered was some of the drainage system from the old school's toilet block!
Visitors to the site are welcome after 10.00am and excavation work finishes each day at about 3.30pm. The excavations will be continuing all next week and possibly into the week beyond that.
12 June 2015
---
St Peter and St Paul Annual Fair - 25 July
Update
The reinstatement of the St Peter and St Paul Annual Fair in the centre of Angmering on Saturday 25th July is fast approaching - it will be held on Fletcher's Field between 10.30am and 2.30pm on that day. Apart from the competitions on the run up to the fair, with the winner announcements on the day, the event is shaping up nicely. Chairman of Angmering Parish Council, Susan Francis, said:
"We are very excited about the reinstatement of the fair; it should be a wonderful day for everyone. We have a professional jester, who not only walks on stilts but eats fire and performs magic. The Burgess Hill town crier will be calling out during the day, and the church bells ringing to announce the beginning and end of the fair. A free bus service will run around the village so there is no need to worry about your cars.
Many groups are having stalls including The Incredible Edible Gingerbread Company, Loaded Loaves, Hammerpot Brewery, hand made cards and jewellery, bouncy castle, archery, and birds of prey, to name just a few. Food stands will give you plenty of choice to buy your lunch so no need to worry what to eat that day! The mandatory raffle with prizes - including vouchers from Angmering Manor, The Spotted Cow, The Woodman Arms, The Lamb, and Culberry Nursery - are just a selection of the great prizes on offer. We are also encouraging as many people as possible to dress up in medieval costume."
Other Attractions and Competitions
Balloon Race - As part of the fair, there will be a balloon race, with 500 biodegradable balloons being release at the end of the fair. Tickets will be available from the Parish Council Office at a cost of £2 from the second week in June and on the day at the fair. First prize is £100 for the balloon that reaches the furthest. The deadline is 1st September when the winner will be announced.
Short Story - Just a reminder of the short story competition for all adult Angmering residents. First prize from Apple Truck Rental of £100, second prize £50 from Overland Travel, coach company. Entry deadline 3rd July.
Best Tweet - For the under 16 years the entry deadline is 3rd July. First prize £15 Smith voucher.
Art - Theme: "Inspired by Angmering". For all ages, First prize £15 Smith voucher for each age group provided by Barratt Homes. Entry deadline 20th July.
Fancy Dress - Up to 17 years old. First prize for each age group £15 Smith voucher provided by Holmes Estate Agents.
All entry forms and competition rules are available form the Parish Council Office and library, also on the Parish Council website.
10 June 2015
---