Angmering Village Life
News Archive
October 2014

Fireworks display
Worthing Rugby Club & Frontier Fireworks annual display will take place on Saturday 8th November. The firework display will be at Worthing Rugby Club on Saturday 8th November. Gates open at 6pm and the fireworks will start at 7.30pm. There will also be:
BBQ
Sweets stall
Children's rides
Free parking
Ticket Prices: Members: £3 pp or £10 for a family of 5. Non-members: £5pp or £15 for a family of 5. Gate price is £5pp Tickets available from the office - 01903 784706
23 October 2014
---
The Angmering Society disbands
At the 41st Annual General Meeting of The Angmering Society last night (Tuesday), the 51 attending members voted by a majority to dissolve the Society and transfer all of its available funds into a new charity - The Angmering Heritage Trust. The new Trust will not have any membership other than the appointed trustees. The scope of the Trust is unknown at this time.
22 October 2014
---
Snippets from the draft minutes of the meeting of the Parish Council on 13 October 2014
Station Road Parking
County Councillor Urquhart advised that the traffic regulation scheme in Station Road had now completed consultation. Yellow lines are a complex legal matter and objections can lead to legal challenges. It was disappointing that no letters of support had been written by the Parish Council in particular. The Chairman noted that it was on public record that the Parish Council supported the scheme, as this had been minuted at a previous meeting. County Councillor Urquhart noted that this was not sufficient and that letters of support are required.
Emergency Plan
On a proposal by Councillor Turner, seconded by Councillor Francis, it was unanimously AGREED that the Emergency Plan be adopted as proposed. The Plan is a living document and will be reviewed every three months.
Groundstaff Pay and Conditions
(1) it was unanimously AGREED the groundstaff rates of pay be amended to the "Living Wage" as per the Clerk's report and backdated to 1 October 2014.
(2) on a proposal by Councillor Trott, seconded by Councillor Francis, it was AGREED by 7 votes in favour to 1 against that the groundstaff hours be harmonised at 37 per week, with overtime to be paid at plain time rate for hours worked in excess of this.
The full minutes of this meeting may be read by clicking here
22 October2014
---
Angmering Planning Applications
A/142/14/PL - Redevelopment of site for small Class B1 (Business, Light industry) and B8 (Storage or Distribution) industrial units. Departure from the Development Plan. Old Barn Nursery, Dappers, Lane. Applicant: Mr Tony Perella.
Observations on this/these Application(s) must be received by The Head of Planning Services, Arun District Council, The Arun Civic Centre, Maltravers Road, Littlehampton, West Sussex BN17 5LF by 6 November 2014.
To see applications, plans, design statements, etc, type the Application Reference Number (such as those above) into Arun District Council's "Application Search Facility ", click on the Search button, and click on the hyperlink reference when selected application is returned - then select "Documents".
16 October2014
---
Calendar Photographic Competition
The Angmering In Bloom Association has been launched a Photographic Competition with a theme entitled 'Flora in Angmering Through the Seasons'. Members of the public are invited to send in photographs during the year for judging in August 2015. The best 13 will be chosen to create an Angmering in Bloom 2016 Calendar.
To qualify, photographs must be:
a minimum resolution of 300 dpi
saved digitally in JPEG format
in landscape format
given to Angmering In Bloom for their possible use in the proposed calendar
The closing date for entries is 22 August 2015 but entries should be sent in from now until the closing date. High resolution digital images, together with your contact details, should be sent to info@angmeringinbloom.co.uk . For further information/enquiries, contact either Lorraine on 01903-778661 or Julia on 01903-783754, or sent email to the aforementioned address.
15 October 2014
---
Beware - burglars in the area
A burglary took place on The Dell on 10 October although nothing appears to have been stolen. However, Sussex Police have warned that two burglaries also took place in Rustingtonon the same day. The Police have said that if you see any people acting suspiciously and you believe a crime is in progress or about to occur, call 999. They have also offered the following advice:
Leave lights or a radio on when you go out
Check that all doors and windows are properly closed and locked
Don't leave side gates open and make sure they're secure
Don't leave accessible windows open at night
15 October 2014
---
Angmering Planning Applications
A/136/14/PL - Demolition of existing dwelling and erection of 2 No 4 bedroom detached house with garages (resubmission of A/67/14/PL) at Merrivale, Station Road. Applicant: Messrs SN & MC Des Baux.
Observations on this/these Application(s) must be received by The Head of Planning Services, Arun District Council, The Arun Civic Centre, Maltravers Road, Littlehampton, West Sussex BN17 5LF by 30 October 2014.
To see applications, plans, design statements, etc, type the Application Reference Number (such as those above) into Arun District Council's "Application Search Facility ", click on the Search button, and click on the hyperlink reference when selected application is returned - then select "Documents".
10 October2014
---
School's Remembrance Garden - Update
Further to our News article on 25 September 2014, we can now report that on Saturday 4th October, staff, students, neighbours and parents came together at the Angmering School to create a Reflection garden in memory of the fallen soldiers of WW1. The idea came from Subject Leader for History, Anna Ward and her History club. The project quickly became a community effort, with Lee Rand, a parent of yr 10 Louis and experienced builder, agreeing to project manage the build. Within hours, he had managed to arrange machinery and a work force to get the project going.
Mrs Ward and Estate's Manager, Steve Jackson, approached local businesses and were overwhelmed with their generosity. Parker Building Supplies donated plum slate and all the building materials and even came to help out with the build. Mr Rand also managed to get South Coast Skips to donate two skips, a whacker plate from R and C Tool Hire and machinery from Grab n Tip. Haskins donated a bird bath and wildflower seeds and Ferring Nurseries donated all the beautiful flowers and shrubs. Lee Rand and Co gave up their Saturday the weekend before, digging out the path and pegging the boards.
...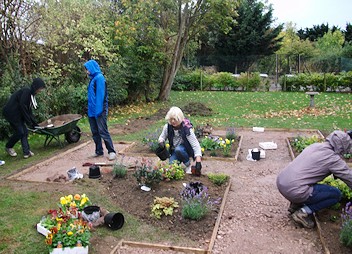 On the 4th, about 35 volunteers turned up, ranging from 3 years old to slightly older. Everyone got involved, shoveling materials and digging out flower beds. There was a fantastic community spirit and everyone had a lot of fun, despite getting soaked. Phil Jobling, Deputy Head said "A fantastic community effort, parents, teachers and students all working together as a team." Caroline Mitchell, governor, said "A fantastic idea and something for the future." Dr Robert Sayers, parent of Adam said "The war is very important and it's great to support the local school. Many hands make light work." Teresa Strudwick, mum of Logan said "It'll be so rewarding for him to look back and think I helped create this." Charlie Ward, 3 years old, said "I love digging and this is fun." Charlie Knox, also 3 said " I got to play in the mud and have fun!"
The garden is almost finished and the School would like to thank everyone involved, especially David from Parker Building Supplies and Lee Rand. Anna Ward said "This has been a brilliant project to be involved with. The garden will be a place for students to reflect and find some peace and quiet in a busy environment. In the Summer months, we would also be doing some small group teaching out there. Thank you to all the people who helped out." The school will be holding their 2 minute silence on November 11th in the garden.
8 October 2014
---
Art group's exhibition of pastels
Jane's Pastel Group has a display of their achievements in the Angmering Community Centre for the month of October. The group was started four years ago and has a maximum of ten members. Encouraged by their leader, Jane Pesterfield, to show off their work, for several of them this is the first time they have exhibited their pastel pictures. They enjoy their monthly sessions in the King Suite in Angmering Village Hall and have made really good progress. They hope you enjoy their work!
Currently there are vacancies for new members, so please contact Jane for more details. Phone 01903 774289, or email jane.pesterfield@gmail.com
8 October 2014
---
Annual Conker Competition
The Spotted Cow Organisation To Create Help (S.C.O.T.C.H.) will be holding its annual Team Conker Competition at The Spotted Cow, High Street this coming Sunday (12 October). Registration of teams will commence at 1.00pm for a 1.30pm start. The entry fee is £10 per team.
The S.C.O.T.C.H. Team Conker Competition, inaugurated in 1980, is for teams of 3 players of all ages. This is the 20st consecutive year at The Spotted Cow. In that time, only two teams have won the competition more than once. It is recommended that the minimum age limit is 8 years old. There is no maximum age limit; the oldest player in past years has been 98 years young. Under 16s must be accompanied by a responsible adult. The organisers will try to make up teams with people who don't have three players. All conkers and string are provided by the organisers.
The competition is run on a knockout basis with all first round losers eligible to play in The Plate Competition. Trophies and/or medals are awarded the first three teams in the main draw. The winning team are also awarded "THE ALLEYCAT CATTERIES" shield. The winners of the plate draw also receive a medal. In addition, there are prizes for the Most Outstanding Player and the Best Fancy Dress.
There will be a barbecue, raffle, and a draw for a magnum of Champagne. The proceeds of the event will be donated to Chestnut Tree House. There will also be Live Music, at 4.30pm, from Peter Ridge (Liquid Logic) .
Further information available at www.abooty.co.uk or telephone 01903-770142
4 October 2014
---
Man attacks teenage girl in Angmering
Police are appealing for witnesses after a 16-year-old girl was attacked by a man in Angmering.
The victim was walking in Arundel Road, near Fletcher's Field, at about 10.30pm on Wednesday (1 October) when a man ran at her from behind and pulled her to the ground. The teenager fought herself free from the man, who ran away towards the nearby graveyard. The victim then raised the alarm. The attacker was white and was wearing a brown hooded top.
Detective Constable Pete Parkinson said: "This must have been a terrifying experience for the victim, who also hurt her knee and lip in the fall. We urgently need to speak to anyone who was in the Arundel Road area on Wednesday evening who may have seen the man acting suspiciously. The man had been sitting on a bench in Fletcher's Field before the attack and people passing by may have seen him. If you saw or heard anything out of the ordinary, or recognise the description of the man, please contact us."
Anyone with information should email 101@sussex.pnn.police.uk quoting serial 1680 of 01/10, call 101 or contact the independent charity Crimestoppers anonymously on 0800 555111.
2 October 2014
---
Community Film Show
The next film to be shown at Angmering Community Centre is "THE MONUMENTS MEN" [UK 12A] at 7.45pm on Saturday 11 October- doors open at 7.30pm.
Starring SGeorge Clooney, Matt Damon, Bill Murray, Hugh Bonneville, and Cate Blanchette.. Based on the true story of the greatest treasure hunt in history, the film is an action drama focusing on an unlikely World War II platoon, tasked by Franklin D Roosevelt with going into Germany to rescue artistic masterpieces from Nazi thieves and returning them to their rightful owners. poster
Tickets priced at £5 are available in advance from the Community Centre Office, Woodies News, and Angmering Framing & Stitches, or at the door (subject to availability).
The November Film will be "LOCKE" starring Tom Hardy.
1 October 2014
---