Angmering Village Life
News Archive
September 2011

Outdoor Adult Fitness Equipment
Angmering Parish Council is pleased to announce that funding for additional play equipment has been given to the parish by Arun District Council. It's the turn of the older members of the community to benefit, so Adult Fitness Equipment for all round body workouts is being installed on Mayflower Park. There will be eight double pieces of equipment, all free to use, allowing at least 16 people to use at any one time. For photos of this equipment and benefits, click here.
Angmering residents are invited to the Opening Ceremony of the equipment on Saturday 24 September at 10.00am on Mayflower Park, accessible via Rowan Way, Bramley Green or Mayflower Way (off Roundstone Lane).
(19 September 2011)
---
American artist buried in Angmering - a mystery!
One of the mysteries of St Margaret's Church is the stained glass window in the North Aisle, installed in 1933, to the memory of Lottie Gray Horton. This is supposedly a 16th century panel that required the removal of the central mullion which needed a diocesan "Faculty" to allow it. The window was erected by her husband William S Horton and son Capt Gray Horton (later Lt. Col.). They were not connected to the Angmering family of that name who arrived in the latter part of the 19th century.
During the early part of this Summer, "payback scheme" workers cleared much of the undergrowth in the churchyard that had been covering some graves for more than 40 years. One of the findings was a double grave with the inscription:
In memory of Lottie Gray Horton. August 10th 1931 and William S. Horton December 5th 1936. My beloved mother and father.
This prompted some further research on this couple. Born in Grand Rapids, Michigan, USA in 1865 to wealthy parents (later to disinherit him), William Samuel Horton was to become a prolific and probably the best known American impressionist artist of his era. In 1892 he married Lottie Gray, a wealthy New York Socialite and they moved to Paris in 1893 where William trained then flourished as an artist and had numerous collections exhibited in principal galleries in Paris, New York and London, some permanently. He won many awards and medals for his work during his lifetime. Their son William (later Lt. Col. William Gray Horton, MC, of the Scots Guards) was born in Paris in 1897. Summers were often spent in England from where he drew some inspiration for his work. He counted Monet and Degas among his friends. He died in London in 1936 and was buried alongside Lottie in Angmering
However, their connection with Angmering is still a mystery. They may have been periodic visitors to Angmering but most of their time was spent in Paris or London. Can any of our readers throw any light upon their Angmering connection?
For other interesting Angmering burials click here.
(19 September 2011)
---
St Barnabas House Fundraising Event
The Parish Clerk, Rob Martin, is trekking the Inca Trail in Peru next May in aid of St. Barnabas House Hospice and, as part of the overall fundraising, on Sunday 2 October 2011 there will be a 50% Auction held in the Angmering Village Hall at 12.30 p.m. (Viewing from 10 a.m.). Please support this event and bag a bargain or enter your item and receive 50% of the proceeds when sold. Items can be dropped off at the Parish Office beforehand or on the morning can be brought into the village hall.
This will be a fun auction and you will be allowed to twitch your nose without fear of buying anything, but please come along, bid on as much as you can, and enjoy the afternoon. poster
(18 September 2011)
---
New childcare business
Ticklemetoo BAH Club, a breakfast, after school & holiday club, opened in August 2011 at the Scout Hut in Rectory Lane. It is open from 7am weekdays, during term time and holidays and from school pick up to either 5pm or 6pm Monday, Wednesday and Friday (all day in the holidays). The setting is registered with Ofsted.
Ticklemetoo is a culmination of a shared vision and aspiration to provide a unique quality childcare setting that offers exceptional standards of childcare for children between the ages of 4 and 11 years within a nurturing homely environment. Their priority is to maintain consistently high standards of quality childcare and to put the children and families at the heart of everything they do. Developing strong relationships with parents, carers, the schools and community is paramount to the success of their setting and to the child's holistic growth and development. Playworkers see themselves as facilitators of the children's ideas, thoughts and creativity and provide a range of resources to support their play. They ensure children can access a wide range of resources and equipment both inside and outside.
The club boasts qualified & enthusiastic staff with a range of skills, abilities and qualifications. All of the team hold a paediatric first aid level 2 qualifications and have regular & current training. Ticklemetoo BAH Club was open for 4 weeks of the summer holidays with back to basics play such as den building & role play encouraging the children to use their imagination, art & craft activities, and cricket etc on adjoining Fletcher's Field
Ticlemetoo believe in learning through play & nurturing the children in an emotionally warm & safe environment. The aim is to take time to get to know each individual child & plan for their needs accordingly. A range of services and policies and procedures takes into account 'Every Child Matters', 'EYFS' and 'The Playwork Principles'.
For all enquiries, call 07501 421771 or email ticklemetoobahclub@hotmail.co.uk
(17 September 2011)
---
Angmering Society's outing cancelled
Due to the loss of the Society's booking at Westminster, it is regretted that the outing planned for 7 October to the Houses of Parliament and Hampton Court has had to be cancelled. Unfortunately, some of the Society's members do not want to do just the Hampton Court part of the trip as they have been there already and recently; therefore, the numbers left on the coach does not make it an affordable outing. Refunds will be made to members who will be attending the Society's meeting on Tuesday 20 September; for those who do not attend, the refund will be sent by post.
(16 September 2011)
---
Law abiding Angmering
According to the Motor Insurers' Bureau (MIB), there are 1.4 million uninsured vehicles nationwide. Littlehampton had the highest percentage of uninsured cars in all Sussex with more than 830 uninsured drivers - one in every 18 cars on the town's roads. However, Angmering had the lowest percentage of uninsured cars in Sussex with less than one in a hundred. Research shows that uninsured drivers are 5 times more likely to be involved in road collisions, to fail to comply with other road traffic requirements, and to be engaged in other criminal activity. (sources: Argus & MIB).
(16 September 2011)
---
Angmering Planning Applications (p/e 07/09/11)
A/131/11/TC - Pollard 1 No Lime tree within the Angmering Conservation Area at Waterton House, Arundel Road. For: Mrs S Harris.
A/133/11 - Link porch between house and garage to create a draft lobby; partially demolish a workshop for the creation of a hobby room/study at 24 East Drive. For: Mr B Chate.
Observations on this/these Application(s) must be received by The Head of Planning Services, Arun District Council, The Arun Civic Centre, Maltravers Road, Littlehampton, West Sussex BN17 5LF by 6 October2011.
To see applications, plans, design statements, etc, type the Application Reference Number (such as those above) into Arun District Council's "Application Search Facility " , click on the Search button, and click on the hyperlink reference when selected application is returned - then select "Documents".
(15 September 2011)
---
Purchase of The Lamb Inn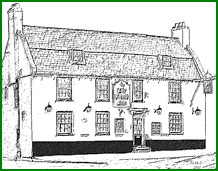 Villagers may be aware that Punch Taverns put The Lamb up for sale some months' ago and there has been much speculation about what would become of the pub at the heart of our village. Well, I'm pleased to say that for the first time for many years, the future of the pub looks bright and it's passing into private hands - not only into private hands, but also into ownership of an Angmering-based family who are passionate about its success. To dispel any further speculation or incorrect information, Lee Newbon has written the following for publication on this news page:
"Having read the excellent 'Angmering Village Life' website for some years, I thought it would be fitting to write a few paragraphs introducing ourselves as the new owners of the Lamb Inn, through the good offices of Neil Rogers-Davis.

The Newbon family has lived locally for almost 30 years. My wife Jean and I have 3 sons - Andrew is our eldest son and Robin our youngest. Martin our middle son is 35 years of age and will become the Head Chef and Licensee of our new venture which will be named 'THE LAMB AT ANGMERING'. The old Inn requires a lot of attention to bring it back to its former glories so, unfortunately, it will have to close its doors for a rather lengthy period. As most of you will know, it is a listed building and all the alterations have to be approved by the Arun District Council's listed buildings department. It takes time to obtain permission for alterations so, at this stage, it is impossible to know exactly how long The Lamb will be closed. Best guess says it will close sometime in October and reopen around April 2012. During this period the Public Toilet, which we understand has been closed recently, will be back open. We have offered to put the facility into the controlling hands of the Angmering Parish Council who, we are pleased to say, have accepted our offer. We will review the future of this facility when we open again in 2012.

If our plans are approved, we will be repairing the roof, chimneys, sides of the building, new damp course, repairs to flooring, exposed timbers, repairs to windows, new ceilings, installing a new kitchen, new toilets, electrical rewiring, two completely new restaurant bars for approximately 54 covers with furnishings, 5 new letting bedrooms all with en suite new bathrooms, laundry room, and owners' accommodation.

When we open, The Lamb will have a number of tap beers to offer, lagers and a tap cider, plus an extensive 'wines by the glass' list. It will be what is termed these days a 'Gastro Pub'. Restaurants will be in both bars. Our aim in our restaurants will be to serve good value high quality food, with interesting and value for money beers and wines. The Lamb will no longer be a TV Sports pub, there will be no TV's in the bars neither will we have gaming machines. Instead our aim will be to try hard to return The Lamb to the local community to use for a friendly pint or a glass of wine, a good sandwich, a decent meal and a place the village can enjoy and feel good about.

We know that will be a difficult task, it will take an immense amount of hard work, consistency and dedication. However, you have our assurance we will try, and try hard to reach our aim. See you sometime in 2012.
Kind regards,
Lee Newbon"
(12 September 2011)
---
Thieves steal lead
Thieves have partially stripped lead from the roof of the King Suite at the Village Hall. This appears to have been done in the early hours of yesterday (Wednesday) morning.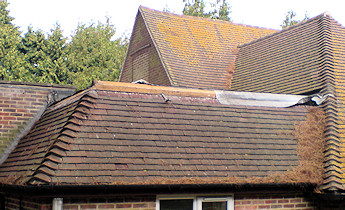 (8 September 2011)
---
Level Crossing closure
Angmering Station level crossing will be closed to all traffic for two weeks from Monday 12 September to Monday 26 September. Vehicles should use either the Roundstone level cossing or Windmill Bridge.
(8 September 2011)
---
Britain in Bloom results
It was announced today that "Angmering in Bloom" received a Silver award in the 2011 South-East Small Town category of the Royal Horticultural Society's "Britain in Bloom" competition. The presentation of the award was made to Angmering Parish Council at Fontwell today. This was Angmering's first entry into the competition. Participants are assessed in three key areas, namely: Horticultural achievement, Community participation, and Environmental responsibility.
(7 September 2011)
---
Angmering Planning Applications (p/e 31/08/11)
A/84/11 - Partial change of use of existing residential garden of Phares Courtledge to provide supplementary car parking to adjoining car dealership. R/O Phares Courtledge, adj. to BMW House, High Street/Water Lane. For: Chandlers Garage.
A/129/11 - New dwelling replacing mobile home at Foschini's Nursery, Hangleton Lane, Ferring. For: Mr Foschini. (This application is a Departure from the Development Plan).
A/132/11/T - Fell 1 No. Silver Maple tree at Barleycombe, Ham Manor Way. For: Mrs Cloran.
Observations on this/these Application(s) must be received by The Head of Planning Services, Arun District Council, The Arun Civic Centre, Maltravers Road, Littlehampton, West Sussex BN17 5LF by 29 September 2011.
To see applications, plans, design statements, etc, type the Application Reference Number (such as those above) into Arun District Council's "Application Search Facility " , click on the Search button, and click on the hyperlink reference when selected application is returned - then select "Documents".
(7 September 2011)
---
Keys - lost and found
I would like to sincerely thank the unknown person who found my keys in Foxwod Drive yesterday evening and posted them back through my letterbox while we were out frantically searching for them.
(5 September 2011)
---
Twinning Association remembers D-Day Sword Beach and Leslie Baker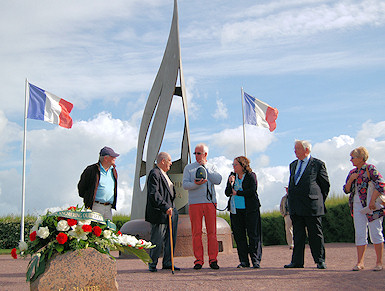 Thirty seven members of the Angmering Twinning Association travelled to Ouistreham, the Normandy seaside town with which Angmering is twinned, last weekend, to celebrate the 35th anniversary of the twinning. They were welcomed by their French partner families and committee, at a reception in a local school on arrival on Friday. Old friendships were renewed and new families introduced.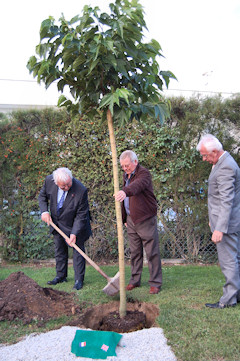 Great hospitality and arranged events for the weekend were the order of the day. On Saturday the group gathered at the memorial on the seafront overlooking the magnificent beach to meet two remaining local French Commandos, both now in their, 90's, who took part in the D-Day Landings on 6th June 1944, with the British invasion troops on Sword Beach, the very Ouistreham beach that today looks so peaceful, full of happy families. The group learnt of their time in the Free French Army training in the UK with British Commandos for the invasion, and of their great love and affection for the British who they regarded as "the best" to fight alongside. Ouistreham looked very different then.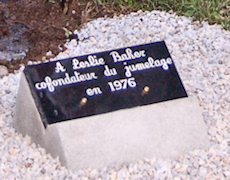 After a picnic and visit to Caen botanical garden the French arranged a tree planting, close to Angmering Square, in memory of Leslie Baker, one of the founders of the Twinning partnership. Many people in Angmering will remember Leslie for all that he did for the village over many years - the French in Ouistreham also remember him with great affection.
The French organised an exclusive and fantastic evening at the Casino on Saturday evening ,with a meal and a first class show with singers, dancers, magician and a drag queen compere. All the fun and audience participation cemented the entente cordial for another year.

In August 2012 it will be the turn of Angmering to host our French guests.
New members are very welcome - no need to speak fluent French, just a basic knowledge and a sense of humour is all that's needed.
(3 September 2011)
---
Dentist's Open Day
Keeping your gums healthy is an important part of your overall health routine. If you don't look after your gums, you are more likely to develop gum disease, which can lead to all sorts of problems with your oral and general health. For example, Periodontitis, a more serious form of gum disease, has been linked with a number of chronic illnesses such as heart disease, strokes and diabetes, as well as other ailments such as Alzheimer's, erectile dysfunction and - wrinkly skin!
"You may not be aware of this, but many patients have chronic gum disease which goes untreated simply because they have no symptoms," says Angmering-based Dentist, Brian Hong. "At Cornerways Dental Practice we include periodontal screening as part of our regular check up routine. We are able to treat Periodontal problems because we have a consulting specialist Periodontist and a whole-team approach which includes our general dental practitioners as well as oral hygienists".
Hennie van Jaarsveld, Cornerways' specialist Periodontist, uses non-surgical as well as surgical techniques to reverse virtually all the signs and symptoms of periodontal disease, helping patients to keep their teeth for longer.
So how can you be sure that your Dentist isn't overlooking gum problems in your mouth? "Talk to your Dentist. Often the symptoms of gum disease don't show up until the late stages. If you're in any doubt, you can ask for a periodontal screening," says Brian. "Signs to look for are swollen, tender gums which bleed readily, teeth feeling loose, a foul taste in the mouth or halitosis".
Cornerways Dental Practice is holding a free Open Day between 12:00 and 3:00 PM on Saturday 17th September at their practice in Angmering which is located on the corner of Weavers Hill and the High Street. "We want to give people the chance to drop in and ask questions, find out more about the services we provide and to meet the people who provide them," explains Brian.
For more information about the Open Day visit www.cornerwaysdentalpractice.co.uk or call 01903-782530
(3 September 2011)
---