Angmering Village Life
News Archive
April 2011

Royal Wedding
I hope everybody enjoyed the Royal Wedding today. What a lovely ceremony it was and how well it went off. Angmering enjoyed good weather today and even the predicted rain in London failed to materialise with sun eventually breaking out.
I don't know whether there were many street parties in Angmering, but below is one taking place this evening in a small close on The Dell.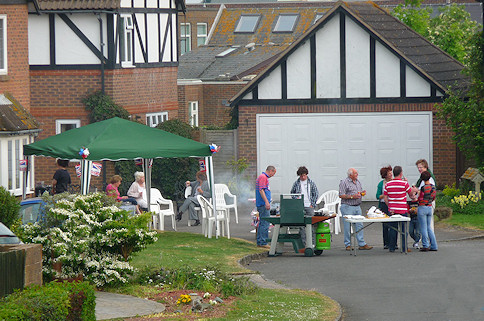 (29 April 2011)
---
Club wins League Title
With its 5-0 victory over Upper Beeding last Saturday, Angmering Football Club won the West Sussex Premier League title with two games in hand and are now hoping that their efforts will secure a place next season in County League Division 3. Much rests on ground standards that must be met.
The club is also in the semi-final of the of the Vernon-Wentworth Cup and this cup run, together with the league title, is a fitting conclusion to the club's centenary year.
(29 April 2011)
---
Zimbabwe to Angmering

Stephen Lungu, the eldest child born to a teenaged mother, was abandoned by her when just 7, and was 11 when left by his aunt to bring up younger siblings.
In his late teens he embarked on a life of dedicated terrorism becoming totally embittered against God, joining a gang which specialised in sabotage, bombing and destruction. On hearing of a planned gospel meeting to take place in a tent he went armed with bombs and the intention to blow up the meeting and shoot anyone who tried to escape. However, before he could throw his bombs he heard the gospel message and there and then gave his life to God, recognising how evil he had become.
What he heard, how he felt, the immediate consequences, and the effect on the rest of his life is an amazing story. You can hear this story for yourself from Stephen Lungu at the 10.00am service at St Margaret's Church on Sunday 8 May.
(27 April 2011)
---
New Table Tennis Club
There will soon be a new Table Tennis Club opening at the Angmering School on a Tuesday night for any player young or senior or who play currently and just want to practice. It's hoped that many people from the surrounding area will benefit from the top quality tables the Angmering School Table Tennis Club has, thanks to a grant from Sport England. If there are any people young or old who want to learn to play or want to help in the running of the new club or just want to play, you can obtain details from Head Coach, Alan White, on 01903-732979, or Email: chalky2468@sky.com
(27 April 2011)
---
Angmering Planning Applications (p/e 19/04/11)
A/61/11 - Rear porch extension at 12 Mill Road. For: Mr & Mrs Griffiths
Observations on this/these Application(s) must be received by The Head of Planning Services, Arun District Council, The Arun Civic Centre, Maltravers Road, Littlehampton, West Sussex BN17 5LF by 19 May 2011.
To see applications, plans, design statements, etc, type the Application Reference Number (such as those above) into Arun District Council's "Application Search Facility " , click on the Search button, and click on the hyperlink reference when selected application is returned - then select "Documents".
(27 April 2011)
---
Parish and District Council Elections - 5 May 2011
On Thursday 5 May, Angmering residents will be asked to vote for 13 candidates to form a new Angmering Parish Council (15 are standling for election) and 3 candidates to represent Angmering as councillors on Arun District Council (7 are standing for election). Here are the lists and what the ballot forms say about each candidate:
ANGMERING PARISH COUNCIL CANDIDATES
1. ASH, Dr Steven John - 57 Chantryfield Road
2. BICKNELL, Paul Andrew - 6 Birch Close
3. BOS, Jennifer Hilda - 11 Highfield Close
4. FRANCIS, Susan Mary - 6 Garden Close (As a resident of the Parish)
5. GILLETT, Bob - 22 Mill Road Avenue
6. GRAHAM, Julia Helen Mary - 27 Roman Avenue (Resident)
7. HARRIS, Don - Viskas, The Avenals (Independent)
8. LEVERICK, Philip - 3 Wayside Road (Independent)
9. MARINER, Albert Frank Simon - Acorns, Arundel Road
10. MOUNTAIN, Steven Charles - 51 East Drive
11. NUNN, Nigel Henry - 152 Palmer Road
12. TURNER, Patricia - 4 Garden Close
13. VERRINDER, Chris - 41 Greenacres Ring
14. VERRINDER, Sylvia - 41 Greenacres Ring
15. WINN, Stephen James - 6 Rowan Way
ARUN DISTRICT COUNCIL CANDIDATES
1. BICHARD, Craig Anthony - 42 Downs Way (Liberal Democrat)
2. BICKNELL, Paul Andrew - 6 Birch Close (Conservative)
3. HARRIS, Don - Viskas, The Avenals (Independent)
4. HAZLEHURST, Jule Susan - 22 Bewley Road (Conservative)
5. LONGHURST, Julia Carolyn - Old Place Farm House, Rectory Lane (UKIP)
6. SLOWE, Peter Malcolm - 46 Beech View (Labour)
7. WENSLEY, Dudley Michael - Fir Tree Cottage, North Drive (Conservative)
All candidates have been invited to tell us more about themselves and why they are standing on the Angmering Forums.
(20 April 2011)
---
Learn to Fence
Are you between the ages of 14 and 25 and are interested in learning the sport of fencing while keeping fit and making new friends? If so, Angmering Community Centre is proposing to hold 6-8 weeks coaching courses at a minimal cost provided sufficient people are interested. All equipment would be provided and supervision would be under a fully qualified coach. The courses would be run under the Sportivate initiative, a new national programme aimed at increasing participation in sport and physical activity for 14 – 25 year olds.
If this does interest you or your friends, phone the office at the Community Centre at Foxwood Avenue (Bramley Green) on 01903-773982 or email: office@angmeringcommunitycentre.org.uk for more details.
(14 April 2011)
---