Angmering Village Life
News Archive
April 2010

Angmering Planning Applications (p/e 28/04/10)
A/21/10/A - 1 no. externally illuminated fascia sign on south elevation at Worthing Ferring Garden Centre, Littlehampton Road, Ferring. For: The Garden Centre Group
A/35/10 - Continuance of use without compliance with condition no 1 imposed under planning reference no: A/23/08/ relating to an extension for a further temporary period of 3 years for car body repairs & spraying at Unit 11 Shrublands Roundstone Lane. For: Kentcoast Ltd
A/47/10 - Construction of detached double garage at Shardeloes, The Thatchway. For: Ms J Fellowes
A/48/10 - Raising paths and patios and forming ramps to aid wheelchair access in around the property, conversion of garage to habitable accomodatio at Arlington. The Thatchway. For: Mr R Terry
A/52/10 - Proposed lean-to shelter to store logs and kindling wood at 43 The Vinery, Arundel Road, Poling. For: Mr P Holland-Skinner
A/56/10 - Front porch at 24 Lansdowne Road. For: Mr & Mrs L Boffee
Observations on this/these Application(s) must be received by The Head of Planning Services, Arun District Council, The Arun Civic Centre, Maltravers Road, Littlehampton, West Sussex BN17 5LF by 20 May 2010.
To see applications, plans, design statements, etc, type the Application Reference Number (such as those above) into Arun District Council's "Application Search Facility " , click on the Search button, and click on the hyperlink reference when selected application is returned - then select "Documents".
(30 April 2010)
---
Summer Cruise on the Solent
The Angmering Society is repeating a cruise on the Solent that was extremely popular a few years back. This is on Tuesday 15 June 2010. The outing has been well subscribed by members but there are 10 places still available which are being opened up to non-members.
The coach will leave The Lamb Inn at 9.30am and will travel to Portsmouth, taking the ferry across to Gosport. The coach is expected back in Angmering by 6.00pm.
The cruise is organised by Gosport Ferry Ltd on The Spirit of Portsmouth, a comfortable ship with a capacity of 300 passengers. On leaving Gosport, the ship will sail along the Solent to the Beaulieu River and up to Bucklers Hard. The return is via the northern shore of the Isle of Wight and will end up with a tour of Portsmouth Harbour, with views of various ships, old and new, as well as the spectacular Spinnaker Tower.
The cruise will take about 5 hours beginning at 11.30am. There is a licensed bar aboard with sandwiches and snacks available, but more substantial meals MUST be ordered in advance.
A booking form with the available meals can be downloaded by clicking here (PDF file). The cost to cover coach fare and cruise will be £22.50 per person, plus £6.00 for each meal ordered. Use the meal numbers to identify any meals required (five choices) on the booking form, say 5(two), 1(one).
The Society will not be issuing tickets, so people booking this trip must retain these details. Further information can be obtained from Mr Peter French on (01903) 859618 or send the booking form to him with a cheque for the appropriate amount. If the trip is over-subscribed, cheques will be returned. Booking Forms must be returned by Friday 7 May at the latest.
(28 April 2010)
---
Bluebells
The bluebells in Angmering Park are extremely late this year. Below is a photo of them taken today. They will not be at their best for another 10-14 days so, if you do want to go and see them, it is suggested you wait a little bit longer. However, as can be seen, the little white wood anemones are quite delightful. The beautiful green leaves of the beech trees are starting to break out.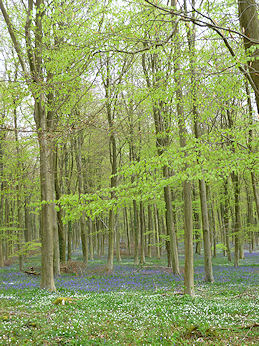 If you wish to go and see the bluebells, perhaps one of the simplest routes is to walk directly up Selden Lane (next to the Fox PH) and then into the woods. It will take about 8-10 minutes walk in the actual woods before you see them.
(28 April 2010)
---
Sophie's Fun Day
A Fun Day is being held this Saturday (1 May) in The Lamb's car park in The Square from 11.00am in aid of Sophie's Fund. There will be a toy sale, bouncy castle, refreshements, facepainting, nail art, and lots more. If anybody could help, plese contact Sophie's mum, Debbie, on 859350 - it will be much appreciated.
On Saturday 8 May (11.00am-2.30pm), Debbie will also be holding a pottery painting session, "Hug a Mug", in the Village Hall in aid of Sophie's cause.
HELP SOPHIE WALK
(27 April 2010)
---
Nick Herbert to visit Angmering
Nick Herbert who, until Parliament was dissolved was our MP, and who is standing again (as a Conservative) at the elections on 6 May, will be visiting Angmering this Thursday (29 April). He will be walking around the village centre at 12.00 (midday) and will be in The Lamb between 1.00 and 2.00pm. Anybody who wishes to speak to him about issues are free to approach him.
Angmering Village Life, which is apolitical, would be pleased to publicise similar visits or public meetings by other political candidates.
(27 April 2010)
---
Planning Meeting to discuss projected new housing
The Planning and Conservation Committee of Angmering Parish Council meets tonight (Tuesday) at the Angmering Community Centre at 7.30pm at which Mr Neil Crowther, Arun District Council's Principal Planner, Strategic Development Team, will give a presentation on the principals of the Scoping Application A/53/10/EIS (see news article dated 24 April below).
Members of the public may attend Parish Council Committee Meetings and an agenda item allows public questions. However, it should be noted that, at tonight's meeting, Public Questions (Agenda item 5) will be held before the Presentation by Mr Crowther (Agenda Item 7) and the Committee's own discussion on the Scoping Application (Agenda item 9).
(27 April 2010)
---
Concert raises money for Chestnut Tree House
The concert "Music for an April Evening" last Saturday evening at St Margaret's Church raised £1320 for the Chestnut Tree House Children's Hospice. Over 250 people packed the church. Refreshments followed in the Church Hall where Jill Howell, the organiser of the concert, had displayed photos of St Margaret's Hand Bell Teams over the past 22 years whom she has lead and taught the bell ringing.
Commented Jill "Two very special children watched the Ringers with much concentration; they were Douglas (Duggie) Howell, now aged 5, - my and Geoff's grandson - and Rowena Hutchinson, aged 11, whose grandparents live on Ham Manor. Both children have received many months of chemo-therapy for tumours and are now in remission. Rowena has spent many happy hours at Chestnut Tree House, the only Hospice for the Children of Sussex and which is in the north of our village. The children presented bouquets to the musicians, Lorna Sivyour, Hannah McCurrach (violins), Janet Bowles (piano/organ) and the 'star', Jacquelyne Hill from Tarring, aged 16, the BBC Choir Girl of 2009 who sang five songs beautifully for us".
Jiill also wishes to thank everyone who helped in any way which resulted in a very happy evening and for their contributions toward the sizeable donation to Chestnut Tree House.
(27 April 2010)
---
Substantial new houses proposed for Angmering
Rumours of the building of hundreds of new houses to the North-East of Angmering have been circulating in the village this week to the concern of residents and shopkeepers. This concern is borne out by the discussion in the Parish Council's last Policy & Finance Committee Meeting on 12 April (see news item below)
It is understood that three local landowners are considering combining to provide "greenfield" land to developers to build a substantial number of houses on land surrounding Avenals Farm. The eastern boundary of the site is defined by the A280 Angmering Bypass. To the south, the site adjoins the rear of residential properties located along Angmering's High Street and The Avenals. Part of the western boundary adjoins Weavers Hill. Buildings and land associated with Avenals Farm form part of the northern boundary, whilst Water Lane forms the remainder of this boundary. It must be pointed out that this is the land already identified in "Arun Core Strategy - Options for Growth - Consultation 12 February - 2 April 2009" which is a document within ADC's Local Development Framework which itself forms part of the present Labour Government's "South East Plan". (see Angmering Village Life article on this subject)
At present Planning Application No. A/53/10/EIS is only an environmental impact "Scoping Report", seeking to establish whether there are any reasons to prevent building on the land by consulting local government agencies and councils. The planning application is vague in detail and does not state the number of houses envisaged, but it does say that it is proposed that the 11.6 hectare site would be developed for mixed uses to include residential, employment (shops?) and community uses. You can see the full application by going to Arun District Council's "Application Search Facility " , entering A/53/10/EIS in the Reference box - then click on the Search button, and click on the hyperlink reference when selected application is returned - then select "Documents". .
Editorial Comment
Angmering has suffered a 27% increase in its size in recent years with the building of Bramley Green. The infrastructure of that development was poor and the benefit to shopkeepers in the village centre has been questionable. It is doubtful whether any new housing would greatly benefit the village shopkeepers, especially as car parking in the village centre is abysmal. New retail outlets built as part of the proposed new housing could result in the loss of more village shops and the death of the centre of the village as we know it today.
In the Parish Council's Policy & Finance Committee Meeting minutes, councillors have left it for the Planning Committee to meet the District Planner to discuss the matter. While this may be acceptable at this stage, all Parish Council Committees (Highways, Environment, Leisure, Finance) must quickly come on board to fight this threat and not leave it solely to the Planning Committee. The Angmering Society must also let its feelings be known to the planners at the earliest possibility.
While this Planning Application is associated with the present government's "South East Plan", our MP, Nick Herbert, has stressed on several occasions that a Conservative government would abolish these regional plans and let local authorities determine their own housing needs. However, what government we have after the May 6 election is very much up in the air at present, and the Parish Council, local organisations, shopkeepers, and village residents should not be complacent in believing that development of substantial new housing in Angmering will never come to fruition.
All must make their feelings known. Comments are due with Arun District Council by 13 May. While this is not a normal planning application as such and has not been advertised in the press, Angmering residents who have opposed further development of our parish may wish to show their hostility of the development of this land at the earliest stages.
( This topic is also being discussed on the Forums )
(24 April 2010)
---
Snippets from the draft Minutes of the Parish Council's Policy & Finance Committee Meeting on 12 April 2010
Honey Lane
It was apparent that the promised finance from West Sussex County Council was unlikely, given the current financial climate, which left the question of if and how much the Parish Council should contribute. In order to be able to determine how much the Parish Council's commitment might be the Clerk offered to obtain quotes for the filling of the potholes in the section of the lane for which it was responsible.
Community Centre Project
Councillor Hankinson expressed concern regarding the apparent ongoing commitment by the Parish council to financing the Community Centre. The Clerk outlined the Parish Council responsibilities contained in the draft lease regarding the exterior of the building and confirmed that this was the reason that a Repairs and Renewals fund was necessary to ensure that there would be sufficient funds to carry out repairs at some time in the future. He confirmed that there was no provision in the lease to require repayment by the Community Centre of any contributions towards the financing costs of the build.

Councillor Nunn remarked that acoustics of the main hall were much better, although not perfect.
Environmental Wardens
Two Environmental Wardens, Sharon Leverick and Mike Thompson had been appointed and were already out doing the job. The Committee wished to welcome the two new members of staff and looked forward to them making a real difference to the look of the Village.
Bramley Green Play Area
A report from John Foster had indicated that substantial groundwork would be necessary to stabilise the surface of the play area. The quote received to do the work was for nearly £20,000, although this might now be too low as the area concerned has expanded since the estimate was provided. The Clerk had asked Arun DC whether they should have some responsibility for this and received a negative answer. He had also checked the Parish Council's paperwork, and it was apparent that this is the Parish Council's problem making it necessary to get the work done as soon as possible. The Clerk's suggestion was to look at having the groundwork done and then to sort the surfacing out separately which would probably be more economic than using a play area specialist doing the whole job. The financing would have to come from reserves, either General or earmarked which would have to be decided before we order the work. On a proposal by Councillor Hankinson, seconded by Councillor Nunn it was RESOLVED that the Clerk write to Ian Sumnall, Chief Executive of Arun District Council (ADC), requesting that the matter of ADC sharing responsibility for the repair of the surface be questioned. The maintenance for which Angmering Parish Council are responsible should have been for the equipment and surfacing alone and not for the groundworks under the surface.
New housing on land at Water Lane
Planning Application A/53/10 EIS – the Parish Council was aware of this application which as a 'Scoping Report' was requesting feedback on the extent of the content needed in an Environmental Impact Assessment which would be part of any future planning application. As the potential application would be for a substantial number of buildings it was important that the Parish Council was involved at an early stage and would be discussing the matter at its next Planning Committee on 27 April 2010 which would be attended by the District Planner involved. If the application progresses further, the Parish Council will consider public consultation at that time.
2009/10 Earmarked Fund Transfers
[See item 09/93 in full minutes (link below) to see table of Opening and Closing Balances]
To read the full minutes of this meeting, click here (PDF file)
(24 April 2010)
---
New Bus Service to Chichester
Many residents are probably aware that Compass Bus run a No. 15 bus service to Chichester on Wednesdays. However, from 29 March 2010 they commenced running a No. 84 service daily (Monday to Saturday). The bus leaves The Green in the centre of the village at 10.49am and travels via Arundel to Chichester, arriving at West Street (oppositite the Cathedral) at 11.40am. The return bus leaves West Street at 14.45pm and travels via Arundel arriving at The Green in Angmering at 15.44pm. There is also another return bus that leaves West Street at 17.45pm arriving in Angmering (if requested by passengers) at 18.44pm.
It should be added that there is also an early morning Monday to Friday service that leaves Angmering at 06.49am arriving at West Street, Chichester at 7.35am. However, this service appears to be aimed at students as it only stops at West Street during school holidays. Outside holidays it only goes as far as St Richard's Hospital and Bishop Luffa School.
For any Clapham and Patching readers, there is a service on the No. 84 four times a day.
To see the full timetable, click here.
(21 April 2010)
---
Angmering Planning Applications (p/e 14/04/10)
A/49/10 - Change of use from charity shop A1 to A2 Estate Agents. Shop unit formerly 'Dizzy', The Square. For: Graham Butt Estate Agents
Observations on this/these Application(s) must be received by The Head of Planning Services, Arun District Council, The Arun Civic Centre, Maltravers Road, Littlehampton, West Sussex BN17 5LF by 13 May 2010.
To see applications, plans, design statements, etc, type the Application Reference Number (such as those above) into Arun District Council's "Application Search Facility " , click on the Search button, and click on the hyperlink reference when selected application is returned - then select "Documents".
(21 April 2010)
---
Two fires during weekend
The West Sussex Fire & Rescue Service was called to two fires in Angmering during the weekend.
The first was at a house in Arundel Road (no. 33) on Saturday at about 7.00pm where a small fire had started in an oven in the kitchen. Firemen with breathing aparatus extinguished the flames, removed the oven, and ventilated the property.
The second incident was on Sunday evening shortly before 8.00pm in a field off Water Lane. A large unattended bonfire containing three freezers, plastic and rubbish had spread to an adjacent hedgerow.
(19 April 2010)
---
Angmering Your Forum Bus nearing re-launch
The Angmering Youth Forum Bus is in its final stages of re-fitting and repair. The bus was lauched in May last year but the project has been delayed due to vanadlism and lack of funds. This has now been rectified but help is needed to finalise fitting out and there are a number of issues to be resolved. The Forum Committee needs help as follows:
A small amount of carpentry needs to be done. - reducing the size of some cabinets on the top deck which will house the computer parts, so that they fit flush under the work bench. Downstairs, two small tables need to be made and fitted. Wood is available.
A wheelchair ramp needs to be designed and made.
Volunteers (18 years or over) are needed to man the bus once it is being used. All helpers will need to be CRB checked and of course there is the old ,old problem, that even if you already hold a CRB form, it has to be done again for the Forum.
An army of drivers is required. The bus has been re-classified and it can now be driven on ANY driving licence, even an ordinary licence so long as you are over 25. The insurers, state that with the ordinary licence, drivers must have 15 hours of experience in that type of vehicle. A local instructor is available to take out groups of people in the bus for training. This will not cost you anything.
2 x 3-3.5k good quality diesel generators are required. Can anyone assist the Forum Committee in obtaining these at a reasonable price?
Somewhere to park the bus. Apart from the obvious, (size, access etc), one needs to bear in mind that when it is used in the evenings, it will be returning home at around 9.30 - 10pm, so the location needs to be able to have access without disturbing too many people.
New committee members are required.
If you can help in any way, please contact Mrs Pat Turner (Secretary) on 01903-782202 Email: angmeringpat@aol.com or Chris Lynch (Acting Chairman) on 01903-859713. The Forum now has its own website which is in its early stage of development which can be found at www.angmeringyouthforum.co.uk
(17 April 2010)
---
Help Spohie Walk Appeal - April Update
Over the last couple of months, there have been a number of initiatives to raise some £40,000 to get Angmering's little Sophie Nugent to the USA where she can have a life changing selective dorsal rhizotomy procedure which hopefully will help her to walk. Sophie suffers from cerebral palsy, which leaves her unable to walk or stand unaided, and crippled with painful spasms
Chief among the campaigners has been Spirit FM's Breakfast presenter, Kevin King, who has daily implored listeners to help Sophie's cause. Spirit FM has set up a dedicated Help Sophie Walk page where you read more about the wonderful fund-raising activities of people across the district.
Last week, the short-mat bowls "Bowlathon" at St Margaret's Primary School (see AVL item of 2 March in News Archive), raised a magnificent £2000+ in sponsorship pledges to Sophie's Fund. Even without those pledges, some £31,000 has now been collected for the Fund.
Just as amazing is the Brighton Marathon run this Sunday and a John O'Groats to Land's End cycle ride that Rustington's Mike Scott is doing for Sophie. Mike will set off on his bike on 27 May and, in a journey that will take about one month, will also cross three mountain peaks in the process. If you are still looking for ways of helping Sophie but do not want to use your credit card, you can sponsor Mike by using a TV style "voting" phone line - on 0907 706 0601 - to register your support for him. Calls cost £1.50, the majority of this going towards Sophie's Fund - such an easy way to donate.
While all this is excellent news, some has been disappointing. Sophie's mum, Debbie, tells me that after Sophie comes back from having her operation in the USA, she will need intensive physiotherapy - this will be required on a daily basis until her muscles have been built up. However, the NHS has said that because Sophie is going abroad for the operation (it can only be performed at present in the USA), they are not prepared to pay for the daily physio treatment although they will pay for just one day per week, which is clearly inadequate.
This means that Sophie's family will have to now find the money to the physio treatment to be performed on a daily basis for some considerable time. Not only that, the hospital in the USA demands a return visit after the operation to determine the success of the procedure. Therefore, an appreciable sum over and above the initial £40,000 target will need to be raised.
PLEASE, HELP SOPHIE WALK
(16 April 2010)
---
Open Workshop - Exhibition & Sale of Local Crafts
Fleur Grenier, Lorraine Gibby, and Brendan Devitt-Spooner would like to invite you to their open workshop, their first show of the year. They will be introducing their new designs for 2010 and as usual selected invited guests will be showing their work ranging from: Ceramics, prints, outdoor garden sculpture, glass, cards, jewellery, stained glass and wood turning, so there will be lots to see and several of the artists will be available to talk about their work. See their flyer (PDF file) for further details.
Also new this year Lorraine has launched her website www.lorrainegibby.com were you can make online purchases of her anodised aluminium jewellery. You may also like to become a fan of Fleur's work by clicking the facebook logo on her web page www.fleurgrenier.co.uk or buy her new book from the open workshop: "Pewter Design & techniques". Brendan's contemporary furniture designs can be seen on his website at www.brendandevitt-spooner.co.uk
Fleur, Lorraine and Brendan hope you will be able to join them either 24th or 25th April at their workshops on the A259 Roundstone By-Pass (just west of Roundstone Lane). Complimentary refreshments will also be available.
(16 April 2010)
---
Four teenagers hurt in crash
A car that went out of control shortly after midnight this morning resulted in four teenagers - three from Worthing and one from Hasocks - being taken to hospital. The blue Peugeot 106 left the road close to The Woodman, Hammerpot, and landed up in an adjoining field. A 17 year old female front seat passenger was taken to St Richard's Hospital, Chichester, with serious spinal injuries. Two other female passengers sitting in the rear of the car - one aged 16 and another aged 17 - were taken to hospital with minor injuries. The 18 year old male driver was released from the vehicle by West Sussex Fire & Rescue Service using hydraulic rescue equipment and was taken to Worthing hospital with slight injuries and has been arrested on suspicion of dangerous driving. Police are appealing for witnesses.
A heavy rescue tender attended the scene from the Service's Worthing station together with tenders from their Arundel and Littlehampton stations.
(14 April 2010)
---
New shop opens today in village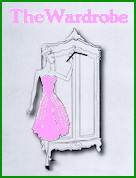 A new shop opened today in the village centre at 1A Church Hill. The shop, The Wardrobe, sells new and almost new quality ladies fashions and accessories. These include:
Designer Labels
Vintage
Top of the range High Street
The Wardrobe has been opened by Angmering residents and business partners Jenny Standing and Pat Redman who would be pleased to accept or collect your consignments. You can contact them on (01903) 856804 or (Mob) 07761 357680.
(13 April 2010)
---
Snippets from the draft Minutes of the Parish Council's Leisure Committee Meeting on 29 March 2010
Angmering Sports and Recreation Association (ASRA)
Councillor Turner reported that ASRA's AGM will be on 30th March, 2010 and at that stage they hope to form a committee responsible for the new building project.
Skate Park
The committee discussed the two quotes that have been received for the proposed metal fence around the skate bowl. The Committee decided more guidance was needed and asked that the office contact ROSPA again for their input. Councillor Verrinder had also obtained a quote for the materials for the concrete apron, it was decided to put this on hold until the specification for the fence had been agreed.
Youth Council
The Senior Assistant Clerk reported that three people had now applied and the Clerk had had a couple of informal meetings with them The Clerk will be reporting to the Policy and Finance Committee on 12th April, 2010.
To read the full minutes of this meeting, click here (PDF file)
(10 April 2010)
---
Angmering Planning Applications (p/e 31/03/10)
A/43/10/TC - Trim top of 1 Bay tree within the Angmering Conservation Area at Church View, 1 Cottrell Close. For: Mr D Gibbs
A/44/10/TC - Reduce and shape bay tree by approximately 2.4m down to wall height within the Angmering Conservation Area at Merrymead, 3 Cottrell Close. For: Mrs J Hutchings
Observations on this/these Application(s) must be received by The Head of Planning Services, Arun District Council, The Arun Civic Centre, Maltravers Road, Littlehampton, West Sussex BN17 5LF by 29 April 2010.
To see applications, plans, design statements, etc, type the Application Reference Number (such as those above) into Arun District Council's "Application Search Facility " , click on the Search button, and click on the hyperlink reference when selected application is returned - then select "Documents".
(7 April 2010)
---
Snippets from the draft Minutes of the Parish Council's Highways Committee Meeting on 25 March 2010
Honey Lane
The work had been completed on the new footpath and the lights were installed and working. Councillor Bicknell said he had not been able to identify any additional funding from West Sussex County Council yet. Two quotes had been received from the residents. Councillor Bicknell said he had not yet received a copy of the specification of the proposed road improvements agreed by the residents of Honey lane.
Traffic Calming
The Senior Assistant Clerk had circulated reports from Portsmouth and Oxford where 20mph zones had been implemented. The general opinion was that traffic already had to be doing a fairly slow speed before these areas would be considered. The Committee AGREED that a traffic calming plan for the whole Parish should be agreed as part of the three year plan.
Lighting of Mayflower Park
The APC reported that a quote was received from Colas for lighting the pathway across Mayflower Park at a total cost of £9711. The committee AGREED to postpone this project until S106 monies became available.
Post Box, High Street
The committee noted the letter from the Royal Mail stating that they considered that there were already sufficient post boxes in Angmering. The APC had subsequently spoken to them and given them the full background and asked if they could reconsider. The Royal Mail agreed to reconsider but felt it was unlikely that their decision would change but would write to us in due course.
Signage for the Community Centre
Councillor Leverick reported that he had driven around the area and proposed: A sign on the small triangular piece of land at the A259 end of Roundstone Lane. An addition to the 'Y' sign pointing to Angmering Village. A sign at the bottom of Nursery Road for people travelling from the village. West Sussex County Council were not in favour of the sign near the A259 as they felt there was too much signage there already but were agreeable to the other two suggestions. We are now awaiting a costing for this work
Public Seating
The three options were discussed and it was AGREED that the recycled plastic option was the most cost effective and suited the purpose. When it is agreed with the Community Payback Scheme to install them, they will be ordered.
School Buses
The letter from Andy Wharton of West Sussex County Council stating that the 677 afternoon and the 679 morning and afternoon services would now be routed via the bypass was noted. The 677 in the morning would still need to come via the village to ensure that the children got to school on time. The request from the Parish Council to have the school buses use the bus stop on the north side of the A259 was turned down was WSCC as they said the pull in was not large enough. Councillor Bicknell had a local coach company check this out and they confirmed the bus stop was too small. Councillor Mountain said that in the future when the new school gates were installed at the Bramley Green end, they would be opened in the morning to off load and then close at 9:00am and not reopen until the close of the school day.
To read the full minutes of this meeting, click here (PDF file)
(5 April 2010)
---
Snippets from the draft Minutes of the Parish Council's Environment Committee Meeting on 24 March 2010
Environmental Wardens
Two Environmental Wardens were being appointed following recent interviews, reporting to the Clerk on a three month trial. A grant for clothing & equipment was being sought from Arun District Council's Clean & Safe Fund. Councillor Nunn stated that a third Environmental Warden could be considered in the future for general maintenance.
Mayflower Park Sustainable Drainage System (SUD) and Interceptors
An email had been received from WSCC confirming the Interceptors will be adopted at the same time as the roads. The Interceptor maintenance issue was being followed up with WSCC. The Clerk had written again to WSCC requesting the roads adoption on Bramley Green as this matter is taking too long to resolve.
Community Centre Play area
The matter of the subsidence around the swings in this area was briefly discussed and it was agreed this matter should be referred to the Policy and Finance Committee. It was also agreed that all matters relating to all Bramley Green Play areas would be taken over by the Leisure Committee.
Downsway Pocket Park
WSCC Legal Section is unable to trace a formal agreement. The Clerk has suggested investigating our archive holdings before taking the matter further. Councillor Turner agreed and stated that if no agreement is found then the Parish Council should not be maintaining this area as registration of ownership is likely to be contested by WSCC.
Community Payback Scheme
The Water Lane area was to be tidied up as set out in the report and as described under 2(3) the bulbs to be lifted and transferred to specific areas with grassing around. A further discussion on the long term planting is to be taken forward to the next meeting. The hire cost of rubbish removal containers was approved in principal. It was further agreed that two quotes would be obtained and passed to the Chair for approval. Residents abutting both areas would have to be consulted, and a suitable location for the skip found.
South East in Bloom
Details had previously been forwarded to Committee Members and it was agreed that this coming year would be used for contacting various organisations and residents who would like to participate in 2011. Councillor Nunn suggested two local organisations who may wish to take part and Councillor Turner stated the cost implications of entering would need to be investigated.
To read the full minutes of this meeting, click here (PDF file)
(5 April 2010)
---
Tragic death of window cleaner
Many residents of Angmering, and particularly on The Dell, will be shocked to learn of the death of window cleaner Jason Edwards (40), who operated in Angmering and district under the name of Crystal Clear Window and Contract Cleaning Services.
The Sussex Police helicopter team located his body at around 9.45am on Saturday 20 March at the foot of Beachy Head. Police are not treating his death as suspicious.
A celebration of Jason's life will take place on Thursday 6 April at 11.15am at Worthing Crematorium, Findon (informal dress). His family has said that everyone who knew Jason, both customers and friends, are very welcome to attend.
(2 April 2010)
---
New History Article - Dr Chaplin
Many of our older readers who have lived in Angmering for all or most of their lives, will have fond memories of Dr Clement Chaplin (1876-1949) who had his surgery in the High Street and was also the chairman of Angmering Parish Council for 25 years until his retirement in 1946.
To read more about the life of Dr Chaplin and his family, click here
(2 April 2010)
---
Angmering Planning Applications (p/e 24/03/10)
A/37/10 - Extension/alteration at Longview, Ham Manor Way. For: Mr & Mrs B Beach
A/38/10 - Proposed 2 bedroom bungalow on land to rear of St Wilfrid's Presbytery, Arundel Road. For: MCW Development Ltd
A/41/10/TC - Fell 1 No Ash Tree within the Angmering Conservation Area at Benington House, High Street. For: G Tennyson
Observations on this/these Application(s) must be received by The Head of Planning Services, Arun District Council, The Arun Civic Centre, Maltravers Road, Littlehampton, West Sussex BN17 5LF by 22 April 2010.
To see applications, plans, design statements, etc, type the Application Reference Number (such as those above) into Arun District Council's "Application Search Facility " , click on the Search button, and click on the hyperlink reference when selected application is returned - then select "Documents".
(1 April 2010)
---