Angmering Village Life
News Archive
January 2010

Painting Exhibition
The Angmering Community Centre will shortly be displaying an exhibition of paintings by local amateur artist, Jane Pesterfield. The exhibition will run for the whole of February at the Centre.
The collection will consist of work in four different media, namely: watercolours, acrylics, pastels and Chinese watercolours. All the displayed art work will be for sale.
Jane is a member of several art clubs in the area and exhibits in Angmering, Arundel, Worthing, and other venues. Additionally, she runs a monthly pastel painting group on the 2nd Monday morning each month in Angmering Village Hall. As well as painting subjects she enjoys, she is willing to take on the challenge of commissions.
For all enquiries and sales, contact Jane on (01903) 774289.
Jane will kindly donate 10% of any sales of her paintings displayed at the Community Centre to Sophie's Fund (see 20 January news item below)
(24 January 2010 - updated 7 February)
---
Junior cricketers wanted
Angmering Acorns Junior Cricket Club are looking for juniors aged between 11 and 16 to join their friendly side for the forthcoming 2010 season. The club have made substantial progress in the past two years and now have improved playing facilities as well as a qualified Welfare Officer. The side intend to train on Thursday evenings, and usually play friendly 20 over a side matches on a Saturday morning, although some mid week evening matches may be arranged as well.
Pre season practice is likely to start in late March or Early April. It costs £5 to become a junior member for 2010 and match fees are £2.50. All kit for training sessions and matches is available at the club.
If you'd like to find out more or to sign up to the club please get in touch with Sue Mitchell on 07862 281597
(23 January 2010)
---
Body found in Angmering
The body of a man in his 30s was found by walkers yesterday afternoon (Thursday) on farmland south of Decoy Wood to the north-west of the village. There were no signs of external injuries and police are not treating the death as suspicious, pending the results of a post-mortem examination. The body has yet to be formally identified. (source: Litthehampton Gazette)
(22 January 2010)
---
Parish Environmental Wardens Wanted
Angmering Parish Council is looking for two people to roam the streets of the village and carry out litter picking, dog mess clearance, inspections of play areas and reporting back problems to the office. Equipment and protective clothing will be provided.
This employment is set up on a trial basis for 3 months and it is expected that the post-holders will work to carry out those small tasks that make such a difference to village life.
The work is to be initially for 8 hours a week each, and pay will £6 per hour. It is expected that the working week will consist of 2 hours a day for 4 days a week, at times to be agreed with the Parish Clerk.
So, if your are fit, like walking, would like a few hours work a week, or perhaps retired and need a little something to occupy your time, this may be the job for you!
Applications should be in the form of a CV and sent to the Clerk to the Council, Angmering Parish Council, The Corner House, The Square, Angmering, BN16 4EA or by email to angmering.pc@lineone.net . The Closing Date for applications is 31st January 2010.
(21 January 2010)
---
Help Sophie Walk
Many readers may have seen the recent moving BBC South Today programme which featured the case of 3 year old Charlotte Wakefield who has cerebral palsy. Charlotte went to the USA for a specialist operation to help her stand and walk and it looks as if that operation will change her life.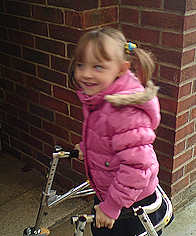 Well, we have an almost identical case here in Angmering. Little Sophie Nugent, just 4 years old, also has cerebral palsy and cannot walk unaided or stand on her own - she uses a wheelchair and a Kaye walker. Sophie lives in Arundel Road, Angmering with her parents, Debbie and Peter, and her older sister and brother who attend The Angmering School and St Margaret's Primary School respectively.
An operation similar to that performed on Charlotte will cost £40,000. So far Sophie's family and friends have raised £16,450 toward the target, but there is still a way to go. The operation contains dangers but to date it has been performed 1900 times, all with success. Unfortunately, the expertise is only available in the USA at present which is why the cost is so expensive. Click here to read more about Sophie, the operation, photos, etc.
PLEASE
HELP SOPHIE WALK
There are numerous collection tins around the village where you can make a donation. These can be found at St Margaret's Primary School, The Angmering School, the Parish Council Office, St Margaret's Church, Maverick Hair & Beauty Studio, Jeffrey's Hairstylists, Woodies News, The Lamb Inn, The Big Fry, and the Co-op. The Co-op will also be holding a raffle to help raise funds. Other initiatives are also taking place; for example, a young girl is cutting off her long hair for Sophie's fund, and she has already been sponsored £100 and this is rising. You can contact Sophie's parents at greavescfc@yahoo.co.uk
If you or a village organisation would like to help, donations can also be made either by PayPal (send to D.greaves@yahoo.co.uk ) or to "Sophie's Fund" by cheque or by bank transfer - Bank Sort Code: 07-00-93, Bank A/C No: 33333334, A/C Ref: 1956/704113277 - this is a treasurer's account.
Following an announcement at the monthly meeting of The Angmering Society last night, an impromptu collection raised a magnificent £106 from members leaving the Village Hall.
HELP CHANGE SOPHIE'S LIFE
THANK YOU
(20 January 2010)
---
New Playgroup Opens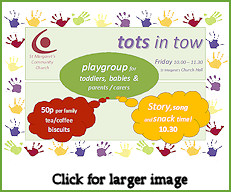 A new playgroup is opening in Angmering this coming Friday (22 January).
"tots in tow" is a Friday morning 'stay and play' group for babies, toddlers and pre-schoolers wih their parents/carers. Similar to the very popular "Cameo", "tots in tow" meets in St Margaret's Church Hall and you can be sure of a warm welcome from the leaders and other users. Have a coffee, chat and watch the kids play. There's a baby area, plenty of toys for all ages, simple craft provided by Hannah and Cherry, and at about 10.30am we offer the tots biscuits and have a brief 'story and song' time - with plenty of actions and audience participation!
Regular leaders are Cherry and Hannah. Cherry is mum of four girls, (two at school and two 'tots in tow,') and is married to Ben Redding, leader of St Margaret's Community Church. Hannah is a recent graduate, spending part of her gap year as a parish assistant at St Margaret's Parish Church. Cherry and Hannah will be ably assisted by a kind-hearted, community-spirited team of 'Aunties and Uncles' from the community church.
Drop in and see for yourself - friendly, warm and dry (whatever the outside weather), and at 50p per family it's almost free entertainment for your tots. Fridays, 10.00am - 11.30am, term time only. For more details contact Cherry Redding on (01903) 786834.
(17 January 2010)
---
Sporting Activities for Youth and Adults at the Community Centre
For Youth
Table tennis coaching for 8 to 15 year olds will be starting at the Angmering Community Centre on Friday 5 February. This will be under the supervison and guidance of Ray Forder, a qualified ETTA coach. Full details of this including dates, times, costs and booking can be found by clicking here (PDF file 114KB). Places are limited so don't delay in booking.
Short Mat Bowls junior coaching for 12 year olds and over is held at the Angmering Community Centre on Wednesday evenings at 7pm for 1 hour (cost £1.50). This is being undertaken by Goring Short Mat Bowls Club (Contact: Brian McCansh Tel: 242734) who will teach youngsters how to play.
For Adults
Table Tennis sessions are held by the Angmering Table Tennis Club at the Angmering Community Centre on Monday afternoons between 1.30pm and 3.30pm. This is non-league "social" table tennis for beginners and players of lesser to medium ability. These are fun sessions where adults can get some good exercise and also have a chat with old and new friends. Cost is £2 per session. For more details visit the Club's webpage.
Short Mat Bowls is held at the Angmering Community Centre by two Clubs. On Tuesday and Thursday afternoons sessions are held by the Angmering Short Mat Bowls Club (Contact: Norma & Don Harris Tel: 786741) - this is a non-league playing club. On Wednesday evenings, sessions are held by the Goring Short Mat Bowls Club (Contact: Brian McCansh Tel: 242734) who also play league matches at other times.
Visit the Centre's website for other sporting activities.
(14 January 2010)
---
Another House Flood
An appliance from East Preston Fire & Rescue Service was called to a bungalow and annexe in the High Street at 11.30pm last Friday (8 Jan) after flooding occurred. Firemen isolated the water and electrics and carried out salvage work.
(12 January 2010)
---
Peach Boy - Performance this Wednesday
The performance of "Peach Boy - The Adventures of Momotaro" will be held at the Angmering Community Centre this Wednesday, 13 January, at 6.30pm. Despite the recent difficult weather conditions, the performance will still go ahead.
This is suitable for families age 6+. It will delight audiences of all ages and is a fusion of puppetry, live performance, movement & design. It is based on a Japenese folk tale about an old couple who find a baby boy with super human powers hidden inside a giant peach bobbing in the river!! Momotaro the peach boy goes on a quest with monkey, dog & pheasent to save their village from demons & monsters.
Prices are: Adults £6; Children (under 12) £3; Concessions £5; Family ticket (2 adults & 2 children under 12) £15. Tickets are available from the Community Centre, Angmering Framing & Stitches, the Parish Council office in The Square, or at the door on the night.
The will also be a competition for children during the evening, details of which will be announced at the event.
(11 January 2010)
---
Lost Keys
A set of keys was found on Ham Manor Golf Course on Friday. If you have lost those keys phone (01903) 778573.
(11 January 2010)
---
Snippets from the draft Minutes of the Parish Council's Meeting on 14 December 2009
New Parish Councillor
The Chairman summarised the result of the casual vacancy by-election and introduced Mr. Philip Leverick as the new councillor. Councillor Leverick had forwarded his Register of Interests and signed his Declaration and was therefore able to take a full part in this meeting. Councillor Leverick offered his comments on what he believed were the messages contained within the election result.
New Parish Clerk
The Chairman introduced Mr. Rob Martin as the new Clerk to the Parish Council following his appointment, effective from Monday 23 November 2009. The Clerk outlined his vision for the Parish Council, being that of openness and availability. Councillors and members of the public should be able to contact the Clerk more easily, now that his working hours had been extended to include attendance in the afternoons.
Public Qustions
Community Centre acoustics problems - The Chairman stated that sound readings had been undertaken and a report on them was awaited, which would be submitted to Hamsons. Once this report had been received the Parish Council would be consulting on what would be done and who would pay for it. The Parish Council position would be that this was a design problem and would not be additional cost to the Council Tax Payer.
Various Highways Matters - Comments were made about the pinch-points, an extension to the 20mph speed limit zone and heavy vehicles using the village as a short-cut. All of these issues were being addressed by the Parish Council Highways Committee, the conclusion of which would be noted on the website in due course.
County Councillor's Report
The County Council has enough salt for 40 consecutive days of application. There is a consultation being undertaken on the restriction of parking in Downs Way. There had been a review of school bus provision with some buses being directed onto the A259 instead of coming through the village. Councillor Mountain stated that without more time being allowed for these routes these changes would not work.
Honey Lane Improvement
The Highways Committee has agreed to construct the proposed pathway in Honey Lane, and this report is to confirm the processes that are required to enable this. It is proposed that the project is undertaken during the half-term week in February 2010, a timescale that does not allow for a full tendering process to be carried out. Councillor Bicknell has obtained quotations from two contractors which indicate that the overall cost of this scheme would be in the order of £14,000 and he is proposing that, rather than preparing full tender documents and advertising in the manner required by Financial Regulation 10(b) for contracts greater in value than £6,000, the Council invoke Standing Order 74 to suspend Standing Orders and allow the contact to be let by the receipt of three competitive quotations. There is work for the staff to do to achieve this project, the footpath will have to be diverted, the quotations will have to be obtained etc. In order to meet the proposed deadline, work needs to start immediately. On a proposal by Councillor Nunn, seconded by Councillor Bicknell it was Resolved to set side Financial Regulation 10(b) to be able to let the contact for this scheme on the basis of requesting three quotations, rather than tenders.
Parish Precept 2010/11
On a proposal from Councillor Nunn, seconded by Councillor Bicknell, it was unanimously Resolved that the precept be set at £220,914 for the 2010/2011 financial year.
Community Centre
Concerns were expressed at rumours circulating regarding matters relating to the Community Centre Management Committee. It was reported that a meeting of the Committee would take place on Monday 21st December 2009 after which the position would be clarified.
To read the full minutes of this meeting, click here (PDF file)
(7 January 2010)
---
Children & Family Centre Tile Project
Community artist, Su Cloud, will be running fun art workshops for children under 5, supported by their parents or carers. All children will be encouraged to make and paint a clay tile and then help to install it in the Centre's community garden as a permanent feature for present and future generations to come and enjoy.
Unfortunately, the present extreme weather conditions have prevented Su from coming to the Centre on the first two planned days. The revised schedule is as follows:
Morning or afternoon workshops for three clay tile "making" sessions will now be held on Thursday 14th and Friday 15th January as follows: 9.30am - 11.00am, 11.00am - 12.30pm, and 1.15pm - 2.30pm.
The tile "painting" sessions will be on on Friday 22nd January, Thursday 4th February and Friday 5th February as follows: 10.00am - 12.00 Noon and 12.30pm - 2.30pm
Installation of the tiles is planned for Friday 12th February.
Places are limited so let the Centre know if you would like your child to take part (contact details). If they have too many requests, all families from the Angmering area who are registered with them by end of December 2009 will go into a draw for available places. There is no charge for this activity.
(7 January 2010)
---
Even more snow!
If we thought we had had our share of snow this winter, then we were mistaken as 2 inches fell overnight and blanketed Angmering. After a brief interruption, it started snowing heavily again by late morning, and there are fears that there will be a hard frost tonight which will bring chaotic traffic conditions tomorrow and for the next few days.
Angmering schools were closed, but kids seemed better prepared than they were on 18 December, as many sledges and trays were seen around the village this morning.
The roads through the village again had not been gritted and it was not the day to stop on Church Hill as one motorist found out!
(6 January 2010)
---
House Floods
An appliance from East Preston Fire & Rescue Service was called to a house in Downs Way at 1.00pm yesterday after flooding occurred from the roof space. Firemen isolated the water and electrics and carried out salvage work.
(6 January 2010)
---
British Caravan Grand Prix this Sunday
January is not the time of year that most people associate with a caravan trip but at Angmering Raceway (www.ovalraceclub.co.uk) caravans will be taking to the track in the second annual British Caravan Grand Prix on Sunday, January 10th at 11.30am.
The caravans will not however be enjoying a gentle trip to the coast, but will be pulled around the track at high speed, before being totally wiped out in a jaw-dropping caravan demolition derby. The stock car racing stars of the future will also be taking to the track in the junior formulas, competing in Minis (engine sized at 1000cc for 10 to 16 year olds) and up to 1200cc cars for those aged 12 to 16.
Other formulas in action on the day include the track scorching hot rods, the powerful street stocks and the ever popular nudge and spin bangers. With a massive grid of cars, offering something for every race fan and the British Caravan Grand Prix giving everyone the chance to see some Top Gear style action, Angmering Raceway will deliver a great action packed and value for money day out on January 10th.
Angmering Raceway is located just off the A280 at the junction between Water Lane and the Angmering By-Pass. The gates open at 8am, with racing commencing at 11.30am. Adult admission is £10; Kids 10-14, £5; with Kids under ten free. Senior Citizens, disabled and Students (with valid student cards) can also enjoy a days racing for just £5. Further information from Angmering Raceway jan@ovalracewayclub.co.uk. Tel: 01903 859807 during office hours - out of office hours 01243 268887.
(5 January 2010)
---