Angmering Village Life
News Archive
July 2009

Annual Village Market on Saturday - will you be there?
Will you be making a real effort to attend the 4th Annual Village Market this Saturday (1 August) between 9.30am and 2.00pm on Fletcher's Field (in Arundel Road - next to Church)? Much effort has been put into organising this event and the field will be packed with stalls of your favourite traders and village organisations. The Market will go ahead come rain or shine, so make sure you don't miss it!
There will be craft stalls with cards and jewellery of all kinds, wood carving and driftwood creations, pottery, baby clothes, pashminas, house name plates and numbers. There will be food and drink to take away or consume at the Market with many of the regulars there such as: O'Hagan's sausages, Rustington Market, the Allotment Society (who will be selling fresh vegetables), Quiche Supreme, homemade cakes and pastries, the Bacon Bar, Hammerpot Brewery, the Iron Railway Vineyard and, of course, St. Margaret's Church with their ploughman's lunches. There will be the opportunity to taste wines and one new feature this year will be a Hog Roast. Also new this year is Crossbush Farm Shop who will have a selection of their home grown local free range and organic meats, farm fresh vegetables and local & seasonal produce.
Most of the principal organisations in the village will have stalls, providing an opportunity for those new to our community to find out what they can join. The Croquet Club, for example, will be giving you the opportunity of trying your hands at this sport and there will be a demonstation of that dying art of chair caning which visitors to the Market each year find fascinating. Further, find out what exciting activities are planned for the new Community Centre when it opens in September.
The children have not been forgotten and there will be the inflatables and rides for them. In addition, there will be the opportunity of having their faces painted. Ice creams will be available for the young and the not so young!
Ample free parking will be available on land at the end of Rectory Lane. Street parking is available subject to normal restrictions.
(30 July 2009)
---
Flower Festival (2)
Below is a small selection of photos of the Flower Festival which started today in St Margaret's Church and will be on view until Sunday (see opening times further down this page). The floral displays by the Rustington Society of Floral Art are mostly based on the life, words and works of Jesus Christ.
Fishers of Men
by Anne Stokes
St Margaret's Church logo
by Ela Dalby & Sylvia Hesling
Font
by Angela Jackson
Feeding the 5000
by Hazel Moriarty
Water into Wine
by Cynthia Matthey
Golden Urns
by June Webster

Members of Rustington Society of Floral Art
(30 July 2009)
---
Oliver Cromwell comes to Angmering!
It is rare to see steam trains these days, but a few enthusiasts and children gathered on Angmering Station to see the 70013 Oliver Cromwell pass by at 7.11pm this evening during a special day tour from London to Portsmouth and return. This 4-6-2 Britannia Class locomotive, built in 1951, ceased working in 1968 but a programme of restoration took place between 2004 and 2008. Unfortunately for the photographers present this evening, the sun was in the worst possible position when the locomotive passed through Angmering.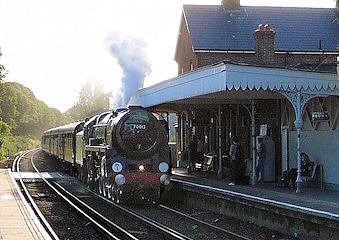 (30 July 2009)
---
Angmering Planning Applications (p/e 22/07/09)
A/68/09 - Proposed new fence to school at St Wilfrid's RC Primary School, Arundel Road. For: The Governors
A/76/09 - Conservatory at rear at 11 Pound Way, Bramley Green. For: Mr M Adams
Observations on this/these Application(s) must be received by The Head of Planning Services, Arun District Council, The Arun Civic Centre, Maltravers Road, Littlehampton, West Sussex BN17 5LF by 20 August 2009.
To see applications, plans, design statements, etc, type the Application Reference Number (such as those above) into Arun District Council's "Application Search Facility " , click on the Search button, and click on the hyperlink reference when selected application is returned - then select "Documents".
(29 July 2009)
---
Flower Festival (1)
A Flower Festival takes place this week in the newly reordered St Margaret's Church in the village. This has been arranged by the Rustington Society of Floral Art.
A Preview Evening is being held on Wednesday 29th July at 7.00pm by ticket, either from the church or on the door (admission is £3.00 to include refreshments). For all other times, admission is free. The full times when the Church will be open to view the flowers are as follows:
| | | |
| --- | --- | --- |
| | Wednesday 29th July | 7.00pm Preview Evening (see above) |
| | Thursday 30th July | 10.00am - 4.00pm |
| | Friday 31st July | 10.00am - 4.00pm (also during evening concert - see below) |
| | Saturday 1st August | 10.00am - 4..00pm |
| | Sunday 2nd August | 11.30am - 4.00pm |
In addition to the floral displays, there will be craft tables and refreshments on Thursday 30th and Friday 31st July.
There will also be a concert arranged by Angmering Arts by the guitar duo, Appassionata at 7.00pm on Friday 31 July.There will be an interval which will give an opportunity for attendees to view not only the flowers but the changes that have been made to the Church itself. For full details of the concert (including admission charges), see the news item dated 15th July (below).
(27 July 2009)
---
Art Exhibition Impresses
The "So You think You Can't Draw! ….. but really you can" Art Exhibition in St Margaret's Church opened today (21 July) and will continue until Friday (24 July). This charts the progress of 13 of Margaret Appa's art students over a two-year course at her Ecclesden Mill studio. At the start, many of the students felt they were unable to draw even the most simplest of objects and samples of their work at the beginning showed their difficulties and lack of confidence. By the end of Year 1, the progress every single one of them had made was remarkable and by the end of Year 2, the results were astounding as will be seen from the small selection of photos shown below. Hovering your mouse cursor over each image will indicate the stage of progression.
This exhibition is thoroughly recommended for non-artists through to those with some ability. It cannot be over emphasised what Margaret Appa (see centre photo) has achieved with her students. The exhibition times this week (Tuesday to Friday) are 10am – 4pm & 6pm – 8pm (apart from Wednesday morning - closed 10.15am to 11.15am, and closes 4.pm on Friday)
(21 July 2009)
---
Snippets from the Minutes of the Parish Council Leisure Commitee Meeting on 1 July 2009
Village Sign
A quote had been received for replacing the rotting oak post for the Village Sign at a cost of £400. The Committee agreed to this and the office will arrange for the work to go ahead.
Skate Park
(a) Councillor Tricia Stephenson said that there was a need for a wind break near the Youth Shelter as the youths were currently sheltering in the skate bowl. She asked if the office could get a quote for the committee to consider. (b) Councillor Stephenson raised the issue of CCTV for the area and asked if the office could contact the police and the floodlight contactor for advice. (c) The Senior Assistant Clerk reported that apart from the Gavity Quote for the skate park repairs, one had also been received from Arun Driveways but this included the tarmac surround, so the office would ask for a new quote without the tarmac. Another quote has been requested from Midas (a subcontractor of Freestyle), as soon as this is received the quotes can be sent through to the insurance company. (d) The football nets need replacing, the Committee asked if the office could contact Foster Playscapes for the best solution.
Youth Facilities
(a) The Committee agreed that all members of the Leisure Committee would be representatives to the Youth Council. (b) The Committee discussed ways of making the Youth Council more appealing. It was agreed that James Stephenson (potential Youth Council member) devise a flyer to be presented at the next Committee Meeting. Councillor Tricia Stephenson will also write an article for the next Parish Council Magazine. (c) The Committee discussed the proposal of having 'Angmering Parish Cups' to recognise organisations within the village. Councillor Pat Turner will write a proposal.
Basketball/Football Court
The Committee discussed the possibility of a basketball/football court. Councillor Stephenson and Storer suggested an article for the next Parish Magazine to gauge the support.
(18 July 2009)
---
Church's Reordering Award
The recent re-ordering carried out by Lee Evans Partnership LLP at St Margaret's Angmering, Sussex has been Highly Commended in The Sussex Heritage Trust Awards 2009. The certificate was presented to Churchwarden, Richard Hance at a ceremony on Thursday 9th July at Farbridge, Preston Farm near Chichester.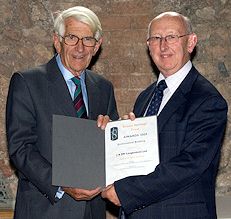 This award was one of five amongst twelve considered in the Ecclesiastical section. The award ceremony was also attended by the project architect, Nick Lee Evans, managing architect of Lee Evans partnership of Canterbury.
Sussex Heritage Trust is a Registered Charity established in 1977 to preserve, improve and encourage the appreciation of the architectural and natural heritage of Sussex This year the Trust received over 80 entries from a huge variety of projects of all sizes. The judges were looking for projects that not only suited their stated purpose but made the best use of the site and demonstrated excellent workmanship and suitability in the choice of materials used.
In their summing up of the St Margaret's project, the judges agreed that the underlying scope and success of the fundamental liturgical re-ordering scheme was exemplary and that the refurbishment had been carried out with a comprehensive clarity, resulting in an eminently usable and uplifting setting for a wide range of church activities.
.
(Photo: (l-r) Lord Lloyd of Berwick presents certificate to Richard Hance)
(17 July 2009)
---
Snippets from the Minutes of the Parish Council Policy & Finance Commitee Meeting on 8 July 2009
Community Centre Lease
The Chairman gave a brief résumé of the discussions, which had taken place with representatives of the ACCA at a private meeting held on 30th June 2009. The ACCA had been represented by Stephanie Linham from Community Matters. Arising from the discussion and verbal agreements reached on the night, it is RECOMMENDED to full Parish Council THAT:
1) A peppercorn rent should be charged in respect of the Community Centre for the term of the lease.
2) The Parish Room within the Community Centre now be included in the lease.
3) The Parish Council notes that the ACCA may permit use of the Community Centre or parts thereof on a charge free basis, if they consider that the use to which the Parish Council puts it aligns with the objectives of the ACCA.
4) That subject to legal advice the Council is prepared to consider inserting a 'break clause' within the lease i.e. The ability to terminate the lease with due notice. Notice to be agreed.
5) The split of responsibility for repairs and maintenance should be: External – Parish Council, Internal - ACCA
6) For the avoidance of doubt, the Parish Council re-iterates its contributions to the ACCA as

a) For the first year a maximum of £64k to cover set up and running costs (this may reduce when grant applications are known).
b) For the second year £20k to contribute towards the running costs.
c) For the third year £10k to contribute towards the running costs.
d) After year 3 no contribution towards running costs.
Allotments
The Committee noted that the fees from Henry Adams for the lease of the allotments had risen from £580 to £825 per annum. The fee to the allotment society is £900 which includes an administration fee for the Parish Council.
Review of S106 Money Investment
The Committee stated that the S106 money investment was now with Lloyds TSB on a fixed term deposit.
Office Staffing
The Committee noted the current situation with regards to staffing, and in particular the need to ensure that there was sufficient levels to meet the Council's statutory obligations. The Chairman was given authority to appoint a locum clerk if a suitable candidate could be identified. The Committee agreed to consider the staffing structure further at the next meeting.
(15 July 2009)
---
Appassionata returns to Angmering
Angmering Arts (re-formed from the Angmering Community Association) presents a concert of classical guitar music performed by Appassionata, usually a trio, but on Friday July 31st two of the members, Amanda Cook and Rebecca Baulch, will be performing music from the renaissance to the modern day, as soloists and as a duo. The performance takes place in the newly re-ordered St. Margaret's Church in Angmering, in the midst of a Flower Festival arranged by Rustington Society of Floral Art and starts at 7.00pm. There will be an interval, which will give an opportunity to explore the delightful surroundings.
Amanda Cook is one of the leading guitarists of her generation. She is a graduate of the Royal College of Music and has performed and given master classes at home and abroad, in venues which include The South Bank and Wigmore Hall. Rebecca Baulch is also a graduate of the Royal College of Music. Her performing career has taken her to the United States, South America and Europe, playing in venues which include the Purcell Room, Wigmore Hall, Buckingham Palace, and the Houses of Parliament.
Admission is by programme and costs £5.50 per person, which includes refreshments. Angmering Arts is organising this event with St. Margaret's Church and West Sussex Rural Arts Development. Programmes will be on sale at Angmering from 20th July at Angmering Framing and Stitches, the Parish Council Office, the Church Office, and Café Feliz, all in the village.
poster
(15 July 2009)
---
Community Centre launches website
Angmering Community Centre launched its website yesterday which can be found at www.angmeringcommunitycentre.org.uk. The new Community Centre at Foxwood Avenue, Angmering, is in the final stages of its build and is set to open in September this year. Already, as will be seen from the website, many activities have already have regular bookings planned when the Centre opens. The website provides full details of the Centre including location, activities, facilities, hiring terms, news, etc.
The Centre will be leased from Angmering Parish Council by the Angmering Community Centre Association, a registered charity, who are busy raising funds to equip and maintain it. One of the current fund-raising events is the opportunity to win a brand new Fiat 500 car. Details of this and obtaining tickets can we found on the Centre's website. Tickets are also on sale at Woodies News, Angmering Framing & Stitches, and The Big Fry.
(14 July 20090
---
Win £1000 at Banger Battle
Angmering Raceway (www.ovalraceclub.co.uk) invites any Banger racers who would like to field a team in the 1400cc Nudge and Spin/Rookie Banger Team Championship with a cool £1,000 prize money (and impressive trophies) up for grabs over the day's racing on July 26th.
Each team can field a maximum of four cars. Cars can be fitted with a header tank and two bonnet bolts. No welding is permitted and the bangers must be fitted with a full and efficient exhaust to compete on the day. Any Banger pilots who want to have a go and get their hands on some of the money are welcome to contact the track for details, or put the team together and turn up on the day.
The gates open at the Water Lane track at 8am, with racing commencing at 11.30am. Adult admission is £10 kids, 10-14, £5, with kids under ten free. Senior Citizens, disabled and Students (with valid student cards) can also enjoy a days racing for just £5. Angmering also offers free parking on hard core surfaces and disabled access.
Further information from Angmering Raceway jan@ovalracewayclub.co.uk - Tel: 01903 859807 during office hours, out of office hours 01243 268887.
(14 July 2009)
---
S.C.O.T.C.H. Charity Hog Roast
The Spotted Cow Organisation to Create Help (S.C.O.T.C.H.) will be holding its 6th Annual Charity Hog at The Spotted Cow, Angmering on Sunday 26th July. The menu is Hog Roast with Jacket Potato and Salad followed by Strawberries and Cream. Food is available from from 4.15 to 5.30pm. Live Music is provided by Dead Grateful and Guests. The entertainment begins at 3.30pm and continues until 6.30pm.
Tickets for the food are available at The Spotted Cow at £12.00 per person, in advance.
This year, as previously, the event is raising money for Canine Partners and The Chanctonbury Community Playscheme. This money is will come from a raffle, donations and a proportion of the cost of the tickets. Last year the event raised £860.00 for the same charities. For further information see www.abooty.co.uk
(11 July 2009)
---
PCSO leaving
It is with regret that we learn that our Police Community Support Officer, Andrea Oakley, is leaving after serving Angmering so well for the last four years. Andrea has built many relationships with the community during her posting here and has been responsible for several initiatives, not least the Angmering Police Forum which led to the establishment of the Angmering Youth Bus. She leaves with our best wishes. However, we will not be losing her altogether as will be seen from her following leaving statement:
"As many of you may know, as part of my efforts to reduce anti-social behaviour in Angmering, I have developed a close relationship with Angmering School. Through my work with the Team around the School I have become increasingly interested in the role of Police Community Support Officers working within the school environment. A new post of PCSO within the Safer School Partnership team has become available working in both Angmering and Westergate Schools and I have been successful in securing this post which commences at the start of the new school year in September 2009.

Although I will be moving on to a new and challenging role, I will still be an integral part of the wider Angmering community. I would like to take this opportunity to that all of you for your support during the last 4 years of my time in Angmering. I am particularly proud of the achievement of the Neighbourhood Management Forum for all their fund raising efforts and their hard work in transforming a run-down London Bus into a fully functioning community facility which will benefit the whole community and be available to all. It has become a striking example of what can be achieved when a motivated and committed community works together.

My thanks and gratitude to the members of Angmering Parish Council and the members of St Margaret's Church who have been very supportive and helpful over the past 4 years.

Some of the problems and issues around Angmering have presented quite a challenge at times but, with the help and support of the community, progress has been made in reducing incidents of anti-social behaviour, speeding through the village and parking issues. However, there is still work to be done and I will do everything I can to help and support my successor and I know that the community of Angmering will be equally supportive of them as they have of me.

I leave Angmering with fond memories of the many kind individuals, children and families I have met and hopefully, in some cases, improved the quality of life for them as a member of the Angmering neighbourhood. I will still keep in touch with the children and parents through my work at the School and hope that you will stop for a chat if you see me around the school in the future.
Andrea Oakley"
(9 July 2009)
---
Angmering Planning Applications (p/e 01/07/09)
A/63/09 - Proposed single storey extension. at 1 Lansdowne Way. For: Mr T J Teasel
A/64/09 - The demolition of Nos 1 and 2 Carina Nursery and the erection of six No dwelling houses with associated car parking at Carina Nurseries, Mill Road. For: Hargreaves Homes Ltd
Observations on this/these Application(s) must be received by The Head of Planning Services, Arun District Council, The Arun Civic Centre, Maltravers Road, Littlehampton, West Sussex BN17 5LF by 30 July 2009.
To see applications, plans, design statements, etc, type the Application Reference Number (such as those above) into Arun District Council's "Application Search Facility " , click on the Search button, and click on the hyperlink reference when selected application is returned - then select "Documents".
(8 July 2009)
---
Flower & Produce Show - a great success
On Saturday afternoon, on a lovely warm and sunny afternoon in the superb setting of the gardens of medieval Pigeon House in the High Street, the annual Angmering Flower & Produce Show was held with great success. The number of visitors was up on last year which resulted in the cream teas being sold out by 3.30pm. The number of entries in the various classes was also up and it was encouraging to see so many children participating. Winners of the various classes were as follows:
Best Newcomer
The Windust children
Holmes Trophy (most points - roses)
Ivan Drewe
Freshacres Cup (best flower exhibit)
Ivan Drewe (a rose)
Lord Delfont Memorial Cup (runner-up)
John Goulding (mixed vase flowers)
Peter Millam Sweetpea Cup
Julian Shindle,
Joan Smith Memorial Cup (most points - flowers)
Valerie O'Neill
Ben Whiting Memorial Cup (best hanging basket)
Alf Rumsey
Fruit and Vegetable Cup
John Wase
Suttons Seed Shield (best vegetable exhibit)
Kent Kressner (onions)
Hugh Blake Cup (most points fruit)
Valerie O'Neill
Best Floral Art
Gabrielle Hadley
Most Points Floral
Kent Kressner
West Children's Cup
Serena Blake
Kelynak Cup (children's runner-up)
Hugh Blake
Tall Trees Cup (cookery)
Christine Dell
Millam Trophy (arts and crafts)
Emma Brown
Serena Blake Trophy (funny section)
Charlie Brown
Manor Nurseries Cup (best pot plant)
Mrs A MacLeod
Profits from the Show were in the order of £400 which will again be donated to the Chestnut Tree House Appeal. The organising committee are to be congratulated on the event's organisation and for some £1500 which they have raised for Chestnut Tree House over the last four years.
In the above photo, Peter Blake (owner of Pigeon House) can be seen presenting the Manor Nurseries Cup to Mrs A MacLeod outside the Pigeon House's 17th century barn, a Listed Building in its own right.
(6 July 2009)
---
Art Exhibition with a difference
So You think You Can't Draw! ….. but really you can
This is an exhibition with a real difference. It displays and celebrates the journeys of thirteen local art students as they worked through a two year course of learning how to see for drawing. It will show their very first tentative drawings through to their final pieces - each journey a unique demonstration of personal achievement.
| | | |
| --- | --- | --- |
| | Date: | Tuesday 21 to Friday 24 July |
| | Opening times: | 10am – 4pm* & 6pm – 8pm** |
| | Venue: | St Margaret's Church, Angmering village |
Come and meet the students, discuss their journey with them, and join them and their tutor for refreshments in the beautiful newly reordered church.
* apart from Wednesday morning - closed 10.15 to 11.15
** closed 4pm on Friday
(6 July 2009)
---
Crash closes A259
A collision between a red MG Midget, a black Mazda 323 and a cyclist at about 6.00pm this evening outside Haskins Garden Centre resulted in the closure of the A259 between the end of the Angmering by-pass (A280) and the roundabout at the southern end of the village by the footbridge for more than 1½ hours. Traffic coming from the west was diverted through Angmering village.
The cyclist sustained some injuries and was transported to hospital by air ambulance but the extent of the injuries are unknown at this time.
(3 July 2009)
---
Missing cat
Missing from the High Street - light ginger neutered male cat (4 years old). He was wearing a red collar with silver paw studs around it. The collar had a bell and identification barrel attached (if he is still wearing it). He was last seen on Friday, 26 June in the evening. Perhaps residents would be kind enough to check sheds, garages, outbuildings etc. Any information would be gratefully received. Tel: 01903 776522
Update 4 July: Pumpkin was found safely in Toddington Lane, Littlehampton.
(1 July 2009)
---
Angmering Planning Applications (p/e 24/06/09)
A/49/09 - Proposed demolition of garage and construction of a single storey side extension at 12 Ferndale Walk. For: Ms S Brown
A/62/09 - Side and rear extensions and front porch at Clayton, The Avenals. For: Mr S Williams
Observations on this/these Application(s) must be received by The Head of Planning Services, Arun District Council, The Arun Civic Centre, Maltravers Road, Littlehampton, West Sussex BN17 5LF by 23 July 2009.
To see applications, plans, design statements, etc, type the Application Reference Number (such as those above) into Arun District Council's "Application Search Facility " , click on the Search button, and click on the hyperlink reference when selected application is returned - then select "Documents".
(1 July 2009)
---