Angmering Village Life
News Archive
September 2008

Community Film Show
The Angmering Community Association's film this coming Saturday at the Village Hall is "INDIANA JONES AND THE KINGDOM OF THE CRYSTAL SKULL" (PG-13). This 2008 Steven Spielberg directed film stars Harrison Ford, Cate Blanchett, Karen Allen, Ray Winston, John Hurt and Jim Broadbent. Famed archaeologist/adventurer Dr. Henry "Indiana" Jones is called back into action when he becomes entangled in a Soviet plot to uncover the secret behind mysterious artifacts known as the Crystal Skulls.
The film starts at 7.00pm (doors open 6.45pm) at the Village Hall. Tickets (£5) are available from Woodies News or Angmering Framing & Stitches (Tickets also available at the door). As usual, refreshments are available at very reasonable prices.
(28 September 2008)
---
Angmering Planning Applications (p/e 17/09/08)
A/111/08/T - Lop and remove various branches to 1 no. fir tree on verge to north side of East Drive to front of No. 8. For: Persimmon Homes South Coast.
Observations on this/these Application(s) must be received by The Head of Planning Services, Arun District Council, The Arun Civic Centre, Maltravers Road, Littlehampton, West Sussex BN17 5LF by 16 October 2008.
(24 September 2008)
---
Snippets from Parish Council Minutes of Meeting on 8 September 2008
Additions/corrections to minutes of meeting held on 28th August 2008 - Item 4683: The Tender build price (for the Community Centre) is in fact £785076.00 and not the lower sum recorded in the minutes. The difference was due to an arithmetical calculation error.
Report from Arun District Council - District Councillor Julie Hazlehurst advised that Arun District Council had a bye-law that prevented parking on verges but it was enforcements that was proving difficult. The co-mingling of litter and dog waste was being looked at again .
Skatepark - The Chairman reported that there had been some serious problems with litter but on a visit earlier this day the site was clear.
Community Centre - Councillor Sue Smith confirmed that W H Catchpole Ltd have been appointed Contractors to build the Community Centre. A meeting was held earlier this day with Hamsons, Catchpole and their architects. A design programme lasting 12 weeks was agreed. Building regulations are expected to be submitted in 5 weeks time. The on site start date is 5th January 2009 and the anticipated build time is 26 weeks. The next meeting of all parties is scheduled for 29th September and the sub committee will be consulting with the Management Committee as soon as possible. The sub committee believe the Council should publish a news-sheet to all immediate vicinity residents giving them an update of the situation and advising the start date.. Councillor Bicknell questioned this on cost grounds but Councillor Smith said that it was imperative to keep people informed. Other Councillors supported the idea of a news- sheet and Councillor Hankinson suggested putting in a sketch map showing the actual location of the Community Centre, as there has been a lot of misinformation on the site. The news-sheet will be delivered to residents adjacent to the site and the approach roads.
After the Chairman had closed the meeting and the public had left Councillor Hadley advised that he had attended the meeting earlier in the day as an observer and had found this useful but he had some concerns. (1) The sub committee have instructed WH Catchpole to proceed with a timber framed building when the accepted tender documents stated metal frame. (2) Councillor Hadley had concerns how the contract sums were being defined. The Chairman asked that it be recorded that he was not at all happy with the fact that the Community Centre will be built other than in accordance with the accepted tender specification and that timber framing is being used as opposed to the metal frame building agreed. Councillors Hadley and Bicknell agreed with the Chairman.
(23 September 2008)
---
Junior cricketers progress in first season
Angmering Colts have completed their first ever season, ending with a victory over Arundel. In the five matches played, Jody Jones was leading wicket taker, with 5 at an average of 8.8. Milan Patel, Ben Gardner and Douglas Sopp took 3 wickets each. Chris Mitchell, the side's skipper lead the batting, scoring 86 runs, including 37 not out against Arundel.

The club has received coaching support from Sussex County Cricket Club coach Alan Smith and will look to develop a more comprehensive programme of fixtures for the 2009 season, along with organising winter net sessions. Colts organiser Sue Mitchell commented "We are looking to build on the excellent work this season, we have a lot of enthusiastic players who have improved termendiously, which is great to see". Coach Rob Skinner echoed these comments "Our players have come on leaps and bounds, and now have the belief that they can win matches. All their hard work at training has paid off".

Anyone aged between 11 and 16 interested in playing for Angmering juniors should contact Jim Hughes on 07778 493241.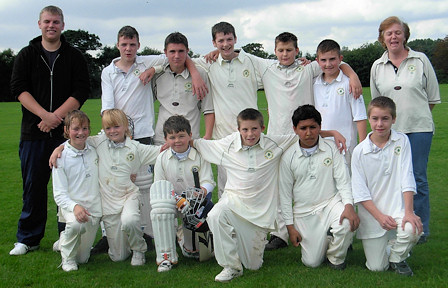 Back row (left to Right): Rob Skinner (Coach), Tyler Coomber, Chris Mitchell, Jody Jones, Connor Wells, Carl Davey, Sue Mitchell (Colts organiser)
Front row: Ben Gardner, Finlay Gardner, Douglas Sopp, Luke Faulkner, Milan Patel, Kalum Coomber.
Missing: Jack Northeast, Chris Murrell, Callum Steggles
(23 September 2008)
---
Skatepark
It is understood that ITV Meridian will be broadcasting a follow-up piece about the opening of the Angmering Skatepark at Bramley Green on their 6.00pm News programme this Friday (26 September).
(23 September 2008)
---
St Margaret's Church Reordering Fact Sheet No. 9
(Reproduced here on behalf of St Margaret's Church)
Visible Progress – Hidden Problems
From the photographs displayed in the church hall entrance and on the website it can be seen that the work inside the church is making good progress. The basic construction of the baptistry (see photo) is now complete and it is ready for waterproofing and tiling.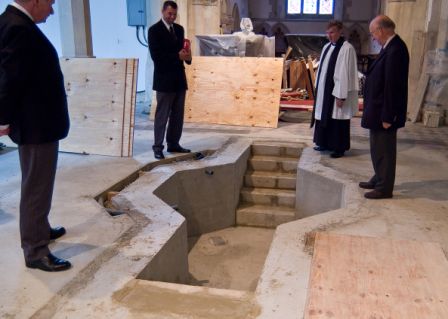 On Thursday afternoon August 28th the rector conducted a short service for the burial on Henry Usborne in the newly built tomb situated beside the baptistry and very near the original one. The family were invited to attend but this proved not to be possible so photographs have been sent to them.
As many will have noticed, a detailed photographic record is being made of the reordering by Ray Whitehouse and we are extremely grateful to him for his enthusiasm and undoubted skill in taking photographs at every stage of the project. On completion these will be put in a book as a record for future generations. In the meantime they are displayed in the church hall and on the website. Our warmest thanks are due to Ray for his time and devotion to this task.
The steel work for the roof of the two extensions is now in place and during the preparation for the erection of the steel part of the chancel roof had to be exposed. Much to everyone's dismay it was found that there is a lot of decay in the roof timbers and, after discussion with our architect, the structural engineer, the contractors, our project manager and the diocese, the PCC has agreed that it is good stewardship for us to replace this part of the church roof now, as part of the contract, rather than leave it.
If the roof were to be left now we would be faced with doing the work within about five years and this would entail closing the church again and incur a much higher cost.
It is inevitable that this unexpected expenditure on the roof, together with increased costs in the original project, will mean a substantial addition to the final cost of the work. The many totally unexpected extras include the extensive archaeological work and the considerable expense incurred as a result of the consistory court hearing about which we, as a church, had no choice. Funds have been made available to cover these costs, for this we are truly thankful to God for answered prayer.
We are indebted to our team of professional advisers in helping us to reach the decision to replace the roof as well as for their constant care and advice throughout the contract. They are: our architects Nick Lee Evans and James Wood, quantity surveyor Martin Stevens, structural engineer John Sexton and the team from Farnrise headed by their contracts' director Dennis Perry with Paul Hassell the site agent. Barry Welch our project manager has maintained a watch on our behalf and has kept all our advisers on their toes with constant probing questions on all matters. He keeps in touch with me on an almost daily basis.
Due to the additional work to be undertaken on the church it does mean we will not be back into the building by the end of the year. Farnrise are forecasting that they should be able to hand over the church for occupation on March 13th and we hope to hold the first services on March 22nd.
Details of our Christmas services will be announced shortly and a new date for the dedication service and other events will be confirmed in the New Year when we are nearer the proposed handover date.
The work on the roof will involve much additional scaffolding and it is absolutely vital that everyone continues to observe any barriers Farnrise might put in place. Cars must never be left in the drop off area by the lych gate. This is absolutely essential because space MUST be available for emergency vehicles at ALL times. See the site safety notice on the compound fence.
Many decisions have had to be taken during the last ten days and there has been an under girding of prayer throughout these discussions. Please continue to pray for those of us directly involved in the project.
If you have any questions regarding the reordering please would you direct these to me either by email (richard.hance@btconnect.com) or by phone 01903 788792 on weekdays.
Richard Hance, Churchwarden
8 September 2008
To see latest photos of the Church re-ordering building work, click here.
(11 September 2008)
---
Angmering Planning Applications (p/e 03/09/08)
A/97/08 - Single storey side extension at the Co-op Store, The Square. For: Southern Co-op Ltd
Observations on this/these Application(s) must be received by The Head of Planning Services, Arun District Council, The Arun Civic Centre, Maltravers Road, Littlehampton, West Sussex BN17 5LF by 2 October 2008.
(10 September 2008)
---
History Pages Update - Churchyard Memorials
Work has been going on throughout the Summer to transcribe the memorial inscriptions in St Margaret's churchyard. The project may take 2 or 3 years to fully complete but the most difficult grave stones have been tackled and the older ones researched against the burial records. The stones recorded this year date from 1705 to 1949. The areas surveyed to date comprise approx 535 memorial inscriptions comprising nearly 850 names. Time, coupled with acid rain, other forms of erosion and lichen, have all taken their toll on the stones which are becoming increasingly difficult to read each year. You can read more about this project and access the inscriptions on the Churchyard Memorial Inscriptions page. Further, you can read about some interesting people buried there on the Churchyard Personalities page.
(10 September 2008)
---
Angmering Planning Applications (p/e 27/08/08)
A/90/08/T - Application to lightly top one seasons growth back to uniform height & reduce spread of 6 no. tall & 10 no. small Cupressus Leylandii, and fell 1 no. Cherry tree at Blue Cedars, Blue Cedars Close, Ham Manor Way. For: Mr A W Evans
A/92/08 - Reversion of office to residential accommodation ancillary to Aberdeen House. Aberdeen House, Arundel Road. For: Mr J Yates
Observations on this/these Application(s) must be received by The Head of Planning Services, Arun District Council, The Arun Civic Centre, Maltravers Road, Littlehampton, West Sussex BN17 5LF by 25 September 2008.
(3 September 2008)
---
Film Show Cancellation
Angmering Community Association regret that, due to lack of support, the planned showing of "Chicago" this coming Saturday in the Village Hall will not now go ahead.
The next film will be on Saturday 4 October when "Indiana Jones and the Kingdom of the Crystal Skull" will be shown, two months before general DVD release.
(1 September 2008)
---
Snippets from Parish Council Highways Committee Minutes of Meeting on 21 August 2008
Honey Lane - Councillor Norman Hadley reported that he had sent a letter to Mr Rayment of Honey Lane, detailing the costs of repairs for the residents section of Honey Lane. The pathway (area a+b) that is the priority for the Parish Council would cost £6k to repair. The Committee asked the Senior Assistant Clerk to investigate where it may be possible for us to apply for grants.
Dog Bins - Councillor Bicknell reported that there had been some confusion and Arun District Council were not offering 50% discount on dog bins. If dog bins were replaced, the 50% for which we currently contribute towards the emptying, would disappear, saving us £450 per annum. The Committee decided to leave this on hold until Arun District Council had completed their survey.
Post Box (High Street) - Councillor Hadley reported that we had had a quote from Lambs in Billingshurst for the bricks for the post box but there were some items that needed to be clarified with them and Mrs Holland who is funding them.
Street Furniture - The Senior Assistant Clerk reported that the sign to St Wilfrids Cemetery was due to be fitted in September but she would chase up for a specific date. She would also arrange a site visit to Palmer Road to look at the signage there. The £5 fixed penalty notices in Chantryfield Road appear to be out of date but the office will check with Arun District Council regarding their policy of parking on verges.
Roundstone Railway Crossing Improvements - The proposal is to improve the crossing by providing a new 3 metre wide pedestrian and cycle way.
Bank opposite the Village Hall - The Committee discussed the letter from Seymour and Lisle requesting that steps be placed in the grass bank to enable then to strim the area better. It was unclear as to how these steps would be positioned and the Committee requested that Roger Seymour provide a drawing.
(1 Septembert 2008)
---
Exhibition at the Library
An exhibition of old photos and documents of Older's Charity School is being held in Angmering Library from now until the end of September. The display has been prepared by Mr Leslie Baker who was the last head teacher of the school which closed in 1965, the building eventually becoming our library.
Photos and sketches of the school, its children, and other documents such as newpaper currings and extracts from the school log books are on view. Anyone interested in reproductions of any of the material should contact Leslie Baker on (01903) 770355.
(1 September 2008)
---
A dizzy Draw!
dizzy, the boutique charity shop in The Square (in aid of diabetes research & support) has been backed by their friends at Clear Computing (I.T solutions provider, visit: www.clear-computing.co.uk ) to offer a fabulous draw that will be held at Worthing Rugby Football Club on Saturday 13th September at 2:30pm.
Tickets are only £1 each and can be purchased at dizzy's shop in The Square or purchased over the telephone via their East Preston store, telephone Jane on 01903 774 777 (telephone orders minimum £5 purchase). Here are some of the superb prizes which you could win and help raise money to support people with diabetes:
1st prize – Hewlett Packard Laptop
(courtesy of Clear Computing, Rustington. 01903 715150)

2nd prize – Dyson DC18 Vacuum Cleaner
(courtesy of Margin Electrical Services. 01903 776644)

3rd prize – Studio Session & Family Portrait Set
(courtesy of Venture Portraits, Arundel. 01903 882931)

4th prize – Meal for two & bottle house wine
(courtesy of The White Swan, Arundel. 01903 882677)

5th prize – Magnum of Champagne
(courtesy of Accord Financial Management. 0845 0170810)

6th prize – Luncheon for Two from Chef's Daily Menu
(courtesy of Bailiffscourt Hotel & Spa. 01903 723511)

other prizes to be won, include :
· Luxury Neck, Back & Shoulder Massage
· £30 Floristry Voucher
plus other fabulous prizes
(1 September 2008)
---