Angmering Village Life
News Archive
August 2008

Village Farmers' Market & Celebration of Village Life & Sussex Crafts
The 3rd Annual Village Farmers' Markets & Celebration of Village Life & Sussex Crafts will take place on Fletcher's Field THIS SATURDAY 30th August and will be open to the public from 9.30 a.m. to 2.00 p.m. This one promises to the best yet, so make a note of the event in your diary NOW! Around 60 stalls will once again transform Fletcher's Field into a bustling marketplace. Below are details of what stalls and attractions will be there:
Village organisations will be well represented including St. Margaret's Church; the Baptist Church; Angmering W.I.; Angmering Green W.I.; Angmering Croquet Club; Angmering Horticultural Club; Angmering Village Life; Conservative Association; Angmering Community Association; The Angmering Society; Royal British Legion; Angmering Youth Forum; Angmering Cricket Club; St. Margaret's Handbell Ringers; Angmering Parish Council; Angmering Allotment Society; Angmering Girl Guides; Mother Goose Playgroup. West Sussex will also be present with their Sustainable Communities Project Manager and the "Greening Campaign".
Food Stalls - and food to eat: - Many of the old favourites - Slindon Bakery; Quiche Supreme; Rustington Country Market; Allotment Assn. ; Hempstead Foods with delicious pies and sausages; Relish in Spice; O'Hagan's Sausages; Monastery Cheese; The Bacon Bar; Iron Railway Vineyard; Hammerpot Brewery; St Margaret's Church will once again be providing refreshments including Ploughman's lunches; Ice Creams.
Crafts - A large variety of Craft Stalls including pottery, jewellery, pashminas, Wotwu clothes, cards, hand-made soaps, house name plates and numbers, body products, baby products, painted glass, wooden stools and shelves, chair caning….and much more. There will also be a chance to try Lace making, art activities and jewellery making for the children.
Other Attractions: - The giant inflatable and other entertainments for the children. Experience Indian Head Massage or Reflexology.
Walk to the market if you can! - There will be some parking available on a field at the end of Rectory Lane and also at the Angmering Medical Centre. Street parking will be available subject to normal restrictions.
The Organisers hope that lots of people will come along and support the event. It will cost you nothing to come - but be prepared - you will want to buy!!
Craft Stalls now all taken, but there may be room for one or two more stalls selling food. Contact Val on 01903 774247 or valerie.jerram@btinternet.com
(27 August 2008)
---
Snippets from Parish Council Minutes of Meeting on 11 August 2008
Honey Lane - Councillor Norman Hadley presented the minutes of the Highways Committee held on the 17th July 2008. He said that he still had not received a quote from Edburton for the Honey Lane improvements, he assumed they were not interested in quoting as they had been chased several times. He will now make contact with the residents of Honey Lane and the Allotment Society to see the best way forward and what funding was available.
Youth Activities - Councillor Turner reported that the bus project was going well and had now been completely paid for by donations and grants. A grant of £4k had been received from the Youth Opportunities fund. Nearly £10k had been raised since January.
Community Centre - (1) Councillor Steven Mountain reported that the tenders for the build had been received and were under evaluation by the sub committee and the Project manager. (2) Councillor Nunn reported that we no longer had a representative on the Community Centre Management Committee but received copies of their minutes. During Public Question Time, Mr T. Langridge asked if his presentation against the building of the Community Centre that had been given to the Council at the last Parish Council meeting had been considered. Councillor Nunn said that it had been discussed by individuals but had not been discussed at Committee. He said there had also been communication with Arun District Council and the proposal to build at the Southern end of Bramley Green was outside the build plan and would not be allowed. Mr. Langridge asked if he could have copies of any correspondence with ADC. The Committee agreed to put the presentation on as an agenda item on the next Policy and Resources Committee meeting that would take place on the 20th August 2008.
Skate Park - Councillor Nunn reported that the opening of the Skate Park had been a great success. There was a problem with litter but that was being addressed with extra litterbins and more frequent rubbish collections. He also said that the behaviour of the people using the Skate Park had been good. The Senior Assistant Clerk reported that two new litter bins were to be installed this week with more regular collections. The possibility of a litter picker was also being investigated.
(27August 2008)
---
Angmering Planning Applications (p/e 20/08/08)
A/98/08/A - Replacement corporate signage at Chandlers (Worthing), Water Lane. For: Chandlers (Worthing) Ltd
A/101/08 - Removal of two garage doors and replacement with a pair of doors and a window. Enlargement of rear store at 1 Lansdowne Road. For: Mr K N Bashford
A/102/08 - Replace existing A/C units with new refrigeration plant at Co-Op Store, The Square. For: Southern Co-Op Ltd (Retail)
Observations on this/these Application(s) must be received by The Head of Planning Services, Arun District Council, The Arun Civic Centre, Maltravers Road, Littlehampton, West Sussex BN17 5LF by 18 September 2008.
(27 August 2008)
---
Snippets from Parish Council Environment & LeisureCommittee Minutes of Meeting on 7 August 2008
Noticeboards - The Senior Assistant Clerk reported that the notice had gone up in Downs Way for the re-siting of the Notice Board. If no complaints are received by the 11th August, the new legs can be ordered and the board installed.
Youth Facilities - Councillor Pat Turner said that enough money had now been received or agreed in grants to cover the total purchase price of the bus. All future monies will now go towards larger items such as the wheelchair lift and generator. The refurbishment has started and is progressing well at very minimal costs.
Skateboard Park - Councillor Nunn reported that the opening of the Skateboard Park had gone extremely well and that it was being well used. A quote has been requested from Persia Civil Engineering to extend the apron to the fence. Councillor Nigel Nunn expressed concern about the proposed grind rail, he felt that it would be dangerous so close to the public footpath, the Committee agreed to put this item on hold for the time being. The Committee asked the office to check the wording on the board to see how the disclaimer was worded. There were concerns about the amount of litter and another two litter bins had been ordered.
Bramley Green Maintenance Contract - The Committee requested that the office get a quote from ISS Waterers for emptying the three litter bins on alternate days. The office will also put a notice in the window asking for volunteer litter pickers. Two people have offered to do litter collections on a regular basis, the committee have suggested a rate of £6.00 per hour if we go down this path.
Community Centre - Grants The Senior Assistant Clerk reported that we were still not in a position to apply for grants until the final tender price was known. The Angmering Community Centre Management Committee has assembled a file of possible grant sources for 'Green Issues'. A copy is on file in the office. Parking The Committee agreed that if it was found that once the Community Centre was built and operating that additional car parking spaces were necessary, then the Parish Council would review and support it.
Downs Way Pocket Park - The Senior Assistant Clerk reported that she had visited the pocket park three times in the last two weeks and had found that the litter problem had improved. The Committee agreed to continue to monitor it and arrange for a litter pick as necessary.
(20 August 2008)
---
Angmering Planning Applications (p/e 13/08/08)
A/91/08 - Proposed 2 bedroom chalet style bungalow Land to rear of 47 Mill Road Avenue. For: Mr Mountford.
A/100/08/TC - Crown 1 no. Eucalyptus tree within the Angmering Conservation Area at Church View, 1 Cottrell Close. For: Mr & Mrs D Gibbs.
Observations on this/these Application(s) must be received by The Head of Planning Services, Arun District Council, The Arun Civic Centre, Maltravers Road, Littlehampton, West Sussex BN17 5LF by 11 September 2008.
(20 August 2008)
---
Agenda of Parish Council's Policy & Resources Committee Meeting on 20 August 2008
(To be held in the King Suite at the Village Hall at 7.30pm)
1. APOLOGIES FOR ABSENCE

2. DECLARATIONS OF INTERESTS IN ITEMS ON THE AGENDA

3. CONFIRMATION OF THE MINUTES
To confirm the minutes of the Policy and Resources Committee meeting held on 23 July 2008 and a report of the meeting held on11 August 2008.

4. MATTERS ARISING FROM THE MINUTES
To consider any matters arising from the minutes not covered elsewhere on the agenda.

5. To adjourn the meeting for public questions

6. To re-convene the meeting

7. COMMUNITY CENTRE
To discuss Mr Langridge's submission to the Parish Council on 14 July 2008 and 11 August 2008.

8. GRANT AWARDS
To receive a report from the sub-committee

9. STANDING ORDER REVISIONS
To consider the following amendments and to recommend their adoption at the next Annual Meeting. 1. New Standing Order 2(a) 2. Financial regulations 2(d) and 10 (b, c, d) authorised amounts increased and updated.

10. OFFICE KEYS
To propose an amendment to Parish Council rules to enable all Councillors to be in possession of relevant keys for access to the office.

11. IT STRATEGY
To receive a report from Councillor Hankinson

12. OFFICE IMPROVEMENTS
To approve the estimate for redecoration of part of the office premises.

13. COMMUNITY CENTRE PROJECT
To accept the sub-committee's report and recommendations. (Note: By the nature of its confidentiality of this item, the press and public will be excluded from the meeting while it is being discussed. Public Bodies (Admission to Meetings) Act 1960).

14. DATE OF NEXT MEETING
To set a date for the next meeting
(18 August 2008)
---
Angmering Cricket Club Raffle 2008
Angmering Cricket Club will be holding a raffle stall at the Angmering Village Market and Crafts Day to be held at Fletcher's Field on Saturday August the 30th. The raffle will help raise funds for both the juniors and adults teams and they look to improve playing facilities by laying grass wickets, along with buying equipment for the juniors side.
Below is a list of the prizes so far, although more may be added before the final draw. Tickets cost 50p each or 5 tickets for £2. Raffle tickets will go on sale on Sunday the 17th of August. The draw will be made on the afternoon of the 30th of August. All winners will be notified by phone. Please contact Jim Hughes on 07778 493241 for more information

The Prizes:
Pair of premier tickets for a raceday at Fontwell Park (donated by Fontwell Park), pick from one of the following three dates:

Thursday 25th September. Jump Racing 2.25 til 5.50pm , Friday 7th November. Jump Racing 1.10 til 4.10pm , Tues 9th December. Jump Racing. Christmas party race day 12.40 til 3.40.


Pair of tickets for entry to Arundel Castle valid until 2nd November 2008 (Donated by Arundel Castle)
£20 free bet from Robinsons bookmakers in East Preston (Donated by Robinsons bookmakers)
Bottle of Champagne (Donated by Chandlers BMW)
Free bouncy castle hire for the day in 2009 (Donated by Amazingly Bouncy 07855 809715)
Hugo Boss XX female gift set, includes 60ml eau de toilette spray and 150 ml moisturising body lotion.
Six free ten pin bowling vouchers for AMF bowling in Worthing )Donated by AMF bowling in Worthing)
70cl bottle of Baileys Original
Two medium cod and chips from Mermaid fish bar in East Preston (Donated by Mermaid fish bar East Preston)
Three tickets to Sussex 'v' Yorkshire in the LV County Championship at Hove. Valid only on the 24th of September 2008. Access to all areas of the ground. (donated by Sussex County Cricket Club)
Two free adult passes to the Oval raceway motor race curcuit valid for any meeting in 2008 (donated by Oval Raceway), select from the following dates:

14th September, 28th September, 12th October, 26th October, 9th November, 23rd November, 14th December, 28th December

Free family swim at Littlehampton Swimming and Sports Centre (Donated by Inspire Leisure). Valid until 30th November 2008, up to 2 adults and 3 children
Two tickets to Sussex 'v' Yorkshire in the LV County Championship at Hove. Valid only on the 24th of September 2008. Access to all areas of the ground. (donated by Sussex County Cricket Club)
Two tickets to Sussex 'v' Yorkshire in the LV County Championship at Hove. Valid only on the 24th of September 2008. Access to all areas of the ground. (donated by Sussex County Cricket Club)
Two tickets to Sussex 'v' Yorkshire in the LV County Championship at Hove. Valid only on the 24th of September 2008. Access to all areas of the ground. (donated by Sussex County Cricket Club)
Casino Royale, James Bond 007 on DVD
'Viva la Vida' the latest album by Coldplay on CD
Bottle of wine (Donated by Holmes Estate Agents)
Free mans hair cut at Guys the Barbers in East Preston (donated by Guys the Barbers)
Bottle of J.P Chenet Merlot
Spanish Rose Cava (Donated by the Local in East Preston)
England style football (Full size) (Donated by David O Jones and Son Sports shop in Littlehampton)
Ashes 2005 'The greatest Series' DVD
Cuddly toy
Eveready pen and torch (Donated by Angmering Electrical)
(18 August 2008)
---
The Big Picnic in Angmering
Angmering will play host to the Big Picnic on Sunday 24 August, as part of a series of county-wide events celebrating the handover of the Olympic torch from Beijing to London. The free event at Fletcher's Field, Arundel Road, in Angmering Village, will run from 1.30pm - 4pm and will feature a performance of Ragroof Theatre's hit show 'Shall we dance?', which went down a storm at the Liverpool 08 City of Culture celebrations.
Bring along your picnic and relax as you are entertained by glamorous dancing couples from the roaring twenties through to the thrifty fifties and after the performance dust of your dancing shoes and take to the stage yourself for a dance.
The event in Angmering is being organised by the Angmering Community Association in partnership with Arun District Council, West Sussex County Council and Angmering Parish Council. It is part of a county-wide series of seven themed community picnics taking place in every local authority district in West Sussex from morning 'til night. Each picnic will be connected by a travelling relay that will visit each site, with each picnic community handing over a baguette to the next. The relay will be accompanied by Chichester Festival Youth Theatre's amazing silent orchestra and incredible break-dancing guardsmen.
Carole Mason from the Angmering Community Association said: "The Angmering Big Picnic is part of a national event but with a local flavour. It is a chance for the community to get involved with the celebrations as the UK officially becomes the host of the Olympic Games. "This free event is open to everyone, all you have to do is bring along your picnic and chairs or a blanket and sit back and enjoy the fun. Hopefully the weather will be kind, and what better way is there to spend a summer afternoon than relaxing in the park?"
Whatever the weather the picnic will go ahead so please come prepared, whether that means umbrellas or sun cream. Refreshments will not be available at Fletcher's Field so please bring what you need and make sure you take your rubbish home with you.
Parking in Angmering is very limited so please try to walk or use public transport to get to the event. The organisers advise against bringing dogs along as they may find the music and dancers stressful. For further details about the Angmering Big Picnic contact Angmering Parish Council on 01903 850756 (mornings only).
The Angmering Community Association is looking for people to help them with this event. Anyone wanting to volunteer should contact the parish Council office on the above number.
(18 August 2008)
---
Angmering Planning Applications (p/e 06/08/08)
A/80/08/L - Application for Listed Building Consent to create new vehicular access in 2 no flint walls to enable a change of location of entrance of Pound House from Roundstone Lane to High Street. Pound House, Roundstone Lane. For: Mrs Michelle Hope'
A/89/08/A - Various signage at The Woodman Arms, Hammerpot. For: Fuller Smith & Turner PLC.
A/93/08 - Conversion of single dwelling to two dwellings (Re- submission following application A/62/08/) at St Wilfrid's Presbytery, Arundel Road. For: Westcott Leach Ltd.
A/95/08 - Side porch at 1 Burwash Close, East Preston. For: Mr M Francis
Observations on this/these Application(s) must be received by The Head of Planning Services, Arun District Council, The Arun Civic Centre, Maltravers Road, Littlehampton, West Sussex BN17 5LF by 4 September 2008.
(14 August 2008)
---
Dizzy Day
dizzy, Angmering's new boutique charity shop aiding diabetes research/support, will be holding a Dizzy Day on Saturday 23 August at East Preston Conservative Hall between 10.30am and 3.30pm (entry 20p). This will comprise a Grand Clearance stock sale plus Refreshments : coffee, tea & cakes etc • BBQ – food yummy for your tummy ! • Wine Tasting by Sussex Victuallers • Fitness & Aerobics demonstrations (with the team from Inspire Leisure) • Circle of Health – 'well being area' (taster sessions: Indian Head Massage/ Reflexology Hydrotherm massage/ Reiki / Vertical reflex therapy) • Kid's Face Painting etc • Raffle & Tombola. Call (01903) 774777 or visit: www.dizzy.org.uk for more information.
(11 August 2008)
---
Snippets from Parish Council Policy & Resources Committee Minutes of Meeting on 23 July 2008
Councillor Allowances - Councillor Sue Smith said that by paying an allowance it is about recognising the work put in by Councillors. Councillor Smith proposed that with effect from 1st April, 2009 the Council pays the basic Parish Allowance as recommended by Arun District Council. Currently this is £468.00 per annum and is subject to review. The proposal was seconded by Councillor Steven Mountain. Councillor Paul Bicknell proposed an amendment that the allowance be paid pro rata with immediate effect. This was seconded by Councillor Norman Hadley. Then Chairman took the amendment first and voting was 2 for the proposal 4 against with 1 abstention. With the amendment defeated the original proposal was passed unanimously. Allowances will be paid at the rate applicable from 1st April 2009. It was also agreed that: (1) Allowances will be paid on a quarterly basis (2) The Chairman will receive £300.00 over and above the basic Parish Allowance.
Community Centre Project - Councillor Steven Mountain presented report-updating Councillors on the status of the tenders received, and a timetable of processes through to interviewing tenderers. The Project Manager is preparing a criteria scoring matrix to help the evaluation process. It is planned to conduct interviews on 19th August 2008. A copy of each tender received will be made available in the office for Councillors to inspect. Councillor Paul Bicknell thought that all tenderers should be asked to submit a revised offer after the matrix had been prepared. Councillor Norman Hadley said that he had no confidence that the matrix process will provide either the builder we want or give best value for money. He believed that all tenders should be looked at in detail and that all tenderers be asked to submit another offer against an agreed composite specification. Councillor Pat Turner was of the opinion that the current process should be allowed to continue up to the arranging interview stage. Councillor Norman Hadley thought all 5 tenderers should be invited for interview and that the Project manager should prepare a list of Pros and Cons against each tender for the Council to consider. The Chairman, Councillor Nigel Nunn, proposed that the report, processes and timetable as submitted by Councillor Mountain be accepted and that all 5 tenderers be invited for interview. Councillor Norman Hadley proposed an amendment that the Project Managers be requested to supply a list of pros and cons for each tender. Both the amendment and original proposal were agreed. Councillor Steven Mountain asked that an agreement on funding is put in place at the Finance Committee meeting to be held on 6th August, and that an upper limit budget for the Community Centre is set. Councillor Sue Smith thought that this could be agreed by the Policy and Resources Committee. Councillor Nigel Nunn proposed that a total build cost including professional fees of £900,000.00 be set. This was seconded by Councillor Steven Mountain and agreed. The budget will be financed by PWLB loan of £500,000.00, £317,000.00 earmarked funds £60,000.00 from current/contingency balances, with any shortfall coming from the Bramley Green maintenance funds.
(8 August 2008)
---
Angmering Planning Applications (p/e 30/07/08)
A/83/08 - Further to approved planning permissions A/181/07 and A/20/08 - double garage extended at rear with master bedroom/dressing room over to include revised gables at north east elevation with dormer at south elevation at Forest Leas, 22 East Drive. For: Mr Neil Roberts.
A/85/08 - Roof conversion to form additional office accommodation, new conservation style rooflight to north elevation within existing office and creation of 16 No additional parking spaces at Chestnut Tree House Childrens Hospice, Dover Lane. For: St Barnabus Hospices Ltd.
A/87/08/A - Application to display 1 no. internally illuminated sign at Premier Inn, Roundstone Lane, East Preston. For: Whitbread Operations.
Observations on this/these Application(s) must be received by The Head of Planning Services, Arun District Council, The Arun Civic Centre, Maltravers Road, Littlehampton, West Sussex BN17 5LF by 28 August 2008
(8 August 2008)
---
Roadworks at Sainsbury's
West Sussex County Council has today issued the following news update on the roadworks:
"The pace of work on the A259 Rustington Sainsbury's Junction scheme has slowed down because we have encountered some underground cable ducts at shallow depths within the formation of new carriageway on either side of the entrance to the Retail Park.

Staff from the affected Utility Company have visited the site and plan to lower the ducts on Saturday 9th August. In order to avoid any disruption to businesses in the Retail Park, we have agreed with the Utility Company to undertake the work on the night of Saturday 9th August after the businesses have closed.

We expect the pace of work on the project to pick up following the resolution of this problem and at this time we do not see this having a major impact on cost and programme."
(6 August 2008)
---
St Margaret's Church Reordering Fact Sheet No. 8
(Reproduced here on behalf of St Margaret's Church)
"Is progress really as slow as it looks?"
This is a question that I have been asked regularly over the last month. The answer is not really and, Farnrise hope that we may be back in the church in time for Christmas. However, dates have yet to be confirmed by the contractors and the PCC.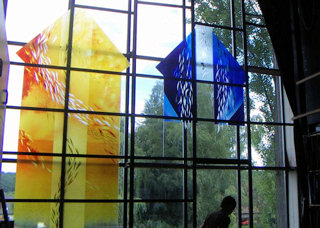 The delay in the project so far has been due to a number of justifiable, although unforeseen, circumstances: the extensive archaeology work both inside and outside the church, the discovery of Henry Usborne's tomb and what has now been identified as an old heating tunnel.
Henry Alfred Usborne, the son of John Usborne, a former rector of St Margaret's, was baptised on the 9th December 1837 the day his mother Emily died. Henry himself died on 13th April 1839 aged just over a year. His tomb was discovered during the excavation for the baptistery. A new tomb has been built very near to the original position, adjacent to the walls of the baptistery, and, as soon as the church is safe, the rector will conduct a short service of reburial. In the meantime Henry's coffin is being kept in the church and elsewhere, as has been reported erroneously The Usborne embroidered kneeler, which was in the care of a member of the church, has now been given back so that it could be passed to the Usborne family for safekeeping for which we and the family are grateful. More information about the Usborne family is available at www.usbornefamilytree.com
The production of the art glass is now almost completed at the studio in Germany. For those who may be interested, information about the studio can be seen at www.derix.com and examples of Mel Howse work can be seen at www.melhowse.co.uk Mel's finished work is fantastic and during a visit to the studio last week I was able to take photographs which can be seen on the websites or on the board in the church hall. Mel's interpretation of her original designs onto glass has broken boundaries of manufacturing processes and I am confident that her work for St Margaret's will be admired far and wide as well as in our village. The picture of the glass (see right) show it in a specially designed 'viewing window' with the glass held in position within wooden frames.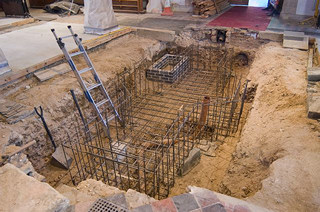 Work inside the church is progressing slowly, the baptistery is under construction (see left) and preparation is well advanced for installing the under floor heating before the laying of the wooden floor.
The skill of the stonemasons has been much admired and the roof structure to the two extensions will soon be taking shape. I have received various comments about the knapping in the flint work. A sample panel was prepared, before work began, and this was approved by the architect, the planners and also the Angmering Society; the sample panel forms the standard to which stonemasons are working all the time. It will be noticed that there is quite a difference in the extent of the knapping in various parts of the church and therefore the architect has tried to strike a balance between the new extensions and the existing church building. Too much knapping could also deter from the appearance of the art glass which is of course the main feature of the new east end of the church.
We are pleased to welcome site manager Paul Hassel back after two weeks' well-earned holiday and thank Peter who stepped into Paul's shoes during this time. Please can I remind all visitors to the church the importance of observing any barriers and signs put in place by the contractors. Barriers are there for our safety and areas within them are strictly out of bounds at all times. This is for reasons of both safety and insurance.
If you have any questions regarding the reordering please would you direct these to me either by email (richard.hance@btconnect.com) or by phone 01903 788792 on weekdays.
Richard Hance, Churchwarden
August 2008
For more pictures of the stunning glass that will be used at St Margaret's, click here
(3 August 2008)
---