Angmering Village Life
News Archive
March 2007

Snippets from Parish Council Highways Committee Minutes of Meeting on 21 March
Rights of Way - Bramley Green to Greenwood Drive Footpath - there was no further information on the fence covering the footpath. John Holland Associates were no longer representing the Consortium, this has passed to a company called TDS. Dan Vick of Arun District Council was pursuing the matter with the new company. Honey Lane - The allotment society were contacted to see if the could help regarding the poor state of the right of way. They said that as soon as potholes were filled they re-appeared again due to the poor base, they believed major work was needed to solve the problem. The committee asked the Senior Assistant Clerk to write to the owner Mr Somerset so see if he was prepared to fund any work.
Traffic Issues - 20mph Speed Limit - Councillor Tim Mayhead suggested a flashing speed sign would encourage people to slow down. A quote will be requested from WSCC. St Margaret's School - Leaflets had been handed out to parents drawing their attention to the poor parking at collection and drop off time. Councillor Paul Bicknell stated that there were not enough spaces to accommodate the number of children. The committee asked that a letter be send to the headmaster asking if more space could be made available. Downs Way - There has been no further progress on the issue of poor parking in Downs Way. WSCC still have it on priority but cannot give a date when they will be able to review the situation. Parking by Chandlers Garage - The Committee discussed the poor parking on the kerbs and paths outside the garage and requested that a letter be sent to the manager with their concerns. They also requested that WSCC review the line markings.
Parking in the Village Centre - The committee expressed their concern about the parking situation when the Church car park is closed for the Church alterations. They asked that the Senior Assistant Clerk write to the Village Hall, Medical Centre and the Lamb Public House to see if their car parks can be used during this period.
Street Lighting - Work would be carried out in The Cottrells in the new financial year. There was only enough money in the 2007-2008 budget for four columns. The committee agreed to 1 in Palmers Road and 2 in Downs Way.
Cycleways/Footpaths - Councillor Kearney-Pateman advised that the road in Water Lane was too narrow to have a cycleway. Councillor Bicknell said that the suggestion was to have a cycle path north of the existing shrubs avoiding the road.
(28 March 2007)
---
Angmering Planning Applications (List 12)
A/35/07 - Two-storey side extension and single-storey garage extension at Westering, Station Road. For Mr C Carey.
Observations on this/these Application(s) must be received by The Head of Planning Services, Arun District Council, The Arun Civic Centre, Maltravers Road, Littlehampton, West Sussex BN17 5LF by 19 April 2007.
(28 March 2007)
---
Chippy's Sunday Opening
From 1 April, for the foreseeable future, The Big Fry in The Square is to open on Sundays between 4.45pm and 8.30pm.
(27 March 2007)
---
Arts Courses / Workshops in Angmering
Locally organised arts workshops are going to be held at The Mill House Studio, Ecclesden Lane, Angmering. Three courses / workshops are being offered over this coming summer, namely:
Course 1: Over April / May - Your speaking voice and how to use it confidently - a series of two hour sessions over four weekends designed for adults of all ages, minimum age 15 years.
Course 2: June - Tribal Groove - African body percussion and drumming - a one day course designed for children between 8 -10 and an accompanying adult.
Course 3: July - Find the storyteller within you - a weekend course for adults of all ages, minimum age 15 years.
The tutors for all theses courses are professionals in their fields and experienced teachers, so however you might feel about your own capacity to achieve, they will offer a learning environment that is encouraging, positive, and designed for each individual to achieve the maximum.
If you would love to try but are feeling anxious or you just want to further your developing skills and confidence then these courses are for you … book early, don't miss out.
For detailed descriptions of courses, tutors, costs and the booking form etc click here (PDF file).
All courses are run on a not for profit basis - any surplus will go into providing future courses and possibly financial assistance for participants.
(26 March 2007)
---
Snippets from Parish Council Minutes of Meeting on 12 March
New Councillors - Mr. Tim Mayhead and Mr. Richard Elderfield were co-opted as Parish Councillors. Councillor Mayhead was appointed to the Highways Committee.
Youths' Behaviour - Councillor King will be writing to the Police concerning groups of young people congregating in the village centre early evenings, and causing problems with their behaviour.
Parking - With no traffic wardens now in the area, enforcement will be a major problem. Councillor Paul Bicknell suggested that the office write to the Police and ask them what will be done to enforce offences and perhaps enlist the support of neighbouring parishes. Councillor Richard Hance advised that the Church Re-ordering would start ( if approved) on 1st September 2007. Councillor King asked that the Highways Committee look at parking in the village centre when the Church car park is closed for works. The Highways Committee was asked to look into problems with parking at Chandlers service bay, the RTC's mentioned in PCSO Oakley's report, white lines on the Dell, and white lines in general in the village.
Community Centre - District Councillor Julie Hazlehurst had raised a series of questions which had been submitted in writing before the meeting and to which the Chairman had replied in writing. District Councillor Hazlehurst was allowed to read these questions and received replies. Councillor Paul Bicknell was of the opinion that the current proposals were not in accordance with the original specification. Councillor King suggested that Councillor Bicknell put his case to the Working Party for consideration.
Bramley Green - Devolution of Services - Councillor John King advised that Solicitors were progressing the handover but there was some delay with the verges in Nursery Road and Rowan Way.
Children's Integrated Services Centre - Mr. Stuart Fairweather, WSCC Children's Centre Strategy Manager, gave a presentation on the proposed Children's Centre to be housed in the Library. Angmering had been highlighted as needing the resources provided by a Children's Centre and the Library was an ideal and central site. It would allow the Library to open for longer hours. There were concerns over road safety with the lack of a suitable crossing and a meeting had been set up with WSCC Highways on 13th March.
(23 March 2007)
---
Church Re-Ordering
On Sunday, St Margaret's Church showed parishioners designs of the glass which they propose using at the front of the building facing the road. Copyright prevents us showing the designs on this website, but illustrations of the planned windows can be seen on the Church's website by clicking here.
(22 March 2007)
---
Angmering Planning Applications (List 11)
A/31/07 - Installation of 18m high lattice tower supporting 3 no. antenna, equipment cabinets & ancillary development thereto at Rustington Golf Centre, Golfers Lane. For Vodafone UK Ltd.
Observations on this/these Application(s) must be received by The Head of Planning Services, Arun District Council, The Arun Civic Centre, Maltravers Road, Littlehampton, West Sussex BN17 5LF by 12 April 2007.
(21 March 2007)
---
Day Nursery's charitable work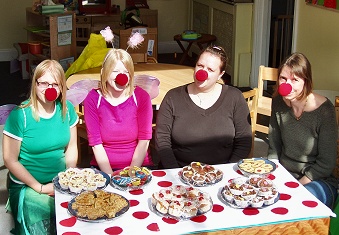 The opening of the Angmering Day Nursery in Station Road last year, has been exceptionally successful for owners Juliet and Bill Pointon. A few month's ago, OFSTED inspectors descended upon them without warning but the Nursery received a glowing report on all of its functions and activities, and in particular it was rated as outstanding for its care and security.
Visiting the nursery today, I could see why OFSTED came to that conclusion. There has been no compromise on quality, be it on furniture, play equipment or food, etc. Both children and staff seem to exude happiness, which is the way of course it should be.
But the Angmering Day Nursery is more than that - it is clear that the owners and staff are aware that others are less fortunate than themselves and they actively do something about it. They have already raised £187 through activities for Children in Need, and this week they have been raising money for Comic Relief. The staff have been very industrious, making biscuits and cakes, and organising other games recently. Today was the Red Nose Day Cake Sale in aid of Comic Relief and, in the picture to the right, staff (l/r) Hazel, Sarah, Sophie, and Juliet can be seen with some of the cakes and biscuits ready for purchase. Proceeds from this week's games and cake sale for Comic Relief total a magnificent £320 for which Angmering Day Nursery wish to thank to all the staff, children and parents who worked so hard and contributed so much time and effort.
(16 March 2007)
---
News in Brief
*Dentists - Residents of Angmering will have seen the building work going on at Blaber House in The Square where the new dental practice will be opened in May. Dentists Miss Dipa Shah and Mr Stan Lee had been hoping to take on NHS patients at their practice but their application (for the second time) has been rejected by the West Sussex Primary Care Trust as funds to be allocated to support NHS dentistry in West Sussex had already been allocated for the current financial year.
*School GCSE Award - The Angmering School has been awarded a certificate by the Specialist Schools and Academies Trust for having increased the number of students attaining five A* to C GCSE results by at least 11% since 2003.
* Greater in-depth information and/or pictures on this news item can be found in this week's Littlehampton Gazette.
(16 March 2007)
---
Church Re-Ordering
The following Public Notice is today published in the Littlehampton Gazette:
PUBLIC NOTICE
We give notice that we have applied for permission by Faculty of the Consistory Court of the Diocese of Chichester to carry out the following works to the Parish Church of St Margaret, Angmering
a) To construct and equip an extension to the building at its north east corner to provide offices, kitchen, toilet and meeting room.
b) To construct and equip an extension to the building at its south east corner to provide a new entrance door and welcome area.
c) To re-order the interior of the church by the removal of the pews and other furnishings and their replacement with free-standing and liturgical furniture and a font for adult baptism.
d) To provide a new level floor incorporating a system of underfloor heating and to remove the existing heating equipment.
Full particulars of the plans are available for inspection in the church between the hours of 9.30am to 12.30pm Monday to Friday.
Any person wishing to object to the grant of the permission sought must notify their objection in writing to The Diocesan Registry at The Corn Exchange, Baffins Lane, Chichester, West Sussex, PO19 1GE not later than 14 days after the publication of this notice. Those who have already communicated with the Registry need not repeat their observations.
Given by authority of the Parochial Church Council of Angmering, the Reverend Canon Mark Standen, Rector, Bob Hutchings and June Hawke, Churchwardens.
(15 March 2007)
---
New Parish Councillors + May Elections
At the Parish Council meeting on Monday evening, Mr Richard Elderfield and Mr Tim Mayhead were both co-opted as parish councillors. This brings the Parish Council up to its full complement of 13 parish councillors. However, it is believed that some parish councillors will be standing down in May when it is expected that a Parish Council election will take place.
The Parish Council commendably wishes to achieve "Parish Council Quality Status". To do this they must satisfy a number of laid down requirements, one of which is meeting the Electoral Mandate Test. The National Association of Local Councils' guidance on electoral mandate for the purposes of achieving Quality Status is as follows:
Electoral Mandate Test:
For a parish council to be awarded with Quality status, it will be representative of, and have a mandate to serve its community. On application, the parish council must provide evidence to show that:

• for first accreditation only: at least 80% of all council seats were filled at the beginning of the current four year term by members who stood for election at that time.
• or re-accreditation: all (100%) council seats were filled at the beginning of the current four year term by members who stood for election at that time

Explanatory notes: This Test is not intended to force elections where this is not necessary. 'Stood for election' for the purposes of this Scheme means that councillors must have been nominated and stood (or were prepared to stand) as candidates at the last round of elections. This does not mean that there must be an election. It is recognised that in situations where the number of candidates is the same as (or less than) the number of seats on the parish council, then a ballot is not required. In such cases, the candidates are automatically declared 'elected' by the Returning Officer. Parish councils will be deemed to have met the requirements of the Electoral Mandate Test in the event that a ballot was not necessary if evidence can be provided to show that at least 80% (at first accreditation only) of those who became councillors had stood for election.
Anybody considering standing as a parish or district councillor in May, can pick up Nomination forms etc at the Angmering Parish Council Office in The Square. Nomination papers must be received by Arun District Council between 9.00 am on 28th March and Noon on 4th April 2007.
(14 March 2007)
---
Angmering Planning Applications (List 10)
A/18/07 - Extension to form conservatory at rear of premises & extension to front to form meeting room at Angmering Manor, High Street. For Chapman Group Ltd.
A/25/07 - First floor addition to rear of property at 24 Oakwood Drive. For Mr & Mrs Bastow.
A/26/07 - Front verandah at West End Cottage, Roundstone Lane. For Mr & Mrs Lloyd.
A/27/07/L - Application for Listed Building Consent for front and rear dormers at Manor Barn, Ecclesden Lane. For Mr & Mrs Lower.
A/28/07 - Carport & storage building for domestic use at Harley, Roundstone Lane. For Mr L Bilotti.
Observations on this/these Application(s) must be received by The Head of Planning Services, Arun District Council, The Arun Civic Centre, Maltravers Road, Littlehampton, West Sussex BN17 5LF by 5 April 2007.
(14 March 2007)
---
Next Community Film Show
The next community film will be the action-packed movie "CASINO ROYALE" (PG 13) starring Daniel Craig as James Bond and Dame Judi Dench as "M". This is Craig's first film as Bond and he has been described as the best Bond since Sean Connery and the first who could actually act! The film itself has been hailed as the best Bond film since "Goldfinger" in 1964.
Critics have suggested that not only is Craig absolutely amazing, but the film itself is one of the most enjoyable, heart-pounding, high octane action-adventure movies in years. Set largely in the Bahamas, the action is spectacular and often powerfully dramatic. CASINO ROYALE introduces James Bond before he holds his license to kill. But Bond is no less dangerous, and his actions soon see him elevated to "00" status. Gone are the gadgets and the new Bond that emerges in this film is believable, gritty, vulnerable, and even compassionate.
The film will be shown at Angmering Village Hall on Saturday 7 April at 7.00pm (doors open 6.45pm). Tickets cost £4.50 and are available from Angmering Framing & Stitches and Woodies News, both based in The Square. Tickets may also be available at the door but are subject to availability as numbers are limited Refreshments (drinks, sweets, ice creams, etc) will be on sale and there will be an intermission.
(13 March 2007)
---
Weather Station
We regret that our Weather Station server is "kaput" at present and no data has been relayed up to the website for the last couple of days. It is hoped that normal service will be resumed by the coming weekend.
(Update: Weather Station back on air on 13 March at 8.30pm)
(12 March 2007)
---
Easter Bunny Raffle
Woodies News in The Square has donated and is raffling a chocolate Easter Bunny with all proceeds going to the charity of your choice. The 1.2kg bunny is made by the well-known Belgian chocolatier Duc d'O and is 18 inches high. Raffle tickets cost £1 per strip. Not only can you win the bunny, but you will also be helping your favourite charity if you win. So, go on, have a go.
(8 March 2007)
---
Changing face of The Square
Arun District Council's Development Control Committee has approved an application to demolish Phares Courtledge in The Square at the foot of the High Street and replace the house with three terraced cottages.
(7 March 2007)
---
Snippets from Parish Council Environment & Leisure Committee Minutes of Meeting on 22 February
ASRA - A circus is being held on the Palmer Road Recreation Field on the 31st April 2007 and ASRA are hoping to attract other events during the year. Regarding ASRA issuing a sub-lease to the Social Club, the lease has been checked and it states that no sub-leasing is allowed. Councillor Paul Bicknell reported that the trees had become overgrown and there was a litter problem.
Noticeboards & Village Maps - Councillor Nigel Nunn reported that he had now received a revised quote for the new noticeboards from R. Simons. The price of £1275 for two boards was cheaper than any other quote the Council had. The committee agreed to place the order. The Senior Assistant Clerk reported that the noticeboard had now been sited in Arundel Road. West Sussex County Council have agreed to the positioning of the Map in Roundstone Lane.
Street Art Board - Junior Councillor Tom Burton reported that the idea to have a street art board at the oval race track was not feasible as there was no safe route to the venue and therefore it would not be used. He suggested that the original idea to have it on the Palmer Road recreation Ground was a much better solution. Councillor Nunn suggested that Tom Burton join him at the ASRA meeting on 26th February to discuss his ideas.
Fletcher's Field - Two new trees had been planted with six foot stakes and protective mesh.
Downs Way Pocket Park - Councillor Paul Bicknell reported that shrubs were overgrown on the Roundstone Lane side.
Village Tree Lights - The Senior Assistant Clerk reported that if the tree lights were to remain in position all year round, planning permission would be needed, the committee agreed to this unanimously. The committee also suggested that yearly maintenance take place to ensure there is enough free play and no damage to the trees.
(7 March 2007)
---