Angmering Village Life
News Archive
December 2006

Car Vandalism
An Angmering resident has emailed me to say that they had friends staying with them for Christmas and they parked their car in the laybay at the end of Mill Road. Sometime on Wednesday night 27 December the passenger wing mirror (the one next to the pavement) was smashed. They reported the incident to the police, who rang back later to say that a number of cars had been vandalised.
(29 December 2006)
---
Boxing Day Knifepoint Robbery
A young Angmering couple were robbed at knifepoint early on Boxing Day morning. The robbery took place in Downs Way by four young men - believed to be three black and one of mixed race - who escaped along the northern footpath towards Bramley Green having taken £10 in cash and two mobile phones from the couple.
(28 November 2006)
---
Angmering Planning Applications (List 51)
A/188/06 - Replacement of existing timber playgroup building with purpose built permanent building for continued use as a children's playgroup at William Older Playgroup, Arundel Road. For William Older Playgroup.
Observations on this/these Application(s) must be received by The Head of Planning Services, Arun District Council, The Arun Civic Centre, Maltravers Road, Littlehampton, West Sussex BN17 5LF by 18 January 2007.
(27 December 2006)
---
Things you may need to know over the Christmas / New Year Holiday period
Refuse and Recycling Collections
To find out when Arun District Council will collect refuse and recycleables click here. Refuse is limited to 5 sacks or an equivalent 240 litre (wheeled bin) per household per week. Excess recyclable material will be collected if in a secure cardboard box, at the side of the recycling bin. You will not be able to dispose of your fir or pine Christmas tree as refuse unless you are a member of the Green Waste Club, services of which will resume on 8 January.
Shops and Library
Shops open in the village will, of course, be limited over the Christmas/New Year holiday. Here are the opening times of a few shops and the Library:
Day

Lloyds Pharmacy

Londis

Woodies News

Angmering Library

Big Fry

Xmas Eve
Sunday 24

CLOSED
(Lloyds Rustington open 10.00am - 4.00pm)

9.00am - 7.00pm

7.00am - Midday

CLOSED

CLOSED

Xmas Day
Monday 25

CLOSED
(Duty Chemist: Boots, Littlehampton
11.00am - 12.30pm)

CLOSED

CLOSED (no papers)

CLOSED

CLOSED

Boxing Day
Tuesday 26

CLOSED
(Duty Chemist: Lloyds, Rustington
11.00am - 12.30pm)

CLOSED

6.30am - 11.00am

CLOSED

CLOSED

Wednesday 27

8.30am - 6.00pm

8.30am - 8.00pm

6.00am - 2.00pm

CLOSED

CLOSED

Thursday 28

8.30am - 6.00pm

8.30am - 8.00pm

6.00am - 2.00pm

10.00am - 1.00pm &
2.00pm - 5.00pm

11.45am - 2.00pm &
4.45pm - 8.30pm

Friday 29

8.30am - 6.00pm

8.30am - 8.00pm

6.00am - 2.00pm

CLOSED

11.45am - 2.00pm &
4.45pm - 8.30pm

Saturday 30

9.00am - 5.00pm

8.30am - 8.00pm

6.00am - 1.00pm

10.00am - 1.00pm &
2.00pm - 5.00pm

11.45am - 2.00pm &
4.45pm - 8.30pm

New Year's Eve
Sunday 31

CLOSED
(Lloyds Durrington [nr Tesco] open 10.00am - 2.00pm)

9.00am - 7.00pm

7.00am - Midday

CLOSED

CLOSED

New Year's Day
Monday 1

CLOSED
(Duty Chemist: Boots, Rustington
11.00am - 12.30pm)

10.00am - 6.00pm

6.30am - 11.00am

CLOSED

CLOSED

Tuesday 2

8.30am - 6.00pm

8.30am - 8.00pm

6.00am - 2.00pm

10.00am - 1.00pm &
2.00pm - 5.00pm

11.45am - 2.00pm &
4.45pm - 9.30pm
(22 December 2006)
---
Angmering Maps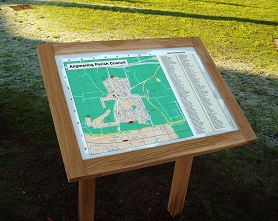 The first of the long-awaited village street maps was today erected in Angmering on the Green in The Square. The map was commissioned by Angmering Parish Council. It is bright and has extremely good clarity, and the large print road index which accompanies it will make it easy to use. The materials used also appear to be of good quality.

Other maps are planned for the village. A site is currently being investigated for a similar map to be located in the Bramley Green area, and there is the possibility of a third map being located at a later date near to Angmering Station.
(20 December 2006)
---
Angmering Planning Applications (List 50)
A/190/06 - Approval of reserved matters following outline planning permission A/110/06 for erection of two detached dwellings & detached double garages on land at West Drive Ham Manor Angmering. For Hargreaves Homes Ltd.
A/191/06 - Proposed buildings to house in-vessel composting unit for green and kitchen waste including maturation area, bio-filters, administration/canteen building and perimeter fence. Revised application following A/11/05/. (Dual Parish with PO/5/06/) This is a County Matter to be determined by West Sussex County Council) at The Vinery, Arundel Road (Poling). For Vinery Management.
A/192/06 - Demolition of existing house and construction of 3 linked houses with ancillary parking at Phares Courtledge, High Street (Opposite Woodies News). For Stuart Clark.
A/193/06/CA - Application for Conservation Area Consent for demolition of existing house at Phares Courtledge, High Street (Opposite Woodies News). For Stuart Clark.
Observations on this/these Application(s) must be received by The Head of Planning Services, Arun District Council, The Arun Civic Centre, Maltravers Road, Littlehampton, West Sussex BN17 5LF by 11 January 2007.
(20 December 2006)
---
Snippets from Parish Council Minutes of Meeting on 11 December
Parish Policing - Sgt. Jim Stobart stated that there had been 165 reported incidents since the last meeting. There were 29 actual crimes which included 1 burglary, 9 instances of criminal damage and 16 of Anti Social Behaviour. Incidents of criminal damage are substantially down compared to other periods.
Map and Notice Boards - The map board site in Roundstone Lane had been objected to by residents and an alternative site was being investigated. Quotations have been received from a local company for new notice boards and for the refurbishment of the notice board in Downs Way
Traffic Management - Councillor Jeni Black asked if the proposed public meeting to discuss Traffic calming was necessary when only 2 letters of objection had been received in the office. Councillor Kearney-Pateman said that she would be recommending to the Committee that the meeting be deferred. Councillor Mark Edwards reminded the Council that there was a 1000 signature petition against the traffic calming measures. Councillor Nigel Nunn said that the parking situation in Downs Way was causing problems and needed to be looked at. County Councillor Deborah Urquhart reported that there were plans to extend the footbridge into the school and that the Toucan Crossing and up-grading footpaths were also being considered. The 20 mph limit through the village is enforceable and WSCC are writing to the Police. Councillor Urquhart said that WSCC would consider removing the pinch points but there would be nothing to replace them. Permanent speed humps are no longer allowed to be installed.
Xmas Lights on The Green - It was resolved that the Parish Council will assume responsibility for the Christmas lights for public liability insurance purposes. Councillor King referred to information that had appeared on the Angmering Village Life web site that was not true [Editor's Note: This related to a posting on the AVL Forums put there by a resident and not by the Editor of AVL]. Councillor King had not objected to the payment made to Angmering Traders Association but just the way procedures had not been followed. The lights had been erected without the permission of the Parish Council. [Note: During public question time, Mrs P Turner challenged these assertions by Cllr King]. Councillor Mark Edwards believed that there had been a concerted effort to discredit Councillor King. Councillor Nigel Nunn believed that the e-mail from Councillor King to the Chairman should not have been made public before being discussed at Committee level. Councillor Sue Smith proposed that the issue of a possible breach of Standing Order 57 be referred to the Policy and Resources Committee for action.
Budget 2007/08 - Budgeted expenditure for 2007-08 is £203269 less projected Income of £7270 and £6759 taken from reserves leaving a net figure of £189240 to be funded. Resolved that the precept for 2007-08 be set at £189240.
Traders' Evening - Councillor Chris Hughes said that this had been a superb evening and well supported by the village. The office had raised £222.00 on the tombola stall. Councillor Nigel Nunn expressed disappointment that some traders had not made best use of their window displays.
Church Re-Ordering - The Chairman has been asked to write a letter, on behalf of the Parish Council, in support of a grant application being made by St Margaret's Church. Agreed that the letter should be sent.
Items for Future Agendas - To consider rumours circulating about Councillors private lives. To hold a vote of no confidence in the Chairman and Vice Chairman.
(15 Decemberr 2006)
---
Local News in Brief
Village Hall Christmas Market - The Village Hall Market last Saturday raised £1085.42 which will go towards hall maintenance funds. This is an increase of over 34% on last year's figure.
Car Crash - A man from Angmering suffered minor head injuries last Saturday afternoon after his car went out of control close to the Rustington Golf Centre roundabout. His car hit a large concrete lamp standard which fell on his car trapping him inside. He was taken to hospital but was discharged later in the day after receiving treatment.
School damaged - High winds last Thursday afternoon (7 December) ripped of an 8 metre section of the roof of St Margaret's School in Arundel Road. No one was hurt.
Obituary - It is noted with deep regret that Angmering resident George Horton (brother of Roy) died in Worthing Hospital on 7 December. George's ancestors had resided in Angmering for many generations.
(14 December 2006)
---
The Firebird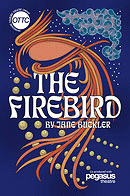 The Angmering Community Association brought both "The Gardener" and "The Wedding Present" to Angmering in 2006 and it continues presenting shows in 2007 when it brings the Oxfordshire Touring Theatre Company to the village in January with an exciting production called "The Firebird". This is the Company's new play for family audiences based on the classic Russian folk tale about Ivan, a poor stable boy and his adventures with a captive princess, an evil magician, a toothless wolf and the fabled, fantastic bird of flame. It's a magical story full of charm, fantasy, music and fun. It's the perfect production for anyone and everyone over six years old. Prepare to be dazzled by this captivating and imaginative production.
The Company has already performed the show at dozens of locations in Oxfordshire and the Midlands, but Angmering is fortunate to be one of the few locations in the south which has been able to secure the show.
Posters are up around the village and a considerable number of tickets have already been sold. So don't delay purchasing yours if you do want to see this production which will be held in the Village Hall on 27 January at 6.30pm. Ticket prices are Adults £6.00, Concessions £5.00, Children (up to 14) £3.00, and Families (2 Adults + 2 children) £15.00. Tickets are available from Angmering Framing & Stitches in The Square. If you require more information, you can contact the Angmering Community Association on 07806-489502.
(13 December 2006)
---
Open Air Nativity
St Margaret's will be holding its Open Air Nativity on Fletcher's Field (Arundel Road) at 5.00pm on Saturday 23 December. This is an event for all villagers and not just regular churchgoers. If wet, it will be held inside the Church.
The Church Car Park will not be available for parking after 3.00pm on that Saturday as it will used by the Church in the preparation of the Open Air Nativity. Any vehicles remaining in the car park after 3.00pm will run the risk of being blocked in.
(11 December 2006)
---
Monthly Market coming to Angmering
A monthly village market will be starting in Angmering in the New Year. These markets will be held at the Village Hall and its car park, the first one being held on Saturday 3 February 2007 between 9.30am and 1.30pm. Already local farmers have shown considerable interest in having stalls and there is the likelihood of butchers, dairy producers and bakers selling their products at the market. But the markets will have much wider appeal than that. It is hoped that individuals selling plants, produce, hanging baskets, crafts and jewellery, etc will be interested in taking a regular stall (either insde or outside).
If you are interested in booking a stall or require further information, you should contact Val Jerram on 01903-774247 or email her at valerie.jerram@btinternet.com.
(7 December 2006)
---
Angmering Planning Applications (List 48)
A/181/06 - Erection of 2 pairs of semi-deached houses & garaging at Appletrees, Darlington Close. For Seaward Properties.
A/182/06 - Use of land for the storage of bottled gas, erection of security fencing, locating portacabin on site (revised application following A/141/06 - Dual Parish with PO/4/06) at The Vinery, Arundel Road (Poling). For Vinery Management.
A/183/06 - New double garage incorporating existing boiler room at Orchard Eng, Muberry Hollow, Ham Manor. For Mr & Mrs K Hilborne.
A/184/06 - Application for the approval of the layout & landscaping of the site, siting, design & external appearance of the building & the means of access being reserved matters reserved for later approval by condition 1 of the outline planning permission A/177/04 for the development of the site with one detached house (resubmission of A/86/06) at Copper Beech, Ham Manor Close. For Mr T Moseley & Ms C Nysingh.
Observations on this/these Application(s) must be received by The Head of Planning Services, Arun District Council, The Arun Civic Centre, Maltravers Road, Littlehampton, West Sussex BN17 5LF by 28 December 2006.
(7 December 2006)
---
Traders' Xmas Evening
Well, it's that time of year again. This Wednesday (6 December), between 6.00pm and 9.00pm, Angmering Traders will be holding their annual Xmas evening, and this year promises to be better than ever. As usual, Arundel Road will be closed to traffic during the evening from Lansdowne Road to the village centre so that people can safely move around.
There's lots to do and see for all the family. The shops will all be open as will the Church and the Library. A number of them will be offering complimentary drinks and and snacks. But there's a lot more than that. Here's a list of things available or going on:
| | | | |
| --- | --- | --- | --- |
| | Tombola | Children's Fun Fair (new rides this year) | Santa's Grotto (free gift) |
| | Raffle | Fire Engine (if not on duty) | Luck Dip |
| | Candy Floss | Free drinks & snacks | RNLI stall |
| | British Legion stall | Angmering Community Assocn. stall | Playgroup stall |
So, with all this going on, it is hoped that as many people as possible will turn out and support the Evening on Wednesday.
This year, however, The Square will be much brighter with all the new lights (4000 LEDs) that have been put up in the trees through the initiative of Mrs Pat Turner, the Traders' Evening organiser, with much support from Mark Edwards and the generosity of shops and other people in Angmering. Other people are noticing and appreciating the difference. Angmering Village Life has received the following email from a villager:
"As a resident of Angmering for over 40 years I have to comment on the wonderful display of coloured lights
that have been put on the trees in The Square for Christmas. The concept is far better than some of those
attached to street light columns, as in other areas."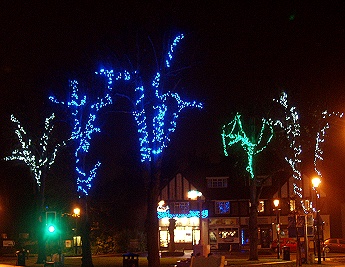 (4 December 2006)
---
Successful Market for St Margaret's School
The St Margaret's School Christmas Market on Friday was a great success with the school raising in excess of £3500 in two hours. The Friends of St Margaret's School who organise the event have decided to tithe 5% of their income to send it to a school in Nigeria to support them in their work. They hope to send them in the region of £175 before Christmas.
Headteacher, David Boreham, tells us "In school we always try and look beyond our school community and Christmas is a wonderful opportuniuty to remind the children that it is about giving as well as receiving. On Thursday a truck came to school to collect 160 shoe boxes that the children had filled with goodies to send out to less fortunate children overseas. At the end of our Nativity Play on Friday we will be handing over to a Family Support Worker more wrapped gifts that the children have brought in for distribution within the Chichester Diocese to needy families. Then the following week we will be collecting money for Chestnut Tree House at the end of our two evening performances of the Peacechild by Years 5 and 6."
Over the past few years the School has raised for Chestnut Tree House well over £5000 in this and similar ways. After Christmas more than 100 children will be bringing in their Barnardo's cottage boxes for emptying and counting. This scheme has been going on for almost 20 years in the school and during that time they have raised well in excess of £10,000, mainly in coppers!
(3 December 2006)
---
Angmering Manor Opens
Angmering Manor in the High Street, the former rectory and convent, opens today as an hotel, bar and restaurant. The restaurant and bar are open to non-residents and menus include a special 3-course Christmas menu (£24.95), Christmas Day menu, New Year's Day menu, A La Carte menu, and bar menu. The bar is completely separate from the dining rooms, the latter looking out over the south facing gardens. Bookings for the restaurant and hotel accommodation or further information can be obtained by phoning Angmering Manor on 01903-783315.
Accommodation currently consists of eight very individual en-suite bedrooms, differing substantially in style and furnishings. Planning permission exists for a further ten bedrooms which may be opened at a later date.
(1 December 2006)
---