Angmering Village Life
News Archive
March 2006

Angmering Planning Applications (List 12)
A/25/06 - Brick extension with glass lantern roof. Extension to be off existing kitchen to form open plan kitchen/family room at Elston House, 14 East Drive, Ham Manor. For Paul Roper.
A/27/06 - Two storey side extension at 60 Chantryfield Road. For Mr & Mrs R Pedwell.
Observations on this/these Application(s) must be received by The Head of Planning Services, Arun District Council, The Arun Civic Centre, Maltravers Road, Littlehampton, West Sussex BN17 5LF by 20 April 2006.
(29 March 2006)
---
Station Road - Temporary Closure
West Sussex County Council has announced that Station Road will be closed from 9.00am on Monday 3 April 2006 between Dell Drive and North Drive to make a "sewer connection within the highway". It is anticipated the work will take 5 days. The alternative route to the village centre for north- and south-bound traffic is stated to be via the Angmering By-pass (A280) and Water Lane. The sewer connection is at Cherrymead, south of Dell Drive.
(29 March 2006)
---
Snippets from recent Parish Council Committee Minutes
Public Conveniences at The Lamb - Arun District Council has confirmed that the grant towards the Public Conveniences will continue for 2006- 07. (Parish Council Meeting 13.3.06)
A259 Traffic Surveys - New traffic surveys are being undertaken with regard to the proposed Toucan Crossing on the A259. (Parish Council Meeting 13.3.06)
Administrative Support - The new senior assistant clerk will start on 3rd April. (Parish Council Meeting 13.3.06)
Chandlers' Garage - The Parish Council are trying to arrange a meeting with Chandlers to ascertain the garage's future in the village. (Planning & Conservation Cttee 14.3.06)
A259 Footpath - WSCC will be investigating the A259 footway between the Texaco and Roundstone roundabouts to see what is actually underneath the weeds/grass. A decision on works will be made when the footway has been cleared, and when a decision on the Toucan crossing has been made. (Highways Committee 23.3.06)
Street Lighting - Following schemes for new lighting approved; Arundel Road (2 columns); Downs Way (4 columns); Honey Lane (2 columns); Greenwood Drive (1 column). Total cost to APC - £9286. (Highways Committee 23.3.06)
Speedwatch - Parish Council has decided to enter a joint purchase scheme (shared with other villages) to purchase a Speed Indicator Device (SID). (Highways Committee 23.3.06)
(28 March 2006)
---
Angmering Medical Centre
Lloyds Pharmacy has announced that it will be opening its new pharmacy shop at the Medical Centre in Station Road on Tuesday18 April, the same day as the Centre itself opens. At the same time Lloyds will cease trading at their shop in The Square which, we note, is now "To Let".
The Medical Centre has already come under attack and it is understood a couple of windows have been broken at the rear. Obviously, it would appear that an alarm system should be fitted - there is no sign of one at present - and security cameras installed.
A reminder - Angmering residents will have the opportunity of looking around the new Medical Centre on two Open Afternoons to be held on Thursday 6 April (2.00 - 4.00 pm) and Tuesday 11 April (2.00 - 4.00 pm). Members of the Patient Group and staff will be there to show visitors around the building and answer any questions.
(25 March 2006)
---
Walk the Rabbit this Easter !
The outline of Angmering Parish north of the A27 is in the shape of a rabbit. On Easter Monday, 17th April,you can join a local Volunteer Ranger walking around our parish boundary in this Sussex Downs Area of Outstanding Natural Beauty (AONB). It's a 9 mile walk starting at 9.45 am at The Fox Inn at Patching (actually, the front of the pub is in Angmering). There will be lots of things to see. For further details click here.
(24 March 2006)
---
World Meteorology Day
Did you know today is "World Meteorology Day"? Here in the Parish of Angmering we have had some interesting weather in the last year:
The hottest day was 29th June where the temperature reached 29.4°C at 12pm
The coldest day within the last year was just a couple of weeks ago on the 2nd March, where the temperature was down to minus 3.7°C
Rainfall has been very much lacking in the last 12 months, with 50cm falling - well below seasonal averages
The fastest wind speed was recorded on the 2nd December, with a gust of 45mph at 5pm
Don't forget you can check out the current weather summary on our weather pages (updated every 20 minutes) For those of you who like figures, don't forget to look at our statistics page, and if you are not one for numbers, our weather camera is just a click away (click on camera icon in navigation bar on the left).
(23 March 2006)
---
Car Showroom Planning Application Result
Despite objections from Angmering Parish Council, The Angmering Society, and residents from Angmering, Rustington and Ferring, Arun District Council have approved the joint application from Frosts Cars, Richmond Cars, Harwoods, and Mr Paul Langmead for a massive four car showroom site in Angmering on Mr Langmead's land by Windmill Bridge. ADC seemed to have been swayed by the prospect of creating up to 250 new jobs rather than the problems the site would cause entering and exiting it, encouraging more vehicles to an already difficult traffic area and, more importantly, the precedent it will set in building along the Rustington By-Pass (A259) and destroying even more of our open spaces.
(22 March 2006)
---
Arson incidents
There were three arson incidents Angmering last week, two of them near The Angmering School and one in Arundel Road. Grass and shrubbery had been set alight. Late a 14 year-old girl was arrested in connection with the offences and was due to appear at Worthing Magistrates Court yesterday.
(22 March 2006)
---
Angmering Planning Applications (List 11)
A/16/06 - Small conservatory at 3 Pine Trees Close. For Mr A J Hillman.
Observations on this/these Application(s) must be received by The Head of Planning Services, Arun District Council, The Arun Civic Centre, Maltravers Road, Littlehampton, West Sussex BN17 5LF by 13 April 2006.
(21 March 2006)
---
Proposed 'Youth' Shelter on Fletcher's Field
If any Angmering resident has views for, or against, this proposal, it should be noted that Councillors, Chris Hughes and Mark Edwards, will be in the Parish Council Office from 10.00am to 12.00 noon on Saturday 1 April 2006. They will be pleased to discuss any issues residents may have and they will be able to register these issues for consideration by the Parish Council. Residents may also make representations by e-mail or by telephone to the Parish Council Offices in The Square (click on The Angmering Parish Council News link at the top of this page to obtain contact details).
It should be made clear that this shelter is a Meeting Point structure and the term 'youth shelter' is purely a generic name for them. It would therefore be used for the whole community and not just for youth.
Councillor Edwards will be talking briefly to The Angmering Society members about the proposed shelter at their meeting tomorrow night (Tuesday) in the Village Hall which commences at 7.30pm. Non-members are welcomed at the Society's meeting many of whom regularly attend meetings. Admission costs just £1.50 and includes refreshments. Tomorrow night's meeting is a talk by Rosemary Hagedorn on the subject "Medieval Arundel - a hidden history". Her talk will cover the growth of Arundel from its Norman foundation in the mid 11th century to the end of the 16 century showing how the development of the port and market town was closely linked to castle and its patronage of the Earls which turned the town into an important religious centre.
(20 March 2006)
---
Council Tax 2006/2007
Thousands of Council Tax Demands have dropped on Angmering doormats in the last couple of days. Many people are alarmed and dismayed to see that the precept required by Angmering Parish Council has leapt 26% this year. This should not come as a complete shock as the increase was announced in the Parish Council's January Newsletter together with some outline reasons for it. However, it has provoked a number of outraged residents to make their comments in our Angmering Discussion Forums in the specific "Angmering Organisations Forum".
(19 March 2006)
---
Water Lane Buildout Accident
Yet another crash yesterday. Thanks to Mark Rose for this photo. Of course, if no one was injured, WSCC will not record this as an accident!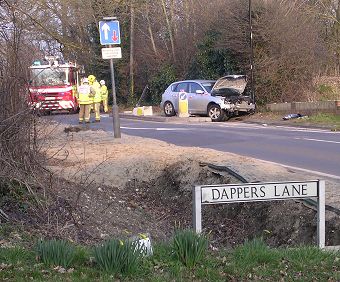 (16 March 2006)
---
New Parish Councillor
At the full Parish Council Meeting on 13 March, Neil Austine from Bramley Green was co-opted as a new Parish Councillor.
(15 March 2006)
---
Angmering Planning Applications (List 10)
A/23/06 - Approval of Reserved Matters following Outline Premises Permission A/134/05 for 1 no. additional dwelling at 4 Ambersham Crescent. For Mr N Adams.
Observations on this/these Application(s) must be received by The Head of Planning Services, Arun District Council, The Arun Civic Centre, Maltravers Road, Littlehampton, West Sussex BN17 5LF by 6 April 2006.
(15 March 2006)
---
Talented Athletes aim for 2012
Global Tennis and Angmering Sports College are joining forces to find the future athletes hoping for Paralympic Stardom in 2012. Disabled athletes will be taking part in a range of Paralympic sports on a Talented Athletes Camp on April 3rd - 5th 2006 at Angmering School, Angmering. As well as trying out a wide range of sports from wheelchair tennis, wheelchair Basketball to Boccia and Cricket each player will be provided with nutritional, psychological and physical advice to ensure that they are fully equipped to deal with the long road ahead. Ben Locke (Physical Education Inclusion Officer for The Angmering Sports College) says "this is one of the first events organised for disabled athletes and it is hoped that Sports Colleges across the country will use Angmering as a beacon to inspire other talented disabled kids in their area".
(13 Mar 2006)
---
Angmering Discussion Forums
It is pleasing to see the Angmering Discussion Forums being used. Since their introduction 2 months' ago, there have been 200 posts to 40 topics raised by Angmering residents. Discussion has at times been heated but there has also been a lot of humour expressed and people understanding others points of view. It is not necessary to register to read the topics but it is if you want to add your own remarks. Registering also brings advantages of identifying new posts quickly and being able to sign up for email notification when a new topic or a new post has been added. You can register under a pseudonym if you wish and your name will not be known to other registered members if you feel more comfortable that way. Contributing to the forum topics will provide feedback to village organisations on residents' perception of things and hopefully guide them to provide a better or more tailored service.
Hot topics for discussion have been the traffic calming, parking in the village, the state of the Honey Lane/Bramley Green link, and the church re-ordering. New topics include the 20mph speed limit, a 'happy page', and the possibility of showing newish major films in the Village Hall.
If you have not yet discovered our Forums, click here or on the link in the navigation column on the left.
(11 March 2006)
---
Parish Council Newsletter
Issue 2 (January 2006) of the Parish Council's quarterly newsletter should have been delivered a month ago to every household in the parish. If you have not received your copy (or have mislaid it), you can collect a copy from the parish council office in The Square.
(10 March 2006)
---
Snippets from recent Parish Council Committee Minutes
New Policy on Minutes - Minutes will in future be posted on the Parish Council's website within 7 days of meetings. (Policy & Resources 25 Jan 06)
Honey Lane to Bramley Green Footpath - the Bramley Green Consortium has agreed to make up the short length of footpath by the allotments and reduce the fence in height. They have also agreed to ensure that litter bins and dog bins are emptied at more regular intervals. (Planning & Conservation 17 Feb 06)
Youth Shelter on Fletcher's Field - The Committee will recommend to Full Council that the idea of purchasing a Youth Shelter is taken forward and designs/costs will be submitted to the April meeting. There is a need to reach formal agreement with the Trustees of Fletchers Field and to ascertain if planning permission is needed. (Planning & Conservation 17 Feb 06)
Water Lane Site - Bell Gardens will be replacing the stolen turfs and the wild flowers are about to be sown in plugs. The salvaged spring bulbs are now coming through. (Environment & Leisure 1 Mar 06)
Spring bulbs - All the bulbs generously donated by Haskins have been planted in verges at Roundstone Lane/ Nursery Road. The cost of planting was £144.00. (Environment & Leisure 1 Mar 06)
Replacement Lime Tree - The new Lime tree was planted on the Village Green by the Tree Warden on Friday 24th February 2006. (Environment & Leisure 1 Mar 06)
Street Mapping - The order has now been placed with Fitzpatrick Woolmer. Two maps - 1 in a Lectern holder for the Village Centre and 1 in a free standing notice board for Roundstone Lane have been ordered. Additionally a smaller free standing notice board for the Community site has been ordered. The site for the Lectern board has still to be decided. (Environment & Leisure 1 Mar 06)
Watering of hanging baskets - The programme of hanging baskets was discussed in the light of recent publicity over possible water shortages this summer. Ferring Nurseries had advised that the full programme of watering over a 16 week period will use 7200 litres of water. An average household would use 70000 (approx) litres in the same period. In view of the fact that Worthing and Rustington are continuing with their programmes it was agreed to continue for this summer. Drought resistant plants would be considered for the flower beds. (Environment & Leisure 1 Mar 06)
Downsway Pocket Park - Councillor Paul Bicknell produced photographs showing overgrown paths and borders where maintenance was needed. The Clerk will pass these to the contractor and ask that the work is carried out quickly. (Environment & Leisure 1 Mar 06)
(9 March 2006)
---
The Angmering School - Global Rock Challenge
Further to our news item on 4 March, the students did well at Global Rock - 3rd overall with 4 special awards - Best Video Performance, Best Drama Skills, Sussex Police Award for Concept Originality and the Sussex High Sheriff's Award for Spirit of Rock Challenge. Unfortunately, only the first two teams go through to the regional final.
(9 March 2006)
---
Hammerpot Brewery - New Beers
Hammerpot Brewery at The Vineries has introduced two new beers bringing their range up to six since the micro-brewery's first batch back in August 2005. The new beers, Madgewick Gold (pale golden ABV 5.0%) and Woodcote Bitter (amber & tangy ABV 4.5%) take their names from races held in the 1950s at the Goodwood Motor Circuit. Other beers available are the original Meteor, Red Hunter, Vinery Mild, and Shepherds Warmer. These Angmering brewed beers are now more widely available and may be found at The Fox at Patching (Angmering), The Windmill (Rustington), Tudor Close (Ferring), George & Dragon (Tarring), Red Lion (Arundel) to name just a few locations in a growing list.
(9 March 2006)
---
Obituaries
We very much regret to learn of the deaths of two well known Angmering residents within the last few days. These were Mrs Shirley Holmes (Angmering Parish Councillor and Chair of the Village Hall Trustees) and Mr Edward Smith (a former Angmering nursery owner). Angmering Village Life wishes to express its sincere condolences to the families of both Mrs Holmes and Mr Smith. There will be a Celebration of Shirley Holmes' life at St Margaret's Church on Friday 10 March at 11.30am.
(6 March 2006)
---
The Angmering School
Musical Showcase - On 2 March the School's Music GCSE and A Level students (Years 10, 11 and 12) held a musical showcase of their talents in the school hall. Ranging from Beethoven to their own compositions it was a wonderfully varied show with students singing, playing cello, guitars, drum kits and clarinet. Ms Spreckley, Head of Music said "This was an amazing and enjoyable evening of music by senior students. The evening was a great success with parents complimenting the high standard and the effort and hard work put in by the students."
Global Rock Challenge is an annual event which is an anti-drug and crime prevention initiative which takes the form of a performing arts competition. It is produced in the UK by the Be Your Best Foundation which is a registered charity. The competition consists of an eight minute dance based production with up to 100 performers per school. They devise the theme, choreography, stage design as well as deciding which pieces of music to use. Angmering School students will be performing at the Hawth Theatre in Crawley on the 6th March taking part in this event
(4 March 2006)
---