Angmering Village Life
News Archive
February 2006



.

Angmering Planning Applications (List 8)
A/14/06 - Single storey extension and conservatory at 17 Highdown Close. For AA Russell.
Observations on this/these Applications must be received by The Head of Planning Services, Arun District Council, The Arun Civic Centre, Maltravers Road, Littlehampton, West Sussex BN17 5LF by 23 March 2006.
(28 February 2006)
---
Policing Matters
Neighbourhood Watch Day on Bramley Green - On Tuesday 7 March, Angmering's PCSO, Andrea Oakley, will have the CCTV van parked at Parsons Close end and Grooms Close end for 1½ hours each from 2pm - 5pm for crime prevention advice and to start up a neighbourhood watch scheme.
"Kill Your Speed Campaign" - On Friday 10 March from 11.30am onwards, there will be a "kill your speed" campaign through the village.
Drop-in Surgery - PCSO Oakley, will be holding a 'Drop-in Surgery' at the Parish Council Office on Friday 10 March from 10.00am - 11.00am. If you have any issues you wish to raise, then please come along. Mobile Phone security marking will also be available on the day.
(28 February 2006)
---
Bramble Clearance Day
The photos below were taken this morning - sunny but bitterly cold. About 15 people turned up to help clear the brambles in St Nicholas Gardens - a stirling effort. Several villagers answered the call to help as did a number of parish councillors, district councillors, the parish council's clerk and his wife. The helpers retired to the parish council offices for a well earned fish and chip lunch!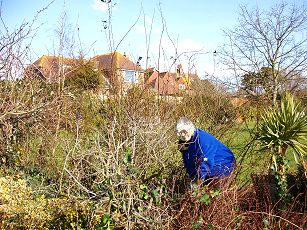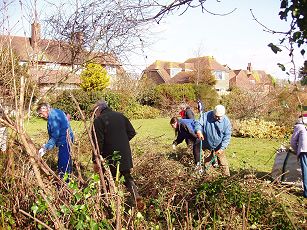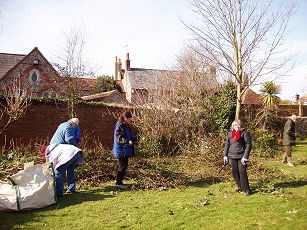 (25 February 2006)
---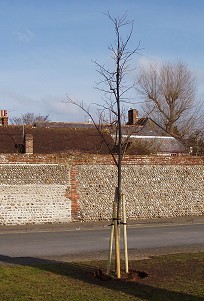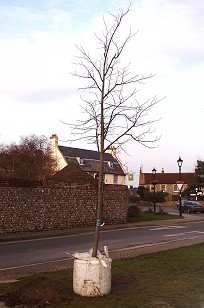 Lime tree arrives!
The new lime tree, to replace the one lost last year through disease, was delivered today, 24 Feb (see photo near right). However, it might take 40 or 50 years to achieve the height of the existing trees.
At 5.00pm it had still not been planted. I hope it will be there tomorrow! However, I'm told that half an hour later it had been safely planted with support stakes (see photo far right taken following morning). The new tree stands about 14 feet high from ground to top. It has been planted several yards away from the site of the tree that was removed to minimise the risk of contracting the same disease.
The lime trees on the Green were planted in about 1903/4 and have been "polled" on two occasions, the last being in November 2005
(24/25 February 2006)
---
The Angmering School aims for Record
On Wednesday 1st March at 8.45am, hundreds of students from The Angmering School will be participating in the recording of a charity pop single being released to celebrate England's participation in the 2006 World Cup football tournament. The Angmering students will join tens of thousands of other teenagers from across the country in performing a football chant which will be incorporated into a pop single. The track is titled "We are England". The song has been written and recorded by young Portsmouth-based pop band Ricky, who recently enjoyed chart success with their debut single " Stop Knocking The Walls Down".
The single is being released in support of the NSPCC, with all profits being donated to the charity. The chant consists of the word 'EASY' being repeated over and over again and has been made hugely popular by Sky Sports' hit comedy/football show "Soccer AM". More than 200 English schools are involved with the project. Each school is recorded separately, before they are amalgamated using digital technology. The chant will form the outro of the single. The band hope that the collective number of voices will break the Guinness World Record for the greatest number of participants in the recording of a hit single.
(23 February 2006)
---
Angmering Winter Olympics!
Now here's a topical cartoon someone has sent me!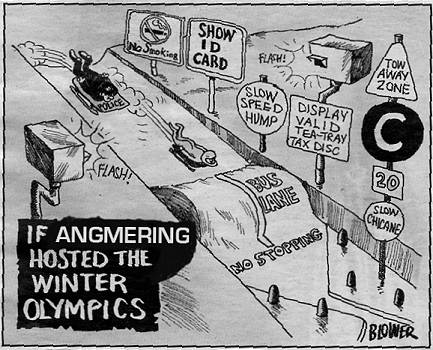 (22 February 2006)
---
Angmering Planning Applications (List 7)
A/12/06 - Single storey extension and conservatory at Merrivale Farm House, Selden Lane. For Mr & Mrs Channon.
A/13/06 - Outline application for the demolition of existing retail unit & livery stables and erection of single detached dwelling at Herons Farm, Dappers Lane. For Mrs J C Linfield. This Application is a Departure from the Development Plan
Observations on this/these Applications must be received by The Head of Planning Services, Arun District Council, The Arun Civic Centre, Maltravers Road, Littlehampton, West Sussex BN17 5LF by 16 March 2006.
(22 February 2006)
---
Medical Centre - Open Afternoons
As we mentioned last month, the new Angmering Medical Centre on the corner of Station Road and The Thatchway will open on Tuesday 18 April. All patients who attend either The Coppice Surgery or the Cumberland Road Surgery and have an Angmering address will have their records transferred to the Medical Centre. Letters are currently being sent out to patients informing them of the new arrangements.
Angmering residents will have the opportunity of looking around the new Medical Centre on two Open Afternoons to be held on Thursday 6 April (2.00 - 4.00 pm) and Tuesday 11 April (2.00 - 4.00 pm). Members of the Patient Group and staff will be there to show visitors around the building and answer any questions. So make a note in your diaries now!
(18 February 2006)
---
St Margaret's Church Reordering
On Wednesday, Arun District Council's Development Control Committee approved the Church's planning application for the significant changes to the exterior of the building. The approval is subject to four conditions, namely: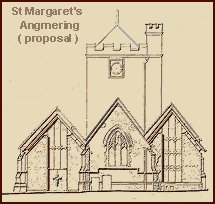 The development permitted shall be begun before the expiration of 3 years from the date of this permission.
No development shall be carried out unless and until a schedule of materials and finishes and samples of such materials and finishes to be used for external walls and roof of the proposed extensions have been submitted to and approved by the Local Planning Authority and the materials so approved shall be used in the construction of the extensions.
At all times during the progress of the work hereby approved adequate measures shall be taken to protect the remaining part of the Listed Building from collapse and/or structural damage.
Any walling shall conform with a sample panel of stonework and flintwork which shall be erected on site and approved in writing by the Local Planning Authority before work to walling is commenced.
The reordering of the Church is still causing heated discussion in the village as can been seen from one of the topics in the General Section of our Angmering Discussion Forums.
(17 February 2006)
---
Bramley Green - Honey Lane Path
The photos below show the state of the Bramley Green to Honey Lane route this morning. This is the principal route from the north of Bramley Green to the village which is supposed to be a "safe" route to the shops, primary schools and playgroups. It is currently dangerous and almost impassable - and more rain is forecast. To be fair, the Parish Council are currently talking to West Sussex County Council about the problem but urgent action is needed if accidents are to be prevented. We would suggest that, until the path and lane dry out a little, the new path from Bramley Green to Mill Road be used to get to the village.
(16 February 2006)
---
Even More Photos!
Our photo gallery has expanded further. From today you can see 18 photos of people from yesteryear. These cover a wide range of people - the squire, rectors, postmen, schools, football teams, and just villagers. These are shown in a slideshow which you can view by clicking here.
(15 February 2006)
---
Angmering Planning Applications (List 6)
A/8/06 - Addition of conservatory at rear and 2 no. rooflights at Ally Cats, The Acre, Dappers Lane. For A Perella & Mrs K Prinsloo.
Observations on this/these Applications must be received by The Head of Planning Services, Arun District Council, The Arun Civic Centre, Maltravers Road, Littlehampton, West Sussex BN17 5LF by 9 March 2006.
(14 February 2006)
---
Angmering Discussion Forums - New Email Notification Service
Busy? Haven't got time to check out whether there are any new postings in the Angmering Discussion Forums? Well now registered users of these forums can now get email notification of any new postings. You will need to subscribe (free) to this service after you have logged in. Further details of how to subscribe are contained in a posting in the specific "Angmering Village Life - Forum". If readers are still unaware of these forums, where people are able to express their views on Angmering matters, click here or the link in the navigation bar on the left.
(10 February 2006)
---
Syon House Licensing Appeal - Result
Further to our news articles of 12 and 17 January, the Licensing Appeal Magistrates have overturned two of Arun District Council's licensing restrictions on Syon House in the High Street. Syon House is owned by the Chapman Group who plan to turn the building into a country house hotel. The magistrates' decision will allow the hotel's bar and restaurant to be open to non-residents. Home owners based mainly in the High Street area had objected to this, principally on the grounds of increased noise and the impact of on-road parking. The Chapman Group will still be required to implement the noise management plan imposed on them by Arun District Council as part of the licence originally granted.
Syon House, a Grade II Listed Building, is believed to have 16th century origins. For much of its life it was the rectory until the new rectory was built in Rectory Lane in about 1920. It was then purchased in 1921 by Major Francis Skeet, a supporter of the Jacobean cause and an Angmering historian, who renamed it "Glebe House". Following his death in the early 1940s, the building became the location of a nuns' training school run by the Vocation Sisters before returning into private ownership later in the 20th century.
(9 February 2006)
---
Meet your MP - this Saturday
Our Member of Parliament, Nick Herbert, will be holding an Open Meeting this coming Saturday (11 Feb) at 11.00am in the King Suite at Angmering Village Hall. If you would like to discuss any local or national issues, go along and meet him. Also in attendance will be Arun District Councillors Julie Hazelhurst and Paul Bicknell with whom you will also be able to talk.
(8 February 2006)
---
New Pharmacy (Update)
Work on the new Lloyds pharmacy adjoining the new Angmering Medical Centre has proceeded with pace in the last month, no doubt as a result of the dry weather. All external walls have been constructed, the roof has now been tiled, windows installed, and a cement screed floor laid. The only thing of concern is the proximity of the roof to the pavement. It is extremely close and the tiles and guttering appear vulnerable to the attention of vandals.
(8 February 2006)
---
Angmering Planning Applications (List 5)
A/9/06 - Addition of profiled metal cladding to former growing tunnel buildings at The Vinery, Arundel Road, (Poling). For Vinery Management.
A/10/06 - Demolition of existing bungalow and erection of 4 No. two bed apartments and 2 No. one bed apartments at Hillview Farm, Roundstone Lane. For Andaman Properties Ltd.
Observations on these Applications must be received by The Head of Planning Services, Arun District Council, The Arun Civic Centre, Maltravers Road, Littlehampton, West Sussex BN17 5LF by 2 March 2006.
(8 February 2006)
---
SCOTCH raises spirits!
SCOTCH (the Spotted Cow Organisation to Create Help) must have raised the spirits of the Chestnut Tree House staff in west Angmering when they presented the children's hospice with a cheque for £2,300 - proceeds from the conker competition at the Spotted Cow and BBQ at The Fox last year. In the last five years SCOTCH has raised a magnificent £10,000 for Chestnut Tree House. Congratulations to Anthony Booty and his team for this wonderful effort.
(5 February 2005)
---
Ferry's New Home
Littlehampton's old Pier Road ferry has a new home - Angmering! The ferry has become part of the William Older Playgroup's new outdoor play area scheme which is being developed with a nautical area, a jungle area, and a nature/woodland area.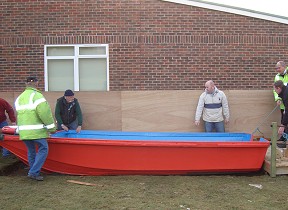 The scheme is a pilot operated by the charity "Early Years Outdoors" who are promoting learning through landscapes, and the playgroup are pleased to have received a grant from the charity towards their own project. The ferry was given to them by Littlehampton's harbourmaster and it was refurbished and painted in bright colours by inmates at Ford Open Prison. The ferry was brought from Ford and sited in the playgoup's grounds by several strong dads (see photo - right). Once the work is complete the playgroup will have a colourful nautical area, with sand and water play, natural materials to explore, count and sort, a place for singing, reading, and playing together that will foster the children's imagination and creativity.
The playgroup's building has served the community well for over 30 years, but they are still working very hard to replace it with a larger modern structure, with accessible entrance and exit points, disabled facilities that is open to all children and families in the community. They are actively trying to raise funds for the new building to go ahead. If anyone is interested in helping them with this project, they would be very glad to hear from them. (see Organisation page for contact phone number)
(3 February 2006)
---
News Archive - Launch
Angmering Village Life today launches its News Archive. This includes all news appearing on the News and Views page since the website was launched in January 2005.
The News Archive is broken down into monthly files. You can look at the all the news for a particular month or you can enter a word in the search box which will scan all the monthly files and return a list of reference documents in which that word appears. To access the News Archive click here or select the link at the top of this page.
(1 February 2005)
---