Angmering Village Life
News Archive
September 2005

Angmering Planning Applications (List 38)
There are no published planning applications for Angmering this week.
(29 September 2005)
New Surgery
The majority of the roof timbers were installed yesterday and it now really starts to look like a building. It is understood from a recent newsletter in the Coppice Surgery, Rustington, that the building of the new Angmering Surgery is about three weeks ahead of schedule. The surgery is due to be opened in May next year.
(28 September 2005)
Beyond the Ashes
While the Ashes series has been a great delight to most Englishmen, one of the most heartening things to me has been the rekindling of an interest in cricket by our youth. Success in Test Matches over the Summer seems to be the reason. There have been a number of occasions in the last 6 weeks that I have walked by or near Fletcher's Field and seen a group of enthusiastic teenagers competing responsibly with the bat and ball. Hopefully it will last and spur some of these youngsters to join local clubs and progress in the game. They need encouraging. Cricket in this country must build on England's success and not just sit back enjoying the "bragging rights". We should be under no illusion - losing the Ashes has hurt our Australian cousins and they will be in no mood to lose another series in 18 months time. And all this coming from a football fan!
(22 September 2005)
Mill Road Build-Out
For the last week, a bag of garden green waste adorned the Mill Road build-out. My brother-in-law suggested that this might have been a wreath! Droll or what! But at last it was removed to reveal the chicane in all its glory, i.e. sporting the four cones warning motorists of the damage and obscuring the limited view even further. Today, two bags of green garden waste have been deposited on the site - once might have been an accident but twice ..........! While most of us deplore these build-outs, and especially the Mill Road one, there can be no justification for despoiling our village further by throwing garden refuse at these highway obstacles.
(22 September 2005)
Angmering Planning Applications (List 37)
A/110/05 - Part change of use of ground floor to provide child day care at Mill House Croft, Station Road. For Mrs Pointon.
Observations on these Applications must be received by The Head of Planning Services, Arun District Council, The Arun Civic Centre, Maltravers Road, Littlehampton, West Sussex BN17 5LF by 13 October 2005
(21 September 2005)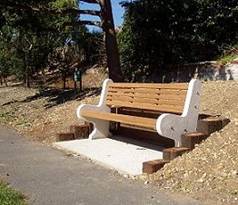 New benches
As reported earlier this year, the earth bank in Water Lane leading to the junction with Dappers Lane is being landscaped. However, we don't know when this will be completed.
Two new bench seats have fairly recently been placed on the site. These have been donated by Mrs Sara Wilson in memory of her parents, Ted and Jane Hollins, who were residents of Angmering for fifty years.
The landscaping has exposed some old walling which can just be seen in the photo (right) behind the seat. Old cottages were located on this site up to about 1936 when they were demolished
(18 September 2005)
New Parish Councillor
At Monday night's Parish Council meeting, councillors agreed to co-opt Mark Edwards onto the Council. Mark, from Big Fry in The Square, feels very strongly about the village and we feel sure that he will be a great asset in representing not only residents' views but also those of the village traders. If we lose our traders, the heart will be knocked out of the village so it is important that their opinions are heard.
(14 September 2005)
New Chairman of Parish Council
At a meeting of Angmering Parish Council last night, Councillor Chris Hughes was elected as Chairman of the Council in succession to Peter Downey who resigned last week.
(13 September 2005)
Bramley Green - Schedule of work
From the Parish Council News Desk, we note the following schedule of work on Bramley Green:
1. Spraying and cultivation works to all open areas by end of Sept. '05
 
2. Hydroseeding to all open areas and bulb planting mid Sept - mid Oct '05
 
3. Installation of timber bollards to Open spaces mid Sept '05
 
4. Installation of timber sleepers to car park and knee rail to bowls club mid Oct '05
 
5. Top dressing of infiltration basin by mid Oct '05

6. Turfing works to distributor road end October

7. Planting works to kick-about and car park area by end November

8. Planting works to Basin and Pond plants by April/May '06
(13 September 2005)
Parish Council
We are sorry to learn that Peter Downey has, for personal reasons, resigned as both Chairman of the Parish Council and as a councillor. Peter has been responsible for a number of good initiatives in the last few years. The Parish Council has issued the following notice advertising the vacancy:
VACANCY FOR A PARISH COUNCILLOR
A by-election to fill this vacancy will be held, if within 14 days (not counting Saturdays, Sundays or Bank Holidays) from the date below, ten electors for the Parish in which this vacancy has occurred give notice to request that the vacancy be filled by election, to the Returning Officer, Arun District Council, Maltravers Road, Littlehampton BN17 5LF. Tel: 01903 737500. The Notice must be given in writing. If no such Notice is given within the time allowed, the Parish Council will fill the vacancy by co-option.
Signed: Ray Huskisson, Clerk to the Council

Dated: 7 September 2005
(9 September 2005)
This and That!
Local news seems a bit in short supply at the moment apart from someone bumping into the build-outs every few days! However, we have not been sitting here idly with our feet up watching the Test Match series - well, not all of the time!
We have added a new road map of Angmering which includes Bramley Green's roads and the by-pass (A280). Click here to see it.
Angmering history research has also been going on and a number of new pages of articles and data resources have been added to the website in the last couple of weeks. These include articles on Barpham (north Angmering), Ham Manor, origins of Angmering's road names, Electors' Register 1920, and names in Kelly's Directories for the years 1852, 1878 and 1927. Links to these new pages can be found by clicking here.
(9 September 2005)
Sports News
Horse Racing - Could Angmering's horse racing history be enhanced even further because a new name is entering the scene? William Knight, who has been an assistant trainer to the renowned Ed Dunlop and John Hills, is branching out on his own and is setting up a training centre at Lady Ann Herries' Lower Coombe Stables in Angmering Park. He is hoping to start training at the beginning of October with a string of 15 to 20 horses. We wish him the best of luck.
Stoolball - Congratulations to the ladies of Angmering Stoolball Club who have just won the triple crown by beating Mountfield in the Sussex Cup Final last Sunday.
Football - Angmering FC are struggling for players at the moment and were unable to field a Reserves side last Sunday. They are appealing for new players - contact Glenn Aylett on 01903-249129 for details.
(9 September 2005)
Angmering Planning Applications (List 35)
A/99/05 - Extend kitchen & construct timber framed conservatory at Garden House, High Street . For Mr B D Lamming.
A/99/05/L - Application for Listed Building Consent to extend kitchen & to construct timber framed conservatory at Garden House, High Street. For Mr B D Lamming.
A/106/05 - Conservatory to rear at Ilex Cottage, Ham Manor Way . For Mr & Mrs D G Frampton.
Observations on these Applications must be received by The Head of Planning Services, Arun District Council, The Arun Civic Centre, Maltravers Road, Littlehampton, West Sussex BN17 5LF by 29 September 2005
(6 September 2005)
Angmering Traffic Management Scheme
The Parish Council Highways Committee has reviewed the West Sussex County Council Exception Report to the Stage 3 Safety Audit and are recommending the full Council accept the WSCC recommendations in the Report. Effectively, most of the recommendations are minor (foliage trimming, cycle lane clearance, etc) but two items caught the eye. Firstly at Mill Road it is proposed to shorten the build-out and reduce its width. Secondly, it it is proposed to employ materials at the corner of Dappers Lane and Water Lane that will minimise vegetation growth and therefore ensure maximum visibility.
The Highways Committee Meeting minutes of 16 August indicate that WSCC are also proposing electronic speed activated signs at each end of the 20 mph limit through the village centre and the parish Highways Committee are in favour of accepting this proposal. As previously expressed on our News & Views page, Angmering Village Life believes that these electronic indicator signs are particularly effective. What we do not agree with is having them as well as the build-out at the Village Hall. The build-out there (and particularly at Mill Road) should be scrapped. Fat chance of that happening!
(2 September 2005)