Angmering Village Life
News Archive
July 2005

Parish Council Surgery
The next Angmering Parish Council surgery will be held at their office in The Square on Saturday 6 August between 10.00 and 12.00. Councillors Chris Hughes and Carole Mason will be in attendance to answer residents' questions on parish matters.
(30 July 2005)
A Glorious win!
Tartouche, a four year old bred, owned and trained by Lady Anne Herries at her Angmering Park stables, won the Lillie Langtry Fillies' Stakes on Ladies' Day at Glorious Goodwood yesterday. A 7-2 bet, Tartouche, ridden by Seb Sanders, won the 1m 6f race by a length.
Angmering has had long associations with Goodwood through the C19 squire of Ham Manor, William G.K. Gratwicke. The Gratwicke Stakes and the New Ham Maiden Fillies' Stakes are still run in his memory at Goodwood. To read more about his successes on the turf, click here.
(29 July 2005)
New Surgery problems
A stop work order has been put on the development of the car park area of the new surgery after Southern Water discovered last week that planned water tanks were too close to the sewer. This came to light after neighbours noticed the contractors starting to remove screening trees to instal the tanks. Alternative proposals for the installation of the tanks in different locations are being formulated but these will need to be approved by the planning authorities before work can continue on this part of the site. In the meantime, work on the foundations of the surgery building itself are proceeding well.
From another quarter comes a suggestion that the vehicle entrance is not wide enough to allow two cars to pass one another. This is refuted by the authorities who point out that the width meets that required by published standards. Nevertheless, at its narrowest point, the vehicle entrance will be very tight and may cause problems to vehicles trying to enter the surgery car park from a busy road when another vehicle is trying to exit and turn south into Station Road. Ideally, the entrance/exit road would be better if it was 2' wider. However, time will tell !
(28 July 2005)
Sports Successes
Cricket - Congratulations to The Angmering School's under-15 team for becoming Sussex champions winning the final against Sackville at East Grinstead last week.
Stoolball - Congratulations to Angmering Stoolball Club for becoming Sussex League West champions for the 11th time in 12 seasons.
(28 July 2005)
---
Angmering History
The Angmering History pages on this website continue to expand. Within the last month the War Memorial page has been updated to include photos of four men who died during WW1, a partial transcript of the 1816 Land Tax has been added as has a short history and family tree of the C19 Linfield family. Finally, an article entitled "Harrow Hill - Its hill fort and flint mines" has also been added.
(27 July 2005)
Angmering Planning Applications (List 29)
A/79/05 - Single storey rear extension (revised proposals to A/21/05) at New Place Bungalow Arundel Road. For Mr Ayre.
A/80/05 - Loft conversion including three new dormer windows & raise existing ridge height at 10 Chestnut Close, The Dell. For Mr & Mrs Twitchen.
A/81/05 - Replacement building to form shower block at Acorns, Poling Furzefield, Arundel Road. For Mr & Mrs Mariner.
Observations on these Applications must be received by The Head of Planning Services, Arun District Council, The Arun Civic Centre, Maltravers Road, Littlehampton, West Sussex BN17 5LF by 18 August 2005
(26 July 2005)
Murder Trial
The murder trial has commenced at Lewes Crown Court of Alison Walder (22) who the Crown alleges fatally stabbed Adrian Ede at Parsons Close, Bramley Green in September last year. The fatal wounds were inflicted during an altercation between Mr Ede and Miss Walder's boyfriend, Lewis Martindale outside their home. The Court was told that there had been ill feeling between Mr Ede and Mr Martindale for a few months following a dispute between them over a car. The post-mortem on Mr Ede revealed that his blood showed a high alcohol content and there was also evidence of amphetamine and cannabis use. Miss Walder contends that she was preparing food with the knife at the time the fracas started and when she went to assist her boyfriend, Mr Ede fell onto the knife.
(21 July 2005)
Angmering Planning Applications (List 28)
A/67/05/L - Application for Listed Building Consent to convert a walk in cupboard in bedroom No. 1 into an en-suite shower and toilet, add toilet in existing bathroom en-suite in bedroom No.2 and add a soil pipe to the front of the property. At Pound House, Roundstone Lane. For Ms Hope.
A/77/05 - Change of use of land for mini-motocycle facility (practice training and racing) at Oval Race Club, Water Lane. For Oval Race Club.
Observations on these Applications must be received by The Head of Planning Services, Arun District Council, The Arun Civic Centre, Maltravers Road, Littlehampton, West Sussex BN17 5LF by 11 August 2005
(20 July 2005)
More about the traffic chaos
Further to my article early yesterday evening, I have had further information from Paul Maxted who took a number of photos of the incident including the ones on the right. Paul, who lives above the steep bank in Station Road and who is webmaster for St Margaret's Church (www.angmering.org.uk) tells me that the road was blocked at 6.05 pm and was not in fact re-opened until 20.54pm after a 2nd tree was removed for safety reasons - in total 4 trees, and that the problem had been caused by the dry weather and the high winds yesterday.
What amazed me about the incident was that, at 7.05pm, three motorists smugly managed to get by the policeman directing the traffic. Of course, they could not get through the blocked road so they turned their engines off and parked in line waiting for the road to re-open rather than spending 3-4 minutes turning around and going down Roundstone Lane. 10 minutes later, I observed them still waiting when it was clear that the road would not be opening for some time. I wonder how long they eventually sat there?
(20 July 2005)

Village traffic chaos
Sometime about 6 o'clock this evening, a rotten tree on the bank opposite the new surgery construction site came down bringing part of a maple tree with it. The result was the total blockage of Station Road requiring police to divert traffic until the debris was cleared. The road did not open until after 7.30 pm. Now that's what I call village traffic calming!!!
(19 July 2005)
Local Planning
Angmering residents will be very pleased to learn that Arun District Council has refused permission for the development of the Nima site in Dappers Lane (Application A/50/05) because "The site by virtue of its size and shape, is considered unsuitable to accommodate 5 dwellings and private amenity space satisfactorily without damaging the character of this established residential area. The proposal would therefore result in an unduly cramped and unneighbourly form of development which would be detrimental to the character and amenities of the surrounding residential area". Additional reasons include inadequate parking and vehicle turning provisions. We shall have to wait and see what the developers will do now! From experience, we're sure it will not be the end of the matter.
But just as we received the above good news, a new threat rears its ugly head. This time it is a developer's proposal to demolish a bungalow at Dane Acre in Roundstone Lane and build two apartment blocks consisting of eight two-bedroomed flats. See Planning Application A/70/05 in Planning List 27 below. When Bramley Green was built, the authorities acknowledged that the southern part of Roundstone Lane would be destroyed as a rural road due to the need to cater for substantial vehicle movements requiring access to and exiting from Bramley Green. However, they agreed that the northern part of Roundstone Lane would be preserved as a rural lane. The latest proposal to strip away more hedges and verges to reveal these apartment blocks would would finally ruin what natural beauty is left in Roundstone Lane.
(15 July 2005)
High Street Survey
Those looking out of their windows yesterday and seeing a group with clip-boards walking up and down the High Street need have no concerns - they weren't from the authorities nor do they have any connection with them. It was just the Angmering Building Study Group carrying out a visual archaeological buildings' survey of the old houses in the road.
(15 July 2005)
Tapas comes to Angmering!
The Santa Maria Restaurant (just off The Square up Arundel Road in Angmering's centre) has been well known for some years as providing high quality Spanish and English cuisine. But now the restaurant has recently started a new venture by offering a Tapas menu in addition to their existing A la Carte menu. As many people who have visited Spain and its islands on holiday or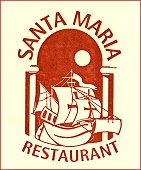 business will know, tapas consists of small dishes of varied food and diners can choose as many or little as they like.
The restaurant's current Tapas menu includes patatas with either garlic mayonnaise or spicy tomato sauce, whitebait, scallops with prawns, sardines, mussels, calamari, king or peeled prawns, chicken pieces in various sauces, fillet steak pieces in red wine sauce, mixture of fish deep fried, spanish omelette (tortilla), seafood soup, mixed salad, olives, etc. Other items will be added as and when available.
The Tapas menu is available on Tuesdays to Fridays from 6.30pm onwards. You can still choose from the A la Carte menu on those days if you so wish. On Saturdays, only the A la Carte menu is available. Owners Juan and Tracy will, however, open at midday by special arrangement.
How do we know all this? Well, my wife and I tried a selection from the Tapas menu last night and we can genuinely say we thought our chosen dishes were delicious. Washed down with a bottle of the house red and receiving a very friendly service from Tracy and Juan in the restaurant's intimate atmosphere, we had a really enjoyable evening.
You should be able to get a table without reservation, especially during the early part of the week but, to make sure, we would suggest you book a table by phoning the restaurant on 01903-850725. Always book for Saturdays if you want to guarantee a table. Why not pop down to the Santa Maria one evening and try their Tapas. You will be assured of a friendly welcome.
(13 July 2005)
Broadband Upgrade
BT yesterday upgraded its lines to Angmering to allow some broadband subscribers to download files and email at speeds of up to 2Mbps. If Angmering residents have been advised by their Internet Service Provider (ISP) that their account with them is to be enhanced, the faster download service may now be available to such subscribers. Upload speeds are unaffected.
(13 July 2005)
Angmering Planning Applications (List 27)
A/70/05 - Outline Application for demolition of existing buildings & residential redevelopment to provide 8 no. 2 bed apartments & associated parking at Dane Acre, Roundstone Lane. For Mr & Mrs B Bentley.
A/71/05/T - Reduce crown & reshape 1 Walnut tree by 25% - 30% at 21A Lansdowne Road. For Mrs Burnett.
A/74/05 - Two storey extension at Arlington, The Thatchway. For Mr & Mrs Wood.
Observations on these Applications must be received by The Head of Planning Services, Arun District Council, The Arun Civic Centre, Maltravers Road, Littlehampton, West Sussex BN17 5LF by 4 August 2005
(13 July 2005)
Angmering Flower & Produce Show - 9 July
Further to our article on 9 July, below is a follow-up from the organisers:
"The flower show committee are delighted to report that the 2005 show held on Saturday 9th of July was a great success.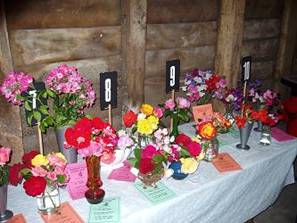 Entries were up dramatically on last year and a record number of visitors enjoyed the show and had tea and cream scones in the gardens.
There were more entries this year for the flowers vegetable classes and St Margarets School pupils entered lovely decorated photo frames, beautiful masks and scarecrows in the Childrens section. Kate Willis won the Wests Childrens Cup this year and runner- up was Charlie Brown. Mrs Mary Millam won both cups for flower arranging, despite strong competition from many other beautiful entries. The winner of the Bernard Delfont - Best Newcomers Cup was Mr Ivan Drewe, who entered a spectacular assortment of cut flowers and pot plants for the first time. Mr Julian Shindle retained the Peter Millam Cup for Sweetpea classes for a second year with a wonderful display and Alf Rumsey won best hanging basket for the 3rd year running with a gorgeous selection of summer plants.
The full list of 2005 winners is as follows: The Fresh Acres Cup - Best flower in show - Julian Shindle; The Coutts Trophy - Runner up best flower in show - Jackie Wye; The Manor Nurseries Cup - Pot plants - Stan Edson; The Ben Whiting Memorial Trophy - Best hanging basket - Alf Rumsey; The Peter Millam Cup - Sweetpeas - Julian Shindle; Angmering Village Centenary Cup - Best Floral Art exhibit - Mary Millam; The Holmes Trophy - Roses - Ivan Drewe; The Joan Smith Memorial Trophy - Flowers - Mary Millam; The Vegetable Cup - Vegetables - Kent Kressner; The Darlington Trophy -Floral art - Mary Millam; West Children's Cup Kate Willis & Kelynack Cup (runner-up) - Children's classes - Charlie Brown; The Tall Trees Cup - Baking - Jackie Wye; The Millam Trophy - Arts and Crafts - Jane Brown & Thelma Long; The Serena Blake Cup - Fun classes - Julian Shindle.
The committee would like to thank Peter and Martina Blake, owners of Pigeon House for allowing the use of their barn and garden in which to hold the show that proved to be, as usual, a wonderful annual village event.
A donation will be made from the proceeds, which were significantly up on last year, to the Chestnut Tree Children's Hospice. Further information can be obtained by calling Anna Burtenshaw (Flower Show Secretary) on 01903 786977."
(12 July 2005)
Hosepipe Ban
For those who have not heard, the hosepipe and sprinkler ban imposed by Southern Water came into force at 9.00 am this morning. This covers the South Coast area including Angmering. I doubt whether it will be lifted before the end of this year. Fines for non-observance are applicable.
(11 July 2005)
_____________________________________________________________________________________
St Nicholas' Garden
Walking through St Nicholas' Garden this morning and admiring its simplistic beauty, I wondered how many people in Angmering were aware of this peaceful corner of Angmering, especially those new to the village such as residents of Bramley Green. Over the last few years, I have not seen many people in the gardens save for the youth of the village, some of whom tend to congregate there in the evenings! Yet these gardens,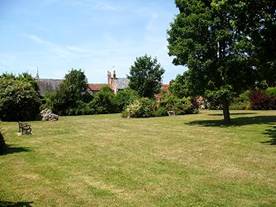 situated in the heart of the village behind the library and opposite St Margaret's Church, deserve greater appreciation and use.
This is the site of St Nicholas' Church, the parish church of old East Angmering - located only 100 yards away from St Margaret's Church, the parish Church of old West Angmering. A solitary representative pile of flint and masonry standing in the field is the only visible evidence of the old Church which stood on this site for 400 years until it was destroyed at the end of the 16th century following the Reformation and the amalgamation of the separate parishes of East and West Angmering.
For many years the ground was used as gardens and a recreational area for the children attending Older's Charity School (which was where the Library is now) until the school closed in 1965. In 1978 the site was purchased by Arun District Council and leased to Angmering Parish Council as a recreational area for the village. On May 8th 1980 it was officially opened by the late Lavinia, Duchess of Norfolk as St. Nicholas' Garden.
(10 July 2005)
---
Flower & Produce Show
Over 300 people attended the Angmering Village Flower & Produce Show this afternoon, and what a glorious event it turned out to be. The weather was warm (and later sunny), the venue at Pound House and its barn was superb, and attendees and exhibitors numbers were up on previous years. The teas and scones did a roaring trade and a new attraction this year was an extremely interesting and well visited exhibition of Angmering photos and memorabilia by Brian and Norma White.
The organisers and, I am sure everyone who attended, appreciated the kindness of the owners in making their beautiful garden and barn available for the event.
There were dozens of exhibition classes for flowers, produce, cookery and arts & crafts, and awards for the winners of various classes were presented by Lady Delfont. (See article dated 12 July above for winners).
(9 July 2005)
---
The Woodman aims for best pub award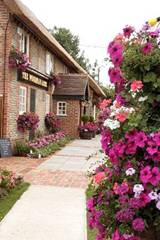 The Woodman Arms, the picturesque thatch-roofed hostelry at Hammerpot, Angmering, that was re-built from the ashes of a disastrous fire is now aiming to resurrect its reputation for having one of the best pub gardens in Britain. The pub won countless national awards for its annual flower displays until last year, when the pub lay in ruins after the devastating blaze. Since the grand re-opening in February this year, licensees Brian and Karen Liston have been determined to re-create the flowery exterior it had become famous for - and they've been given expert help from local plant specialists.
Their regular supplier Ferring Nurseries, along with Littlehampton-based young plant raiser Yoder Toddington, have suggested a brand new range of bedding plants which they reckon will help the Woodman back into the award-winners league. The Goldfisch range of plants - from world-class plant breeders Fischer and Goldsmith - will not go on general release until next year, which means the Woodman Arms will be giving them their first public showing in the UK. Hundreds of the plants - including gardeners' favourites such as petunias, verbena and geraniums - have been planted up into 10 truss-type baskets, four barrels and three huge flowerbeds to transform the inn's outdoor seating area into a flower-filled oasis.
Licensee Karen Liston said: "We're determined to get the pub back into the brewery awards again this year, because the place has always been famous for its flower displays and the regulars are very proud of it. As first-time licensees, we were grateful for the help we've had from Ferring Nurseries and Yoder Toddington in choosing plants and colour schemes". The massive plant display means Karen and husband Brian are out on watering and dead-heading duty at 7am every day - but she says the results are more than worth it. "The flowers are looking fantastic already and we've not even reached the height of the season yet. Customers have been taking notice and asking what some of the more unusual ones are, so we're hopeful that we're on target for an award again this year".
Patrick Bastow, MD of Yoder Toddington, added: "We were delighted to help the Woodman to get back to winning awards again and we're confident that this superb new Goldfisch plant range will go a long way in impressing the judges". He added that the Woodman Arms was being used as a test bed for the new plant brand Goldfisch, which plans to roll out a whole crop of showcase pub gardens featuring its plants, at licensed premises nationwide over the next year. More information on the plants can be found on the website, www.goldfisch.co.uk, and Ferring Nurseries will have them in stock next year.
(8 July 2005)
Visit to Squerryes Court and Wakehurst Place
The Angmering Society is arranging a very interesting two-centre outing to Squerryes Court and Wakehurst Place on Thursday 15 September, leaving the Lamb Inn at 9.00 a.m. Frances Farrer-Brown, a Blue Badge Guide, who has spoken to the Society recently will be the guide throughout the day. The first port of call will be Squerryes Court near Westerham, Kent where there will be a guided tour of the house with coffee and biscuits, and then to the Royal Botanic Gardens at Wakehurst Place, near Ardingly, East Sussex in time for lunch. At Wakehurst Place there is a licensed restaurant and a coffee shop, or one may take a picnic to be enjoyed in the grounds - there are a number of picnic tables available.
Squerryes Court is a privately owned 17th century manor house still lived in by the descendants of John Warde who bought the property in 1731. It has been used in filming the TV programme "Foyle's War". Wakehurst Place covers 500 acres with woodland and water gardens, lakes and ponds, rare and exotic plants and the Millenium Seed Bank. Entry to Wakehurst Place is free to members of the National Trust and to Friends of Kew, so the cost for this outing does NOT include entry to Wakehurst Place - non-members of the NT and Friends of Kew will need to pay on the day, a sum of £7.
The cost of the outing, to cover coach fare, entry to Squerryes Court and gratuity for the driver will be £20 each. If you are interested on going on this trip and are not a member of the Society, please contact Mrs Pauline Ridges, 4 Weavers Ring, Angmering, BN16 4AJ on 01903-783330. Members of the Society should complete the application form in its June Newsletter.
(8 July 2005)
Composting Facility Decision
Despite objections from individuals, parish councils, Arun District Council, and Chestnut Tree House Hospice, the West Sussex County Council have approved the application for a composting facility that straddles the Angmering/Poling boundary. Provided the site operators can get a Waste Transfer Licence from the Environment Agency, the site will go ahead composting some 40,000 tonnes per year of food and green waste. WSCC regularly slates SEERA as being an un-elected and un-democratic body, but their own actions are little better. When will WSCC listen to West Sussex residents? Further typical examples are their opposition to the proposed South Downs National Park against massive counter opinion, their effective support for further building developments in the village, and the mess in which they have left Angmering with their "traffic calming" scheme and village parking arrangements!
(6 July 2005)
_____________________________________________________________________________________
Hosepipe Ban
Well, we suppose it was inevitable. Yes, Southern Water announced yesterday that a hosepipe and sprinkler ban would be imposed on households in this area from Monday 11 July until further notice. The restrictions follow an exceptionally dry winter period. From November to March, the south received little more than half the normal amount of winter rainfall that is needed to fill reservoirs, rivers and underground sources ready for use in the summer, say Southern Water.
(6 July 2005)
---
Angmering Planning Applications (List 26)
A/65/05 - Continuance of use without compliance with condition no 3 imposed under planning reference no A/126/92 to use existing waiting room on first floor as a complementary therapy room at Cornerways, Weavers Hill . For Mr B D H Hong.
A/67/05 - Proposed single storey side extension at Corona, Station Road . For Mr & Mrs Dyson.
Observations on these Applications must be received by The Head of Planning Services, Arun District Council, The Arun Civic Centre, Maltravers Road, Littlehampton, West Sussex BN17 5LF by 28 July 2005
(5 July 2005)
---
Vandalism
Walking around Bramley Green this morning I noticed that, at the southern end of the Development, four new trees had been uprooted and one snapped off .
(3 July 2005)
---
Reminder
Don't forget you can get your local and national travel information through this website by going to our Public Transport page. This information includes local bus timetables, train timetables, live Angmering Station departure board, flight arrivals & departures, taxi services, etc.
Our own Weather Station provides details of current temperature, pressure, rainfall, wind, humidity, plus yearly statistics. Current conditions are uploaded every 20 minutes.
The Leisure pages not only tell you what facilities are available in Angmering, but also include links to what is going on in the district - cinemas, theatres, gigs, events, as well as technology and oddball news worldwide.
The national and international news, business and sport headlines from the BBC are also available on our website and there is direct access to the BBC local 5-day weather forecast. You can access these by clicking on the appropriate red link at the top of this News & Views page.
This website contains about 120 pages of current and historic information about Angmering which, if printed, would take up about 700 pages of A4 paper!. While we try to make navigation as easy as possible, it is appreciated that visitors to the site may sometimes get lost. If you cannot immediately find what you want, you can always consult the alphabetical Site Map (click here) or use the link on the navigation bar on the left.
Something to sell, to exchange, or wanted? Try our Sale/Wanted/Swap page. While in its infancy, it has already achieved some success for advertisers.
Finally, we always want to learn of village news and events taking place in the village. Do contact us and don't forget to tell your friends and family about this site. Again, contact us if you have any query relating to Angmering local or family history. We would be delighted to help you.
(2 July 2005)