Angmering Village Life
News Archive
January 2005

New Links
We have now added Flight Information to our Public Transport page. From that page you can now access real time flight arrivals and departures from Gatwick, Heathrow, Stanstead, and Southampton from BAA'a website. The information is updated every 5 minutes. Don't forget that on the Public Transport page, you can also access the live Angmering Railway Station departure board. Local bus timetables and train timetables are also available.
(30 April 2005)
Angmering Artwork Exhibition
This is being organised by The Angmering Society at the Village Hall on Sat 14 May & Sun 15 May between 10am and 5pm. The time is running out if you wish to participate as entries should be submitted by this weekend. Anyone who is resident or working within the Parish of Angmering or is a member of a village organisation may exhibit their work (and sell it if they wish). This may be in any medium of any reasonable size, as long as it can be hung or displayed on a vertical surface. All work must be the original work of the artist and completed within the last two years. If you, or an eligible friend, would be interested in exhibiting some of your work, contact Jane Rowley (Tel: 01903-772823) for further details and an application form.
(28 April 2005)
Angmering Planning Applications (List 16)
A/40/05 - Extension at 8 Water Lane. For Mr L Hersee.
Observations must be received by Arun District Council by 19 May 2005.
(27 April 2005)
Greenwood Drive - Bramley Green Cycleway/Pedestrian Route - Update (1)
Further to the 17 April News item, I have received the following response from Arun District Council:
"As you are aware the cycle/footpath link has been provided up to the boundary of the site. The land in the Dell falls outside of the control of the Council. I understand that the Bramley Green Consortium (developers) have been discussing this issue and are working to find a suitable solution."
This may suggest that the strip of land on which the current fence stands is still owned by Hargreaves, and that the issue needs to be resolved between Hargreaves and the Bramley Green Consortium. I won't comment any further in case I am accused of making a libellous statement! What I would say is that I disagree with Arun District Council's comments as they are responsible for enforcing planning conditions of which the cycleway/pedestrian routes was one of the conditions. I have responded to Arun District Council and will let you know their comments in due course.
(25 April 2005)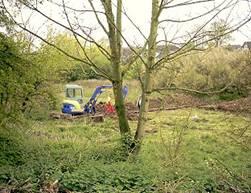 Surgery Latest
If you have been wondering what was going on last Friday and today on the new surgery site, I can tell you that it not yet the start of construction. Contractors for the health trust are trying to locate main piping that runs under the lower reaches of the site.
It is unlikely that actual construction will start before June at the earliest.
(25 April 2005)
Bus Service
The timetable of the Compass bus service to Chichester (Service No. 15), Wednesdays only, has recently changed and the new timetable can be viewed on our PublicTransport page.
(23 April 2005)
Other News in Brief (Week 16)
Parish Council - Angmering Parish Council's opening hours are 9.00am to 1.00pm Mon-Fri. However, from Saturday 7 May, for a trial period of 6 months, the office will also be opening on the first Saturday of each month (10.00am to 12.00pm) when councillors will be present to answer any questions from residents.
Burglaries - Watch out, there have been several in Angmering recently. Don't just assume that they take place at nighttime - last Saturday one took place at a property in Weavers Hill in the early afternoon.
Worthing RFC - Congratulations to the Roundstone Lane based club who won the Sussex Trophy over the weekend beating Lewes 60-5.
Basketball - Four out of five teams from The Angmering School have reached Sussex finals this year.
65th Wedding Anniversary - Congratulations to Joan and Ronald Hanmore of Water Lane who have just celebrated their 65th wedding anniversary.
(21 April 2005)
Angmering Planning Applications (List 15)
A/25/05 - New fencing at Conyers, Church Road. For Miss E M Piggott. (AVL Note: This must be retrospective planning permission as fencing is already in place facing Church Road)
Observations must be received by Arun District Council by 12 May 2005.
(20 April 2005)
Traffic Build-Outs etc
My spies tell me that there was another prang at the Angmering School build-out early yesterday afternoon. A car apparently ran into the build-out and punctured its radiator. Police attended the scene. I believe a car also ran into one of the Water Lane build-outs last Saturday.
This set me thinking. Apart from injuries to people, which nobody wants, perhaps these build-outs are in fact a good thing. Look how much work and business they must generate! What a boost for the economy! They must cause damage to cars every week (or at least every other week), the build-outs themselves need frequent repairs, illuminated bollards need to be replaced every few months, as do the posts carrying the warning signs. Then there is the labour to replace these items. Further, there are the continual traffic monitoring surveys (one is being carried out today by quite a few people) and the placement of temporary traffic counter strips (installed yesterday throughout the village - but not necessarily in the places you or I would put them!), and frequent visits from teams of men from WSCC in yellow jackets walking up and down the roads with clipboards.
Yes, all this is really helping employment! The build-outs themselves cost over £200,000 to install but I bet repairs to vehicles and buildouts and cost of surveys etc (which council tax payers bear) well exceeds £100,000 a year, and that will be EVERY year.
(19 April 2005)

Greenwood Drive - Bramley Green Cycleway/Pedestrian Route
For months I have been approached by many residents on The Dell to ascertain when the above route will be opened. The Parish Council has also taken up the cudgels with Arun District Council but also appear to be experiencing lack of progress. The route was agreed many years ago with the final plan being agreed at the beginning of 2001 and with the knowledge of Dell residents. The route was also published by Arun District Council in their "Arun Times" in the Spring of 2002.
So why the delay? Why are us council tax payers not being told? The pathway has been in place on Bramley Green since the Autumn (see picture right). I have written direct to Arun District Council asking for the reasons and will keep you advised of their response.
(17 April 2005)
---
Local & Family History - Can we help you?
If you have been experiencing a problem with your Angmering research, can we help you? We can't guarantee we would be any more successful than yourselves but we are willing to try. As an example, within the last week we received a request from a couple in the USA to identify the house where an elderly aunt lived up until 1951. This we were able to do (although the house name had since changed) and we were able to provide a photo of the house as it is now with the current owner's permission.
(8 April 2005)
Angmering Planning Applications (List 13)
A/22/05/T - Fell 10 trees (Elm & Fir). Highway Verge adj Nos. 6-12 & 22-32 East Drive (North Side). For Westbury Homes Ltd.
A/32/05 - Relocating garden wall to boundary facilitating use of existing 2 parking spaces and extension of turfed garden at 5 The Walkway, Bramley Green. For Mr J P Real.
A/34/05 - 18m high MTA lattice mast with 6. no. proposed Vodaphone panel antenna, 1 no. 300mm dish, 1 no. 600mm dish, 2 no. Vodaphone outdoor equipment cabinets and ancillary thereto at Rustington Golf Centre, Golfers Lane, Angmering. For Vodaphone Ltd.
A/36/05 - New enclosed front porch and rear porch/conservatory at 29 East Drive, Ham Manor. For Mr 7 Mrs R A MacCallum.
Observations must be received by Arun District Council by 28 April 2005.
(6 April 2005)