---
On 18 August 1940, during WW2, a German aircraft crashed landed on Ham Manor Golf Course to the west of Angmering village following a sustained attack by German aircraft on the Poling Radar Station.

The aircraft, a Junkers Ju 87B Stuka, was from the Luftwaffe Unit: II Gruppe - Stukageschwader 77 - 5 Staffel. It bore the markings "Wk Nr. 5167" and codes "S2 & N".

The crew were Pilot Oberfeldwebel Kurt Schweinhardt, who was taken prisoner, and Wireless Operator/AG Oberfeldwebel Willi Geiger (69062/11), who died of his wounds. These are said to have been the result of being shot by the Home Guard when he started to fire his pistol at them.

Oberfeldwebel Willi Geiger was originally buried at Littlehampton Cemetery but moved c1965 to the Deutscher Soldatenfriedhof, the German Military Cemetery at Broadhurst Green on Cannock Chase, Staffordshire. His date of birth was 30 August 1914.

A photo of the plane is shown below, in front of which soldiers from Angmering's Home Guard are posing. The Home Guard is said to have left the plane unguarded overnight and, by the next morning, the plane had been stripped bare by souvenir hunters.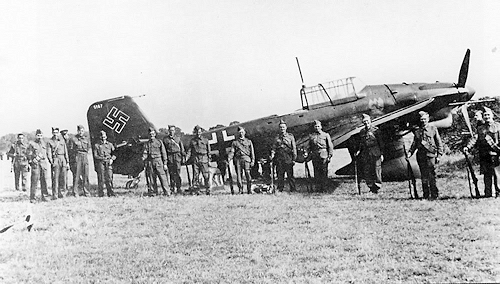 Last updated 23 December 2013