Over the centuries, many people have made strong contributions to Angmering and its population. A few benefactors and others of interest or notoriety are worthy of special mention: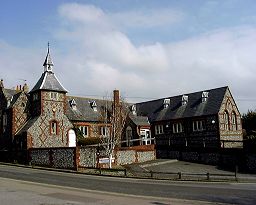 William Older. In 1682 Older, a yeoman farmer, bequeathed £100 per annum for teaching and instructing poor children of the parish and annual sums from rents from his property and lands for maintaining a schoolmaster. From this Older's Charity School was built which opened in 1682. It was re-built in 1853 and subsequently closed in 1965. The building was re-opened as the village library (see photo right) in 1974.
Rev. William Kinleside - Rector of St Margaret's Church, Angmering for a remarkable 61 years from 1776 to 1836.
William Gratwicke Kinleside Gratwicke - son of the above, owner of Ham Manor and race-horse owner - financed the rebuilding of Older's Charity School and the parish church in 1853.
Sir Henry Aubrey-Fletcher and Lady Fletcher - Sir Henry and Lady Fletcher provided considerable support for the village and St Margaret's Church during the 50 years they resided at Ham Manor. Sir Henry was a Sussex MP for 30 years from 1880.
Thomas Wilkinson - "Old Wilkie" was landlord of the Lamb Inn (see photo left) for 57 years. He first became licensee in 1850. His mother had been licensee at Northchapel for 61 years.
Walter Butcher of Ecclesden Manor financed the building of the Village Hall in 1926 and general benefactor of village events.
Edwin Harris (1866-1942) - Builder, radical socialist, benefactor, parish and district councillor, and JP. Built Gladstone Cottages and The Cottrells and nearby play area for working men and their families. Fought for improvement of village housing conditions. Also a noted local historian, contributing three substantial history/politics pamphlets in 1910, 1912 and 1914.
Jorian Edward Forwood Jenks (1899-1963) - Farmed Ecclesden Farm in the mid-1930s. Became one of Sir Oswald Moseley's trusted lieutenants in the 'Blackshirt' British Union of Fascists responsible for their agricultural policy. Stood as their Parliamentarty candididate for Horsham & Worthing in 1938. Interned in early part of WW2. Left party after war and became prolific writer and supporter of organic farming and arguably could be called the father of today's Green Party.